Boring, mediocre content isn't too difficult to create. Exceptional content, on the other hand –the kind that results in views, clicks, and even conversions –that type of content, is a lot harder to come by.
But for many business owners, creating excellent content really isn't something that they prioritize. After all, as long as there's something going up on the blog every other week to show that we're still in business, why does it really matter how much time and effort is put into the articles?
The truth, though, is that content creation is the name of the game for marketing experts today –and it's essential if you want to reap some exciting rewards that only great content can produce.
Whether you're planning on outsourcing the job to a writer, or taking the time to research and improve your craft so you can do it yourself –if you're serious about stepping up your content creation game, here's a look at some tips for creating content creation process that'll help you to start turning out content that gets results.
Content Is King Still: By the Numbers
Content marketing has become the predominant means for businesses to reach their target audience. If you aren't in this ballgame, you need to be!
Good content allows you to:

Engage with your audience
Educate your audience
Generate leads
Drive brand awareness
Create loyalty and trust
Enable you to build credibility
Position you as an expert in your industry
Still not convinced? Check out this data and see how essential content marketing has become: 
Content marketing offers an excellent long-term ROI. Consider that, on average, about 1 in 10 blog posts are the compounding effect. These posts can significantly drive up traffic to a site over time. (Source)
Approximately 58% of marketers have expressed that original written content is the centerpiece of their digital marketing efforts. This study also revealed that content ranked higher than visual assets like video and infographics. (Source)
Some 60% of marketers create at least one piece of content each week. (Source)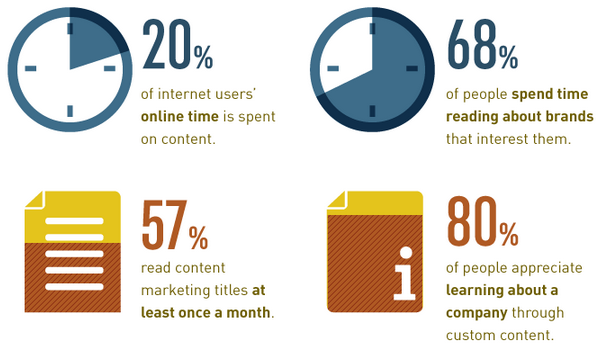 20% of internet users' online time is spent on content
68% of people spend time reading about brands that interest them
57% read content marketing titles at least once a month
80% of people appreciate learning about a company through custom content
All the data points in the same direction: content marketing is growing and should be an essential component of your overall marketing strategy.
Tips, Tools, and Strategies for Crushing Content Creation
So now that we've established the importance of content marketing let's dive a little deeper into how you can improve your content creation process.
First up, you'll want to start by creating a solid working process for developing content.
Having a process in place is vital if you want to achieve your core marketing goals, such as:
Boosting web traffic
Increasing social media engagement
Building credibility with your audience
Capturing leads and increasing visibility
And more!
Below is a framework that you can build off of, it will take some work on your behalf to decide what works for you, but it'll be worth the effort in the end.
Let's get started!
Step 1: Determine WHO you're creating content for
The first step of any content strategy should be determining who your target audience is and what their interests are.
If you haven't done this already, be sure to check out this article: Creating an Avatar of Your Customer.
Step 2: Identify your content goals
Once you've established who your target customer is, you can then move on towards addressing their needs.
Ask yourself the following:
How can you use content to improve your customers' experience?
Start by mapping out your content creation goals –what do you want your content to do? Maybe it's to onboard new customers, or drive warm prospects on towards purchases? Maybe it's to capture new leads or drive brand awareness?
No matter what your content goals are, write them down.
You can then start brainstorming ways that you can use content to make those things happen.
Remember, content doesn't have to just be text blog posts –it can also include videos, webinars, tutorials, infographics –and more. It could also include downloads, courses, or emails.
After analyzing these categories, you may be overwhelmed by the gaps in your current content strategy. Not to worry, look at this as an opportunity; chances are your competition has similar blind spots.
The benefit is you are now aware of them.
Step 3: Brainstorm ideas
Now that you're clear on what your content goals are, you can begin brainstorming specific content ideas for each category.
Let's say client onboarding is your goal. In this case, you could create:
-A series of welcome emails outlining expectations
-An infographic outlining your business process or showing your customer how to get the most out of your product
-A wiki page containing a glossary of industry terms or guidebook
-A dedicated blog category addressing topics new customers may be interested in learning more about
-A series of videos to welcome customers and introduce them to your company resources and support
Note: Once you have content goals and subsequent content ideas, take a look at what content can be repurposed for other categories. There should be some overlap. For example, a podcast can be turned into a blog post or even a guide. Get creative here! Finding content that can serve a dual purpose is a great way to save time and free up resources.
Step 4: Create a tangible content creation plan
Remember that the key to any successful content creation plan lies in consistency and sustainability. Don't bite off more than you can chew here.
Here's a look at some tips for creating your own content creation plan:
-Prioritize: Identify which content best suits your needs and prioritize it. What is going to help you most improve your business the most? Maybe you should focus on text-based blogs for now –or perhaps Instagram is where it's at for your company? Determine which channels are most valuable for you, where you do get the most traffic from, the most conversions?
–Plan: Sit down and determine how much time you're going to have to commit to create, proof, and design each piece of content. Too much time, and you may be better off outsourcing this task!
–Repurpose: Figure out how you will get the most of out your content. Decide what other categories you can apply your new content too, or how you can augment it to fit. Again, if this is something that's going to eat into your day, you may want to consider outsourcing it to a content sharing service.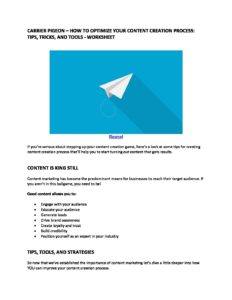 Get our How to Optimize Your Content Creation Process Worksheet delivered right to your inbox.
Step 5: Get a content calendar
Creating a content calendar is vital. Don't overlook this seemingly obvious step. Without a clear calendar, you'll soon find that your content creation efforts will get pushed ahead –indefinitely! Additionally, if you have a team, a content calendar can help to keep everyone coordinated and on the same page.
Remember that the name of the game here is consistency, so get your strategy set up, and essentially rinse and repeat month after month.
Step 6: Reach out
Finally, and perhaps key –you're not going to want to go it alone, building from the ground up. In most cases, reaching out to others who have already established followings can be a great way to drum up publicity for your company or product offering.
So reach out to podcast hosts, radio shows, event hosts, and entrepreneurs who host webinars and try to get on as a guest. Sign up to sites like HARO or Source Bottle and be a source –a great way to get your name, and maybe your website, featured in big-name publications. Don't stop! Be relentless when it comes to getting your name out!
Zeroing in on Your Content
Now that you have your content calendar and working process in place let's take a closer look at the content itself. The success of your plan is going to hinge on two factors: consistency and quality. With the former already being covered, let's explore how you can improve the quality of your content.
The following are some questions you should be asking yourself to improve the quality and performance of your content. Be cognizant that much of this has to do with your target audience and how they engage with your content.
What type of content elicits the most engagement?
You wouldn't write a 5,000-word blog post to sell running shoes, would you? Nor would you create memes to engage an audience interested in high-level analytics software (well maybe you would!)
The point is, you need to explore different types of content and decide what best resonates with your intended audience. When it comes to a blog post, there are a number of elements you can embed. Here's a look:
Images: Visual content is loved by all! Whether you are using photos, graphics, or a mix of the two. An image used appropriately will create a more memorable experience, and assist the reader in retaining and understanding the information you're trying to convey.
Infographics: These graphic visual representations of information, data or knowledge are ideal for presenting information quickly and clearly.
Video: If you haven't heard, video is crushing it. It's slowly taking over the internet as people's preferred method for obtaining information. According to Cisco, internet video traffic will grow fourfold from 2017 to 2022, accounting for 82%.
Determine How Long They Should Be
What is the ideal length for your blog posts?
Content marketers will go back and forth on the topic: Long-form vs. short form? The crux of it really comes down to a couple of factors: audience preference and your SEO strategy.
In order to determine what length best suits your audience, you're going to have to do a little digging. There's a lot of theories out there on what constitutes a good length for a blog post but a good place to start is by using the 'top ten average method', as described by Hook Agency.
First, find your top 10 posts in search by filtering analytics by 'Organic search.'
Then take your top 10 blog posts, and determine their lengths using the bulk web page word count checker.
Determine the amount of content in your header, footer, and sidebar.
Then, take your top 10 Blog post lengths combined MINUS (Header, Footer, Sidebar length x 10). Now divide that by ten to get your best blog post length.
This method will help you zero in on the ideal blog post length from both an SEO and a target audience perspective.
Use Tools for Improving Workflow
Finally, here's a list of tools that you can use to make your content creation process seamless, simple, and efficient!
We did the testing and research, so you don't have to. Let's get into it.
Keyword Research Tools
If you're creating SEO optimized content, then an excellent keyword tool is going to be your first stop.
To maximize your time, I recommend any of these three keyword research tools to provide you with valuable SEO insights.
Google Keyword Planner is the oldest and remains one of the most popular research tools available. Although much has changed over the years, it is still free to use. Useful for finding the suggested bid, average monthly volume, and ranking difficulties of any keyword.
KWFinder is the go-to site for finding long-tail keywords; those tasty morsels that will help you edge out your competition! In addition to that, it can help you with search volume, trend, CPC, and ranking difficulty. KWFinder isn't free, but if you're serious about SEO, it's worth the investment!
UberSuggest is our third and final recommendation for keyword tools. This is best used in conjunction with Google Keyword Planner, and really shines when it comes to suggested keywords related to your initial search.
Still not satisfied? Check out Edgy's post on 6 Keyword Research Tools to Help You Strike Gold.
Idea Generation
We all get stuck in a creative rut from time to time. If you're drawing a complete blank, or just having a difficult time narrowing in on a great content idea, use one of these tools to zero in on a topic for your next post.
Portent's Content Idea Generator is a nifty tool that creates random headlines for you based on the keywords you enter into the search field. Buyer beware: some of the ideas generated may need some help, but it's a good way to get those creative juices flowing!
Buzzsumo really is the bee's knees when it comes to understanding the competitive landscape and 'buzz'-worthy content. Simply enter your keywords, and in return, Buzzsumo will provide all sorts of useful information, such as:
-Trending topics
-How much each piece of content has been shared
-Backlinks and influencer data
Google Trends is so much more than a useful analytical tool. It can also nudge you in the right direction when it comes to researching topics and brainstorming.
This tool will allow you to see the current trends and related topics and queries. It's especially useful for providing insight into which subjects are gaining or losing the interest of readers.
Developing a successful content creation plan doesn't happen by accident. It requires careful planning, consistency, and seamless execution. Having access to the right tools is equally important. They're a big timesaver.
If you aren't able to commit the time and resources to develop quality content, then I highly recommend you consider outsourcing to a skilled writer. It's not worth spending the time and money creating subpar content, do it right the first time!
What about you? Are you looking to up your content creation efforts? Share your BIGGEST hurdle with us –or, one thing that you've found works well!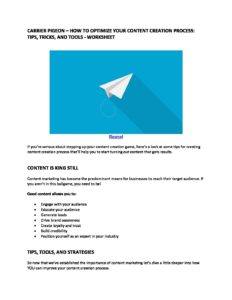 Get our How to Optimize Your Content Creation Process Worksheet delivered right to your inbox.