Billions of internet searches are conducted every day on Google. Of these, mobile search now accounts for more than half (51%), with desktop search at about 45% and tablet search at about 5%.
Most online experiences start with a search engine, with nearly 75% of searchers heading to Google to begin their search.
That's a lot of searching, so why shouldn't your business have a piece of that massive pie? Whether you operate a small trading website or a large digital revenue stream, you need to build on how your digital real-estate performs. You do this with SEO.
SEO means more traffic and better conversions. Most searchers click on results that appear on the first page of Google. SEO is the difference between being found and being sidelined—between having a business that thrives and one that simply survives.
We all know that SEO stands for search engine optimization, but how does it work, exactly? And what are you supposed to optimize? How can you ensure that your efforts won't go to waste, that you'll start drawing in relevant traffic?
That's what we're going to look at now.
How Does SEO Work?
It's becoming increasingly clear that SEO is the new frontline in digital marketing. But you don't need to be an expert just to get started. The aim of this post is to introduce you to some low-hanging fruit in your pursuit of search engine optimization (SEO) for your website.
In marketing your website, half the battle is won simply by improving your website's performance. Look at your website as something you can update at any time to improve performance.
One helpful strategy is to make a back-up of your current site and to create a sitemap. Then, whatever you upgrade is reversible. For example, if traffic drops or something goes wrong, you can back up and try something else. Use your sitemap to ask yourself this important question: 'Is this really the best page design or navigation to deliver better customer service?'
Remember, search engines like Google view your website as a few bits of data in a very long stream of data that their algorithms want to optimize. The most optimized sites are given search priority because they fit preferences set by these search engines.
Some key criteria for SEO include:
• Speed – Fast page load times will impact how your website is ranked.
• Updates – How often you update content demonstrates how active your business is. Search engines love to up-to-date content.
•  Authority – Your site's authority is determined largely by two factors: domain authority, which is how widespread your domain is; and page authority,  which relates to how authoritative the content on a single page is.
• Keywords – Saving the best for last, search engines focus on the keywords used on your site to determine what it is you do and to make that relevant to their customer search.
We'll explore these, and a few other factors in more detail below.
Today, making your business work for the major search engines should be a key component of your marketing plan. By using SEO, you can control and improve how your customers access and engage with your digital business. That's a tremendous advantage if used correctly.
Tips for Easy SEO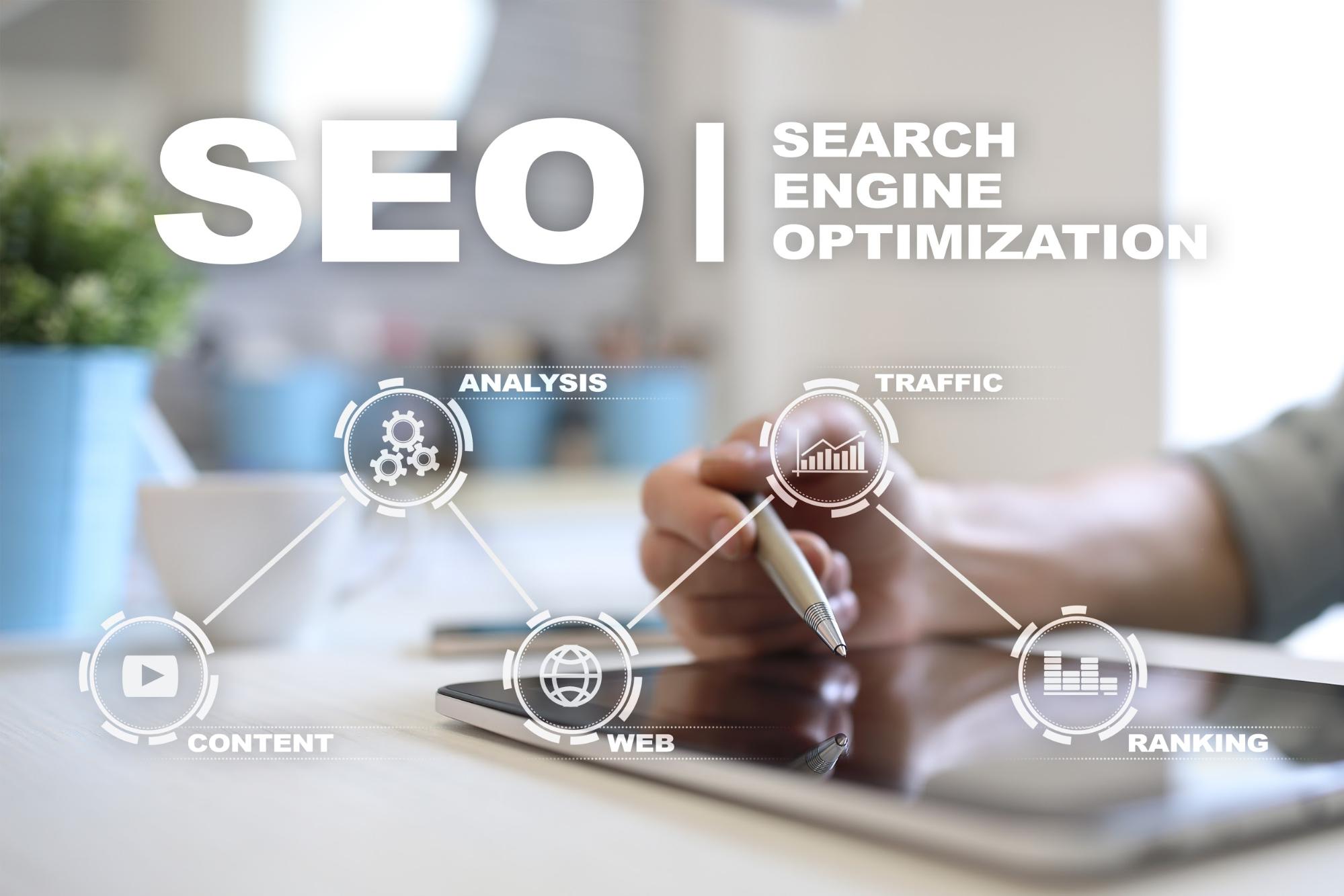 (Source: Shutterstock)
Create a Solid Keyword Strategy
Keywords have long been the gold standard for all internet searches, and you'll want to consider how each page on your website delivers on your keyword strategy.
Search engines today are tremendously smart. These days, it's less about fitting in as many keywords as possible, and more about targeting searcher intent. Make sure your keywords are present in strategic places, like your title, URL, and meta descriptions. Work them naturally into your content, but there's no need to stuff it multiple times in your text. Your best bet is to focus on providing helpful, engaging content for your audience.
Keyword research should be central to your SEO strategy. It's not enough to simply target keywords that will draw in traffic; you need to ensure that the keywords you target will draw in relevant traffic, the kind that will ultimately lead to conversions, so make sure that in addition to finding keywords that people are searching for, you apply a common-sense approach to ensure that those terms are things your audience will be looking for. Backlinko does a good guide on keyword research, it's worth bookmarking it for future reference.
SurferSEO – This is a pay-for tool, but for most web-based businesses today, it's worth investing in. This program is ideal for keyword research. It features a range of tools like a website audit tool; which will show you how your page can rank higher. When you write your website content, you can run it through SurferSEO's content editor to test and refine keyword usage.
Keyword Tool – This is a free online application that will help you with your keyword search design. There are plenty of others, like Google's Keyword Planner. Ideally, these tools should be used to optimize every page of your website.
Enable Structured Data
You'll also want to enable structured data on your site, or have your IT tech do it. Structured data, also known as schema markup, is a type of code that makes it easier for Google to build out more detailed search results, showing visitors directly in search, data they're interested in. Among other things, you can use structured data to add star ratings to search results; so would-be visitors can see at a glance what type of reviews your products received.
Create Good Meta Tags
Don't forget about meta tags and meta descriptions, those snippets of text that tell search engines, and potential visitors what the page is about. While not as important as they were a couple of years ago, they're still worth creating. Just make sure you avoid keyword stuffing and ensure that each meta description is unique to the page; so don't copy and paste the same meta description on multiple pages.

Meta descriptions tell your visitors, and search engines, what your website is about.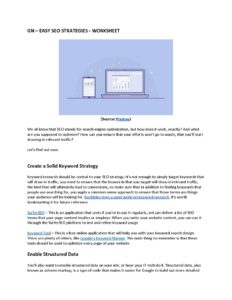 Get our Easy SEO Strategies - Worksheet delivered right to your inbox.
Update Your SSL Certificates
Although Secure Sockets Layer (SSL) certificates don't appear in most marketing plans, they're used by search engines to signify how secure your website is and the level of protection you've created for their traffic. Most SSL certificates cost money.
Domain Validation (DV) – This is the basic level for SSL certificates and has a low cost of about $20 per year.
Organization Validation (OV) – These certificates are used to validate multiple sites and pages. They cost in the low hundreds of dollars, yet assure search engines of your size and commitment to security.
Extended Validation (EV) – If your website deals with payments or confidential personal details, it's wise to take out an OV or EV-level certification. Yes, these cost an annual fee of hundreds of dollars, but search engines want them in place to give their customers—and yours—confidence.
Optimize for Mobile
Google's Mobile-Friendly Test is a true indicator of your website-to-mobile optimization. This test looks at your site by how easy it is for a search engine to crawl through its pages. The test includes a report that you can use to improve your mobile site performance.
Claim Your Local Listings
Local Listings – Search engines love local listings, as they create backlinks to your site and give their customers the power to undertake local search discovery. Be sure to claim your listings to improve your SEO. Ideally, you need to join every local listing you can find, by locality and by industry, trade or profession, to drive traffic and your customer search optimization. Not sure which listings you've claimed? Use this free tool. 
Clean Up Your Links
By now, you may already know that backlinks and page links between your internal pages can help to boost your search engine ranking. You can use a program like Link Assistant to help organize your links based on keywords. Or try Google Webmasters, which offers tools to clean out old or dead links on your site. Cleaning and updating links improve your site management and speed up search engine traffic on and to your site.
Check Your Page Speed
How fast your pages load is another key factor that will impact your website's rating.
Google recently described the optimum page download speed as three seconds, while describing average download speeds on the internet at about eight seconds. Between these two figures, you can win an important battle.
Optimization for speed certainly comes from how your site handles images. You can reduce the size of images, or you can make images download faster through testing their placement on a page.
Tip: Often, when it comes to site speed, Shopify and WordPress plugins are the culprits, responsible for slowing the site down. In most cases, you can modify the plugins to only load when needed, versus loading every time the page is refreshed.
Google recommends an optimum three-second download speed for all website pages. Google algorithms will pick up on page download speed as a priority, so this is an easy win to move your site up the page rankings. To test your page download speeds, try:
GTmetrix – A good, free page speed test tool. Actually, GTmetrix is a powerful search and site optimization platform that you can use to improve your entire site.
Dareboost – A speed test specially designed for mobile page speeds. This gives you speeds for your mobile download times, which you can then optimize.
Google Mobile – A speed test for mobile from Google. Testing your site by using Google's own tools is always wise, as they pretty much set the template for search engine optimization.
If you use a WordPress or Wix platform, you can add a plugin called Yoast. This will test the speed of your third-party site management and SEO. You can also differentiate between:
Browser add-ons – Each type of browser—Chrome, Internet Explorer, Firefox—needs to have its 'accessibility' to your site checked for speed and performance.
Site add-ons – Lighthouse is Google's website performance application. You can test any pages and it looks at the speed of your website plug-ins.
Build Authority
Your site's authority is another factor that can impact your ranking in Google search. This is determined largely by two factors: your domain authority and page authority. Your website's domain authority is based on external backlinks, along with the quality and relevance of these links. When it comes to your page authority, good content is key.
You can check your authority here. 
Another good way to add authority to your website, or more specifically, your blog, is with author bios. When you have a writer create content, or if you're creating content, make sure you link up the bio for every article published. WordPress makes this easy to do.
To communicate author authority, it's important for authors to:
Create an "About me" page that highlights their experience and credentials
Activate bios for every article published
Link up their social media profiles on their bios
Optimize Your Product Pages
For e-commerce stores, make sure your product pages are optimized as well. It's good practice to include FAQs about the products on the actual product page itself, instead of cramming everything into a long FAQ page. It adds content to the pages, and shows Google that you are answering questions about the products.
Build Solid Backlinks
Solid backlinks can also help to drive traffic your way, and improve your website's authority in the process. Getting picked up by the media or landing a spot in a high-profile online publication is a great way to add credibility to your site, and boost your authority in the process. When it comes to getting coverage, you need a plan. Check out my guide to getting media coverage for your company. 
You'll also want to look to add backlinks to subpages as well.  Most people make the mistake of only building links to the home page, but adding links to the subpages will help boost the overall ranking of the home page and give you a chance to rank for multiple pages.
Lower Your Bounce Rate
Google also factors in how high your bounce rate is. This metric is a measure of how many people view just one page on your site before leaving. Look to create engaging content with clear CTAs to help encourage your visitors to stick around a bit longer. Additionally, targeting the right prospects with the right keywords can draw in relevant traffic in the first place, which will also help to keep your bounce rate low.
Update Regularly
Regularly updating your blog with new content and updating old blog posts can improve your SEO as well. This includes adding, deleting, and updating pages, headings, and links. This will signal to Google that your business is current, and search engines love fresh content.
Tools to Audit Your Website
It's surprisingly easy to get very powerful analytics on your website performance. There are a number of free and pay-for platforms that give you critical data for website performance.
Ahrefs – Ahrefs is my go-to tool for site audits. I usually cross-reference this program with SEMRush to understand what is going on with my websites and competitors.
SEMrush – Although SEMrush isn't free to use, it's a powerful tool to refine your website performance. It even allows you to check your SEO performance against your competition.
Google Analytics – Start by checking out this free audit and analytics tool from Google. This identifies many of the critical categories for online search performance and recommends improvements.
Surfer SEO – One of Surfer SEO's features is its SEO audit tool, allowing you to quickly assess any website's performance.
For any business today, getting found in search is crucial. Give your business the best chance possible by focusing on your target audience, and finding keywords that they will be searching for. Then incorporate those into content that will help, provide value to, or engage your prospects, giving them the information they need to go through with their purchases, or at least that helps to take them down through the sales funnel. Then look to optimize the rest of your site as well. Don't forget to A/B test your changes, and check Google Analytics to see what's working, and what's not.
Good SEO requires an ongoing approach, but it's not simply optional. It's crucial for any web-based business today to both create good content, and ensure that it's SEO-optimized. Fortunately, the two are not mutually exclusive anymore.
Ready to grow your business? Reach out today for your FREE 20-minute consultation. Let's discover strategies that you can employ right away that will help you to grow.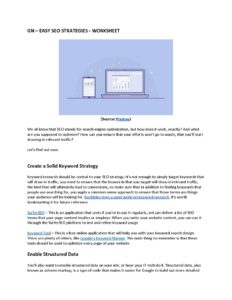 Get our Easy SEO Strategies - Worksheet delivered right to your inbox.