Could your business benefit from a referral program?
Absolutely!
Unless you've already got more customers than you can handle, then there's no doubt that your business could stand to benefit greatly from a rewards-for-sharing program.
Promotional software is a quick and easy way to drive up your sales, and with the myriad of referral programs that are available today, there's plenty of choice. Rewards programs today are tremendously seamless and easy to use, and it's easier than ever for e-commerce stores and other web-based businesses to efficiently offer these incentives for their customer base –seamlessly and easily –and at-scale.
Notable rewards-for-sharing programs include:
Tesla, with their $1,000 for both advocate and friend referral program (Sadly, they discontinued it earlier in the year).
Dropbox (They offered free space for photos for referrals, something that resulted in a 60% permanent increase in signups!)
Amazon Prime (Possibly one of the most frequently used referral programs today).
Not to mention the thousands upon thousands of other companies that are using, and benefiting from referral programs as well! (Here's a list of 79!)
Still, it's worth noting that while word-of-mouth is directly responsible for 19% of all purchases, and influences as much as 90%, it's estimated that fewer than 1% of companies have an actual strategy for generating these crucial customer conversations! This is where referral marketing comes in.
This marketing strategy can be defined as an attempt to harness your customer's positivity and enthusiasm for your brand –giving you the tools to track and reward their recommendations.
If you like the idea of increasing your customer base –and rewarding your most loyal customers, then you'll want to consider using a referral program.
Not sure where to start? Read on to see how these programs work, tips for using them, and my recommendations for rewards programs.
Could You Benefit From a Rewards Program?
Of course, there are so many promotional rewards and referral programs today, is it even worth running this type of promotion? Is the promise of rewards really enough to encourage your customers to highly recommend your company or products? The answer is, yes, it can be.
While a rewards program obviously isn't enough to entice an unenthusiastic prospect into recommending your company (unless, of course, that reward is something pretty spectacular!), but it could be just the push that a satisfied customer needs to take the time and energy to make a referral.
The truth is, simply asking your customers to share your company on social isn't enough –these days, consumers are busier than ever, and face a constant stream of messages constantly bombarding them. Because of this, you're going to need something to convince your customer to carve time out of their jam-packed schedule to refer a friend –and this is something that a rewards program can incentivize and facilitate.
Additionally, there's one more often-overlooked benefit of referral programs, and that's the value of the referred customer. These types of customers often spend more than customers from other channels, and oftentimes have a higher lifetime value as well.
As you can see, it's worth taking the time to implement this type of campaign –something that'll encourage your loyal prospects to keep on referring their friends, and in turn, reward those friends for shopping with you.
Planning Your Campaign
There are a number of ways that you can get started with your rewards program.
But in most cases, you'll need an email list and a promotional offer with sizzle.
Also keep in mind that the larger and more accurate your email list, the greater impact your campaign will have.
You'll also want to select some prizes, or levels of prizes, specifically designed to attract your audience and market. Some prizes are definitely better than others, but you'll want to make sure they're good enough to entice your best customers into signing up, without eating too heavily into your profit margins. So, keep the rewards commensurate with your products. If you're selling $20 shirts, you won't want to offer $100 for each referral.
Popular reward options include:
Cash
Gift cards
Freebies
Discount coupons
Points
Charity donations
You'll also want to consider implementing a double-rewards program that benefits both the referrer and the new customer. Remember, the success of viral or online promotional marketing is charted via buy-in from both your customers and potential customers –so make sure your offer is compelling enough to interest both parties.
One-sided offers that only reward the referrer, may appear to be too one-sided, causing a new customer to be skeptical –while offers that only reward the new customers won't offer much incentive for a referrer to make the referral in the first place.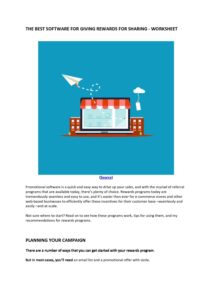 Get our The Best Software for Giving Rewards for Sharing Worksheet delivered right to your inbox.
Inform Your Customers About Your Rewards Program
Next, you'll want to think about how you're going to promote your rewards program.
Email – One of the more popular options, it's been said that the best time to ask for a referral or review is right after the customer makes their purchase. For e-commerce stores, consider implementing an email campaign that is timed with delivery of their products to increase your referrals.
Your Website –Don't forget to have a clear place on your website where you cover your rewards program. Make sure it's easy to find!
Text Messaging – Most rewards programs offer an option to have your referral gets a message from the person that referred them with a short message and link to your website.
Push Notifications – You could also use push notifications to message your brand ambassadors, asking them to refer more people. (Just take care that you don't overuse push notifications, many people dislike them).
Social Media – Finally, good ol' social media ads. You can reach your customers on Facebook by creating a custom audience and running ads to them.
The Best Sharing Platforms
So where do you start?
There are dozens, if not hundreds, of online competition and leads generation services you can use to create digital marketing and promotional programs.
The following tools are a handful of popular options. Read on to see what each one has to offer.
UpViral's selling proposition offers you a plugin online business promotion tool that you can use to generate leads, referrals, and sales.
There's no complicated programing, you just supply as many leads or email addresses as you can and the UpViral platform allows you to select a competition or prize entry mechanism, load it on to your own customized pages, send a viral-competition entry to your list and build a referrals system based on participation by engaged digital users.
The minimum membership fee to join the UpViral service is $39 per month billed annually, with a restriction on competition size of 10,000 entries. The full-service pricing includes up to 100,000 competition entries for $149 per month paid annually.
Pay With a Post is another solid option. This tool offers a reward or competition entry system that generates interest from your list of identified prospects.
It relies on rewards for participation gained either by visiting your website, responding to a Tweet, or via embedded in email buttons.
A special feature is the 'Pay With a Tweet' option that enables Twitter users to enter and earn prizes on the platform itself.
Pay With a Post is priced at monthly $49.99 with a discount for annual membership to $35 per month.
ShortStack connects lead generation with customer and user contests, employing email campaigns based on prize promotions.
Create Facebook apps and build engaging social media marketing campaigns contests, promotions, and much more.
Like other services, you connect your website, emails, mobile promotions, social media, and special promotion pages via their platform to create a total online campaign to generate interest and response to your business.
Pricing starts at $29 per month with discounts for annual membership and go all the way up to $499 for larger organizations.
Contest Domination claims to be the most powerful lead-generation service using online viral campaigns and competition entry.
The company's members have, according to its own figures, generated over 29 million contest entries with a 32% average increase in referrals claimed.
Contest Domination charges a flat $40 per month for individuals who would like to access their unlimited services and $80 per month for businesses.
Viral Loops offers to run 'referral programs, viral giveaways and pre-launch campaigns from a single platform.'
Its service is based on a series of templates which allow you to build your campaign by customizing each step of their online service, to best achieve your business aims.
Viral Loops offers monthly memberships starting at $34 per month and go on up to $208 per month, both billed annually.
Rewards-for-Referrals Plugins
Swell Loyalty and Rewards is a Shopify plugin that'll accommodate both customer loyalty and referrals.
Pricing: Free – $249 per month.
See more of the best Shopify plugins for e-commerce businesses!
Gratisfaction is an all-in-one loyalty, referral, birthdays and anniversaries, giveaways, sweepstakes, instant win and rewards platform.
Pricing: Free – The most expensive package is $399 per month.
See the top WordPress plugins for e-commerce stores!
Once you've got your platform and a plan for your promotion, you'll be ready to build your new digital marketing program! Then press the button. With a good level of response, you'll soon be generating new leads for your business, building an engaged customer base, and designing a marketing funnel for future business.
These days, enough people talking about you can make or break your business. With the right approach, and program –you can start creating incentives to get the right people talking, and start generating more business, higher sales, and more long-term customers.
Are you ready to start growing your business? Reach out today for a FREE 20-minute consultation.
See what metrics should be driving your business –and discover how high-level digital marketing strategies can lead to increased sales and growth. See how you can get started today!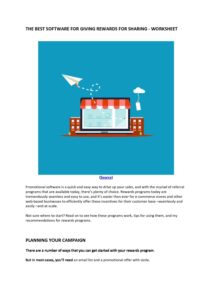 Get our The Best Software for Giving Rewards for Sharing Worksheet delivered right to your inbox.