As a SMB, then you're always looking for new ways to drum up publicity and drive relevant traffic your way.
Two of the best opportunities for generating immediate interest today are influencers and social media networks.
The right influencers and a strong social media presence can help drive more business your way.
In fact, there are a number of statistics that show how influencers are a tremendously powerful tool that brands can use. Some 40% of people say that they've gone on to purchase an item online after seeing an influencer use it. In addition to immediate publicity, influencers can be a great way to add instant credibility to your brand. Not surprisingly, 92% of consumers trust recommendations from people they follow on social media over advertising from brands.
Likewise, social media can prove to be a valuable tool in boosting your company's profile, consumers are generally receptive to messages through social media, and some 95% of adults between the ages of 18-34 are likely to follow a brand on social media.
Having a database of potential influencers and relevant social media groups can be extremely helpful, and can help to make the job of finding and connecting with these folks a lot easier. This is something that I do whenever I'm starting a new business, or trying to assess a market.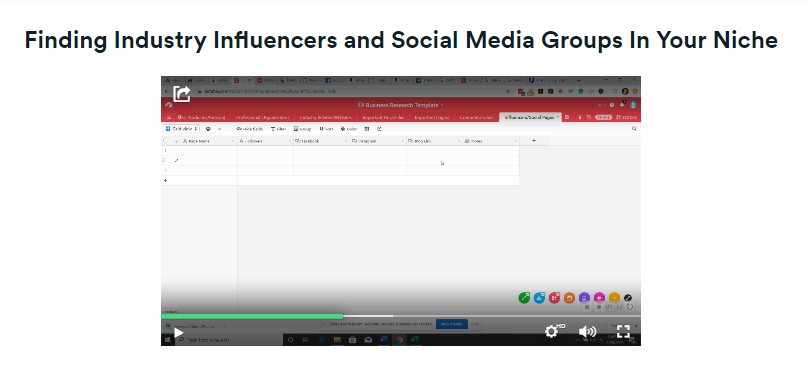 Video 7.0 Finding Industry Influencers and Social Media Groups In Your Niche (Time: 4:59)
Collecting data to create a database can help you in the future, and can save you time in the long run. Collecting the info is a crucial first step; you can always go back through and do more research later on, but for now, we are going to look at collecting and finding influencers and social media groups.
Finding Influencers
Finding influencers isn't as hard as you might think. Determining if they are a good fit requires a little extra time and effort. But for now, we are trying to build a database of potential influencers. We can always go back through and determine whether they're a good fit later on.
So how do you get started?
Here's how I find, and keep track of influencers. First, as you can see in the video, I head over to Airtable or your spreadsheet program of choice, and create a new template. I'll then do some Google searches to find influencers, and will be adding in relevant information including page name, number of followers, links to various social media accounts, and notes.
To find influencers, start by running a search, and setting parameters that help you to find influencers that fit your criteria.
One such way is to run a search using this formula: Site (name of the website or social media platform you're looking to target) plus a keyword that's related to your industry. So say you're selling baby strollers, you'd type in "Instagram" and "baby" into your search. This will bring up loads of different Instagram pages for you to look through. Start clicking on some of these, and getting a feel for their site or Instagram page. If it feels like it will be a good fit for your brand or the theme of what you're trying to sell, then copy the link and paste it into your Airtable template. Enter information like number of followers, or any other notes or details you'll want to remember. If you see a link to their social media profiles on their blog, then you can include some of those as well.
Likewise, when looking for relevant blogs, you can run a quick search for: best "insert keyword" blogs. This is a fast way to bring up lists of blogs that have been curated online already. You can take the links from these round-up posts, and put them into Airtable as well.
When it comes to finding relevant Facebook groups that you can join, you'll want to run a similar search. Type in "Facebook group" plus a keyword related to your product or audience. So for the stroller example, we'd type in "Facebook group" and "for parents."
Again, this will bring up different groups that you can join. You can take the relevant links that come up in your search, and put them into your Airtable template.
You'll want to determine which social media platform you should be targeting. So start by identifying your target audience and thinking about what social media platforms they use. Instagram, Facebook, and YouTube are good places to find influencers, and the reach is extensive which means you should be able to find your target audience on there.
At this stage, we won't worry too much about screening influencers, we can do that later. At the moment we're just focusing on collating a bunch of data so that you have something to work with later on. Once you've compiled the data and are ready to start enlisting influencers, you can get to work screening them more in depth to find the ones who are the best fit for your brand, message, and budget.
Note: I'll be sharing another video where I outline my process for screening influencers later on. So stay tuned!
Tools for Finding Influencers
It can be time-consuming to track down influencers and social media groups, but fortunately there are some other sites that can help make your life a lot easier.
Let's take a look at a few now.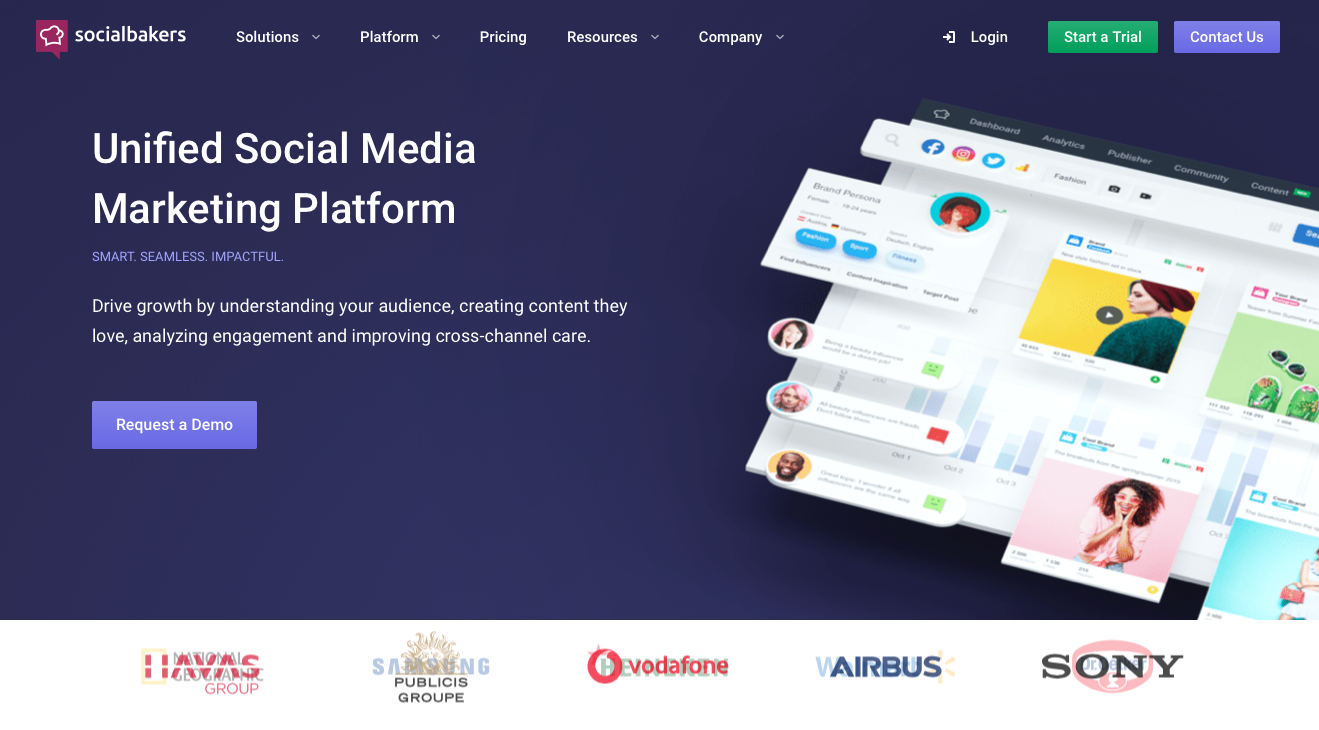 (Source: Socialbakers)
Socialbakers 
One platform that I've used to find influencers myself is Socialbakers. This is an easy to use tool that can help you find relevant influencers. They make it easy to grow your brand and customer base. Monitoring over 8 million business profiles across all major social media platforms in over 100 different countries, Socialbakers gives you access to some of the best influencers available.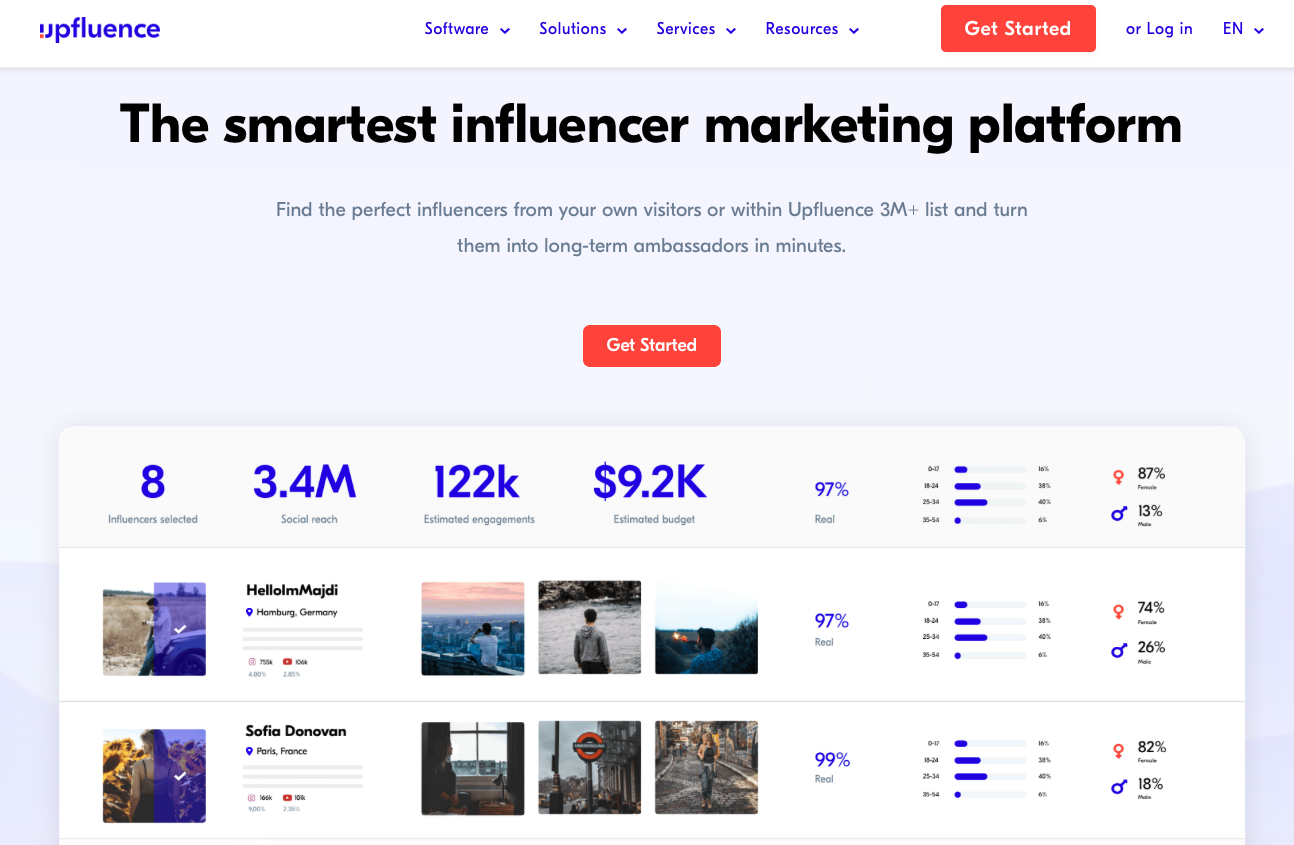 (Source: Upfluence)
Upfluence
Another platform that I've used is Upfluence. With over 3 million influencers, Upfluence is a great database to start your searching. Search Upfluence using keywords that relate to your goals to help narrow down the search and give you relevant results. Upfluence also allows you to search with multiple keywords but also gives the option to put the main focus on one keyword. The platform is easy to use and navigate. It is up-to-date with statistics on current influencers and makes the process of finding relevant results much easier.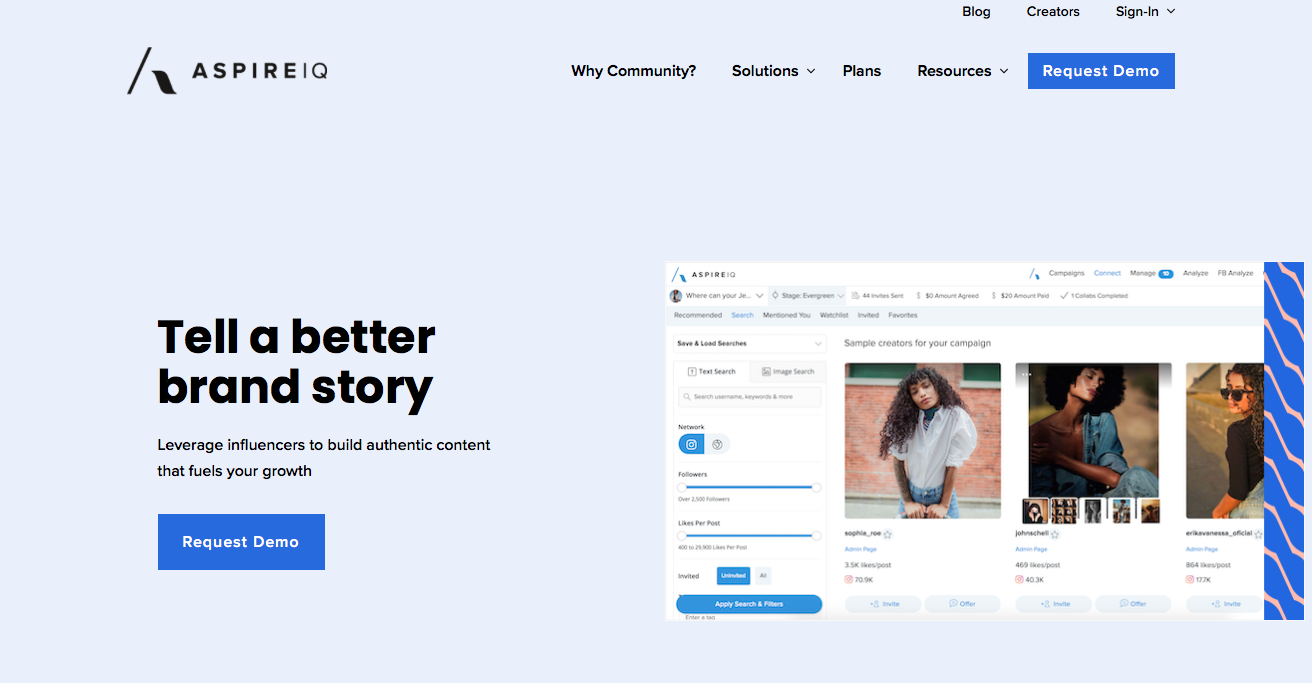 (Source: AspireIQ)
AspireIQ 
AspireIQ is another intuitive site that provides great results when it comes to finding influencers. Their database has hundreds of thousands of current influencers that have high engagement rates and audience sizes. Their site also offers an analytics dashboard which makes it easy to track performance. AspireIQ has worked with large scale companies and is a great software solution for those looking to build relationships with influencers and content, on a larger scale.
Getting the Most Out of Your Campaigns
It's important to note that while influencers can be a valuable part of any launch or campaign, they're not ideal for every product or business model. They're best used when you have a tangible product, something that can be seen, used, or worn. It's also crucial that your product is something that fits well with the influencer and their usual style, or else you'll run the risk of their plug for your product looking contrived or forced. Finally, a word of caution: generic products are difficult for influencers to promote. You're going to want some sort of unique selling proposition, or hook, that will capture attention and get your product noticed, so your best bet is working to ensure that your product stands out in some tangible way.
Finally, make sure you get the most out of your influencer campaigns. When looking to set up your campaigns, you'll want to make sure you also implement some Facebook retargeting campaigns as well. This will allow you to reach those prospects that influencers send your way, but who don't convert right away. Since you often need to market to prospects multiple times in order to convert, this is something that's worth doing. Retargeting will allow you to serve up relevant ads to them, prompting them to buy your product.
So there you have it. Finding the right influencers can benefit you immensely, and starting your own database to file away potential influencers is a good idea. It'll help you to move quickly when you're ready to start reaching out and adding influencers to your marketing strategy when you have all of their information in one place, and ready to go.
If you'd like help executing any of the strategies in this guide, please reach out today. I'm standing by, ready to help you scale your business.