Things change as time marches on.
Think about how much has changed in the last ten years alone! Social media's taken over, smartphones have become something of a necessity, and we're all obsessed with technology –or at least, reliant on it in varying degrees.
Our business world is living and vibrant, organic. Alongside the rapid evolution of technology comes shakeups to the dynamics of the whole marketing environment as well. It's no secret that marketing tactics are changing drastically from year to year, with new algorithm updates, platform changes, and shifting consumer preferences impacting how things are done.
Today's business –whether it's a startup or growth-stages company needs to stay up to date on the strategies, developments, tools, and methodologies.
You need to stay aware of your audience and especially your competition.
So what trends can you take advantage of to get ahead?
That's what we're going to look at today.
Content Marketing: It's Here to Stay
Critically, content marketing is something that's here to stay. It is worth your time: it has become a juggernaut and a mainstay in the digital marketing environment. That's why it is essential to employ an intelligent and dynamic content-marketing strategy; one that adapts and shifts to the current trends.
MarketingCharts reports a 50% increase in digital marketing budgets compared to 2016. Clearly content marketing is on the rise, with businesses increasingly recognizing its importance.
A well-crafted content marketing strategy can help you to increase your revenue, boost conversion rates, develop your brand, and spread awareness.
Look at businesses and brands like Dollar Shave Club and For Hims or people like Gary Vaynerchuk, Neil Patel, Marie Forleo, Tony Robinson –all masters at producing great content. Consider celebrities –like Dwayne "The Rock" Johnson –who's harnessed the power of social media content to scale his personal brand. Even large companies like Coke and Budweiser are using content marketing to grow and expand.
"Content is serious business. Smart marketers prioritize time to create inspiring, relevant, empowering, interesting, memorable, and impactful content," says marketing expert Pam Moore, as quoted in a write-up on Medium.
Good content matters –and no matter what changes the digital marketing landscape will see, excellent content is evergreen.
So exactly what should YOUR content marketing strategy look like?
Whether you're well-established, a lean startup, or are looking to leverage a personal brand, developing the right content strategy can help you get more customers, more clients, and get you on the fast track to success.
With this in mind here are some key trends in content marketing that you can't afford to ignore this year.
1. Know Your Audience
It's less of a trend and more of a first step in any marketing strategy: the importance of knowing your audience.
Without a clear target audience, how will you know who you're talking to? Without buyer persona, how will you be able to craft your message in a way that'll resonate with them?
Increasingly, companies are recognizing the importance of identifying their target audience first and foremost. With all of the noise out there today, it's crucial that you develop a way to stand out –and that means knowing who you're speaking to.
Once you're clear on your audience, you can move forward from there.
How can you identify what your audience is interested in?
Take a look at this chart from the Content Marketing Institute: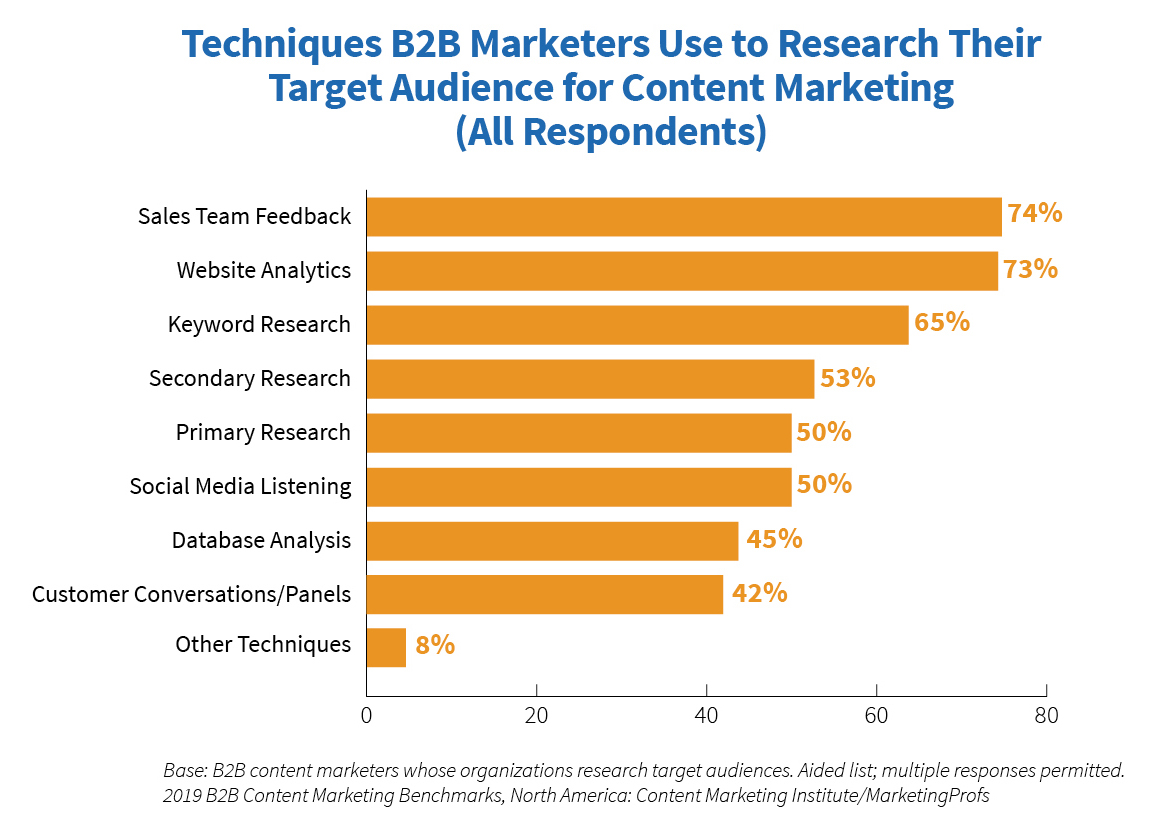 (Source: Content Marketing Institute)

This study was for B2B content marketers, but the message still applies. Take a leaf out of their book and start speaking to your intended audience.
Not sure where to start?
Here's a look at some tips for getting content ideas from your target audience.
2. Prioritize Video… Yes, Even More
Video has been touted as the next biggest thing in marketing for years.
Despite some minor setbacks, Facebook we're looking at you, things seem to be back on track. With the integration of video on Instagram and Facebook and the utter dominance of YouTube, the prediction of video supremacy has finally come true.
Look at it this way: YouTube alone has more than a billion users. It's the second most-visited website in the world, second only to Google. Live video and short-form video are becoming more ubiquitous for users and brands alike. The utility of live video to interact with your target market cannot go understated. It lends a personal touch to your brand that is hard to replicate with other forms of marketing.
How do you know where to start? Experiment with different types of video content on various platforms and see what your audience engages with the most.
Then make more of it!
3. Voice Search Begins Its Domination
Marketing genius Neil Patel has been a recent advocate of preparing for voice search.
And he's not alone in his predictions. Gartner estimates that 30% of web browsing sessions will be done without a screen by 2020.
Voice search is going to differ from text-based search in that it will lend itself to longer phrases and include more questions. Since most long-tail research tools are based on a history of text inquiries, they will not be able to help much with voice search.
Get the edge by exploring and familiarizing yourself with voice search and using your findings to optimize your content:
Create a list of questions that your audience might ask when inquiring about your brand or services
Figure out how keywords can translate to questions with tools like AnswerThePublic
Enter your keywords into forum sites like Reddit and Quora to see what types of questions are being asked
Then compile a list of relevant topics based on your research
Implementing voice search should be a priority for all digital marketers in the year ahead. Usage is expected to ramp up rapidly. Keep an eye on top marketers and influencers to help predict the best keyword phrases for voice search.
4. RIP Click Bait – Honest, Engaging Content Rules the Day
Writing content for content's sake is no longer going to cut it. In fact, as I mentioned earlier, quality, evergreen content rules the day. And has been for some time now.
With competition for keywords exponentially increasing, the need for quality content is taking root.
Quality and engaging content will make your business money. The proof is in the numbers. According to one survey, 78% of consumers say that targeting and relevant content increases their likelihood of purchasing a product.
If you want to compete in today's crowded content market, you need to be producing original content that features your own fresh, witty ideas. If you're just going through the paces to check off all the boxes, you're going to be disappointed. Your content's performance will continue to wane.
Not a writer? Find a good copywriter to bring your ideas to live. Short on time AND ideas? Hire a content strategist to help you come up with a strategy –and craft your posts. You can still be involved, just outsource some of the research and time-consuming processes along the way.
Regurgitating the hottest viral headlines and topics is a surefire path to failure. As a marketer, you're not going to get away with copying and pasting someone else's opinion. The bar is being raised.
The consumer is getting smarter and learning to avoid clickbait. The trope has become tiresome. They seek tangible, real content that can help solve their problems quickly and easily. It's time to earn your customer's trust.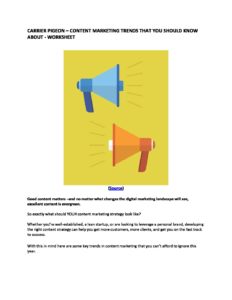 Get our Content Marketing Trends That You Should Know About Worksheet delivered right to your inbox.
5. Micro-Influencer Mania!
Although influencer marketing is nothing new, it is very rarely executed correctly by marketers and business leaders.
Avoid the pitfalls of reaching for the big-name influencers that are extremely visible these days. Ignore the Kardashians (if you can!). Instead, consider local and national leaders in your space. Explore within your own company and customer base. Who are your most influential brand advocates? Any good viral influencer campaign begins with sincerity.
Take a pass on finding a famous influencer with tons of clout and giving them a briefcase full of cash. Unless you're Papa John's or Pepsi it's not going to be worthwhile to you.
These days, even bigger companies are enlisting the help of more niche, smaller personalities. Consider how you can work together: give them a chance to use your product and either love it or hate it. Consumers trust social media stars more than bona fide celebrities anyway these days, so keep this in mind when teaming up with influencers.
Avoid the influencer marketing agencies that will gladly take your money only to spam their users. This will hurt your brand in the long run. Instead, consider how building a relationship with your influencer that is win-win. How can you serve both your audiences and distribute value throughout?
Consider the Joe Rogan podcast, listed as #1 on iTunes consistently. Rogan is adamant that he only promotes brands that he believes in and uses himself. It's authentic and works.
Micro-influencer marketing can be a real game-changer. Granted, it requires much more effort up front but that work will pay off in the end, leading to brand amplification and a genuine connection with your target audience.
6. Artificial Intelligence Meets Content Marketing
The impact of AI on content marketing is already becoming a force to be reckoned with. And this will only increase over the next few years.
Although there exists many powerful AI technologies, none of them are very accessible. This will be changing over the next few years, however, and that is when we will see a significant impact of Artificial Intelligence on content marketing.
The real value of AI lies in analytics and machine learning, and the ability to gather and interpret vast amounts of data. This would typically be cost prohibitive due to the time it would take an entire team to do a comparative analysis. AI can accomplish the same feat in a fraction of the time.
Once fully implemented, what will this mean for content marketing?
Implementation of AI or machine learning is going to add tremendous value and allow digital marketers to build superior strategies. Better data is going to allow them to refine audience tracking and targeting. Content will become increasingly tailored to individuals' interests.
This flood of data will enable marketers to develop highly targeted audience segments with specific content for each part. The days of just putting stuff out there, and hoping that it works is done. You'll see personalized content based on shopping behavior, personal interests, personality traits, time-based needs, and other factors. Targeted and tailored is increasingly the name of the game.
7. Lean Into Telling Your Brand's Story
If you haven't already, it's time to start thinking of your brand and its story arc.
This may seem like C-level marketing speak mumbo-jumbo, but it isn't. People love stories: origin tales, struggle and victory, and conclusions. It works in movies and music. It will work for your brand as well.
Brand storytelling is something that most have mastered. Many assume that leveraging brand storytelling entails a one-sided, 2D conversation over social media. This is not the case.
A brand story goes beyond who you are and why you're doing what you're doing with a few cat memes sprinkled in for good measure. Leveraging brand storytelling is about creating an experience with a purpose that will engage your customers. A powerful experience can make a huge difference in your audience's engagement.
Think about your brand's origin story and the secret behind your success. What challenges have you faced? How did you and your team respond to pressure and competition?
Some of our favorite brand stories exist in the world of men's razors. Yes, that is correct. Bloated and out of touch brands like Gillette are well known for charging exorbitant amounts for razors. Brands like Dollar Shave Club and Harry's have responded with some genuinely entertaining narratives and storytelling that have allowed them to carve out a niche in a huge market!
It isn't easy creating a compelling, memorable message that consumers will remember. In fact, it takes about seven encounters with a brand for someone to remember you. Therefore, you need to maximize every touch point and be sure you leave a lasting impression.
Struggling with this aspect of your business? Consider enlisting a good PR professional who can help you to discover your brand's story, and share your message with the world.
8. Omnichannel or Bust
The term "omnichannel" refers to all of your brand's chosen marketing channels working together as one cohesive unit.
Invoking an omnichannel strategy ensures that the customer experience is consistent across all platforms, devices, and channels. From your customer's perspective, it should be smooth and connected.
From a brand perspective this approach will see content marketing working alongside other types of marketing to support the customer experience.
Think big and expand the scope of your creative content. It should exist beyond the realm of social media and the blogosphere. Content marketing goes beyond blogging. It also includes marketing videos, email marketing, podcasting, and so much more.
When looking at how people consume content, it varies throughout the day. They may switch from various devices and platforms. Your aim should be to carve out a presence wherever your customer shares space. Just understand that you will need to create content that suits each channel or specific situation. This is not a one-size-fits-all affair.
Here are a few examples of how you can flex your omnichannel muscles and create a more extensive brand presence for your business:
Video is currently crushing it, and its growth seems to have no end in sight. What type of video is right for you? Long form or short? A video strategy for YouTube is much different than that of Snapchat, Instagram, or Facebook. Consider what would best accomplish your goals.
Long form audio such as podcasting is also growing in popularity. How can your brand leverage this medium to increase brand exposure? Is there a co-brand or influencer marketing opportunity for you?
Interactive content such as AR lenses provide a dynamic, bleeding edge meant to engage your audience. How creative can you get to sell your brand to your target audience?
It's Time to Commit to a Real Content Strategy
Planning and strategizing take your time, which costs money. As the competitive landscape of content marketing continues to shift, the importance of a sound content strategy could not be more critical.
You may have noticed there is a theme to all of the content marketing trends that are sweeping the digital landscape today: competition is increasing. You need to bring your 'A' game to the table.
Do you run an ad-hoc, 'by the seat of your pants' content strategy? Perhaps you use an editorial calendar, but don't consider the more significant ramifications of your tactics?
You're not alone. According to Marketing Profs and the CMI, 63% of businesses don't have a documented content strategy. This is terrible news for them but could be good news for you. It's time to develop a content marketing strategy that aligns with your business objectives.
You don't have to hold an MBA in marketing to understand that a content strategy is much more than a list of articles you plan on writing over the next few months. Rather, it's a documented strategy that includes:
Establishing goals and objectives that are both measurable and realistic
Setting up KPIs (key performance indicators) for measuring your content marketing's ROI
Committing to a content strategy that serves your overall business goals
Developing audience segments, target markets, and buyer personas
Creating a content curation, repurposing, and distribution strategy
Different strategies for different customer acquisition channels
When you take the time to analyze and augment your content marketing strategy, you're going to find that you are more efficient and effective.
Finally, while user habits, methods, and platforms change over time, it's important to keep in mind that the basis of a good content strategy –helpful and engaging content that people want to see –that's something that will never change. Invest in evergreen, powerful content. It'll help you to create content that connects with your audience, resonates with them, and stands the test of time.
What about you? Are you looking to take your content creation strategy up a notch? If you'd like help getting your content noticed then get in touch with content creation and distribution experts –Carrier Pigeon today. It's a fast and stress-free way to create, and distribute content online.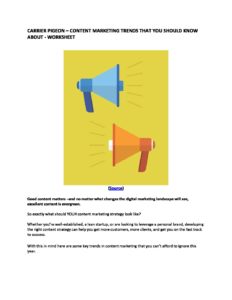 Get our Content Marketing Trends That You Should Know About Worksheet delivered right to your inbox.