As a business owner, you're constantly on the lookout for opportunities to help your business grow. And one exciting marketing opportunity that could help to generate awareness, boost your publicity, and attract a loyal following, is none other than podcasting.
Podcasting has grown tremendously over the last few years, and today, it's a great way for businesses to reach and connect with their target audience. It can also be a good way to generate publicity and help to build top-of-mind awareness.
Since podcasting is all about conversing with your audience, it can also be a good opportunity to build relationships with your audience, allowing you to connect with your engaged listeners in a meaningful way.
Podcast listeners tend to be a more engaged, more loyal audience, and they'll be more likely to not only listen to you but there's a good chance that they'll be interested in what you have to offer as well.
But of course, podcasts aren't for everyone. There are some situations where your resources would be better spent elsewhere. In this article, we'll look at five valuable benefits that podcasts offer, and see if it's a good idea for your business. 
What's So Great About Podcasts, Anyway?
We are all living busy lives, and your customers are no exception. Sometimes they don't have the time to sit down and watch a video, read an article, or pick up a non-fiction text, but they are still looking for a way to feed their minds and learn about an industry or topic that interests them – from people with the wisdom to give them that knowledge. 
Podcasts fill that gap.
Brandtastic states, "As the world becomes busier, the podcast format has become incredibly popular. Audio content allows the listener to multitask. A recent study showed that while 49% of podcast listening happens at home, 22% happens while driving, 11% at work, and 8% while exercising."
We focus so much of our marketing efforts on the buying journey and where we can reach customers when they're sitting and browsing the internet that we forget we can even pull them into a conversation and a potential sale when they're driving, cooking, working, or exercising.
Podcasts reach our customers in the in-between space of sales – customers access them when they want, usually in their downtime when they're looking to unwind. This is the perfect time to reach your audience with helpful, engaging content.
Podcasts listeners are what's known as active listeners—this means that they want to be listening to your show. During your podcast, you have a great opportunity to speak to your listeners exactly where they're at, making your message more impactful.
They're choosing to tune in, which means that they're already interested in what you're saying, they'll be taking your advice and suggestions seriously as well. 
In addition to the exciting opportunities to speak to a receptive audience, there's another great opportunity: your podcast guests may turn into customers as well. 
"When I launched my first company, I used a podcast as one of my primary growth channels," explains Jake Jorgovan, founder of Content Allies. "At one point I found that over 68% of our revenue was a result of the guests who I had invited on my podcasts.
Some of them turned into customers. Others referred customers to us. Others invited me to speaking engagements that led to new customers. Using my podcast as a networking tool proved to be one of the single greatest drivers of revenue for my business."
With this in mind, let's dive right into five reasons why you'll want to think about starting a podcast yourself. 
Podcasts Establish Your Brand Identity and Reputation
Your goal as a business owner is to establish your authority in your niche. This is what will encourage people to choose you over your competitors. Your leadership in your industry leads to sales, and sales lead to continued authority and ongoing success.
By choosing to create a podcast for your business you are demonstrating to your audience and your customers that you have something of importance to share. This strengthens your authority in your customers' minds, as well.
People only choose a platform to share their knowledge if they have knowledge to share, and with a podcast, you are demonstrating that you have passion for your industry, your products, and your business, and that you have something of importance to share within it as well. 
With a strengthened authority comes a strengthened brand identity. People trust the businesses that they form connections with and taking time out of their day to listen to you speak about your passions and share your wisdom helps amplify that trust. 
Podcasts build a unique kind of relationship with your listeners in that you are meeting them in their "downtime" and resonating with them in a moment where they aren't even on their buyer's journey.
The more you continue your podcast, the longer your relationship is strengthened. This turns into brand loyalty and support for your business as your audience begins to feel as though they know you more personally rather than just as a brand name. 
You Attract High-Quality Clients and Customers
Forbes contributors are talking about it too. When it comes to podcasts, not only are high-quality customers and clients listening but so is your competition. If your competition is talking about you, eventually their customer base will be doing the same as they begin to recognize where you are filling the gaps that they miss. 
Spencer Shaw, the founder of podcast production firm PodKick Media states, "If you're a business in an industry that has a high customer value, then a podcast may be one of your most effective education and marketing tools." And Ken Green of Engineer of Finance states that starting a podcast, "might be one of the best things I've done marketing wise." 
Podcasts help to keep customers sticking around. There is a greater lifetime value to a brand who continuously provides something of value to their customers. Podcasts are able to achieve this, and it is believed that they also provide continuous leads to sales in the process.
You want a client who will make that repeat purchase or tell their friends about you without you having to "re-churn" the marketing process to pull them back in again. Podcasts do this rather seamlessly. You could almost describe podcasts as being "sticky" because if a person enjoys listening to it the first time around, they'll likely be back for more – with an entourage.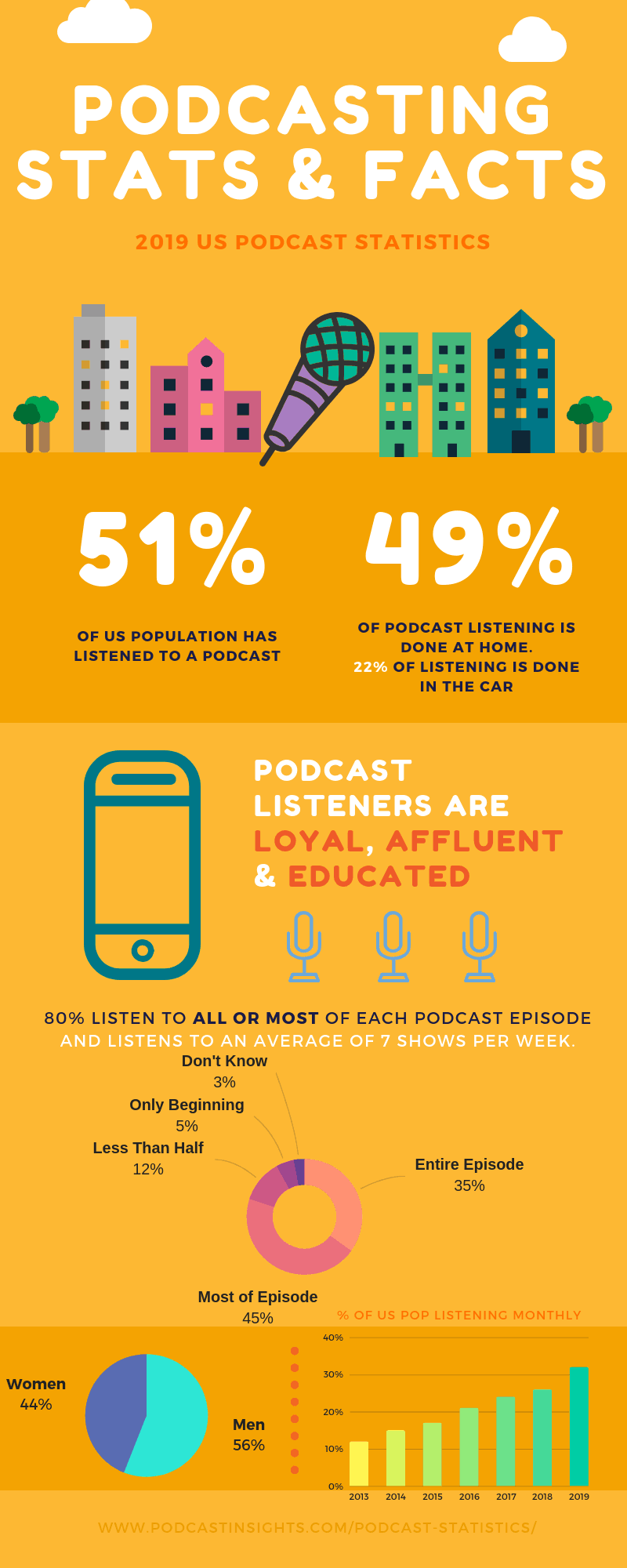 (Source)
There Are Amazing Monetization Opportunities
Money talks, and podcasts pay! After you've narrowed down your niche audience and know the reasons why they are listening and what interests them most, you can start offering ad reads on your podcast. Ad reads are when a brand reaches out to you, offers you a payment, and writes a short 30-second script that you read mid-recording. 
More and more advertising is being directed towards podcasters. If you've narrowed down your target audience to a granular level, then these advertisements are especially valuable.
In addition, if you're able to narrow down a podcast with similar content and listening audience, you may even want to offer to trade ad reads. Podbean Blog said that one host-read ad on a perfectly narrowed niche podcast led a business to double their sales.
Imagine how a trade-off might work for your business, as well! The cross-industry relationships that can be built through these trades – or even through guest speakers on your show – are endless with podcasting.
It's also helpful to consider that you're able to use your own platform to promote your business, as well! Numerous studies have shown that an audience that is engaged by a brand is 60% more willing to spend with that brand.
The best way to engage your audience in a way that leads to more sales for your business is to talk about it in a way that is informative and exciting, not too salesy or promotional. With your own podcast platform, you have the freedom to do this and to throw in product names or service suggestions at will throughout your conversation. 
Engaged customers buy more. Podcasts engage customers through the delivery of valuable information and advice. It's a no-brainer!
You Can Expand Your Reach – And Your Confidence
Public speaking is no easy task. By establishing a podcast for your business, you build up your speaking skills in a way that is comfortable and easy to transition into. The more you speak, the more people begin to trust you. As you become more comfortable speaking passionately and confidently about your industry, you'll be able to expand this into other public speaking opportunities. 
This may provide you with opportunities to reach into new niches, depending on where these public speaking opportunities exist. You may turn content you once discussed in a podcast into a workshop or a seminar because someone reached out to you and requested your presence at an event.
Or perhaps you shared the link to your podcast episode with the host of a conference in another city, and you asked to be considered as a guest speaker on their panel. You never know!
But that's not the only way to break into a new market. Because of the flexibility and dynamic content found in podcasts, where even hyper-focused content can touch on other industries or information, you have opportunities to reach listeners and audiences outside of your niche. 
Perhaps your content on entrepreneurship gets shared with a "stay-at-home-mom" group because many have been discussing starting up their own business.
While your previous demographic may have been young men in their mid-thirties who are stepping out of corporate and into being their own bosses, now you've reached a new set of curious minds with your content, who may end up going to your website to use your services. The flexibility of podcasts means the distribution is available through multiple channels and, thus, can be accessed by audiences even outside of your niche.
Get our 5 Reasons Why Your Business Needs a Podcast - Worksheet delivered right to your inbox.
It's An Inexpensive Marketing Strategy
Don't let the professionals sitting in their fancy studios fool you; it really doesn't cost much to create a successful and professional-sounding podcast. A decent microphone, some copyright-free introduction music, and some easy-to-download audio editing software such as Adobe Audition are all you need to kick off your podcast.
Podcasting creates a level of intimacy and connection with your audience that differs from traditional content marketing at a fraction of the cost. 
In addition, you also have the opportunity to repurpose your content. The beauty of a podcast is that you don't require a script, especially if you are speaking about something you are passionate about and well-versed in, but you can bring back your podcasts to old content you may have already spoken about in a blog post a few months back, or an infographic you shared a lifetime ago.
You have the opportunity to reuse content you've already created but also expand upon it in a meaningful way. And let's not forget that this works the other way around, too: you can turn a podcast episode into a long-form blog post!
Gerri Detweiler at Forbes adds that podcast hosting only costs you about $20 a month if you are doing all the production and editing yourself, and that includes the cost of a microphone over time (you can get decent ones on Amazon in the $50-100 range).
If editing is not your forte, you can delegate this task to someone for about $500 a month in fees for a weekly podcast. Considering the cost of more traditional forms of content marketing, this is quite a steal for extensive results. 
Hosting sites, which distribute your content across various platforms for you, can cost anywhere from nothing at all to $20 a month, depending on your needs. Here are a few favorites:
Make Sure Podcasts Are Right for You
Of course, it's important to realize that for all of their benefits, podcasts aren't for everyone – or every customer base. It's important to know your customer base, and then ask yourself whether your customers will find value from a podcast.
Will this take away from or distract you from your core business? Once you've launched a podcast, you'll want to keep tabs on its performance to ensure that it's producing the results that you'd hoped for. In terms of ROI, will it rank as high as other traffic sources?
Could it be better to leverage other podcasts as a guest versus starting your own? Depending on your audience, and how much time you have to spend, it could be. Still, the benefits of having your own podcast are clear: you're in charge of your own traffic and will have your own audience; you'll also be able to monetize it.
There are plenty of reasons why it makes sense to have your own podcast. Just make sure you've done your research first so that you can determine that it's something that'll actually add value to your company. Then, get yourself off to a great start by covering topics that your target audience cares about, things they're actually interested in. 
If you're looking for opportunities to establish a sales funnel for your customers, to build a stronger and more trusted brand identity, and to build a loyal customer base that continues to grow and generate repeat purchases, then in most cases, it just makes sense to start a podcast.
Podcasts fill a gap in the customer sales journey in a way that is inexpensive, not time-consuming, and also has an opportunity to be monetized – that's a win across the board.
Looking to scale your business? I help entrepreneurs to grow their companies –quickly and efficiently. Reach out today and let's see about working together.
Get our 5 Reasons Why Your Business Needs a Podcast - Worksheet delivered right to your inbox.