Is email marketing dead?
Not a chance!
Sure, with social media being the most hyped marketing channel as of late, email marketing seems to have fallen by the wayside a bit.
But the fact remains that email is still one of the most potent channels for driving sales today.
More people today still prefer to receive updates from companies via email –than any other medium. It's true! Believe it or not, according to a study from MarketingSherpa, 72% of US adults prefer to communicate with companies via email –that's more than social media, text messages and phone calls combined.
When it comes to the number of eyeballs on each particular channel, email wins again. The global email user base is estimated to be at 2.6 billion, according to Radicati. Meanwhile, Facebook only has about two-thirds of that.
This number is growing as well. Looking at the total amount of time spent in our inboxes, Adobe recently found that we're spending 17% more time in our inboxes than we did last year.
This means that companies that are using email marketing have a huge advantage.
Email remains a consistently universal and flexible messaging medium. It is able to reach beyond the walled digital gardens the social networks have created. User reach and engagement continues to diminish on sites like Facebook. Meanwhile, email is direct and simple and continues to adapt amid an ever-evolving marketplace.
The flexibility inherent in email marketing allows for longer, more targeted messages. You can tailor your message to your leads and customers to match where they are in the buying lifecycle.
Of course, it's important to note that not all email campaigns are created equal!
You'll want to make yours a success by ensuring that the right people see the right content at the right time.
The last thing you want to do is inundate a lead or customer with the incorrect or poorly timed message, in regards to where they are in the buying cycle. As they say, timing is everything in business.
Every single e-commerce business today should be using email drip campaigns. When you are able to nurture leads via triggered messaging, you will see your average order value and conversion rates dramatically increase.
Now, let's take a look at how you can get started by taking an extremely targeted approach with your email campaigns, as well six automated email sequences that every e-commerce store should set up and optimize. This will ensure you keep audience members engaged and advancing along the sales funnel –ultimately leading to increased conversion rates and more sales.
Where Is Your Target Audience at in Their Purchasing Journey?
First up, when crafting your email campaign it's important to keep in mind your intended audience –and where they're at in their purchasing journey.
Don't gloss over this one, it matters –a lot.
Where would you say your intended recipients are on a scale of 'very familiar with your product' to 'not familiar at all?'
Understanding exactly where your audience is at in the sales funnel will allow you to make sure you're creating copy that resonates with them.
One of the best ways to do this is by understanding the different levels of awareness that your audience has with your brand or product offering –and looking to cater to the level that your email recipients will have.
This concept is based on the book Breakthrough Advertising by Eugene Schwartz and is something that I highly recommend doing before each and every campaign.
Here's how the different levels break down:
There are six levels of Awareness that will dictate the type of content that you create:
Unaware
Problem-Aware
Solution-Aware
Product-Aware
Most Aware
Disengaged
Each one has very different styles of content that you would create, and different ways you would speak to them.
Unaware
An unaware audience needs entertainment. Use humor to bridge the gap, make a great first impression, and warm your audience to you.
Problem-Aware
A problem-aware audience needs hope. They're aware of their pain point; now show them how you can provide a solution.
Solution-Aware
A solution-aware audience needs clarity on how, exactly, you are the best option for them.
Product-Aware
A product-aware audience needs assurance –that they are making the right decision in purchasing through you.
Most Aware
Next up, we have the most aware audience. They need a new reason to buy again. Novelty could help to encourage them to take that next step. A time-sensitive discount or BOGO for example could work very well for this type of audience.
Disengaged
Finally, the disengaged audience. This is a very aware audience, who has, for one reason or another become disengaged. To reconnect with this audience, you'll want to use romance to win their heart once again. Consider origin stories, 'we believe' messages, and behind the scenes features.
For more information on these different levels of awareness, be sure to claim your FREE download today!
Email Campaigns
Now, let's move onto the email campaigns.
1. The Welcome Series
First up, the welcome series.
This is perhaps the most ubiquitous aspect of the e-commerce shopping experience.
Your customers will most certainly be expecting a welcome email as soon as they subscribe to your newsletter, or make a purchase from your website.
This could very well be the first point of contact between you and a potential customer; therefore it is essential that you get the messaging right the first time here.
Your welcome message can determine the likelihood or frequency that they will open subsequent emails. So get it right! Avoid the classic e-commerce trap of an initial hard sell. Nobody wants that. It will 100% put people off –and could easily lead to them opting out of emails altogether.
Remember that the welcome email should be transactional –its purpose is to confirm an opt-in and that you can indeed reach them via email. But it can also be a great opportunity to touch base with your customer, and help to familiarize them with your brand.
Using a welcome email is an ideal medium for getting people familiar with your brand's characteristics (and eccentricities) that make it unique.
This welcome email from Virgin America strikes the right tone. They convey just how much they care about their customers with the "I love you" hand symbol front and center. They use fun, casual and playful copy, "Welcome aboard," and a casual call-to-action, "Grab a seat," also help to position Virgin America as a hip, fun-loving brand right off the bat.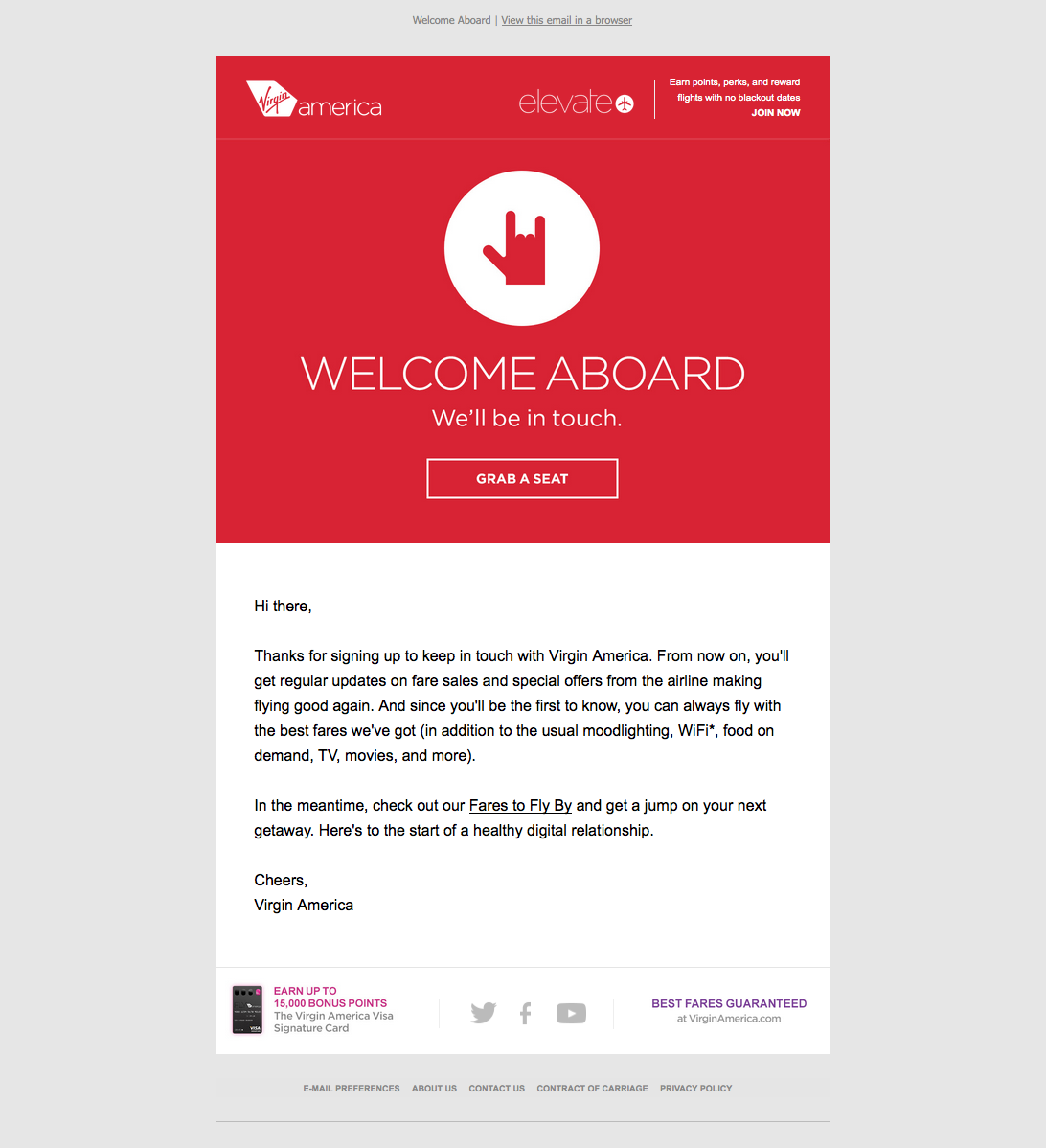 Creating a welcome email sequence is a great way to gain traction from a single point of contact with a person. The idea behind this is to send multiple messages, instead of just a single email. For example the first email will say thank you for subscribing, and ask them to confirm by clicking on a link (this will make the list a "double opt-in," aka the gold standard for email lists), and will also set forth future expectations for the rest of the emails in the series.
Here are some tips for creating a winning welcome series campaign:
Create an incentive to subscribe, such as a discount or free trial. This can increase immediate conversions and also increase the open rate of future emails.
Ensure that your autoresponder email is sent immediately after a new user subscribes –while your brand is top-of-mind and they are still interested.
Don't forget effective CTAs to follow your brand on social media or to check out your blog. This will help to build brand familiarity and increase cross-channel engagement.
Avoid spam trigger words, which can get your message and even your domain flagged by email clients.
2. Lead Nurturing Sequences (Pre-Sale Campaigns)
Now that you have created an email database, it is time to turn those contacts into paying customers.
Whatever your lead magnets are, this will be a campaign to introduce them to the company. Include customer testimonials, if you're building a brand, you'll want to look to create brand awareness.
If you have multiple lead magnets, you'll want to have individual campaigns for each lead magnet. The same thing if you have different types of customers, you'll want to have different campaigns for them as well. This may be something as simple as having dynamic emails, where you switch out a few words –or if they're two completely different types of customers, you'll want to have different types of campaigns.
When running multiple campaigns, it is also a good idea to continually A/B test each new element as you introduce them. That way you are continually optimizing your campaign.
Not all lead nurturing emails need to be strictly promotional.
You must remember that engagement will lead to sales. Therefore it's important to send recipients something of value. One way to do this is by seeking to educate your readers. This provides something of value to them, while also helping to cement you as an expert in your field. At the same time, it also helps to warm prospects to your product offering.
Don't forget to always, always include a simple, relevant, and effective CTA in all of your email campaigns.
According to WordStream, simply using one call to action (CTA) in an email increases clicks by 371% and sales by 1,617%.

An email that educates readers.
3. Abandoned Cart Reminders
We've all done it before. We add products to a shopping cart, only to then get distracted and click away from the site.
It happens. Attention is a valuable commodity these days!
This can become a frustrating incident for e-commerce companies, since these abandoned carts can represent a significant amount of lost revenue.
Using an abandoned cart reminder email is a great method to keep that almost-purchase fresh in your customer's mind.
The mere act of adding something to a shopping cart indicates that a person was certainly entertaining the idea of purchasing –so it's worth following up on these warm leads. Sometimes an email can provide a gentle nudge, and could be all that's needed to get that person to hit the checkout button.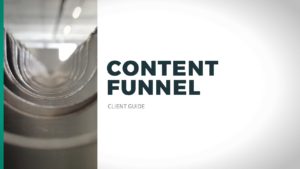 Get our Content Funnel Guide delivered right to your inbox.
Email automation software like GetResponse and MailChimp are tremendously useful for ensuring that your autoresponders are sent at optimized times. They even include built-in features that make it simple to send out abandoned cart emails –and track the success of your campaigns.
Some additional ways to maximize conversions with your abandoned cart are:
Grab Their Attention: Using a catchy subject line like "Did you forget something?"
Offer Incentives: Offering discounts or promotional codes in the reminder message.
Create Urgency: Telling users that the supply is low or that the amount of time you can hold an item is running out
Add Credibility: Adding an authentic, positive user review

4. Post-Purchase Follow-Up
A timeless sales technique is the follow-up.
It lets the customer know that you appreciate their business. Going the extra mile to let them know that you still care about their satisfaction, even though you've already received their payment, can go a long way in your customer's books.
It's a great way to stay relevant in the fast-moving digital world, and can also help to increase customer reviews.
Check out this post-purchase email from Airbnb. The email focuses on one thing: generating reviews. It's simple to leave a review, and completely hassle-free. It also shows the customer that you care about their experience.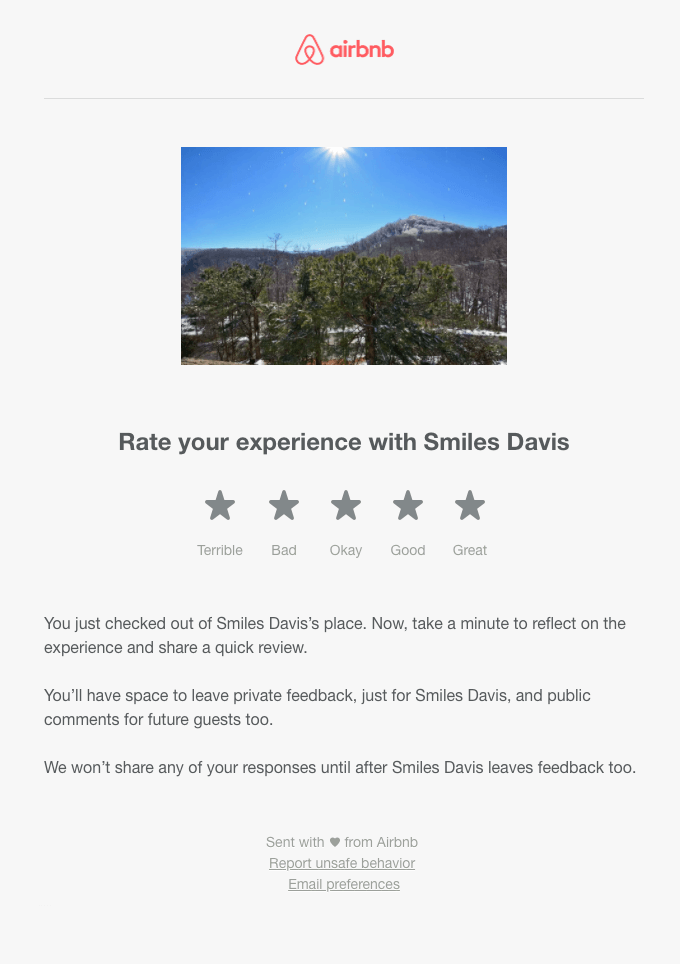 To create a killer post-purchase follow up emails, you should include some or all of these elements:
Ask for a review. Plain and simple. Also, make it easy to leave one. A User-Generated Content (UGC) marketing tool can be a huge help with this.
Display some product suggestions that are related in some way to the ones purchased
Of course, thank your customer once again for their purchase

5. Sales and Promotional Campaign Email Sequences
Creating compelling promotional offers for your audience does a few things:
Grabs their attention and sparks interest
Creates brand awareness and endearment
Encourages them to engage with your products, services, or websiteIt should be easy to offer your audience something of value since you have the product that you have painstakingly created for them. Simply offer discounts on your merchandise or services, create a contest, or run some other eye-catching promotion.Offering your audience a valuable discount has the power to convert unsure readers into faithful customers. In the example below, Uber speaks to the bargain hunter in each of us by offering a 20% coupon.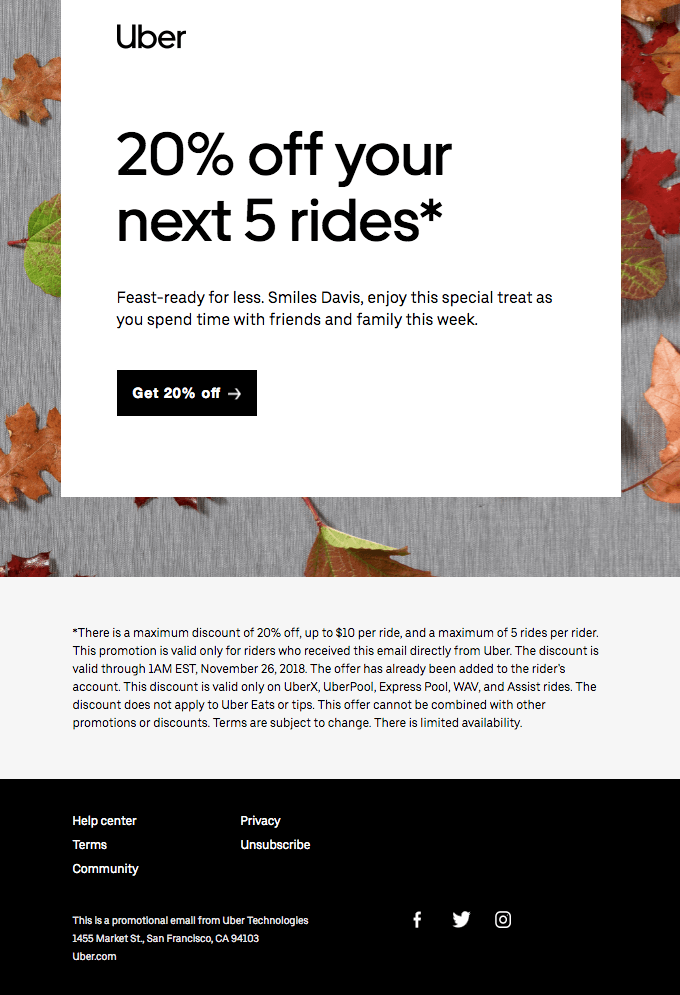 Here are a few ideas you can add to promotional emails to make them more valuable for your audience:
Don't simply try to sell; instead, share free content you've produced.
Offer your reader valuable coupons or discounts.
Create a multi-email sales sequence with a time component featuring a countdown clock that's synched with your website.
Always, always look to create a sense of urgency with promotional campaigns. It'll encourage people to take action, rather than putting off their purchases indefinitely.
For your most loyal customers, consider having a pre-sale or offering an exclusive additional incentive to show them how valued they are, and give them the first chance to buy.
6. Re-engagement Prompts and Unopened Email Sequences
It is not uncommon for an e-commerce business to have huge chunks of its email list that have fallen into the "disengaged audience" category. These are people who haven't made a purchase, visited your site, or haven't opened an email recently.Not to fret. These are still individuals familiar with your brand, so in many ways, they can be considered warmer than total strangers. You simply need to utilize some re-engagement prompts to get them back on board, visiting your site and purchasing.An effective re-engagement prompt is going to feature a too-good-to-pass-up offer showcased prominently. Ideally in the subject line or main title. This can be a free product, a discount, or an exclusive offer.
You can also get more touchy-feely and use phrases such as "We Miss You!" to remind subscribers that haven't engaged in a while.
This is also a great time to send out "we believe" emails, founding stories, and other heart-warming narratives with the goal of reconnecting with these prospects, and getting them to engage with you once again.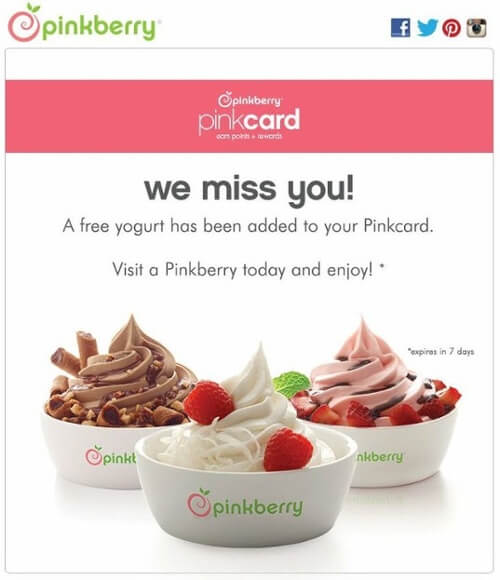 When creating a re-engagement sequence for unopened emails, first decide how far back you would like to go:
30-day unopened
10-day unopened, or
60-day unopened email campaignsOnce you begin the sequence, slowly filter them into different lists. This will keep your open rates up.Try to slowly re-engage them and ultimately determine why they didn't buy.Ideally nurture them back into something –maybe it's a new tripwire or free offer to get them to re-engage with the email sequence. Create an open loop so anytime someone doesn't open for a given amount of time, you can engage them with something new. Ultimately, bring them back into your sequence, and try to engage them again.Here are some more ideas to create effective re-engagement autoresponders:
Create low friction offers like, "Come back, and we'll automatically give you a 10% discount off your next purchase!" for inactive users
A/B test a variety of re-engagement offers to see what people respond to best
Look at the recipient's personal purchase history, and create re-engagement offers based on that
Check out Dean Jackson's 9-word email to try to re-engage people
Subject line: Goodbye, with a sad face or ask questions in subject lines to try to engage people back and forth
Additional Tips for Campaign Success: The Subject Line
There are also several free and paid tools for marketers to test their subject lines, content, and spam filters. I recommend looking finding the tools that you like best and sticking with them, but make sure you've got a backup option on hand –you'll never know when you might need to use it.
Next, be sure to understand what words and phrases will get your emails caught in spam filters. This will help to save a ton of hard work from being wasted!
Below we have rounded up ten of the best tools for creating exciting, spam-defying subject lines, and clean, visually appealing content for your audience:
Keep in mind that in many ways, this is just the beginning. There are a myriad of different email campaigns that you can send out –and plenty of ways to get creative here. The above campaigns, though, are a great place to start and when used together can help to form the backbone of a successful email marketing strategy.
Now it's time for you to get started –take advantage of email marketing yourself, and work to create your own series of campaigns. With a targeted approach, you'll be able to get tremendously specific with your messaging; allowing you to create copy that resonates with your audience, and helping you to reach your customers exactly where they're at.
Want to learn more about email marketing? Be sure to check out my other article: The Components of a Successful Email Deliverability Strategy.
Ready to take the next step and discover marketing techniques that'll allow your company to reach its sales goals?
Learn effective and proven strategies that'll take your company to the top –book your FREE consultation with e-commerce expert and serial entrepreneur Gary Nealon today.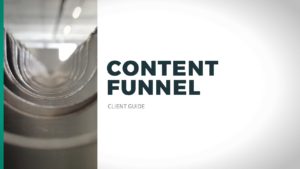 Get our Content Funnel Guide delivered right to your inbox.