You put your heart and soul into a piece of content, edit and re-edit, then hit publish on WordPress.
What happens?
While it may be true that once every 100 years, the clouds open, the light shines through –and one of your content marketing efforts goes viral –the truth is that far more often we hit publish only to have our blog post disappear into the digital ether. Tumbleweeds, crickets, and all that –we're met with nothing, just a wall of silence.
What does it take to create content that gets noticed? But not only that, what does it take to create content that's effective –that leads to bona fide conversions and opt-ins and sales?
If you want more content that converts, you must put your readers first.
Not just in a manner of speaking, but in every single article that you create.
As an entrepreneur and businessperson, you surely know that a surefire way to go out of business fast is by simply peddling your wares, and ignoring your target market's needs and pain points. When it comes to content creation, the same principles apply.
If you develop content without a winning strategy, your content will fill flat. Guaranteed.
Writing viral content isn't a game of luck, it's a skill –one that must be honed over time. It begins with strategy and ends with execution.
Content Marketing Institute states that, "Business-to-business (B2B) marketers who have a documented strategy are more effective and less challenged with every aspect of content marketing." That's significant!
And lest you think quantity is all that matters when it comes to driving traffic, consider this: a research survey by CMI showed that 48% of B2C marketers and 42% of B2B marketers now publish content more frequently than once a week. We're all publishing content these days, most of us, frequently. You're going to need something more than frequency to stand out.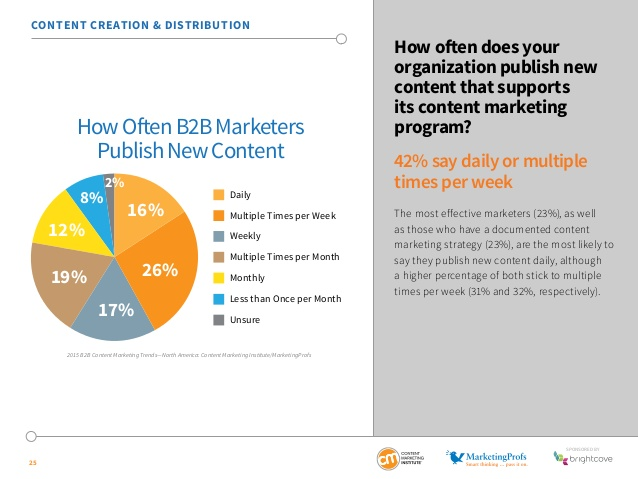 More than anything else, we need to realize that content marketing, at its core, is about helping you to reach your business goals –whether you're looking to improve SEO, boost brand awareness, or generate new leads –it's important to ensure that you go into the content creation process with clear objectives in mind.
How can you increase your content's overall performance? By developing content that's intentional –and in-line with your big-picture goals –what is it you'd like your content to do?
To do this, you're going to have to start with your target customer in mind. And you're going to want to keep in mind the purpose of your piece as well –ask yourself, what is the intended result of this article?
Make no mistake, if you're confused as to what your content's goals are, your audience will be as well!
In this article, we will go over in detail some of the very best tips for creating content that leads to engagement and conversion.
Without further ado, let's take a look at them now!
Tip #1: Research Your Audience
Every single successful business is built on the principle of meeting the needs of their customer or audience.
Accomplish this, and you will succeed. If you cannot, then sorry, you will likely fail.
As with any strategy, your content creation strategy must start and end with your audience. You want to increase your conversions? Then you must know who you're trying to convert.
Avoid the urge to create content for your peers. Unless, of course, the goal is to establish yourself as a thought-leader, which has benefits for sure, but not ones that are related to conversions.
Instead, you'll want to think instead about who your audience is and develop a specific strategy for them. Take the time to get to know your audience. Identify your target audience, your ideal customer, develop buyer personas.
At the very least, you'll want to figure out:
What their needs are
What makes them frustrated
Where do they hang out
What words and phrases they tend to use
What their values are
What makes them happy
How are you going to find all this about people you barely know? The internet is a goldmine for research; you just have to know where to look. We recommend giving these methods a go.
Tip #2: Tailor Your Message to Convert
Next, let's look at fine-tuning your message to perfection.
How you develop your messaging and choose to communicate with your audiences is key here.
Developing a content marketing strategy is as much an art as it is a science. Take time to formulate your message and think about your overall mission.
Keep in mind these factors when putting your copy together.
Use Emotion to Motivate
It's no secret that you should strive to elicit emotion when writing content.
Good content, ultimately, should elicit desire –and make your target audience want to product/item in question.
Consider appealing to your target audience's pain points, or their fear of missing out, otherwise known as FOMO. This is one of the oldest tools in advertising and marketing. Fear of missing out on an opportunity. BIG. This emotion elicits a desire for insight, secrets, or loopholes.
Or cater to their desire for self-improvement. We all strive to be the best at what we do. Therefore, frame your content in terms of, "10 Things You Don't Know About…", "Ways to Make You Awesome at" or, "Things You Missed About…"
Learn how to hook your audience and elicit the emotions that create a conversion. Make them desire whatever it is you are selling or marketing.
Include a Sense of Urgency
Yes. More FOMO.
From time to time, consider adding a limitation on time or availability. You need to be implementing these factors across the board, not just in online ads, landing pages, and marketing emails.
For example, if you're going to offer free shipping on orders, try making it free for the first 100 people to sign up for your newsletter. This will actually increase the assumed value your offer (in the long run, anyway) and increase the odds that your first 100 spots will go fast.
Don't forget blog content. It's important that you induce interaction through urgency.
Here are a handful of blog titles that convey a sense of urgency to show you what I'm talking about:
– The 23 Strategies That Can Turn Leads Into Customers, Today
– Before It Closes: The Loophole That Increases Facebook Organic Reach by 330 Percent
– Stop Making These 9 Email Marketing Mistakes Now
(Source: Content Marketing Institute)
Test this before fully implementing, but it's an approach that's certainly worth trying. If you are aware of your target audience's primary pain points, then don't be afraid to push some buttons that will make your audience more aware of them.
Asking hard-hitting questions to your readers can help you to grab their interest, and get them thinking. These types of questions (the ones your readers may be avoiding asking themselves) will not only pique their general interest but may also hit very close to home and motivate them into action.
Give Advice, Don't Pitch
All too often business owners make the mistake of using each piece of content to sell, sell, sell; when really, they should be using their content to educate, educate, educate.
Let's face it, being overtly pitchy is off-putting. If all of your content is promotional, nobody is going to trust a thing you say. On the flip side, though, if the 90% of your content stream is educational, informative, and helps to solve the problems of your audience, those readers are far more likely to believe you when you endorse or pitch a product.
This may seem counterintuitive to some, especially those with a background in sales. To some of you, 90% may seem rash. But you have to trust the process and trust in your content's ability to convince and convert.
All not is lost either. You can still generate inbound links with your content, and you can still promote your business in the sidebar, banner, newsletters, and in your "Download Our E-Book" CTA at the bottom of your articles.
We just advise on not being overtly promotional in your blog post and articles. And, in still convey legitimate reasons why your business is able to benefit your customers in those sidebars, banners, and CTAs.
Sticking to the 90% rule will decrease the chance of you losing customers because of spammy content, and increase the odds of your content gaining some traction and going viral.
Finish With the Right CTA
Your CTA is your chance to direct your audience on towards the next step in the sales funnel. So naturally, you'll want to ensure that you include the right CTA at the end of your content.
Here's the thing. The "right" CTA makes the difference between a customer being inspired by your content's insight and information, and inaction.
Here are a few examples of excellent CTAs:
"Have you used any of these steps to create content marketing that generated leads for you, built your email list, or increased your sales?" (Neil Patel)
"Need help finding which content marketing tactics will put your business on the path to greater success? Check out our guide: Building the Perfect Content Marketing Mix: Execution Tactics." (Content Marketing Institute, James Scherer)
"Can you think of anyways we could improve any part of our process? We'd love to hear your suggestions, so leave us a comment below." (HubSpot, Ron Medlin)
Tip #3 Be Genuinely Helpful
Yes, it's essential to build up rapport and trust with your audience. But you also need to convey that you are providing value to your audience. Remember, your copy should be focused on helping to solve a problem.
This is where knowing your customers' pain points comes in.
If your reader finds your content to be informative and helpful, their confidence in your products or services will increase. They will trust in the benefit of what you're offering.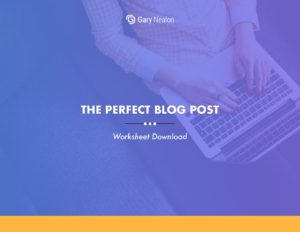 Get our The Perfect Blog Post Worksheet delivered right to your inbox.
Here are a few ways that your content can be helpful to your audience:
Solve a problem
A topic that we address over and over is how to provide solutions to your audience. To maximize value, provide actionable steps for your audience to take. When your advice works, they will be back for more. If you can be of service to your customer, you will build trust and they will be more apt to engage with you and your product in the future.
Educate Your Readers
You're the expert here, and your hard work has put you in a position to teach your audience about niche topics. Once you've established a relationship of teacher-student, you'll be in a position of authority and trust. Always remember to use their language, avoid jargon and slang that they wouldn't understand.
Don't Guess What Your Customers Want
Along the same lines of thinking, you'll want to avoid guessing what your readers want. All too often small businesses make the mistake of speaking from their experience, rather than the customers'. They write things they think their readers want to see, without really giving much thought to what their customers are really interested in. As a result, their articles are packed with industry terms or phrases that the customer doesn't quite understand yet, or may never have heard of before.
Instead of simply hitting your keyboard and writing whatever comes to mind, it's important to ensure that you're creating content that's relevant to your customers.
One great idea is leveraging forums and industry groups to see what types of questions your target market is asking.
Provide an Informed Opinion: But remember to always be humble. Nobody likes a know-it-all.
As with many niches online these days, there is an abundance of advice. Some of which may be conflicting. No doubt this can be confusing. That is why you need to demonstrate your expertise and gain their trust through consistency and thoroughness. Your hard work and dedication will pay off rewarding you with brand loyalty and followers.
Tip #4: Find Content Ideas That Have a Proven Track Record
The content marketing world has grown by leaps and bounds over the past several years.
Marketers have developed a high aptitude for the content they create for their blogs, social media platforms, and other information products.
Currently, 30% of the internet is made up of WordPress blogs. A recent study shows that 86% of B2B marketers report that their organizations are using content marketing, with another 70% revealing that they are creating more content than they did one year ago.
There is virtually no end for the demand of high-value content. If you take the time to develop it, you will no doubt reap the rewards. Understand that the competition is high, but this is something that can be used to your advantage.
Those who learn the tricks and research their customer insights will reap the benefits. One tactic I suggest is spending some time researching other blog posts, infographics, videos, magazine covers, and online publications –paying special attention to ones that are in your niche. You'll be able to glean valuable ideas from the success of others.
Virtually any piece of content marketing on the web is a potential source of ideas for your next campaign. Here are a few resources that I suggest for content and design inspiration. Also, pay close attention to the headline (more on that later):
Issuu.com is a digital publishing platform. Simply go to the homepage and you'll find lots of inbound marketing-related online publications and niche-specific magazines. How are they enticing the reader to click on their publication?
Marketingprofs.com is a popular inbound marketing blog. Here you'll find more ideas than you can shake a stick at! Realize that the popularity of these blogs is due in a large part to their well-researched, well written, high-quality content.
Moat.com is an analytics platform for digital advertising. The best thing about this site is that you can look up any advertiser online and see what types of ads that brand had been running and how they perform. This is especially useful when creating your lead magnets and writing CTAs.
The reason for looking through these sources (i.e., authority blogs, popular videos, infographics, etc.) is to brainstorm ideas and find CTAs and headlines that convert. It is almost akin to having the brain trust of a Madison Avenue marketing agency right at your fingertips!
If you want to gain traction and drive traffic to your site, you have to make your content marketing strategy stand out in the blogging communities and search engine results pages (SERPs).
Tip #5: Take the Time to Craft Compelling Headlines
Your headline is the ultimate make or break point of your content. It is hands down the most crucial factor that influences engagement.
High-quality content that also converts has to stand out from an ever-increasing crowd of similar content. According to Brian Clark, Founder of Copyblogger Media, "A poor headline will render your article invisible."
Some quick stats for the unconvinced:
A whopping 8 out of 10 individuals may not even read your content if the headline isn't captivating enough.
According to Ted Nicholas, a renowned direct response copywriter, "73% of buying decisions are made when customers come in contact with the headline."
This means that the likelihood of someone purchasing your product depends highly on the quality of your headline.
Creating a winning headline isn't as always as easy as you think. Once again we turn to the pros to see what they are doing. Here are a few resources to help you craft that high-converting headline that we know you have inside you.
Use Headline Analyzer by CoSchedule
This is one of the most useful tools out there. CoSchedule's headline analyzer tool is a fantastic tool for creating a magnetic headline that will attract your audience.
It's super simple. All you do is copy and paste your headline, press enter, and the tool will report back. You get a score and a grade along with some handy suggestions to improve.
The tool analyzes at the following factors:
Headline type: It will capitalize on the type of headline that converts, including lists, how to's and questions.
Word balance: It helps you in curating an enticing title by checking to see if it has the right feel and word balance.
Character length: It also looks whether or not your title is scannable and easy to digest.
Look at What's Gone Viral on Social Media
An essential component of any attention-grabbing headline is its capacity to go viral. How many social shares and links did a given piece of content receive?
Buzzsumo.com is a perfect tool for researching social media performance. So you can compare what works and what doesn't and adjust your headlines accordingly.
Just follow these simple steps:
Visit Buzzsumo.com: Enter your main keyword (e.g., e-commerce website design) that are going to write about in the search box. Click "Go!"
Analyze the social media shares and titles: Look through all the headlines that got the most shares.
From here you will be able to ascertain what is working and what isn't. You can easily see what headlines are going viral. This is also an excellent tool to test out content ideas before committing to writing on them.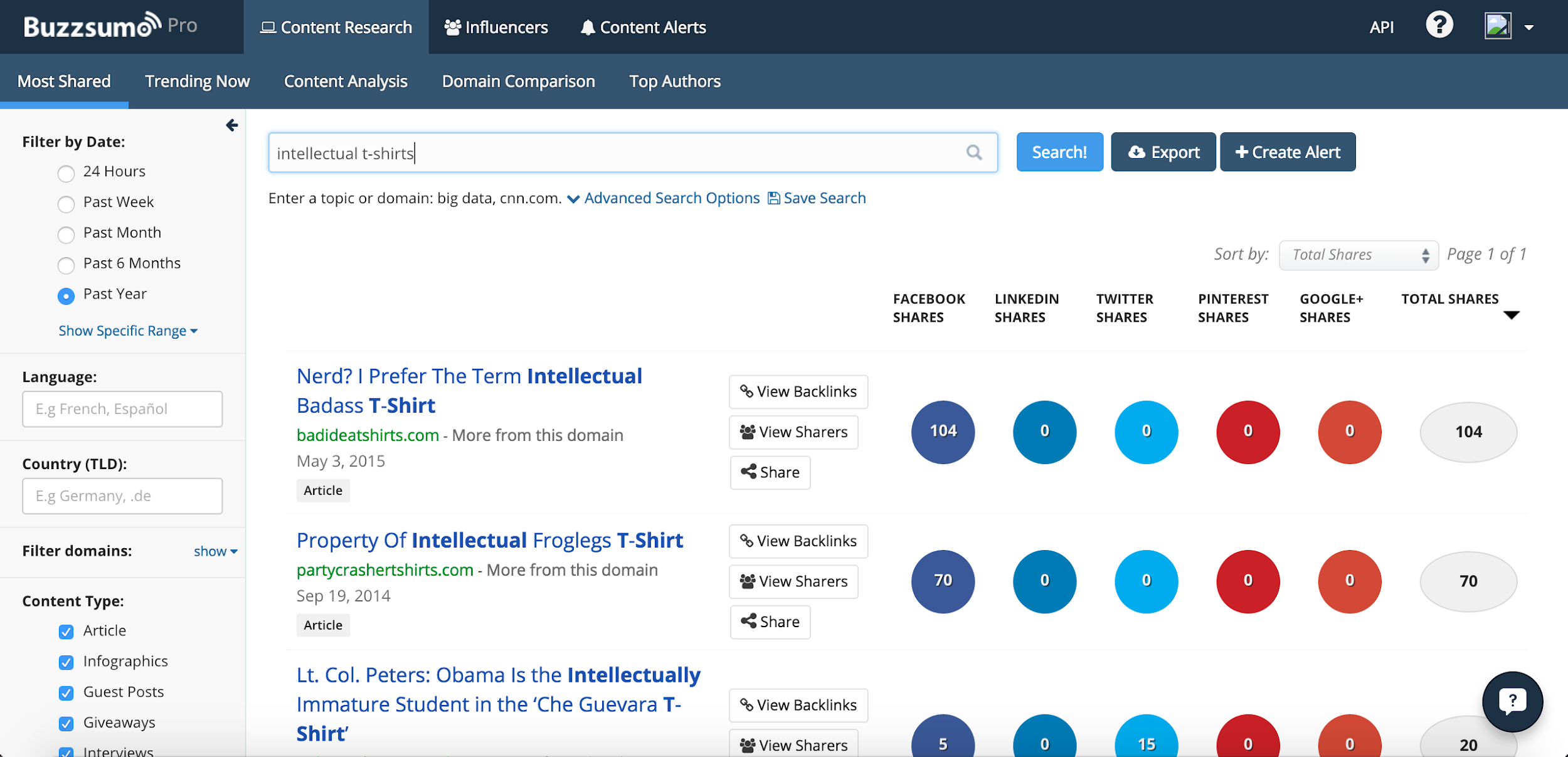 Tip #6: Fulfill Your Headline's Promise
This may seem like a no-brainer but is worth mentioning.
We've all been there before –fooled by a click-bait headline. Hard to keep faith in a publication when you've been fooled once right?
Remember: getting clicks on your headline is only half of the equation. Ensuring that your content fulfills the promise of your headline is another equally; maybe even more, an important part of driving conversions. If your content can't fulfill the promise your headline makes, your visitors will abandon your site without further engagement.
When crafting each line of your content, remember that your sole purpose is to keep your readers engaged and on-page.
Not only will it continue to provide value to your clients, but it will also evoke a desire for what you're offering.
At the end of the day, creating content isn't a matter of quantity over quality, nor is about creating posts that simply look good or serve as place-fillers on your blog. Instead, it should be about creating content that will resonate with your target audience, and help to spur them on to the next stage of the sales journey.
It starts by identifying your target audience and creating customer personas –and knowing their interests, pain points, and what makes them tick. Then, move forward with the content creation process, keeping them in mind the entire time.
With the right approach, you can help to ensure that your content is not only noticed, but that it stirs a reaction with your audience –eliciting a response. It's the best approach by far, and one that will help you to produce top-notch content; the type your audience is interested in.
Not sure where to start with the content creation process? Download our FREE guide today, and discover our time-tested and proven process for creating the perfect blog post.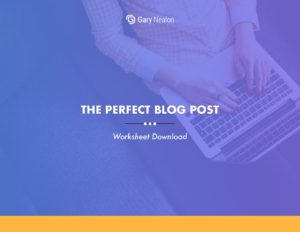 Get our The Perfect Blog Post Worksheet delivered right to your inbox.