A/B testing –we've all heard of it, some of us are doing it, but how important is it, really?
Very important, it turns out.
While it's easy to assume that only high-level, major updates –like say, a new website design, should be split tested, the truth is that even small, seemingly insignificant changes should be tested too.
The reason? These changes matter more than you might think.
Benefits of Split Testing Changes
First up, let's look at some of the benefits of A/B testing –sometimes known as "split testing."
Using it for ad campaigns allows you to refine your campaign, message, and conversion rates. It can help to boost your conversion rate optimization (CRO) and is absolutely essential to ensure you are maximizing your ad spend and your efforts.
But it's not just ads that you should test. Website changes –even seemingly small and insignificant ones should be split test as well. And of course, let's not forget about email. When it comes to email campaigns –many email programs such as MailChimp include built-in tools to make split testing easy.
Sadly, though, many marketers aren't split testing. According to a survey by Yieldify, only 16% of those surveyed claimed to be using A/B testing.
But when used right, split testing can prove to be a tremendously valuable tool that you have at your disposal. It can give you valuable insight into your website, campaigns, emails, and more –and show you exactly which methods you should be using to generate the best results possible.
Hold your hats folks, we're going to talk testing today!
A Word of Caution
A/B testing is important for every aspect of your company, from ads to email copy –but it's especially important when it comes to making website changes.
But take care! When split testing, it's important to ensure that you measure the primary impact as well as any secondary impact that your changes may have made.
Take, for example, the experience that one of my clients had with A/B testing. They were making changes to their website –and had noticed that these changes were increasing their conversion rate –however, what they didn't realize, was that these changes were also decreasing the conversion rate and traffic to another landing page.
It's important to split test changes –but it's also important to look at all of the data when doing so.
Say you begin making changes to your website, and after a series of tests you find a format that seems to be converting at a much higher rate. However, you what you fail to notice is that your organic traffic has dropped. Not only that, conversion and traffic to your other landing pages have dropped as well.
That's a problem. You cannot rob Peter to pay Paul.
That's why it's important to remember to take a step back and look at all the data when testing. You need to analyze all of your traffic sources and gauge how changes in your web assets affect your conversion sources.
Different Elements to Test
Without further ado, here's a look at a number of different elements that you can test.
Typography
Typography does, in fact, affect conversions in a major way; however, I don't recommend casually testing each and every Google font. That being said, there are a few key aspects regarding of typography we should discuss.
Serif vs. Sans Serif
The easiest way to identify a Serif typeface is that they are accented with various widths for each line (think, Times New Roman for example). Sans serif typefaces, on the other hand, are just the opposite (like Arial). Experiment with both types to determine the visual appeal of both.
Colors
Standard stuff here. Your site, blog, and the long-form copy should almost always be black (dark) text on a white (light) background. When it comes to calls to action and impactful text elements, however, test all eight basic colors. Just remember, what stands out tends to get clicked (within reason).
Font Size
Be sure to test your click-through rates and engagement based on different font sizes as well. I also recommend adjusting font sizes based on demographics (a demo that skews older will respond better to larger font size!).
Typefaces
Typefaces | With over 700+ Google fonts, this can be extremely tedious. We recommend testing a few of the major fonts that harmonize with your brand.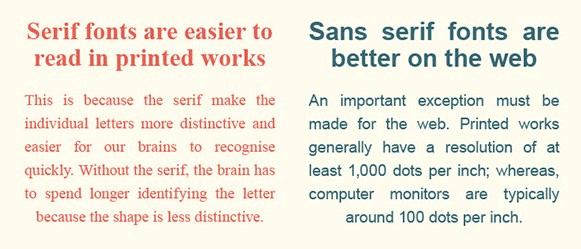 Calls to Action
The most influential item on your landing page is your call to action (CTA). Bar none.
This is one of your web properties that are going to require the most amount of work and experimentation.
Here we will review some of the key call to action "ingredients" you need to test.
Position
Where you place your buttons and actionable elements can have a huge impact on conversions. Oftentimes web designers will just plop the call to action button above the fold in the middle of the landing page. Since that is what you're "supposed" to do.
Complacency never got us anywhere though did it?
Check out this nugget of info: Locating your CTA below the fold could increase your conversion rate by 304%. Wow right? Avoid doing something simply because it seems 'industry standard'. Test below the fold, above the fold, in the middle/right/left/ of the page, and relationship to text elements.
Color
Not a shocker, color variations is a staple of conversion rate optimization (CRO) tests. Try using a contrasting color that stands out from the other elements and is distinct.
Text
Test out the text on your CTA buttons as well.
Pricing Schemes
Think beyond what price you are setting for your product/software, and consider free trials and money back guarantees.
Freemium vs. Free Trial vs. Money Back Guarantees
It is important to allow prospects to try your product. There are three models to consider: a basic product aka freemium, a free trial with a time component that allows users to experience everything, and a time-sensitive offer with a money-back guarantee. I'd recommend trying each model to see which works best for your business.
Another factor that you can test is pricing schemes. Without getting too deep into number theory and pricing here, people respond differently to different pricing options, and if you'd not A/B testing your pricing plans, you may be leaving some money on the table. Also, don't forget to experiment with your pricing plans. Go beyond adjusting prices, and test features of each to make your higher-ticket plans convert better.
Landing Page Copywriting
The ability to persuade individuals via copywriting is another essential element of a landing page. Great copywriting never happens on the first draft; it requires careful testing to ensure maximum impact.
Short-Form Copy vs. Long-Form Copy
Logic would seem to dictate that short-form copy would always outperform long-form copy. This isn't always the case, however. Be sure to test, and see what your audience prefers.
Video vs. Text Sales Pages
Yes, video is expensive –thereby the general preference for text-based copywriting. But you could be missing out on valuable conversions by failing to test video copy.
Number of Columns
Although a multiple-column may possess the 'cool' factor, it doesn't necessarily equate to conversions. One SaaS company increased their conversion rate by 680.6% when they changed their two-column pricing page to a single-column page.
Background Images and Patterns
Details as basic as your page background (a solid color, pattern, or image) can have an impactful subliminal effect on your potential conversions. If you haven't, test for different background varieties yet, you'll want to consider doing so.
Navigation Links
Test the color of the menu, number of links, its position, etc.
Link Color
Looking to convert clicks from your blog post to your money page? Go ahead and test the link color.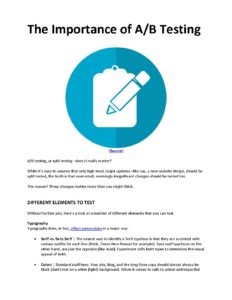 Get our The Importance of AB Testing Worksheet delivered right to your inbox.
Getting Started With Split Testing
Testing the above elements is all well and good, but how do you go about running A/B tests, practically speaking?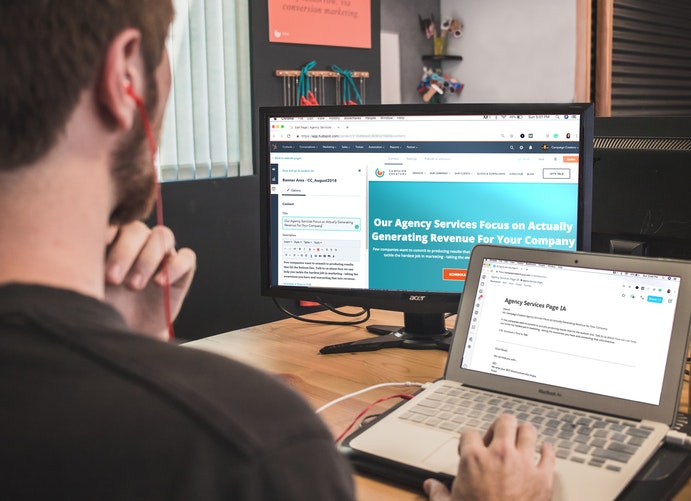 First of all, it's important to start with your end goals in mind. Maybe you're looking to increase conversions on a particular landing page? Or, maybe you're hoping to reduce abandoned carts and would like to implement some changes in your checkout process?
There are quite literally hundreds of different split tests that you can run, so it's important to narrow things down by starting out with your end goals in mind.
With this in mind, here are some common goals –and split tests that you may want to consider running.
Increased Traffic: Testing different blog post titles or webpage titles can help to change the number of people who click through to your website. Consider changing your titles, and testing the changes to see if it leads to more traffic.
Higher Conversion Rates: This test will largely involve your CTA on your landing pages. Try changing your colors, font, message, and more to see if more people convert.
Lower Cart Abandonment Rates: Lower your cart abandonment rates by testing different aspects of your product page –including different photos, video of products, adding testimonials, and changing your 'add to cart' buttons. You'll also want to change and test your check-out process by testing different check-out page designs, required fields, security badges, and where shipping costs are displayed.
As proof that sometimes it's the little things that can make all the difference, take my own experience with one of my companies. As one of our split tests, we tried simplifying the shopping cart a bit, and placing a Norton security badge on the shopping cart page. That's it! But it turns out that these two small, seemingly insignificant changes ended up producing the best results out of all the tests that we ran. In the end, they led to an 18% increase in revenue, and a 23.9% increase in completed carts! Not too bad!

The shopping cart before and after. Note the security badge on the updated version.
If you don't have an A/B testing tool, consider using Google Analytics' Experiments –which allows you to test up ten different versions of a webpage to see which one performs the best.
See MORE split testing tools in your FREE download sheet!
Don't forget to take all of the data into consideration when testing, for example, the impact that changes to one page can have on traffic to another one.
One important aspect to remember: testing every random aspect of your website can sometimes be counter-productive. You can waste valuable time and money on workers, consultants, and software endlessly running tests on things that won't raise your e-commerce sites revenue enough to justify the tests in the first place. So before you begin you'll want to run a cost benefit analysis –to decide if it's something that's worth doing.
Separating the Good from the Bad
Now that you have run multiple A/B tests and have data to look at, how do you determine the winner? You may ask yourself, what is statistically significant?
That is an important factor, and luckily Neil Patel has created an A/B Testing Significance Calculator that you can use for free.

This is an excellent tool that you can use to remove some of the uncertainty from the equation. As long as you are using a structured approach to your CRO, your data and results will speak for itself.
Just remember these key steps when creating your CRO strategy:
Brainstorm ideas for tests to include 4-8 stakeholders
Find things to test that are going to move the needle dramatically
Compare like with like
Ensure that the test results are statistically significant
Never assume – Test everything (within reason)
Keep track of all results and compile a knowledgebase
Prioritize test initiative, the most important elements should be tested first
KPIs to Track
By and large, the best approach when identifying KPIs is to look at your big-picture goals and work backward from there.
When you make a change, what is the specific goal that you have in mind? Is it to lower abandoned carts and ensure that shoppers and their full carts make it through the checkout process? Is it to increase sign-ups or opt-ins?
Know your goal, and then establish the KPI that you'll be checking in order to gauge the results of your split testing campaign.
Here's a look at a few examples of KPIs:
Conversion and Revenue Lift
Conversions
Revenue lift
Completed orders
Website traffic
Sign-ups
Form completion
Revenue per visitor (RVP: An especially valuable KPI. Read Lynne Wright's article: What are the best KPIs to measure a split test? to learn more about RPV.
At the end of the day, developing an effective marketing campaign for your e-commerce or web business requires a lot of trial and error. Whether you are a webpreneur or digital marketer, a key aspect of your role is to utilize conversion rate optimization practices on a continual basis –and this includes A/B testing.
Try not to get overwhelmed by A/B split testing, there's no deep secret to it. Instead, think of it as a valuable tool that you have at your disposal –use it whenever you feasibly can to stay ahead. Keep it simple, follow these guidelines, and you'll be a pro in no time.
If you're looking to build a high-converting landing page, we recommend you to begin with your audience.
Take the time to get to know and understand your ideal customers more than your competitors do.
Then, armed with this user data, you can run a successful A/B testing campaign that produces results.
Are you ready to take the next step with your company's marketing and advertising campaigns? Schedule your FREE 20-minute call with e-commerce expert and marketing consultant Gary Nealon today –and discover marketing strategies that will help your business to get ahead.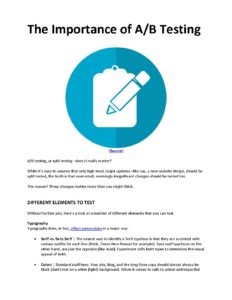 Get our The Importance of AB Testing Worksheet delivered right to your inbox.