Imagine for a minute that you're looking for a new case for your laptop. As you browse through Amazon, a few options pop up with different reviews. Your eyes are immediately drawn to all the stars on the page. 
One case has an average of two stars with 45 reviews while another has three stars and 60 reviews. But a third one catches your eye. It has 3,660 reviews with a 4.5-star average rating. 
Which one are you most likely to purchase?

(Source: Amazon)
If you're anything like most people, you'll probably end up going with the third option. And that's because of social proof. Validation in the form of reviews or testimonials.
Customer reviews can be a powerful conversion tool, but you'll want to make sure you're getting the most out of them. Likewise, reviews aren't the only versions of social proof that you have in your arsenal. With this in mind, let's take a look at some different versions of social proof, along with some examples of companies that are doing it right.
What Is Social Proof? 
The term social proof is also known as informational social influence. It describes when people, put into situations they are unsure of, look towards others who are more knowledgeable to guide them to make a decision. Looking at those familiar with the situation assures people and allows them to feel more confident taking similar actions.
Imagine you pass by a restaurant with a long line outside. It's easy to come to the conclusion that it must be an amazing place to eat – why else would people line up for it, after all? When you finally enter and sit down to order, perhaps you assume that the best dishes can be found on the tables near you. This is social proof in action – you're taking clues from the people around you and adapting your behavior for the situation.
In marketing, social proof follows a similar concept. Dr. Robert B. Cialdini's book Influence: The Psychology of Persuasion touches upon this concept. It speaks to the fact that, for your business, you'll be using various forms of external or "social" influence to help potential customers decide on purchasing your product or service. And in a survey conducted by Bizrate Insights, a whopping 91% of shoppers made their purchases because of positive reviews. This study shows why collecting and including reviews for your business is crucial in helping to convert potential customers into buying customers.
Types of Social Proof
The key term in social proof is the word "social." You're taking a mix of testimonials, reviews, expert opinions, and more to add and help tell the story and vision of your business. 
Here are a few types of social proof you can use.  
Testimonials

.

According to one study

, testimonials can increase conversions on sales pages by as much as 34%. Testimonials are short written sentences you've requested and curated from happy customers. Ensure you personalize it with the name, company, job position, and photo of the person giving the testimonial for an even more professional presentation. For example, "John Smith" by itself doesn't provide the credibility of a genuine person compared to a picture of John Smith along with his details: John Smith, Corporate Communications executive from AvoPeers Limited. Giving credibility to the person gives credibility to your product or service. 

You can read more about the power of testimonials in my article here

.
Reviews

. While similar to testimonials, reviews are written on third-party sites, and the business is not usually involved in the process. These spontaneous thoughts are written on sites like

Yelp

,

Amazon

, and

Google

. You'll have to visit and monitor these sites regularly to collect reviews for your business. Or, you could embed review widgets from

Trustpilot

or Google directly onto your landing page. These high-authority third-party review sites will help garner trust from potential customers as it helps to demonstrate that your business is authentic and provides reputable products and services. 
Social media.

The holy grail of potential social proof. Save any and all positive comments people have said about your product or service on social media platforms.

Facebook

posts,

Instagram

comments,

Twitter

tweets – highlight these positive reviews on your site or retweet them. You can also use social media to generate publicity and boost your reputation as an industry expert. If you're hosting or appearing at an event, including a widget connected to the social media platforms so you can showcase who's talking about it and create even more buzz.
Brands and media.

If you have well-known brands in your customer portfolio, don't hesitate to use their brand logo on your marketing. Likewise, do this if you have also been mentioned in the media. With media mentions, take it one step further and use a snippet of what was said to give your business a boost and credibility. 
Awards and associations.

Did your office product win a "best of" prize? Don't hesitate to place the badge of honor on your landing page. Sometimes if you're a part of an accredited association, you can do the same to give your business additional credibility.
Numbers.

Have you served over 100,000 customers (or even 1,000 customers)? Perhaps you've helped your clients reach triple-digit revenue? Or maybe you've been in business for over 20 years? Display these numbers to show potential customers the power (and trustworthiness) of your product or service. 
Case studies.

If you've done an in-depth analysis of your business performance over the years, this data-driven proof of how you've helped customers can boost your business.
Influencer mentions.

These days, influencer mentions are another type of social proof. Teaming up with an influencer who shares a similar target audience with you can be a great way to generate instant publicity and credibility as well. 
Depending on your e-commerce business (and if you sell a product or service), you'll find some will work better than others. The important thing is to make sure your social proof is trustworthy and authentic – real people with honest opinions. Even if you're joining forces with an influencer, you'll want to ensure that the relationship makes sense, and is authentic. Overtly sales pitches or anything that feels forced will backfire and could drive your audience away.
Social Proof Leads to Customer Conversions
Does social proof work? Definitely. 
Traditional marketing is declining, as people are placing more weight on the voices of others compared to the branded messages from companies. The internet opened up information not previously accessible and gave people the opportunity to make their own informed decisions rather than be told what to do, say, or think. 
When surveyed, 79% of consumers trust online reviews as much as recommendations from friends and family. And the new "word of mouth" doesn't need to come from a consumer's immediate circle – now, it can come from internet peers.
Social proof allows you to take advantage of the external voices and validation and empowers real people to represent the story of your business – just make sure the social proof you choose adds to the narrative. You want it to reinforce the messages you want to tell and support the vision you've chosen for your business. 
For example, ensure testimonials answer questions people might have before purchasing your product or service. While glowing reviews are great, having a testimonial that will counter any doubts in your potential customer's mind will have a more meaningful impact and lead to a better conversion rate. In addition, if someone commented, "I love how cheap it was!" but the word "cheap" is not one that you want to be associated with a description of your product, no matter how positive the testimonial is, you may want to exclude it.
Zoom demonstrates an excellent example of using social proof to help amplify the voice they want for their business. The video-conferencing company came under fire for not having appropriate security measures in place and knew this might be a sticking point in a potential customer's mind. To counteract and already answer the question of "is Zoom safe?" Zoom displays the names of trusted technology corporations that use its services. The reasoning is that if high-profile technology companies use Zoom, then Zoom must be safe.
Get our Using Customer Testimonials as Social Proof - Worksheet delivered right to your inbox.
How to Gather and Use Social Proof
Gathering social proof isn't a passive venture. Sometimes, without incentive, it's quite difficult to get a customer to leave a review. Here are a few suggestions to get you started.
Place a sticker on the package of your product with an incentive for a review.

(Just make sure the

incentive

is disclosed and isn't against the platform's terms and conditions).

Implement

a feedback funnel

. This could include an email that goes out a few days after they've received the product that directs them to a page where they can leave a review. Or, create a branded hashtag and prompt them to send a video over of them using your product. Encourage them to use your hashtag so you're notified when they do. Everyone who submits a video could receive a discount code as a thank-you. 

Target customers with a thank-you follow-up ad a couple of days after the purchase to gather their comments.

Another tip is to ask for customer feedback first, before asking for the review. This gives you a chance to address any negative feedback before they leave a review.
As you come across various e-commerce sites, you might notice a pattern in how social proof is displayed. How and where can you use social proof to your advantage?
The first and most impactful place is right on the landing page of your website. Fight the urge to place social proof at the bottom of the website – if you can find a way to include it throughout your messaging, there's no reason why you can't sprinkle testimonials, data, and more, from the top.

If your business relies on products, don't hesitate to add social proof on product pages to turn a potential customer into a buying customer. Along the same vein, highlight your top products (and their ratings), and show customers similar products other people have bought (and that they may be interested in too).

Don't stop at just placing social proof on your website. There's no reason why you can't use it in email campaigns and even in your ads as well. In fact, ads can be a great place for social proof. One especially effective approach is to create ads using the Amazon format of stars and the comment they left. A powerful way for prospects to see, at a glance, what good things others are saying about your products.

Show how customers are using your products. If you find on

YouTube

someone has unboxed and is trying out your product, include it! Not only can this be used as social proof, but the unboxing also gives a great visual of your product and how it functions.

Use real-time activity to demonstrate how successful the product or service is.

Booking.com

is a great example, where it mentions how many people have looked at or booked the same hotel room you're browsing within the last 24 hours.

Have existing customers reply to questions asked about your product. Amazon uses this for products on its site, and hearing the honest answers from people who have purchased helps ease minds. 
If you've recently launched your e-commerce business and don't yet have social proof to showcase, don't worry. While social proof helps, make sure you always keep it authentic and fight the temptation to use fraudulent reviews, as this can hinder rather than help you. Instead, think about giving samples of your product and service to influencers, bloggers, or journalists and ask for feedback. Don't hesitate to ask customers for reviews as well. When prompted by the business, some 72% of customers will leave have left feedback.
Social Proof in Action – Businesses Using Social Proof Effectively
Let's take a look at some companies that are doing social proof right. Most of them use a mix of social proof to illustrate and reinforce their credibility.
Trustpilot
Trustpilot hosts reviews to help consumers shop with confidence. For social proof, the company displays its own Trustpilot widget and highlights positive reviews. It displays logos of known brands that use its services and indicates the number of people that have left reviews on Trustpilot globally. In addition, Trustpilot includes independent research showing that 87% of consumers find ads more trustworthy with the Trustpilot logo.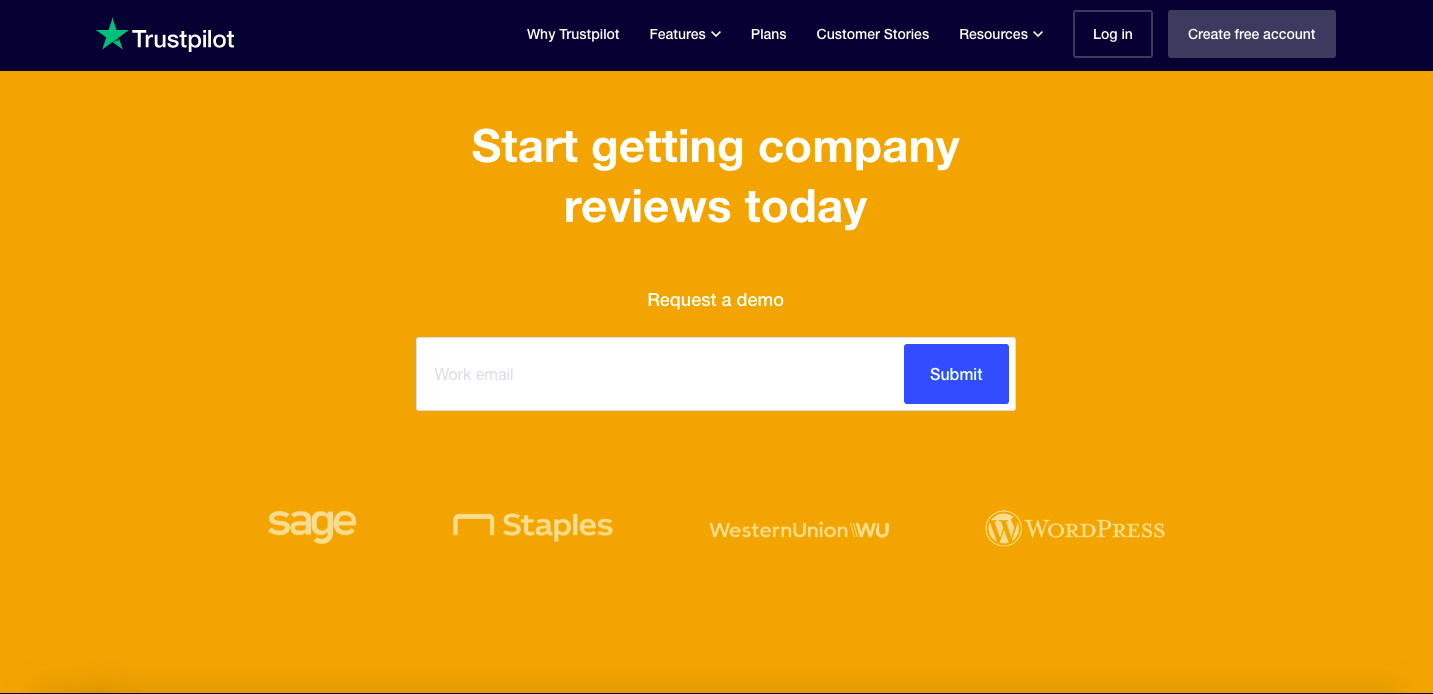 Zoom
Zoom has become the go-to video conferencing system. It's another company utilizing various forms of social proof to help boost its credibility as a secure and alternative video-conferencing system. The company explicitly highlights technology companies that use its services, how it ranks with various customer review sites, and testimonials with the client's name, photo, and company they work for. 
Zoom goes one step further and includes a video interview with several high-profile managers of its clients. Each video goes into detail about how beneficial Zoom has been for their company (including emphasizing how vital security is). It's impressive to see how a major film and television studio, 20th Century Studios, uses Zoom's tools in its productions.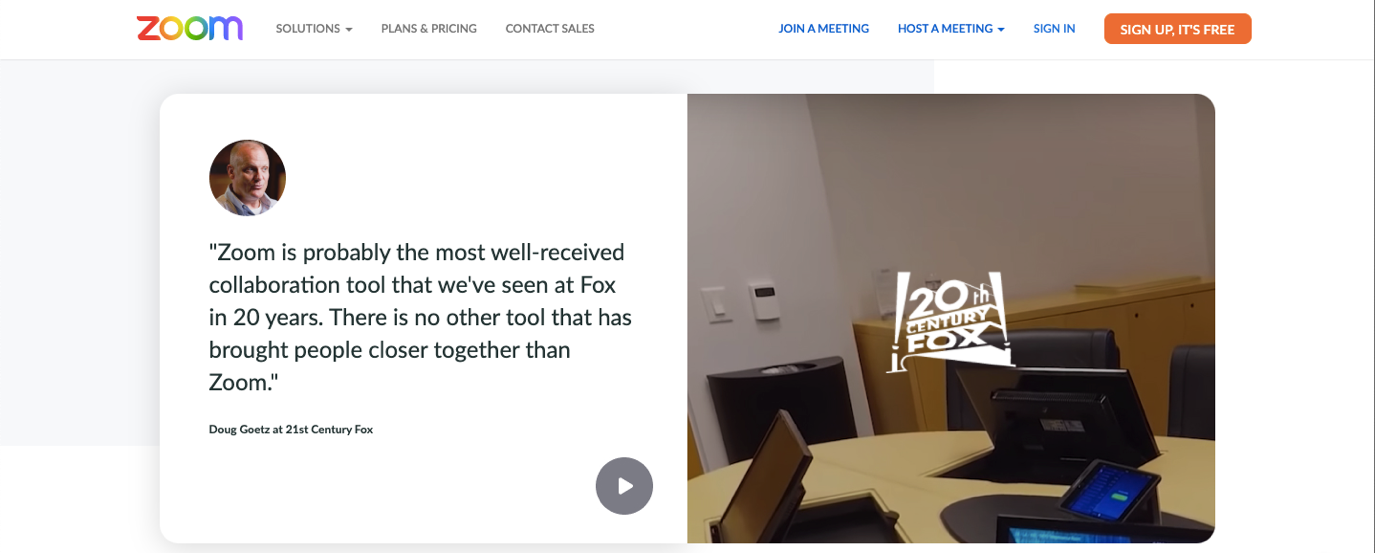 Heatonist
Self-proclaimed purveyors of hot sauce, Heatonist sells a variety of hot sauces ranging from mild to the very hot. Each sauce has a star rating, how many people rated it, and when you delve further into the sauce's details, you will see the authentic reviews left by customers. There's a standardized format for customers to fill in (heat preference, vinegar, usage, sauce application) and the general review. On Twitter, Heatonist also takes full advantage of the retweet function.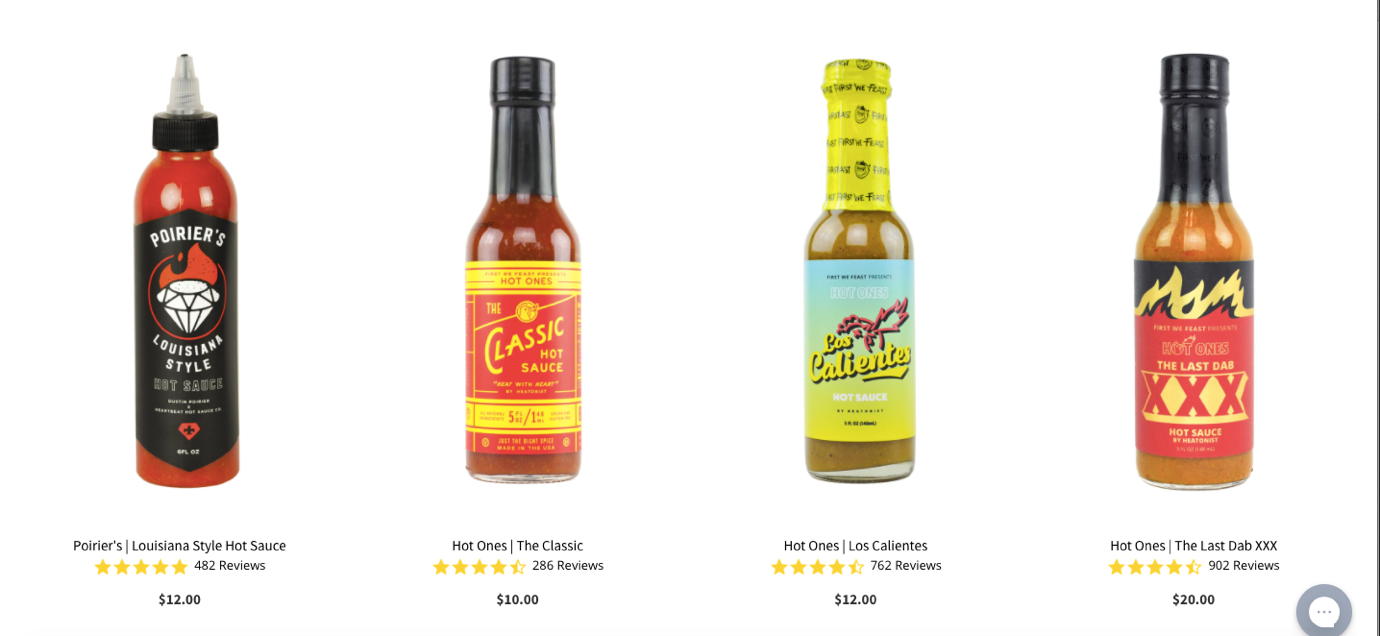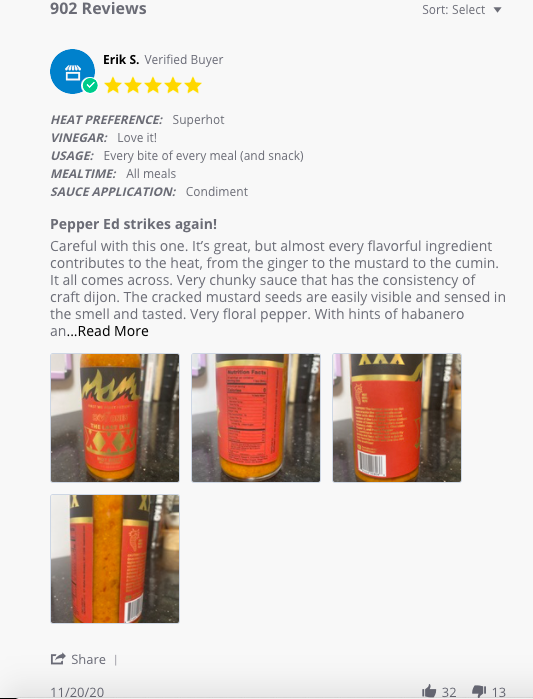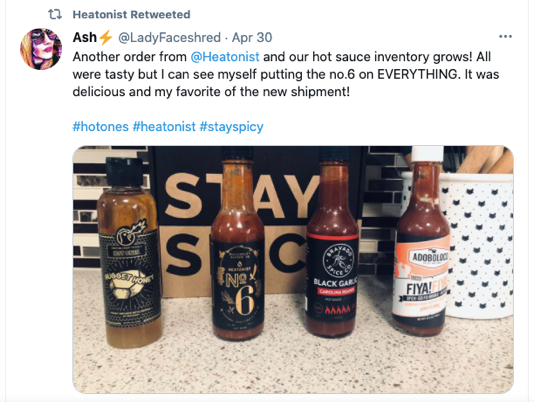 BarkBox
BarkBox mixes three social proof elements in one area – it uses statistics (over two million dogs served), customer testimonials (including photos of happy dogs with their treats), and highlights where the brand has appeared in the media. BarkBox has prominently displayed all of these on its landing page.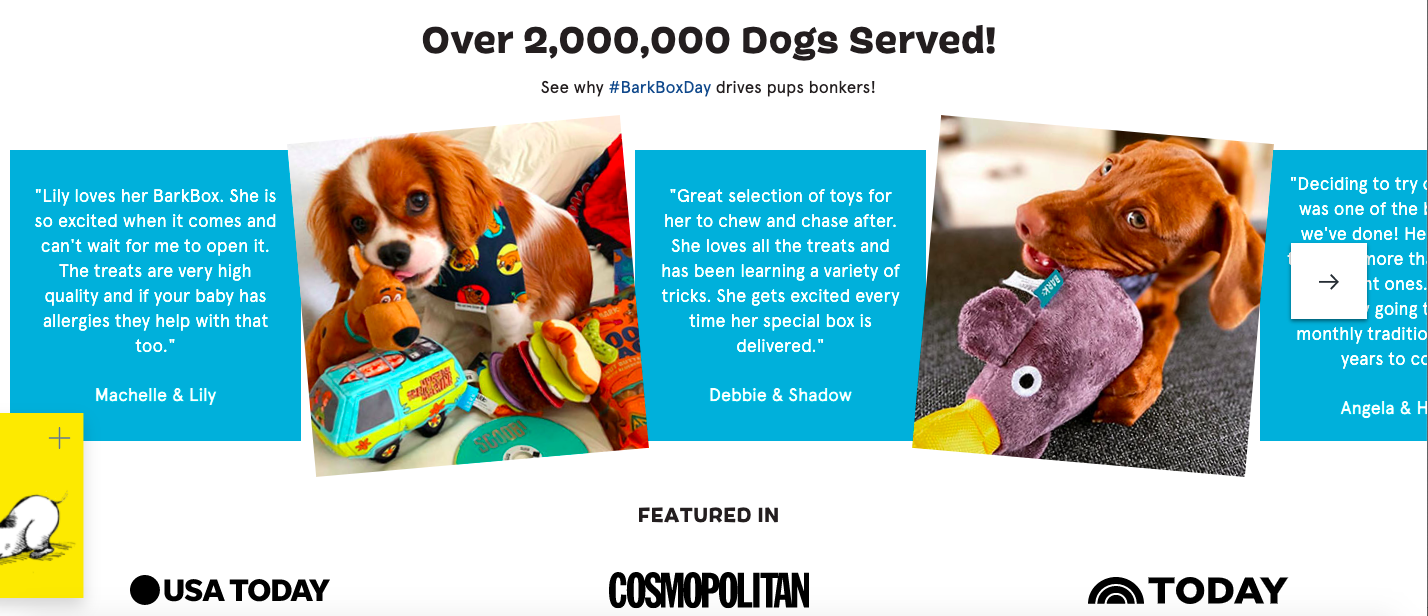 People will continue to ask the advice of friends and family for product and service recommendations, but even the opinions of complete strangers count for something, as evidenced by the fact that reviews can help to boost conversions. Get the most out of your online marketing strategy by looking to include testimonials, reviews, and collaborations front and center. Make sure these are featured clearly and prominently on your website. On the home page and sales pages is always the best way to go. Likewise, look to include statistics, social media, industry experts, and more to boost your credibility and start converting potential customers into purchasing customers.
Looking to scale your company, but not sure where to go? Reach out today for your free 20-minute consultation, and let's uncover techniques to help grow your business: fast.
Get our Using Customer Testimonials as Social Proof - Worksheet delivered right to your inbox.