When it comes to social media advertising, there's no doubt about it –custom audiences are easily one of the most powerful tools that you have at your disposal.
The reason that custom audiences are so effective is because they allow you to segment your audience into specific categories, allowing you to create extremely tailored messages. You can get specific and create audiences of past purchasers, current customers, high-value customers, people who have visited a specific page on your website, and so much more.
And it's not just Facebook that allows you to customize your audience –Instagram, Twitter, even LinkedIn all allow you to get extremely tailored with your advertising –offering their own versions of custom audiences.
If you'd like to take advantage of this extremely advantageous form of advertising, here's a look at how you can get started with Facebook's Custom Audience feature –plus a quick look at using Twitter, Instagram, and LinkedIn's tailored advertising tools as well.
Facebook Custom Audiences: How Does It Work?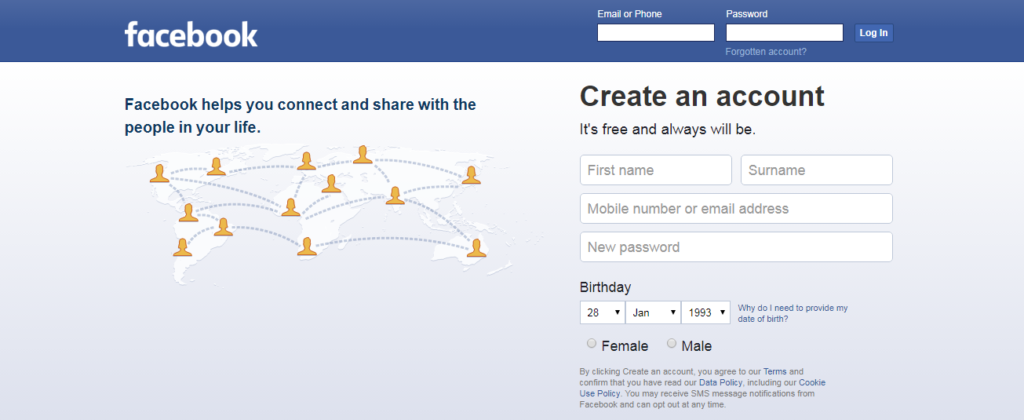 Using Facebook's Custom Audiences feature allows you to find your audience on Facebook and engage with them.
Since people spend over 40 minutes per average on Facebook per day, this is one advertising option that you'll want to take advantage of.
To get started, you can create an ad campaign using an email mailing list, phone numbers, Facebook user IDs, or even visitors to your website, people who have engaged with your brand on Facebook, and more.
Creating a list of people who have already interacted with your brand at some point is an especially effective use of Facebook Custom Audiences. This is because they'll be familiar with your brand, and more receptive to your messages.
For example, say you have a list of 500 customers who have all purchased a specific product. Now, suppose you'd like to promote the launch of an accessory for the product. You can upload your list to Facebook. Facebook will then match the email addresses with its users, and boom! You have a Custom Audience.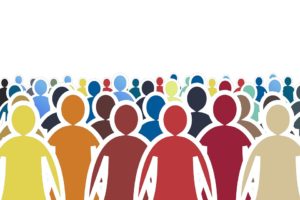 Thanks to Custom Audiences, you no longer have to create broad, general messages, send them out into the world simply hoping for the best. Instead you can get as specific and tailored as you'd like; drastically increasing your ad's effectiveness. Since you'll know exactly who your audience is, you'll have a good idea about what they need, and will be able to reach them better.
Now, let's look at some exciting things that you can do with Custom Audiences.
Exciting Things That You Can Do With Facebook's Custom Audiences
With Custom Audiences, you can create extremely targeted ads, allowing you to improve their effectiveness, and your conversion rates!
Here's a look at some ways that you can put these audiences to work for you: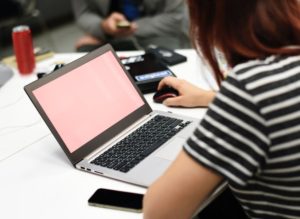 Target Visitors Who Didn't Convert
A significant percentage of your website visitors won't buy on their first visit –a number will abandon their carts. With a Custom Audience, though, you can reach out and target these visitors, reminding them of a purchase that they may have forgotten, or offering incentives for them to revisit your website, and complete their purchase.
Retarget People Who Have Visited Your Website
You can also use Custom Audiences to reach visitors to your website, or those who take specific actions on your site. This is especially handy since you can target people who visit a certain page, or view a specific product and leave. To track website visitors, you'll need to use what's known as a Custom Audience Pixel.
You install this Pixel –a snippet of code, on your website, and then customize it to track different audience actions. For example, page load, video watched, button clicked, and more.
This is a great chance to experiment with different ads, to see which ones convert the best. Consider running ads that outline specific product features, offering a coupon for a discount or free shipping, or simply reminding your audience about the product itself.
Reach Subscribers Who Don't Open Your Emails
If you have an email list, and some of your subscribers aren't opening your emails, you can target them as well. Consider showing them what you have to offer. Choose an image, find a great key message, and then create a Custom Audience using their email addresses to target them with specific ads.
Note: Keep in mind that these lists should only include people who have consented to be contacted by you. If they opt out, you should make sure they are no longer included in the lists.
Recover Previous Customers
Have some customers who haven't made a purchase in a while? You can use Custom Audiences to win them back. Consider sharing exciting news about your product or offering a discount coupon.
Lookalike Audiences: Discover More Customers Similar to Your Best Ones
Here's where things get fun. You can also find new Facebook users to target, who are similar to people who visit your website. This is known as a Lookalike Audience. This can be an extremely valuable tool for e-commerce stores to use, and it allows you to expand your reach exponentially –and find new prospects. It can also give you demographics about your audience if you haven't yet done much research or created a customer avatar.
Keep in mind that in order to create a Lookalike Audience, you'll need to have created a Custom Audience already, and will also need at least 100 email addresses for Facebook to work with.
Learn More About Your Customers
With Facebook Audience Insights, you can learn more about customers and subscribers. This includes things like demographics, interests, online purchase behavior, and more; allowing you to target them even more effectively.
Different Types of Custom Audiences
When it comes to creating Custom Audiences, there are a number of different types of audiences that you can create. Careful segmenting will help you to increase your ads' effectiveness.
Here's a look at a few different types of Custom Audiences: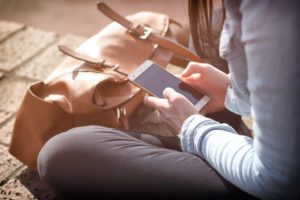 A Contact List Audience
A contact list audience uses your list of customer emails or phone numbers. This list can be manually uploaded to Facebook via a CSV file. With this list, the goal is usually to target the audience for further sales and conversions.
A Website Traffic Audience
You can create a website traffic audience by targeting people who have visited your website during a specific period of time. If you're using a Facebook Custom Audience Pixel on your website, and your visitor is signed into Facebook, then they're able to be tracked.
You could create an audience that's comprised of people who have visited your site, but haven't necessarily interacted with your brand, and consider running an ad offering a discount to entice potential customers who may be on the fence.
A Post-Engagement Audience
A post-engagement audience is comprised of people who have interacted with your content on Facebook. The fact that they took the time to engage with your brand shows that they're receptive, and can also give you an idea about what type of ads and content have worked in the past.
When to Use Custom Audiences
Wondering when to use a Custom Audience?
If you're trying to reach an incredibly relevant audience, then there's a good chance that you could benefit from a Custom Audience.
Suppose you're selling winter hats and gloves. You could place a Custom Audience Pixel on the website page where you offer information on the type of wool that your products are made from. You could then create a Custom Audience for these visitors, informing them of a discount, or giving them additional information on your products.
Since these visitors were on your website, researching the type of materials that go into your products, you can be certain that they're at least somewhat interested in what you have to offer, and could increase your conversion rates considerably by giving them some additional incentives to make a purchase.
Try adding a sense of urgency to the ad –a limited time offer for a special product, or a discount that's only available for a couple of days can motivate them to make a purchase.
When NOT to Use Custom Audiences
As amazing as they are, there are times when you'll want to forgo Custom Audiences. Any time you use a Custom Audience, you exclude a wide audience of potential customers. If you're running a generic ad, or simply hoping to drum up new publicity –you may be better off running an ad for a wider audience or using other factors to narrow down your audience, such as location or demographic targeting.
Using Audience Exclusions
Another benefit of Facebook Custom Audiences is that you can also use them to exclude certain people from your campaigns.
Why the heck would you want to exclude anyone? Simple: to increase your ad's effectiveness.
When you're running a Custom Audience ad, you'll want to target a very specific audience. This means that in some cases, you may want to exclude people who are at different stages in the sales funnel; those who you know aren't interested in what you're offering.
You could also exclude people who have already taken the action that you're promoting. Say you're running an ad to encourage people to like your page; you could exclude your existing page fans from this ad. Or, for example, if you're running a sale on certain products, you could exclude people who have recently purchased these products at regular price, to keep them from getting frustrated that they've just missed out on a great deal.
Creating Your Facebook Custom Audience Campaign
If you'd like to set up your own Facebook Custom Audience campaign, here's a look at how you can get started.
Make sure you have an existing Facebook account for business ads. Next, you can follow these simple steps to begin your own campaign.
Step #1: Log Into Facebook Ads Manager
Start by logging into Facebook Ads Manager.
Step #2: Choose Your Objective
Next, choose your objective: conversions, brand awareness, more traffic, etc.
Step #3: Create a Custom Audience or Lookalike Audience
After you've chosen your campaign goals, Facebook will walk you through the process to set up the ad. You'll have the option to choose Custom Audience, or Lookalike Audience. If it's your first time creating a Custom Audience, and you don't have any existing audiences –you'll want to choose Custom Audience.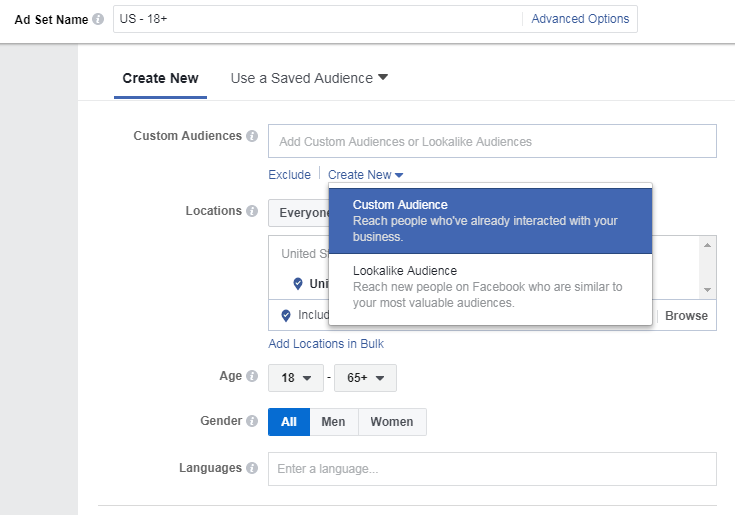 Step #4: Choose How You Want to Create the Audience
You'll then have an option to choose how you're going to create your custom audience. You can choose a Customer File –which could include an email marketing list or other customer list that you have. Or, choose to create an audience based on Website Traffic –using a Facebook Pixel to track people who have visited your website or taken certain actions.
Other options include creating a list based on App Activity, Offline Activity, or Engagement –people who have engaged with your ad on Facebook or Instagram.
For this example, let's assume you're going to create an audience with Website Traffic.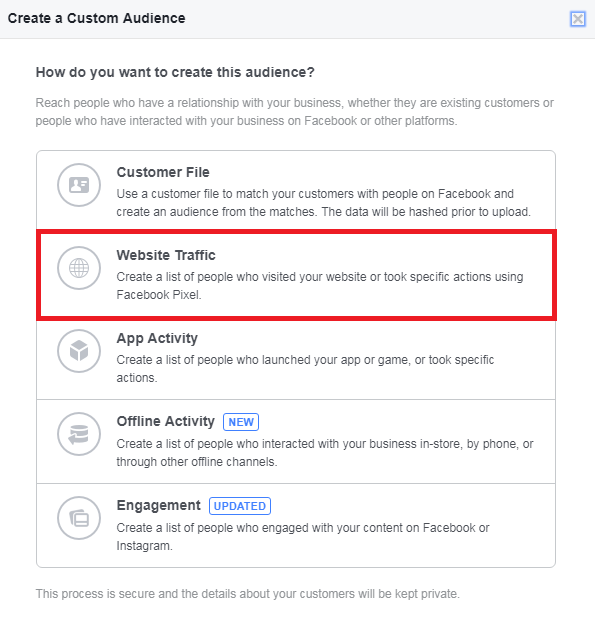 Website Traffic will allow you to set up a campaign to target people who visit your website.
Step #5: Select Your Target Audience From the Dropdown Menu
You will then be taken to a screen that will allow you to create your audience. Click the dropdown menu and choose from the following:
All website visitors
People who visited specific web pages
Visitors by time spent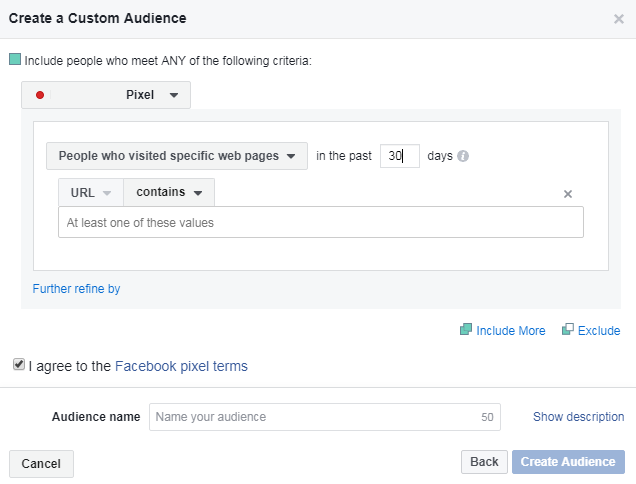 Be sure to keep your campaign goals in mind, and choose the option that will best help you to reach your audience.
For example, you could choose 'People who visited specific web pages,' and get extremely targeted with your campaign. You could then enter a product page, and create an ad that will prompt visitors to buy that product. There are plenty of different ways that you could structure your campaign, so try to be creative. Think about who you are targeting and how you can speak to them.
Step #6: Get Your Pixel Code and Put It On Your Website
Now, it's time to get what's known as your Pixel code. This is your tracking code and you'll need to put it on your website in order to track your visitors. When a visitor navigates to a particular page, or a specific place on a page, or takes a certain action, their movement will be tracked.
Get your Pixel code by navigating over to the Audience section of Ads Manager. There you'll see your new campaign. Select it and then click on 'Actions' and 'View Panel' in the dropdown menu.
Grab your Pixel base code, and give it to your developer to place on your website. Or, do it yourself if you're especially tech savvy. Have a look at these instructions to see how.
If you want to check to make sure your Facebook Pixel is working, be sure to get ahold of the free Google Chrome Extension, Pixel Helper.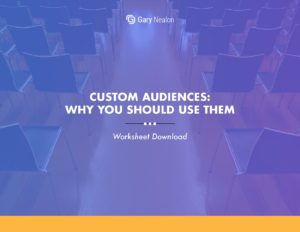 Get our Custom Audiences: Why You Should Be Using Them Worksheet delivered right to your inbox.
Strategy Ideas for Your Facebook Custom Audience
There are many plenty of different ways that you can structure your Custom Audiences.
Here's a look at a few strategies that you can use:
Opt-Ins: Target visitors who been on your website but didn't convert by creating ads promoting your free content. This could take the form of an e-book or downloadable guide. By encouraging opt-ins, you can grow your mailing list, and your target audience.
Conversions: Target visitors who have been on a specific product page, but didn't make a purchase by running ads to remind them of products that they were looking at. You could offer discount coupons or free shipping to encourage them to go through with their purchases.
Likes: Target people who have purchased from you by prompting them to like your Facebook page.
As you can see, there's a lot that you can do with Facebook Custom Audiences. This feature is a tremendously valuable option for e-commerce stores and in many cases it can help you to reach your campaign objectives far more effectively than broad, general ads.
But wait! There's more! Twitter, Instagram, and LinkedIn all have their own versions of custom audiences as well. Let's take a look at how you can use target specific audiences on your other social media platforms.
Twitter Tailored Audiences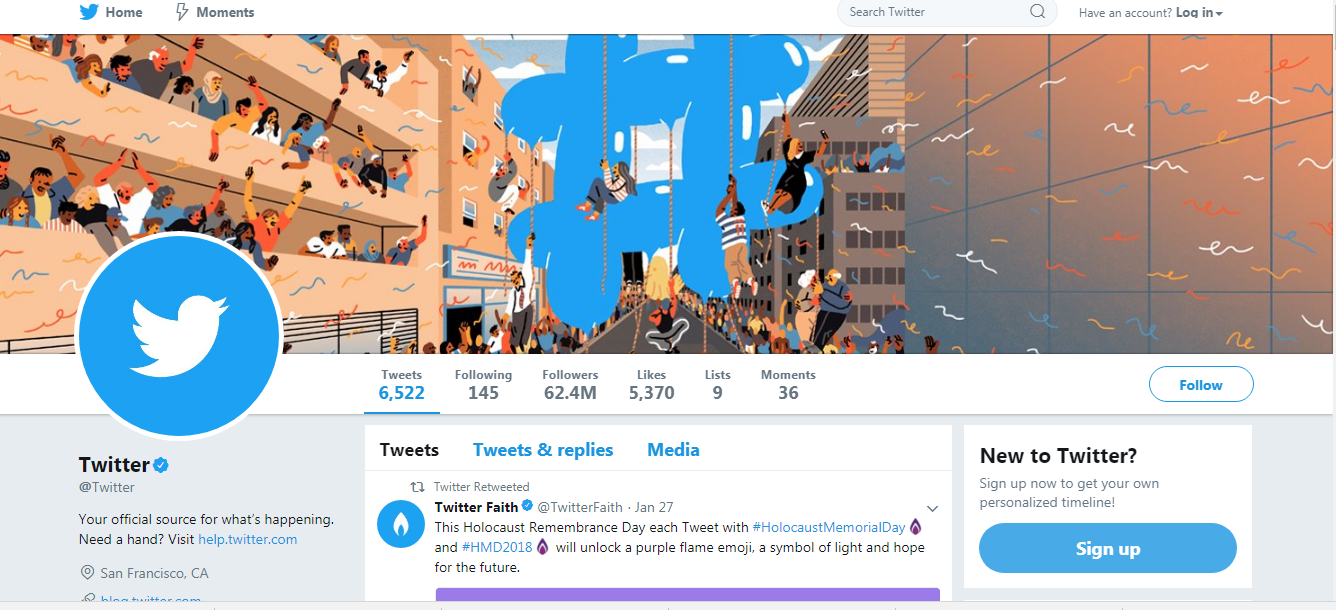 First, a look at Twitter's Tailored Audiences feature. This is a great way to create extremely targeted and relevant campaigns. So for instance, you can target people who have recently visited your website, or even those who have NOT used your app recently. There's a lot that you can do.
There are three basic ways to use Tailored Audiences: 
Lists
You can use lists to target specific users. Either upload a list of email addresses or target Twitter usernames.
Web
Target recent website visitors. Collect this data using Twitter's Website Tag –a type of pixel, to see who's recently visited your website.
Mobile Apps
Collect data on who's using your mobile app with conversion tracking. Or, segment your ads further by targeting people who have taken a specific action in your app.
Target Instagram Followers With Facebook and Instagram Ads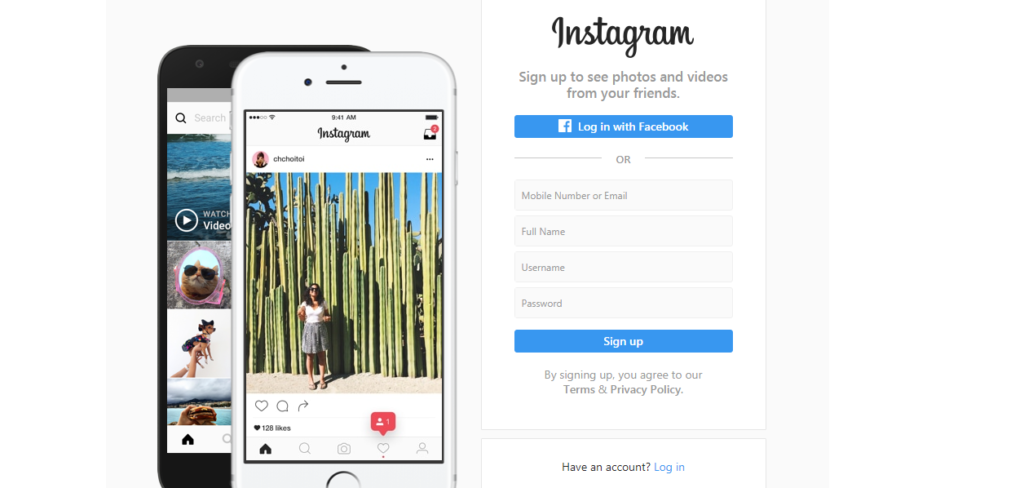 You can now create targeted audiences on Facebook-owned social media platform, Instagram.
Note: This option is still in testing, and is currently being rolled out across accounts, so if it's not available in yours yet, it should be soon.
Re-Target Your Instagram Followers With Facebook and Instagram Ads
To get started, you'll need to create a Custom Audience that contains your Instagram followers. Then set up your ads to target that audience.
Just a heads up, your Instagram ad campaigns will be managed from your Facebook's dashboard.
Create Your Custom Audience
First, head over to Facebook's helpful how-to page. This is the best place to start, and it'll walk you through the process of setting up your own campaign.
Next, go to your Audiences.
Click the Create Audience dropdown and choose "Custom Audience."
Click "Engagement."
Click "Instagram business profile."
Click the "Business profile" dropdown and click the business profile whose engagement you'd like to use to create your audience.
Then set up your first rules section by clicking the engagement-type dropdown and choosing what type of engagement you want to use as a basis for inclusion. So for example, you can choose to include anyone who's engaged with profile in any way or anyone who messaged you.
Fill in the "In the past" field with the number of days you want Facebook to go back to find people who engaged with your business profile for inclusion in your audience. They can back up to 365 days.
Add additional rules sections (up to a total of 5) by clicking "Include more" or "exclude."
Add an audience name and description
Click Save
That's it!
To learn more or to get started visit Facebook's helpful guide: Create an Engagement Custom Audience from Instagram business profile engagement.
LinkedIn Matched Audiences
With LinkedIn's Matched Audiences you can target website visitors, contacts, and accounts.
Here's a look:
Website Retargeting
You can reach LinkedIn members who have visited your website. You can even define your target audience and deliver relevant ad content based on the pages that they visited.
Contact Targeting
You can also create a customized audience by uploading a list of email addresses or connecting your contact management platform.
Account Targeting
With account targeting, you can reach key decision makers at your target accounts.
Learn more about LinkedIn Matched Audiences.
When it comes to using custom audiences, keep in mind you'll get out of it what you put into it, so be creative, and try to put yourself in your customer's shoes. Don't forget to track the effectiveness of your campaigns and ads to discover what works, and what doesn't –and adjust your future campaigns for even better results.
Have you used custom audiences before?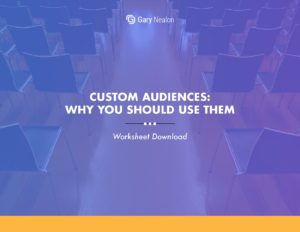 Get our Custom Audiences: Why You Should Be Using Them Worksheet delivered right to your inbox.