If you're looking to reach your target audience, then Facebook is one digital platform that you'll want to invest in. 
Facebook is THE most powerful marketplace on the planet and the power of this one platform sets the market for every social network, offering to integrate and increase your brand recognition, define and improve customer loyalty, and create new opportunities to convert browsers into buyers.
Take a look at some of these stats:
Facebook advertising revenue was reported at $17.652 billion for the final quarter of 2019. That's up 30% year-over-year, although a lot is driven by an increase in revenue via Instagram.
Some 98.3% of Facebook's users access the platform via mobile devices, and

93% of Facebook's ad revenue

comes from mobile advertising, highlighting the importance of mobile-friendly marketing. 
Planning the Cost
Facebook offers a variety of advertising price packages which, as they claim, start at 'the price of a coffee.' Although, clearly, you can expect to pay a lot more for a successful advertising campaign. 
Facebook also bundles advertising packages with other of their networks, Instagram, WhatsApp, Oculus, and Audience Network, if you require extra reach for your campaign.
An introduction to Facebook advertising costs allows you to select your industry and business. Also, your advertising rates vary based on audience segmentation and per user click-through rates, or per thousands of impressions.
Planning the Structure
Consider the following Facebook advertising tools as part of your campaign design. 
Campaign Budget Optimization – This allows you to budget your advertising campaign, rather than individual 'advertising set purchase' and to link your campaign with a bid strategy, either lowest 'cost per action' (CPA) or highest 'return on ad spend' (ROAS).
Automatic Placements – Using automatic placements relieves you of the work of selecting your own advertising placements. Facebook's AI will select and program your advertising for you. That includes programming your ads across their network (e.g. Instagram, Audience Network, Messenger, Facebook), and optimizing audience impact and costs.
Dynamic Formats and Ad Creative – Dynamic Ads offer a personalized version of each of your ads to every viewer. These are delivered as options on display ads aimed at audience categories you select. Testing of this customized messaging displayed significant improvements in ROAs and reduced CPA.
Multiple Text Optimization – This is another option that employs a similar formula to Dynamic Ads, offering to customize the messaging of each of your display ads to selected audiences. 
Automatic Language Translation – Facebook will auto-translate advertising content. In the U.S. this is useful for Spanish and other main language group marketing, although as the company warns, the quality of automatic translations is not guaranteed. You'll still want to manually check each translation yourself.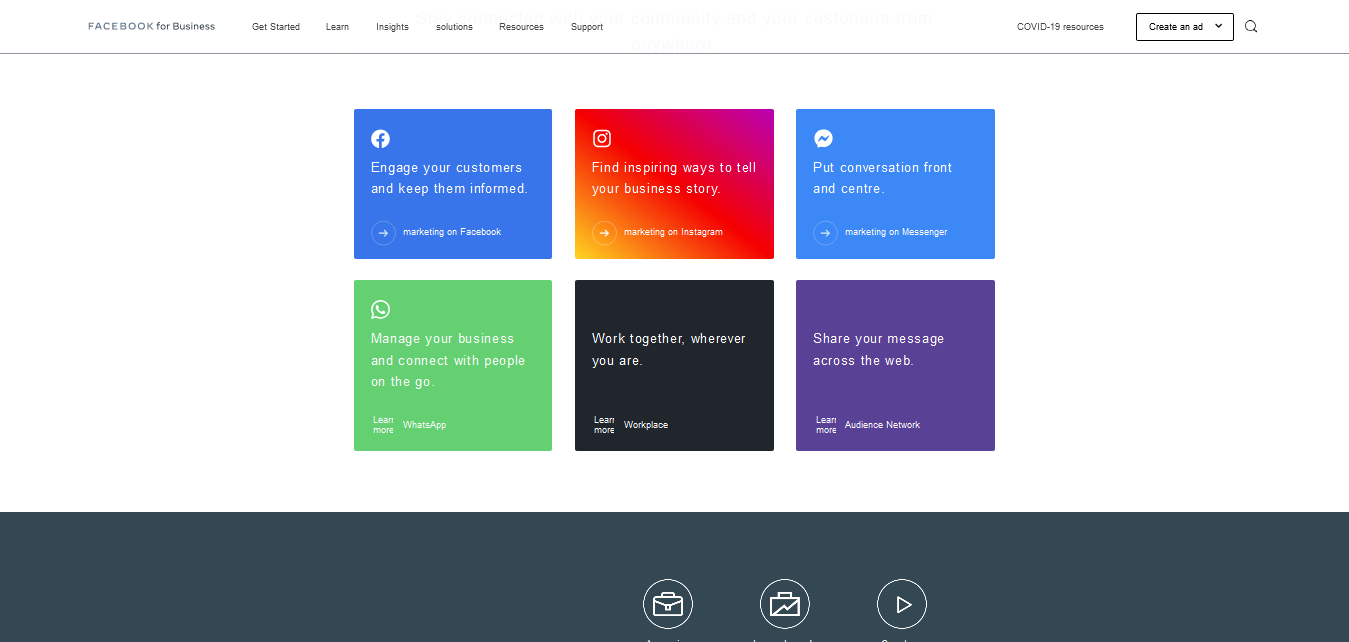 (Source: Facebook for Business)
Facebook for Business is easy to use and helps you to get the most for your ad dollars. You can create an ad by yourself straight off the site, simply by accessing the link here.
Simple Rules for Effective Facebook Marketing 
So, what does a great marketing campaign on Facebook consist of?
The secret to Facebook advertising design is to get your carefully selected audience as excited to engage with your message as possible. This begins with very carefully narrowing down your niche, and then implementing the following strategies.
Headline Call to Action

– The headline is critical for every ad, while the 'buy button' dominates all online marketing. You have to get your Facebook users to act, preferably purchase, by drawing them to your 'buy-button' with a great headline. A great headline may also encourage engagement, which increases your reach because Facebook shows what you comment on to your followers.
Post-Click Landing Page

– Design your Facebook post-click landing page to continue momentum, not simply redirect to your website's home page. Add contact and inquiry information on this page, as well.
Social Engagement

– Social engagement requires your advertising to create followers on your pages, to gain comments from these followers for your posts, to build likes for your messaging, and to produce shares for your posts to other user networks. Successful engagement by users of your Facebook page leads directly to low-cost mass marketing success, and, if you're lucky, you may even go viral.
Brand Stand Out

– To ensure your brand stands out from the crowd you need to evoke an emotion or reaction. Your message must make people feel some excitement, some buzz, or a clear benefit for their participation.
Social Proof

– Users love the opinions and interactions of their peers. Social proof is now a primary way of showing how your brand is loved and trusted through user endorsements provided in your messaging. Don't hesitate to share reviews or testimonials in your marketing.
Entertainment or Education

– Advertisements that entertain the audience have a tendency to be extremely effective. The counterbalance to entertainment is education. You can do both while considering the relations between the two for your brand or product to get noticed and create engagement.
Video Optimization

– Video has to be optimized for mobile and it has to be good. Not just a quick 'how-to' but a well-considered video campaign or set of presentations that add to your brand. See

Facebook Mobile Studio

here.
Quality Images

– Never forget that an image sells. Use the highest quality photographic and design images you can. And remember social network users respond better to pictures with people.
Action Words

– Update your copy, don't be boring, use words full of action – 'try, receive, test, offer, discount, enjoy'. Every post, every page, and every word matters to user experience. Make it simple, fun, and create a call to action.
Optimizing and Monitoring Your Facebook Advertising
In 2019, Facebook closed down its internal semantic search capability called 'Graph Search.' Its stated reason to focus its efforts on the use of 'keywords' and user-generated content. Facebook's keyword search is now provided via a 'search bar' at the top of your Facebook page, available only once you log-in. 
This search bar offers a huge range of filters to begin your Facebook relevant Search Engine Optimization (SEO).  There are even Facebook pages dedicated to SEO. For example, check out Searchengineland. 
Business search filters from within Facebook include searches such as 'products', 'brands', 'markets', 'groups', 'special offers', 'promotions' etc. You can also insert your own filters like 'geography', 'age group', or 'by interest'.
There are numerous SEO tools both free and paid that claim to specialize in Facebook SEO. 
Here are two tools to begin your search optimization:
cognitiveSEO – This platform provides a state-of-the-art toolset to manage your Facebook search optimization. It includes options to manage campaign and site audit, backlinks, keyword research, content, and page ranking analysis.
Clickflow – This is a newer platform that offers Facebook-friendly search optimization. You can research how to improve user click-through rates, keyword selection, design better page tags on your site, and improve meta-descriptions for a page search. You can also run split-tests to win more organic traffic through real-time, user-choice research.
Monitoring the Facebook Attribution Window – and Improving the Tool
Using the Facebook Attribution Tool for your marketing takes a few steps. But first, what exactly is attribution? 
Social Media Examiner states that, "attribution is the process of matching actions such as purchases to specific marketing channels so you can measure the impact of those channels on your business and determine the return on investment (ROI)." Using the Facebook attribution tool you can analyze the impact and success of your marketing and essentially determine whether it's producing a satisfactory ROI.
Before you're able to monitor your ad campaigns with the Facebook attribution window, you have to install a Facebook pixel on your site. Afterwards, set up is pretty easy – and it's valuable, too. AdEspresso states that the beauty about this tool is that you can, "import data from other advertising platforms and offline data so you can get an overview of your customer journey on and off of Facebook."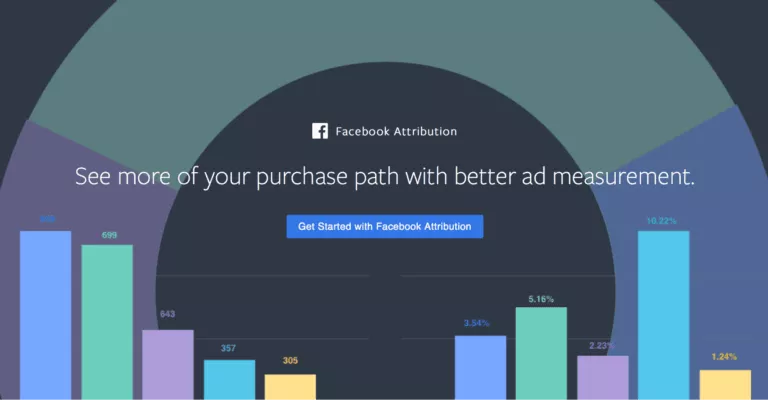 (Source)
But it's not without its flaws, and essential data and metrics may be missing from your dashboard. For example, Facebook disregards touchpoints, applies last-touch attribution, last impressions get credited as a conversion, the data is limited to Facebook-owned advertisements (Facebook, Messenger, Instagram), it misses analyzing some data due to not having enough resources, attribution windows for clicks are only available for 28 days, and attribution tracking for views is 24 hours, just to name a few concerns.
That's where a tool like HYROS comes in – and the best part is that you can place their tracking directly in your Facebook Ad Manager, to amplify the efficiency of the attribution tool. It fixes these errors, allowing you to have access to more information, across every platform, and available to you for forever.  It also gives you a more detailed customer mapping profile which can improve your advertising on Facebook, thus improving your ROI.
Get our The Best Facebook Ad Campaigns for E-Commerce Stores - Worksheet delivered right to your inbox.
Ad Campaigns for Ecommerce Stores
Now we come to the fun stuff! Here are some great Facebook advertising campaigns that you can choose from.
Each Facebook ad can be judged by performance and results, Return On Ad Spend (ROAS), metrics that companies don't always publish. The other route to value your advertising is the court of public opinion, prizes, or plain old accolades such as engagement rates.
Tip: Use the Facebook Ad Library to see other ad campaigns! It's a handy resource for researching advertising spend, results, and history for many if not all Facebook advertisers.
Use the Ad library to do your own research, to perfect your campaigns and hone those message executions.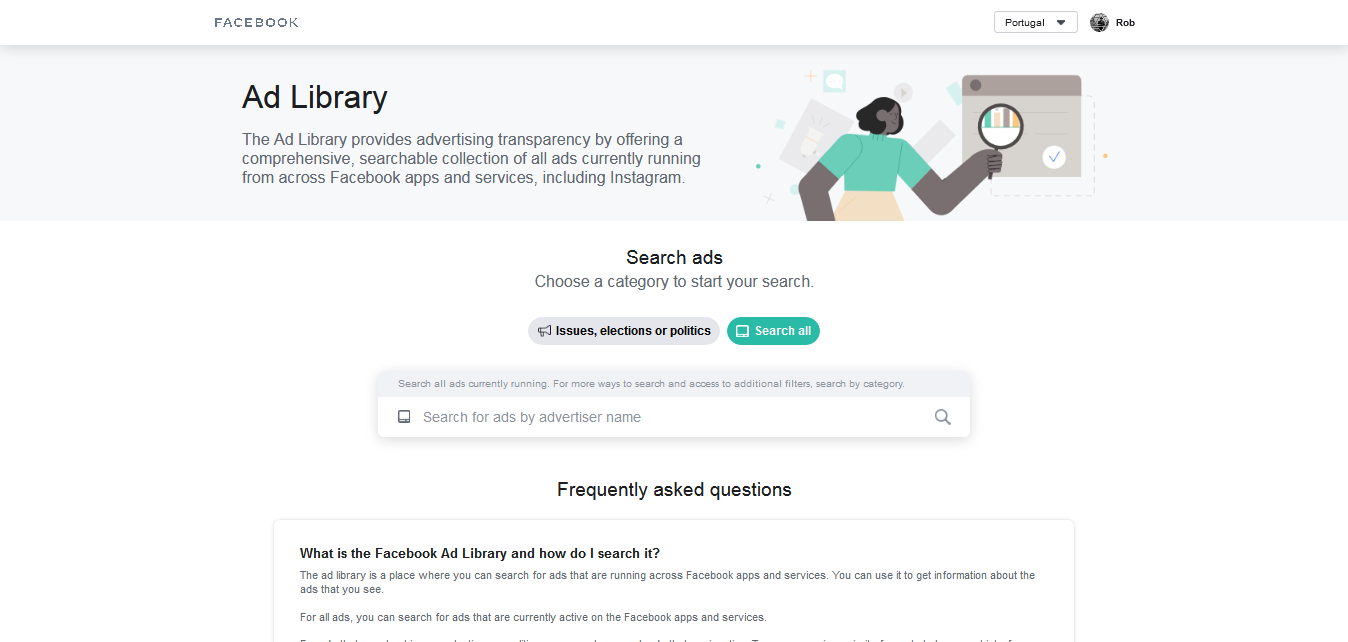 (Source: Facebook)
While the following campaigns are drawn from mainly fast-paced successful companies with big brand names, every digital business can learn these lessons and reproduce similar engaging messages. 
Video Ads
Facebook users love video because it's engaging, it can be watched on the go, and because small-screen mobile suits this format. This ad for Headspace hits some great advertising buttons. It's short, sweet, and builds participation through its proactive engagement message.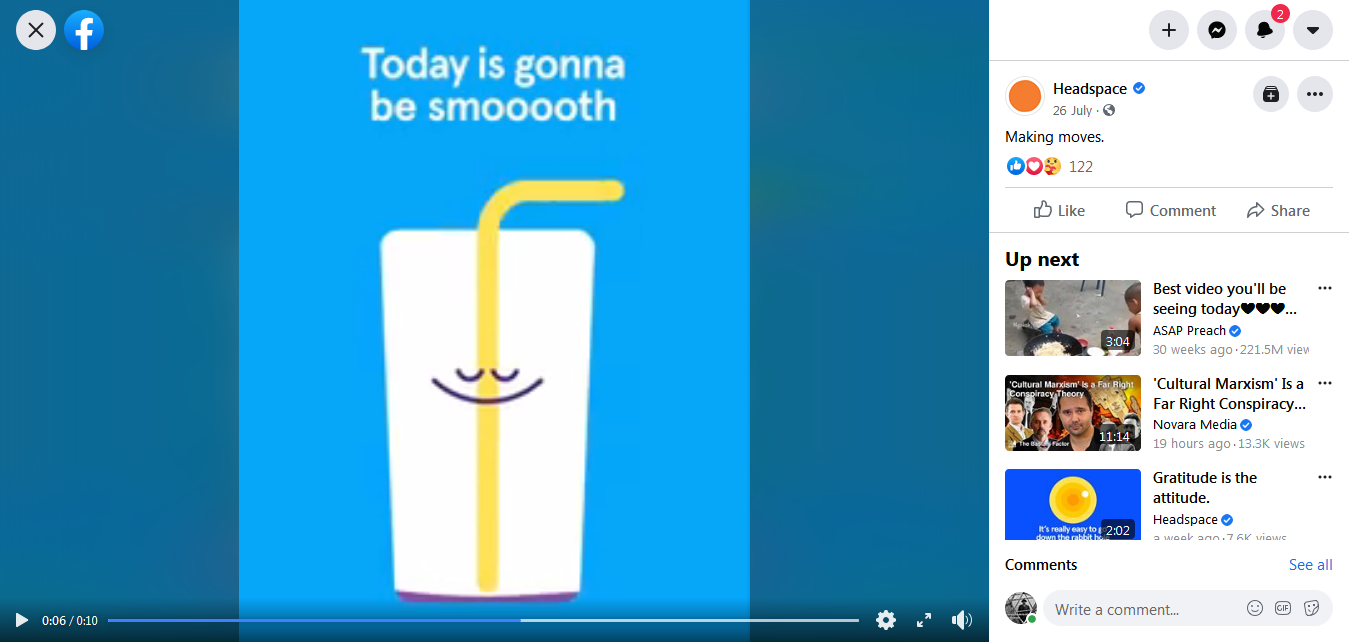 (Source: Headspace)
Carousel Ads
Carousel ads are another popular Facebook ad, especially for ecommerce stores. 
Boredwalk's Facebook advertising campaigns make excellent use of the carousel ad feature on Facebook. The company has a simple business model – T-shirts with slogans—but make up for that with clear product display and great ad execution.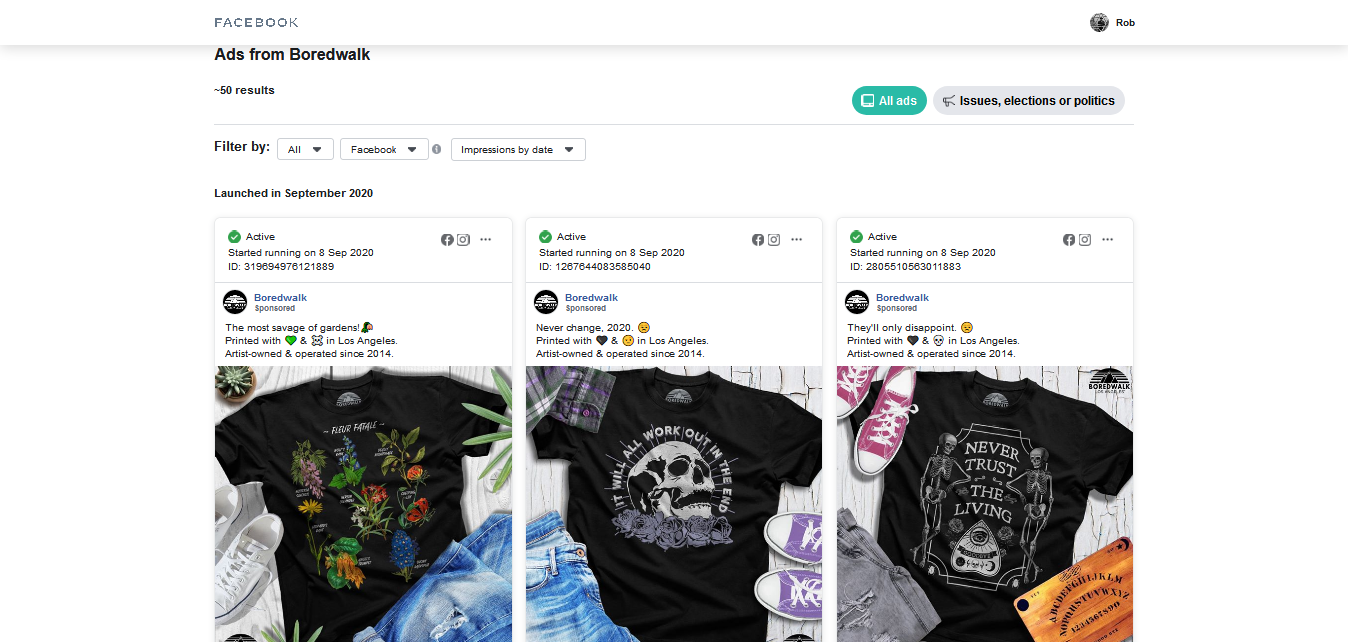 (Source: Boredwalk)
Dynamic Ads 
One of the easiest ads that ecommerce stores can set up are dynamic product ads (DPAs). These are automated ads from your product catalog from your store's product feed. Once you integrate this feed with the Facebook Ads Manager, Facebook can automatically create ads, and even advertise products to people who have previously viewed them before.
Starbucks gets it right across all their Facebook marketing and advertising campaigns. Some company ads are static and gorgeous with superb photography and messaging. Others feature dynamic visualization, immediate rewards, and a call-to-action. This company understands how to use Facebook advertising effectively, and is worth checking out.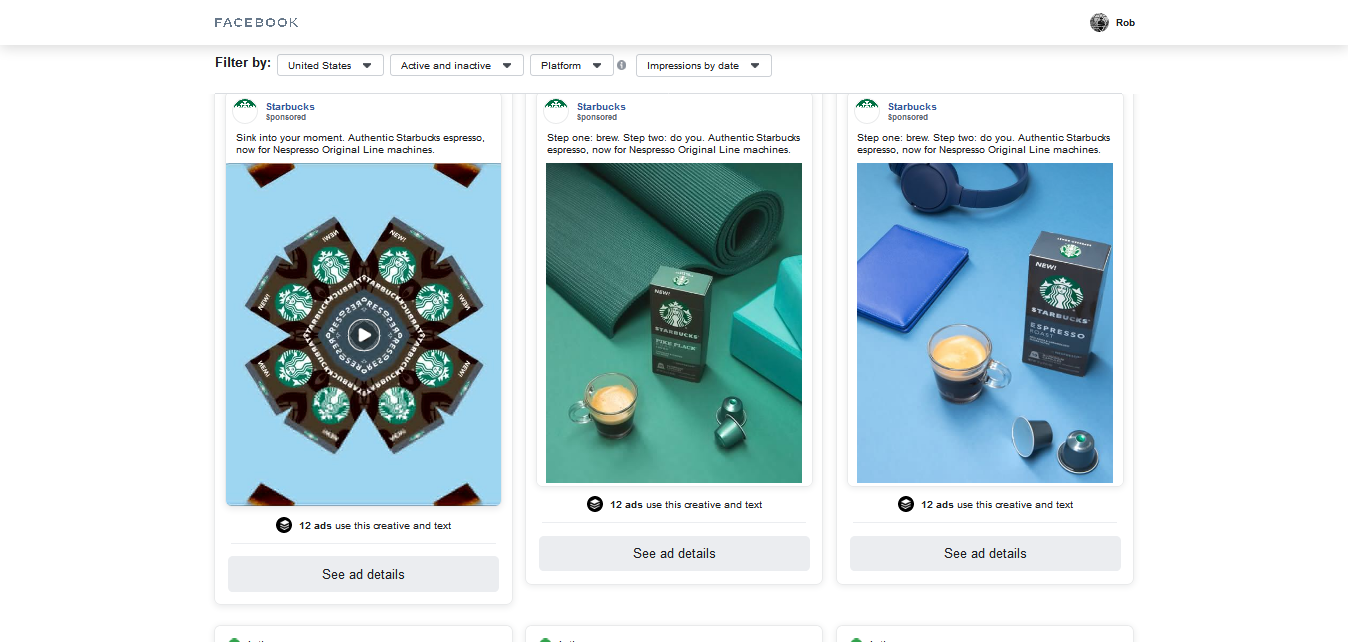 (Source: Starbucks)
Other Facebook ads include:
Post Engagement

Instant Experience

Event Responses

Offers

Lead Generation Ads

Page Likes

Collection

Image

Post Engagements
One of the best things about Facebook is that you can create extremely targeted campaigns that allow you to reach your target audience. To get started, you'll need to get a Facebook Pixel, and put it into your website's code. Then you can run retargeting campaigns, and even find lookalike audiences.
Check out my guide on getting started with Facebook Ad Retargeting if you'd like to learn more.
Ecommerce Facebook Ads
Looking for ad campaigns to inspire? Here are some amazing ecommerce Facebook ads (sourced from contest software creators Shortstack!) to get your wheels turning.
MVMT: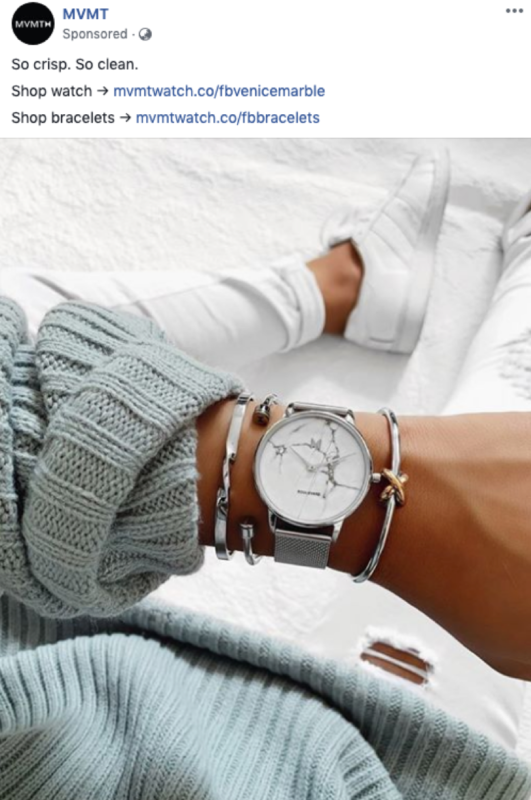 (Source)
For this ad, the product image was front and center. The best ecommerce ads use high-quality images that are more likely to stand out in the newsfeed. 
K9 Sport Sack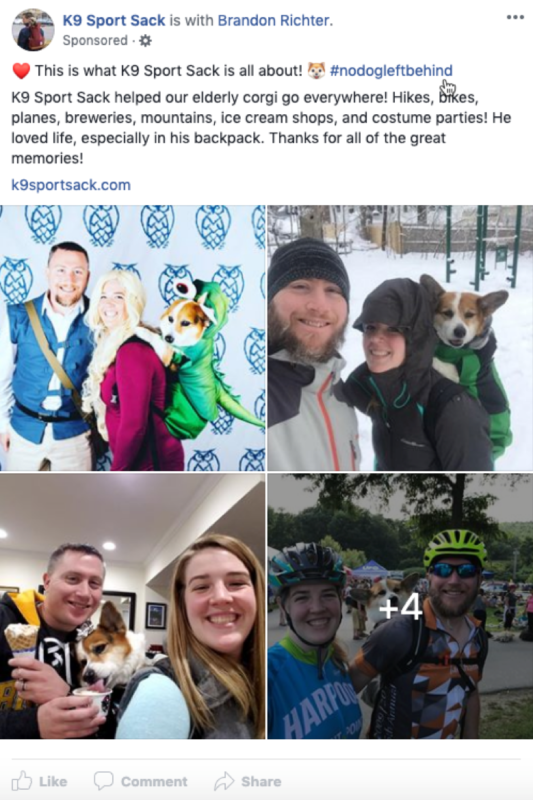 (Source)
This campaign featured plenty of social proof. Customer testimonials and stories are a great way to add social proof to an ad campaign.
BarkBox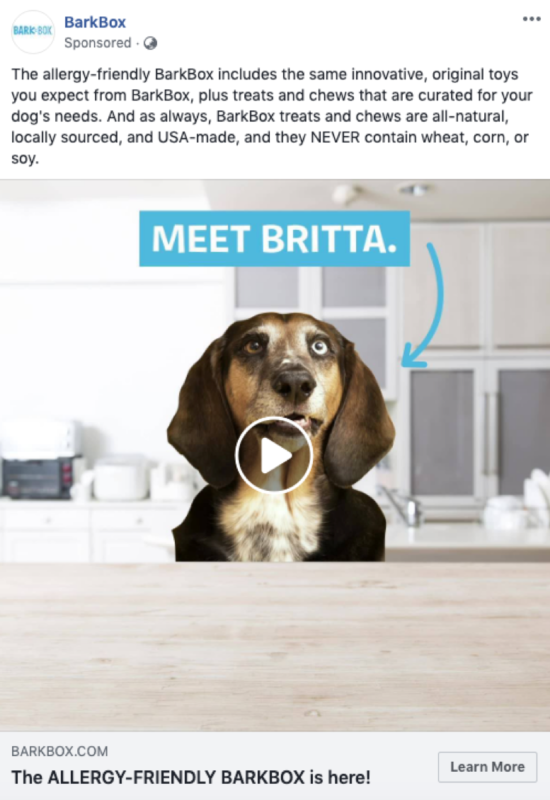 (Source)
This Barkbox ad features video to create an engaging ad that's likely to lead to conversions.
This is only a selection of the millions of advertisers using Facebook and a handful of campaigns. 
To create targeted marketing campaigns, it's best to begin with research into the segments and markets you are working in and make that particular niche your primary focus. Then do further research on your competitors to evaluate their Facebook campaigns to see what's working for them. Use Facebook Ads Library to review the different ads and formats used by successful advertisers. Then get to work designing your own advertising campaign.
Understanding the benefits of social media marketing is simple, but implementation can become a challenge. If you'd like help scaling your company, then reach out today. Let's find a strategy that'll help you to grow.
Get our The Best Facebook Ad Campaigns for E-Commerce Stores - Worksheet delivered right to your inbox.