Facebook Advertising is one of the best tools for identifying and reaching new customers. It allows you to micro-target audiences and offers one of the highest retail returns on ad spend for e-commerce businesses. It also offers multiple ad types and formats to suit your specific business goals, and is highly customizable no matter what size budget you're working with.
Facebook's choice of audience selection for ads though, can get confusing. However, there's one type in particular that offers the best click-through rate and lowest cost per acquisition: Facebook Lookalike Audiences. 
Facebook lookalike audiences can be used to reach prospects who are similar to your existing best customers. This increases the chance of generating high-quality leads, and you get more for your ad spend.
Best of all, even though Apple's new announcement has put limits on Facebook's advertising capabilities (like retargeting), Facebook has stated that lookalike audiences are not expected to be affected.
If your goal is to grow your business by acquiring new customers, building a lookalike audience is the best way to do it. Here's how you can get started.
What Are Facebook Lookalike Audiences?
Facebook defines Lookalike Audiences as, "… a way to reach new people who are likely to be interested in your business because they're similar to your best existing customers."
The key is that it reaches people who "look" like your current top customers. This means those with similar interests, demographic data, and buying patterns as the ones who are actually interacting with your content and following through with sales on your website. 
Facebook does this by using data from an existing group of specific users selected by you. This is called a "source audience" and can include people on your custom audience list, fans of your Facebook page, or website visitors. 
The Facebook algorithm then matches the data points from your source audience with prospects who have a similar profile, allowing you to reach audiences you wouldn't previously have had access to.
So these cold leads aren't actually so cold, because of their similarity to your warm traffic, there's a good chance that they might also be interested in the products that you're selling and they have higher chances of converting than almost any other audience group. 
Once your buyer list starts to grow, you want to start segmenting by order value, lifetime value, product purchased, and more. You can then create lookalike audiences based on these segment audiences. This approach will help you to market to your audience far more effectively than if you were showing one ad to everyone; a fast and easy way to create targeted, and more effective ads.
How to Create Facebook Lookalike Audiences
Lookalike audiences are really quick and easy to create. Here's how to do it:
Go to your Business Manager and find the "Audiences" section. Click the "Create Audience" button, then select the "Lookalike Audience" option.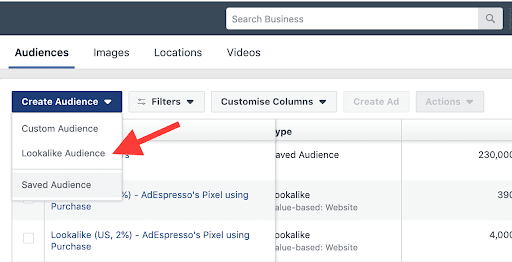 (Source: AdEspresso)
Next, it's time to customize. Choose your source audience, location, and audience size.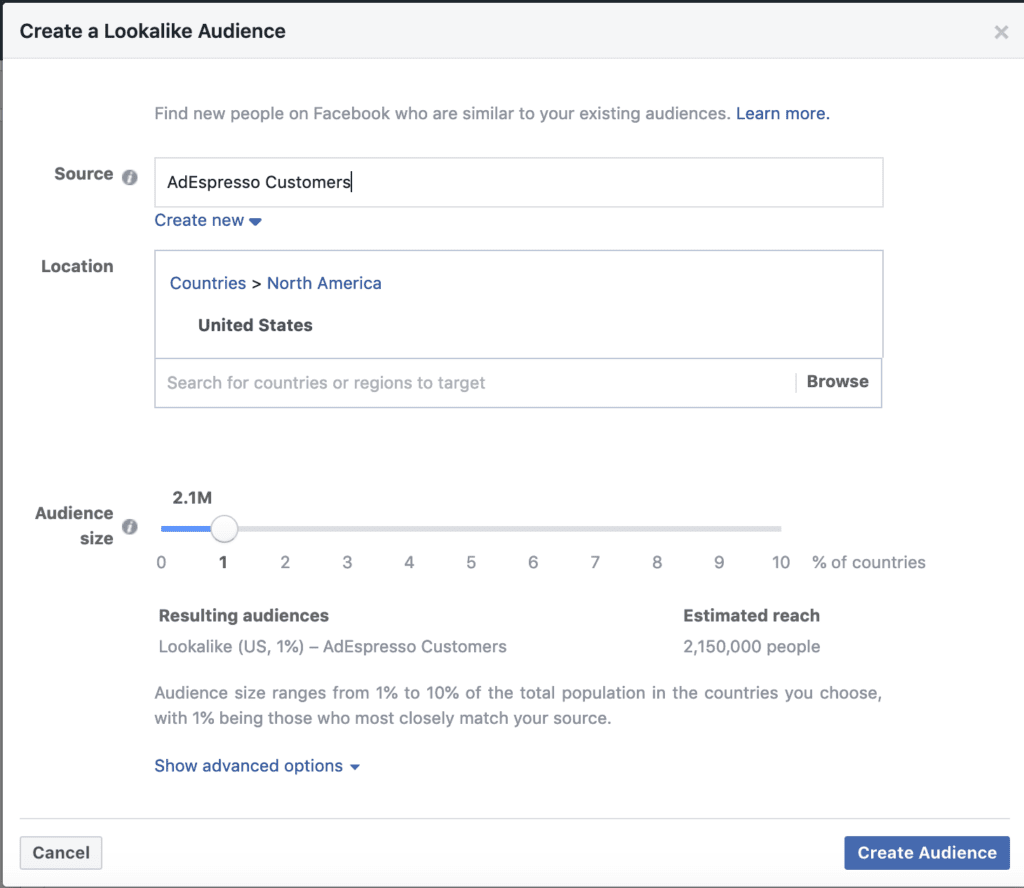 (Source: AdEspresso)
Use your lookalike audience to create your ad. Go to the "Adverts Manager", click on "Tools", and then "Audiences". If your audience is ready, select it and click "Create Advert."
Note: It can take 6 to 24 hours for your lookalike audience to be ready, but you can still go on with your ad creation.
Proceed to the ad payment on the "Optimization and Pricing" tab. The

best practice

is to pay per 1,000 impressions (CPM), which shows your ad to as many people as possible. You can start with a default bid, and upgrade to a maximum bid if the ad performs well.
And that's it. 
Setting it up is extremely simple and takes hardly any time, but to get the most out of it, you should spend time strategizing it well. These are the important parameters you should look into:
Best Source Audiences

Selecting Locations

Ideal Audience Size
Below, we'll share some useful tips and tricks on how to optimize these parameters.
Best Source Audiences
The quality of your source audience matters and forms the basis for how well your Lookalike Audience ads will perform. Make sure to choose a source audience that will bring in the best value for your business. You can either manually upload your customer list to Facebook or set up Facebook Pixel to get data on purchase events. Make sure to note that when you run ads, Facebook also makes sure to exclude users who are from the source audience.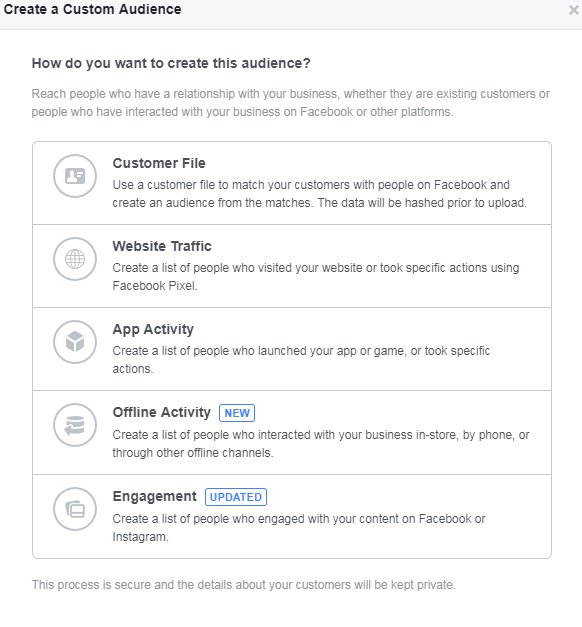 (Source: Wordstream)
Customer File – This can be from an email list or customer file list that you upload. It can be in a .txt or .csv format, or you can also copy and paste the information. 
Website Traffic – You need to have a Facebook pixel installed to create a custom audience based on visitors who browse your landing pages or blog. You can even narrow it down to people who visited in the last 1-180 days. This makes your list dynamic, as the number you specify changes the target users.
Pro Tip: You can also create a lookalike audience of a specific page's visitors, but for best results, your source audience has to be bigger than 1,000 people.
There's also an option to create a list based on time spent on your website. You also want your lookalike audience to be made up of people who visited your website and responded to your calls to action. There could be some users who visited your sales page but didn't buy, and this might be useful for other ads. But if your goal is to earn more revenue, narrow it down to people who purchased or took other desired actions.
Want to drive more traffic to your website? Check out my article on other sources of traffic for your site.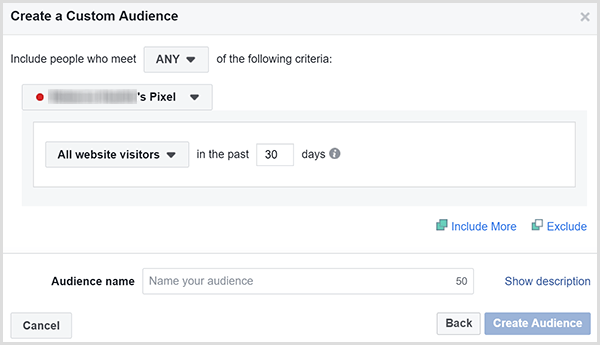 (Source: SocialMediaExaminer)
App Activity – By activating Facebook's SDK event tracking, administrators can get data on users who installed their app. You can track up to 21 predefined events, which include "add to basket," and "purchase" for retail apps.
Offline Activity – A list of people who interacted with your business through offline channels, like through phone calls.
Engagement – People who have engaged with a brand's Facebook page. With this option, you can customize and target those who interacted with your page content, posts, ads, or sent you messages.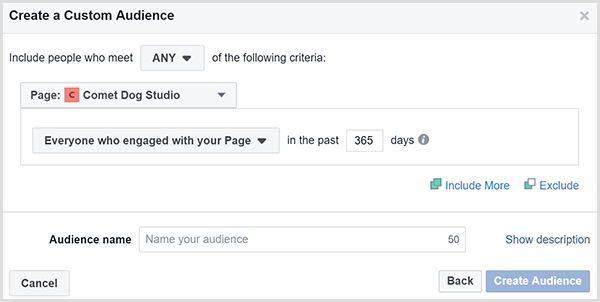 (Source: SocialMediaExaminer)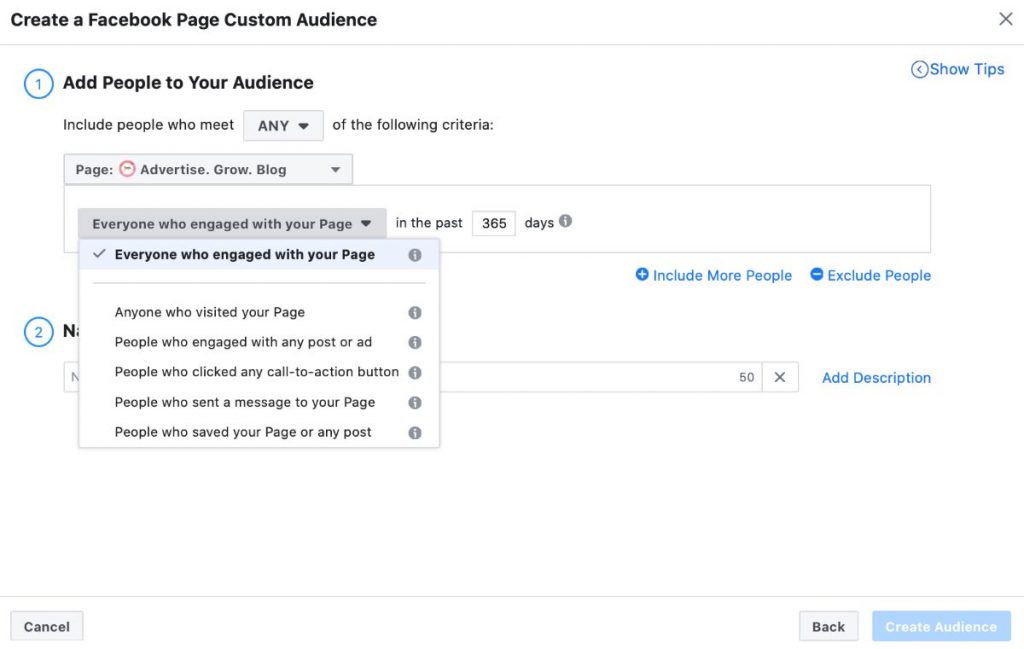 (Source: Mention) 
If you share video content (whether through ads or Facebook live videos), you can also create video engagement audiences based on how long people watch your video. This is useful because mirroring users who watch at least 75% of your video content produces better leads for people who are interested in your product and are more likely to convert.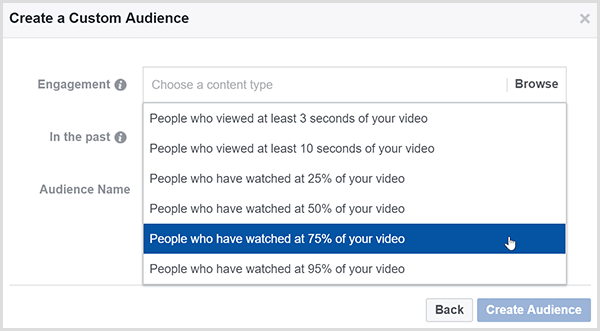 (Source: SocialMediaExaminer)
Pro Tip: You can use multiple lookalike audiences at the same time for one ad campaign. You can also combine it with other ad targeting options like demographics, interests, or behaviors. 
Get our Using Facebook Lookalike Audiences to Scale Your E-Commerce Business - Worksheet delivered right to your inbox.
Audience Location and Size
When selecting audience size, there are several things to consider. 
The minimum number of users for a source audience from a single country is 100, but for Facebook to get the best data, they recommend having a source audience of between 1,000-50,000 people. 
While 1% may sound small, this will be the one that will more closely resemble your source audience. Meanwhile, 10% targets more users, but the bigger the group gets, the less resemblance it will bear to your source audience. 
Depending on the country or location, this percentage might also look different. A 1% selection could mean one million people in a populated country, while for a smaller country 1% it could only be 20,000. 
To know which one works for you, you can test different audience sizes to see what gives you the best results. Start with a 1%-3% range and add more if it produces optimal results.
Pro Tip: In the Advanced Options, you can create up to 6 different percentage audiences at the same time. 
Interests Based Targeting Vs. Lookalikes Audiences
Facebook has billions of users, but that doesn't mean everyone is a prospect for your business. That's why audience targeting is crucial if you want to make the most out of your advertising dollars.
Interest Based Audiences, as the name suggests, specifically targets people who are interested in a certain niche, subject, or product. This feature has been available since the beginning of Facebook advertising and remains very popular and commonly used.
Lookalike audiences became available later, but were initially complicated to set up and use. Now, the process is much more streamlined.
There's still a debate among marketers on which among the two is best for targeting. To put it to rest, AdEspresso ran an A/B test in 2019 and you can see the results below.
Experiment Results:

(Source: AdEspresso)

(Source: AdEspresso)
Lookalike audience was the clear winner with better performance results. It had a lower cost per acquisition (CPA), better click-through rate, and more impressive cost per click.
However, the Interests Audience didn't perform too badly, and it also had a slightly better conversion rate.
Takeaways:
Interests based targeting still has its benefits and is especially useful for new ad accounts that don't have enough pixel data or leads available to help create an impactful lookalike audience. The low overlap rate for Interests based targeting also means it can help show ads to new prospects for ad accounts where Lookalike Audiences are saturated.
If you want to include interest based audiences in your strategy, you can do this by opening a new Facebook Ad Account, which we'll go through in the next section.
Getting Started With a New Facebook Ad Account
Go to the "Business Settings" section of the "Business Manager". On the sidebar, click on "Accounts", then select "Ad Accounts".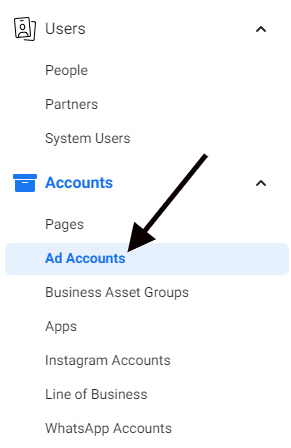 (Source: AdEspresso)
Click the "Add" button. On the drop-down menu, you can either choose "Add an Ad Account," "Request Access to An Add Account," or "Create A New Ad Account."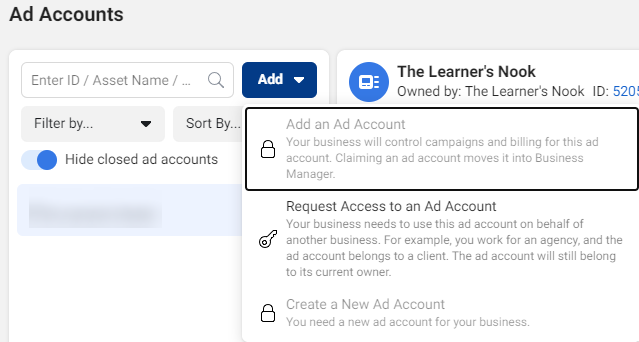 (Source: AdEspresso)
Bonus Prospect: Value-Based Lookalike Audience
This lookalike audience option really supercharges your Facebook Ads strategy. 
The goal of a value-based lookalike audience is simple: it lets you reach high-ROI clients, giving you a better campaign performance at a lower cost.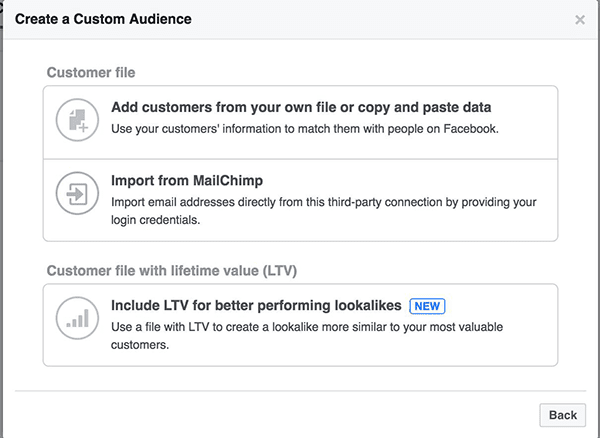 (Source: AdEspresso)
Value-based lookalikes allow you to assign a Lifetime Value (LTV) for each user on your list and the Facebook algorithm will look for people who closely resemble your high-value customers.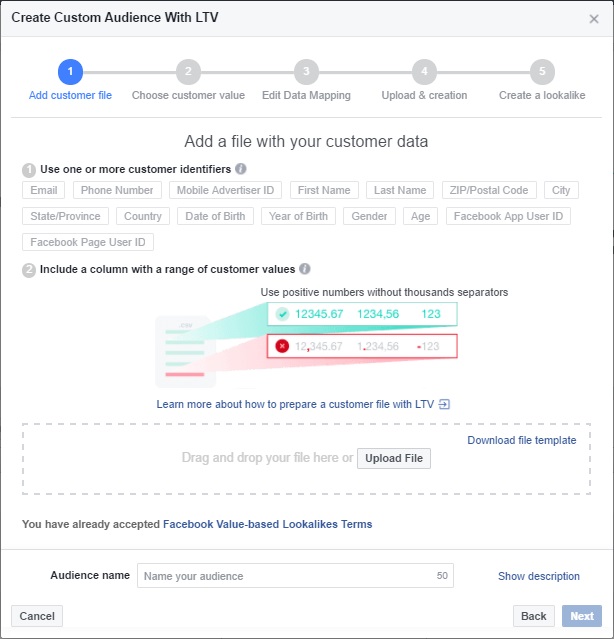 (Source: AdEspresso)
Facebook outlines some best practices on the formatting when creating this list. The main challenge here is creating the source audience customer file that includes your current customers' lifetime value, but going the extra mile is worth it to raise your chances of attracting long-term customers.
Businesses can usually have access to LTV through CRM software that keeps track of purchase history. You can also set up an automated system for this instead of manually calculating each one, which could be a time-consuming process.
While regular lookalike audiences can be anywhere in the marketing funnel, those in your value-based audience are more on the bottom part, making them more receptive to offers such as free product trials, subscription discounts, or buy now offers. 
Getting the right messages to the right customers at the right time is important for ads to convert into purchases. If you're already using Facebook Ads, then you already know what a powerful tool it is for generating and converting leads.
Going even further and incorporating lookalike audiences in your marketing strategy is an effective way to scale your e-commerce business by having laser-focused targeting. It's a fast and easy solution, and one that's worth a try.
Do you need help in optimizing your Facebook Ads and Lookalike Audiences? Reach out now for your free 20-minute consultation. Let's find solutions that will help you scale your e-commerce business.
Get our Using Facebook Lookalike Audiences to Scale Your E-Commerce Business - Worksheet delivered right to your inbox.