Google hit the trillion-dollar mark last year, with the bulk of its revenue coming in from advertising. 
By leveraging user data and cross-site web tracking, Google has long enabled publishers and businesses to show targeted ads to customers, which leads to better conversion rates and more revenue.
But with the public becoming increasingly concerned about online privacy, Google's data collection practices have been coming under scrutiny. Google responded to this pressure by introducing new privacy initiatives and promising to end third-party cookie support by 2022. 
This announcement raised questions about what Google planned to do next. Would they replace third-party cookie ads with something similar? What type of tracking would they allow?
So on March 3, Google attempted to clear up the confusion, and published a blog post that addressed these questions and clarify their position on ads that track users. It seems that Google is taking a hard stand against any alternative identifiers that track users across the web. 
This announcement has been met with a mixed response. Some say that the changes are not shocking and will lead to a safer, privacy-first internet. Others say the move is unfair and doesn't consider the impact it would have on businesses and the advertising industry.
For entrepreneurs and anyone who relies on new customer acquisition as their primary business model, all of the recent updates in digital advertising might seem overwhelming. Apple's iOS14 privacy updates, Facebook algorithm changes, and now this. It seems never ending. 
But these changes don't need to spell the end for your business. Keeping up with these changes can help you to get ahead and ensure that you're ready by the time they take place.
They also highlight the importance of owning first-party data on your customers, something that's long been valued, but often overlooked in favor of other, easier strategies. Still, all hope is not lost. In this article, I'll also share ways on how you can adjust your marketing to continue reaching your target customers, in spite of these changes. 
What's Changing With Google Advertising?
Since Google's announcement to end third-party cookies, marketers have been waiting for Google's announcement for the third-party cookie replacement. 
Google's David Temkin, Director of Product Management, Ads Privacy and Trust, recently issued a statement that Google will not replace cookies with alternate identifiers (such as Unified ID 2.0) that violate individual user's privacy. 
In a blog post, he says:
"Today, we're making explicit that once third-party cookies are phased out, we will not build alternate identifiers to track individuals as they browse across the web, nor will we use them in our products. We realize this means other providers may offer a level of user identity for ad tracking across the web that we will not — like PII graphs based on people's email addresses. Instead, our web products will be powered by privacy-preserving APIs which prevent individual tracking while still delivering results for advertisers and publishers."
He adds that people shouldn't need to be tracked across the web to get the full benefits of related advertising. 
There are a few additional important changes to note:
The ad targeting changes are only for web browsing and doesn't apply to mobile app ads bought through Google's ad tech.

There are no changes on how publishers collect or use data gathered directly from their users. This means that a publisher who uses ad tech will still be able to sell targeted ads based on their first-party data.

Advertisers buying ads from Google's ad exchange to run on a publisher site will be able to use their own first-party data or FLoC cohort (Google's new tracking method that uses group clustering of user data).

Google will continue to support publishers who want to connect their audiences to their advertiser's audience. This will be done through authorized buyers and open bidding. This enables secure connections, with full publisher control and without Google needing to read those signals.

Once third-party cookies are disabled on Chrome, users on non-Google sites will see fewer targeted ads and if any targeting occurs, it will have resulted from a publisher's first-party data, Google's Privacy Sandbox Technology, or the relationship among the user, publisher and advertiser.

Within its own properties, Google still allows targeting when people are logged into their Google accounts. For example, if someone is logged into their Google account and does a search for a laptop, the user might still get ads for laptops on YouTube, which is owned by Google.
Google wants to ensure user privacy, but not at the expense of the ad revenue it relies on.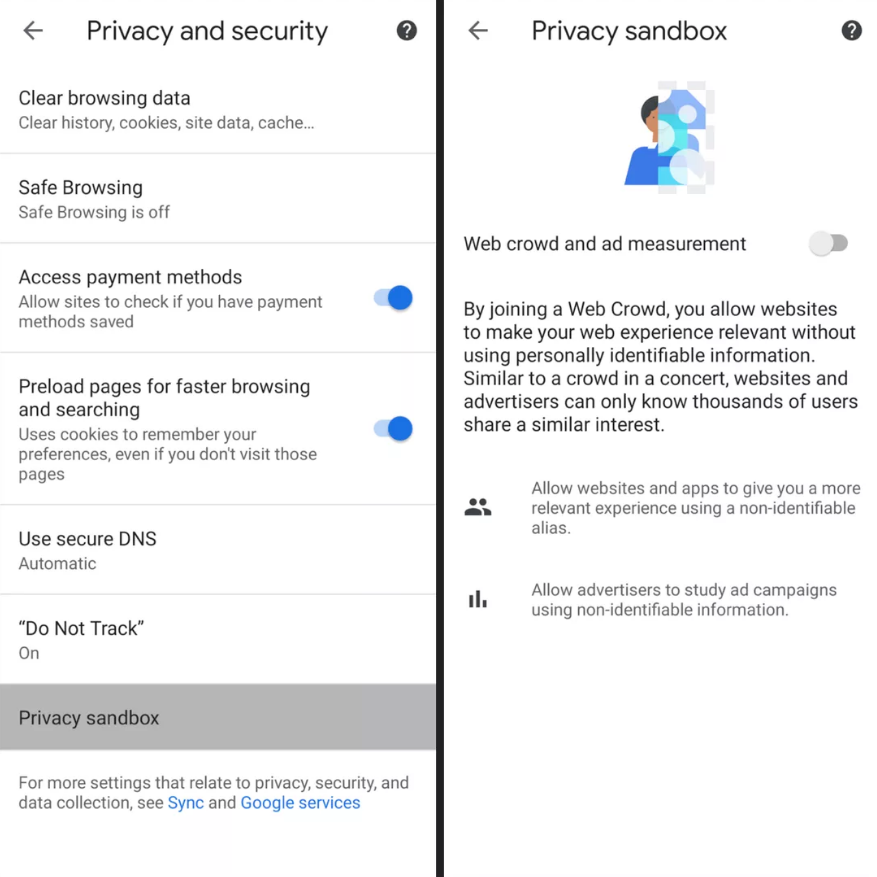 Google's Proposed Solutions
These groundbreaking changes are part of Google's Privacy Sandbox, an initiative they launched in 2019. 
It's a set of standards for ad targeting, measurement, and fraud prevention. It's designed to be a less invasive method they designed which aims to maintain efficient ad delivery without tracking users across sites.
In their vision of a cookieless future, Google wants ad targeting, measurement, and fraud prevention to happen according to the standards set by its Privacy Sandbox. In this version of advertising eutopia, cookies are replaced by five application programming interfaces (API).
Advertisers will use each API to receive aggregated data about issues like conversion and attribution. The ad industry will have to rely on anonymized signals (not cookies) within a person's Chrome browser to know about a user's browsing habits.
Google has also suggested methods such as  "group clustering", which will show ads to a group of people with the same interests. They will no longer record individual user profiles within its ad systems and it won't allow the use of such data for targeting on non-Google sites.
Advertisers can still target ads on non-Google sites based on this aggregate data, which they will gather using its new FLoC method.
Another Google initiative straight out of the sandbox is The Federated Learning of Cohort (FLoCs) is a Privacy Sandbox solution that Google is offering as the "replacement" for the third-party cookie. They call it a privacy-first and interest-based advertising approach. 
It's different from cookies in the way user data is collected and stored in their system. It still keeps track of a user's browsing habits but unlike a cookie, the user data is placed in a "cohort" or group of people sharing similar interests. 
Illustrated, it will look something like this: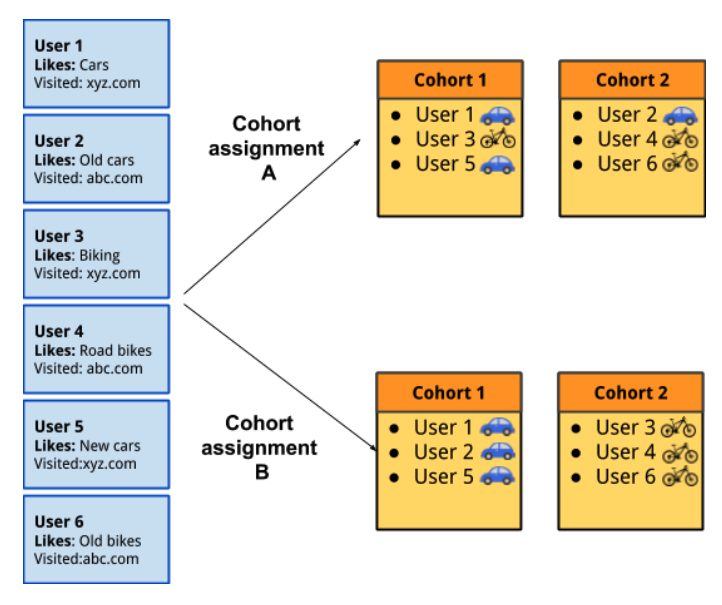 As an identifier, it doesn't have enough information to identify someone. Google has tested this new alternative to the third-party cookie and they say that "advertisers can expect to see at least 95% of the conversions per dollar spent when compared to cookie-based advertising."
Some industry experts are skeptical about this bold claim and are questioning how Google arrived at this figure. 
"The result Google released is important preliminary information on the effectiveness of FLoC's clustering algorithms," says Nicole Perrin, principal analyst at eMarketer, "but the industry needs a lot more research on the relative effectiveness of cohort-based versus user-level approaches to targeting."
Get our Google and Advertising: What's Next? - Worksheet delivered right to your inbox.
Google Vs Advertisers
Ever since Google announced the sunsetting of the third-party cookie, they've been getting complaints from the advertising world, and that's not a surprise. 
Google is the dominant provider of general online search. In the US, it captures 81% of all general search queries on desktop and 94% on mobile. This position gives them a lot of power, and for businesses that heavily rely on Google Ads, any change Google makes could have a massive impact on their marketing success.
In November 2020, following the announcement of the third-party cookie phase out, a coalition of digital marketing companies filed a complaint against the implementation of Privacy Sandbox. 
Last January, the UK's Competition and Markets Authority also launched an investigation into the Privacy Sandbox changes, saying that Google could be breaching competition laws. The report contained complaints from companies who say they had to spend more money on Google ads because the algorithm has made it harder for their products to appear on search pages.
For years, many publishers and businesses have invested a lot in Google Advertising. This might feel like a tough blow. People may have different opinions on this matter, but one thing is certain for now, you have to adjust your advertising strategy to keep ahead of the changes.
How to Adjust Your Advertising Strategy
Strengthen First-Party Relationships
A strong relationship with your customers is the best foundation you can have to ensure a resilient business that can weather through marketing industry changes. 
"First-party relationships are vital," Temkin also says in the new Google announcement. He adds that they will deepen support for direct relationships between customers and the brands and publishers they interact with.
Think With Google also shares a few ways on how to maximize your first-party data:
Provide a fair and transparent value exchange.

If customers believe you can help with their problem and you give them something of value, they will be more willing to share some information about themselves.

Something of value

for the customer could be helpful information, premium content, or a special offer. Make sure, however, that you clearly state how their information is going to be used.



Ensure ethical management of data.

How you store and use the data you gather is critical to sustain a good value exchange. Adhering to local regulations is important. You can also create internal data privacy guidelines within your company and share this to your customers to make them feel more secure about sharing their information with you.



Use innovative ways to collect data.

You can use other customer touchpoints to gather data in innovative ways. One example is a

car manufacturer who made an app

which allows drivers to control the locks, preheats the car in winter, and to plan trips. In exchange for this convenience, the company collects customer data and uses it to develop their products and services.
Power of Collaboration: Second-Party Data
Second-party data is still under-optimized and relatively misunderstood by a lot of marketers. 
Essentially, second-party data is another company's first-party data. You can purchase it directly from the owner, with no middleman or intermediary in the transaction. 
It has the positive attributes of first-party data and adds value to your marketing strategy because it gives you direct insights and information from outside your existing audience.
This is particularly helpful if you're looking to increase the size of your audience or looking into exploring another group of prospects.
A successful example of this is a tie-up between Amazon and Buick. Buick wanted to expand to younger audiences. In collaboration with Amazon, users were steered towards asking the Alexa voice assistant about information on Buick SUVs, which resulted in 150,000 people visiting the Buick virtual showroom.
Invest in Engaging Experiences
Merkle, a customer experience management company released its 2021 Media Trends which reports that "Virtual experiences are expected to remain the norm and are thus essential to maintain customer engagement."
Companies should continue to invest and innovate in their customer experience strategies. Live engagement, videos, and virtual reality allows customers to actively interact with your brand.
Innovative OTT (Over-the-Top) and CTV (Connected TV) for Video Advertising
E-marketer calls OTT and CTV advertising the "breakout star of 2021."
OTT, or over-the-top, refers to a media service offered directly to viewers via the internet. It has the ability to bypass traditional TV providers, giving advertisers the ability to reach their audiences directly.
A 2020 consumer research from Leichtman Research Group found that 80% of U.S. TV households have at least one Internet-connected TV device. In 2015, this figure was at 57%. This includes connected Smart TVs, stand-alone streaming devices (Amazon Fire TV, Roku, Chromecast, or Apple TV), connected video game systems, and connected Blu-ray players.  
CTV/OTT is growing, but is still left out of the marketing mix by many advertisers. Mobile and desktop dominate when it comes to targeting, but there's a lot of room for growth in CTV advertising.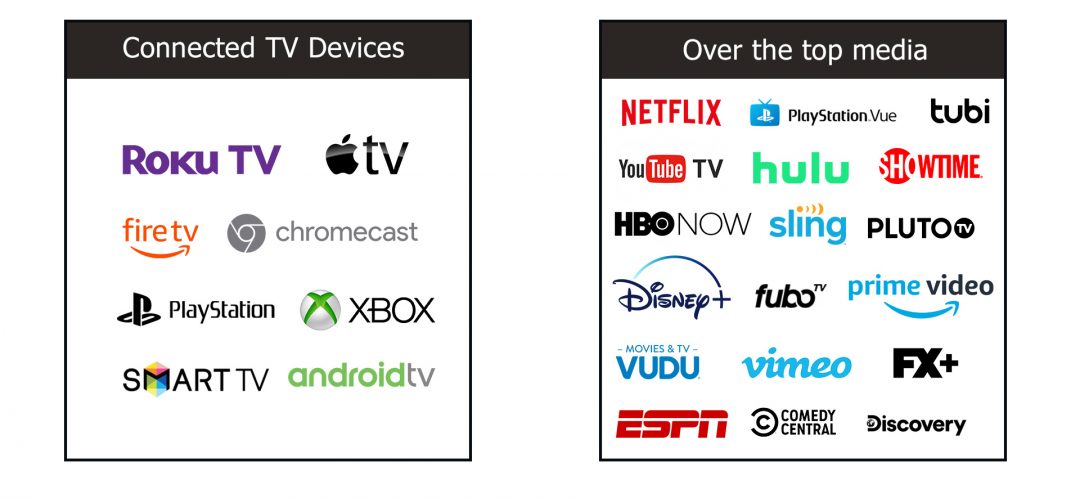 In-Game Advertising
Another advertising platform that's rapidly rising at a considerable rate and is anticipated to continue its growth, is in-game advertising. These are ads that appear in video games and gaming applications. This includes PC-based online games, mobile games, and connected console games.
Time spent playing video games has increased, with in-game engagement and spending increasing as well. Marketers should consider in-game advertising to reach their ideal customers or to discover new customer segments.
Ian McGrath, marketing and media consultant, says: "This is a big, big market. It is highly lucrative, with an engaged and hard-to-reach audience. In media terms, this would normally make it a high-value channel."
Be Informed and Educate Your Entire Organization
This new development from Google is far from over. This is a developing strategy and new information will continue to come up. As Google continues to test their new tools for the Privacy Sandbox, it's important that you prepare by staying informed. Make sure you watch out for Google's latest announcements on their blogs and study the alternatives they offer. 
Don't forget to educate your team on these changes and how it impacts your business operations. Your team may have to put in extra effort to fully understand and work with the new developments. 
The tech companies that most of the advertising businesses depend on will continue to move towards a privacy-first internet. 
Tracking limitations and lesser availability of individual user data will continue to be the trend. Focusing on your first-party data, looking into other marketing channels, and investing in building strong, authentic relationships with your customers will make these, as well as any future technical changes, easier to mitigate.
Preparation and planning are the best way to handle these changes. Make sure your business is ready. Reach out for your FREE consultation today, and let's find solutions to help your business scale. 
Get our Google and Advertising: What's Next? - Worksheet delivered right to your inbox.