This resource section is designed to provide you with ongoing training and support, giving you tools and techniques you need to scale your business and operate as efficiently as possible. If you have any questions or comments, don't hesitate to reach out to me directly. My goal is to help you succeed. Let's do this together.

1.04 Gary Nealon Accelerator Program — Local Listings (Length 4.40)
What Are Business Listings?
Sometimes it pays to go local. This is certainly true from an SEO perspective.
But as an e-commerce company, it's easy to overlook the value of targeting local traffic.
After all, the beauty of an online business is that you can reach a much wider audience than you'd be able to if you were operating locally. But in some cases, optimizing your business' web presence for local search can give you a tremendous advantage; allowing you to draw in relevant traffic, and grow your business.
This is because today, most people use their phones to look for services and products online. When they do, their device usually inputs their location. When this happens, that search becomes a local search, meaning Google will use their location to give them more targeted search results. If you're on local listings, and implementing a local SEO strategy, then you're going to start attracting those local customers.
In this guide, I'll show you local listing sites that you'll want to target to improve your rankings, and tips for keeping them updated. Let's see how you can get started now.
Local Listing Sites
Local listings are especially helpful in giving your website some extra credibility. It shows your audience that you're real; that you have a base and exist in the physical world, even if your brand is completely digital.
Basically, you want to post listings in as many local listing locations as possible. There are also websites that automate this process for you, just make sure you end up using a reputable one like Moz Local or Yext. This helps a lot with local SEO. The main consideration is that the local listings cover your business, industry, and service with locality as the key focus.
Some business listing sites now offer free national and international business listings and much more: such as maps, reviews, ordering, and customer response forms.
Any opportunity to add a listing for your business—local or otherwise—is an opportunity for clicks, traffic, SEO, backlinks, etc. It's an advantage you don't want to overlook.
Why List Your Business?
First of all, it's estimated that 80% of local searches convert. These searches can be tremendously valuable and capitalizing on the traffic they generate will give you an immediate advantage.
Secondly, most small and medium businesses (SMEs) need all the free and low-cost marketing they can get. This is especially true when they're e-commerce or digital businesses, where business moves fastest, and competition is most fierce.
Many types of local and strategic business listings are free. But you can pay a service like Yandex to manage them for you.
Creating local business listings is a key foundation for any business marketing campaign. These listings give your business more visibility in the market, and every new listing that you create increases your chances of being found online by customers. The more directories that you're listed on, the more marketing channels and the more backlinks there are leading to your site.
The key to local listings is understanding that search engines trust the accuracy of the listing sites and, therefore, your business data. Thus, your chances of ranking well in search engines increases dramatically. Business listings can be considered as a critical tool to build website traffic and search engine optimization (SEO).
In short, using local and business listings grants your business visibility, credibility, and traffic.
Visibility – Customers use listing sites to find businesses, especially in local markets and specialist trades or industry verticals. Users refer to listings for preliminary information before concentrating their search, so your business needs to be visible on these sites to be in the running or short-listing.
Credibility – With a presence established on these listing pages, you create a bigger brand, reputation, exposure, and image. Listings also allow backlinks to aid SEO. Listing lends credibility to business activity in the digital space. It validates your brand's identity and existence online.
Traffic – The secret to building traffic with listing services is in backlinks. And not only because SEO and internet site marketing depends on the number of links to websites. It's also just another way for customers to find you. It's essential to have backlinks to your main trading website, as well as to your social media channels if you want to appear in the search rankings.
Strategic Business Listings
Business listing sites have two key advantages:
SEO Value – By registering your business with the main business listing directories, you're gaining SEO. Search engines start with listings on their own sites and those of similarly-sized sites because they want the competitive data to sell to their advertising clients.
Domain Authority – These sites have tremendous domain authority which they pass on to those on their results pages. That means if you are not on these sites, your competitors may build a reputation and gain an advantage while you stay local. Essentially, you have to compete in the business listings space.
There are a few major business listing sites that you can use to get started.
Google My Business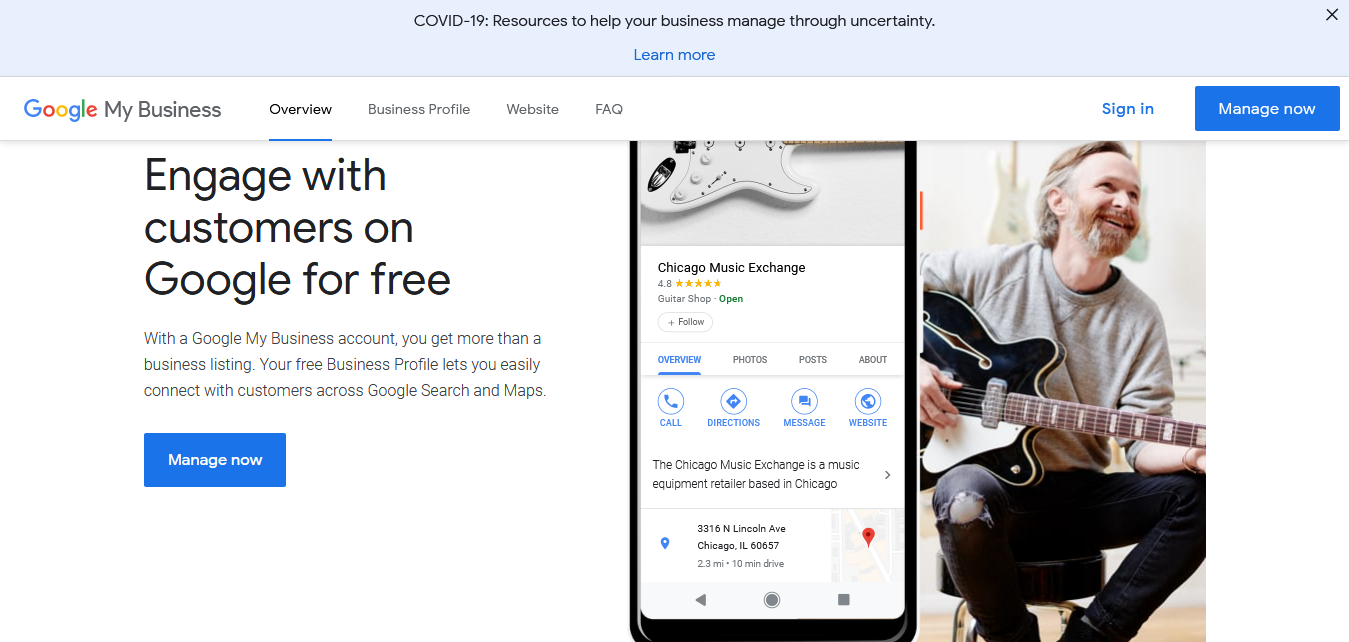 (Source: Google)
Google My Business is free to join. By signing in you can add your business information to Google Maps, Search, and other Google properties, and create a specific business profile. Sign up with your business email domain since this account will follow you.
Bing Places for Business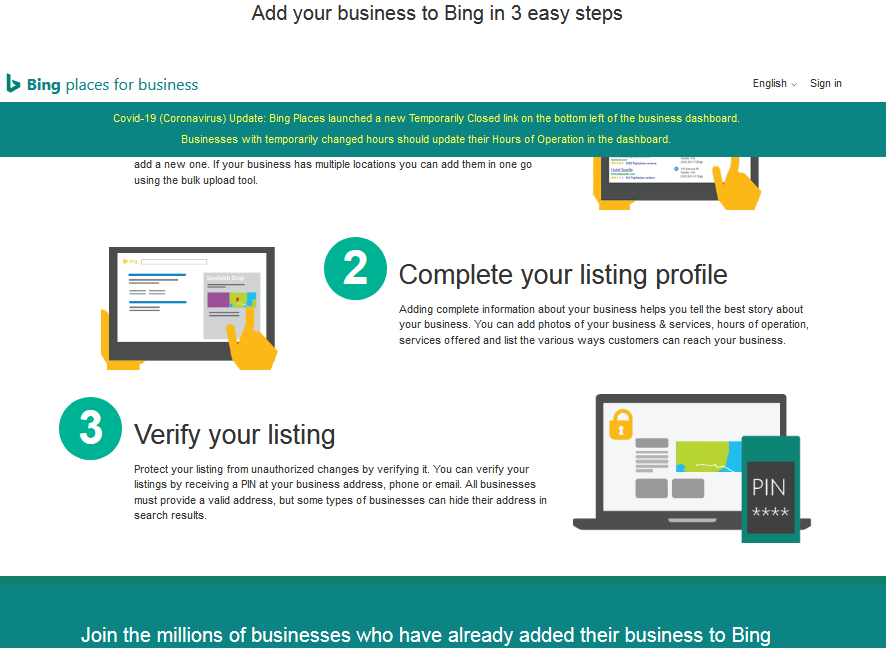 (Source: BingPlaces)
Bing Places is free, with 5 billion searches every month in the U.S. alone. Bing Places offers a 3-step process to register, and there are 3 categories of business: local or small business with a storefront, chain business with multiple locations, and multiple business-customer locations.
Apple Maps Connect

(Source: AppleMaps)
You probably know about Apple Maps. It's a great free service to list your business' location. You can add all sorts of detail into your listing like your business type and logo, business hours, and much more.
Yellow Pages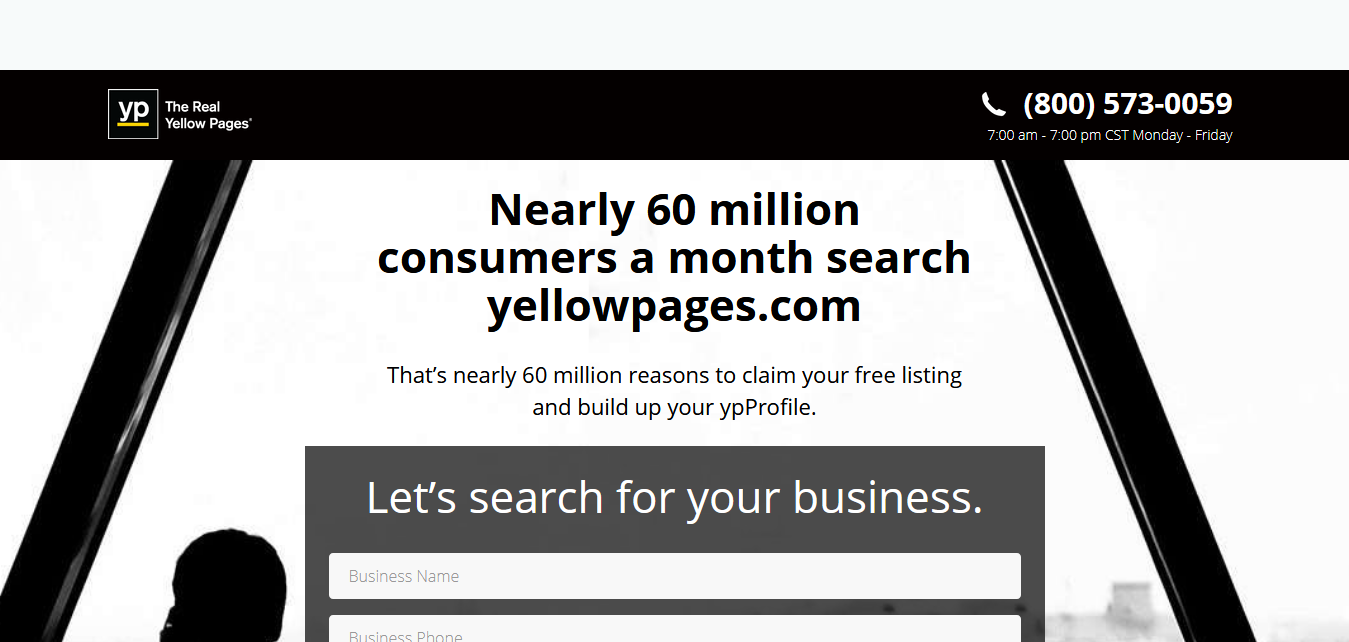 (Source: The Real Yellow Pages)
Yellow Pages is probably the most well-known local listing service in the world. Today, YP—as it now likes to call itself—has just about all the local listing capabilities you need. They claim to add your business listing to the "60 top search sites, mobile apps, and social networks" and provide more back-up services than you will need.
Yelp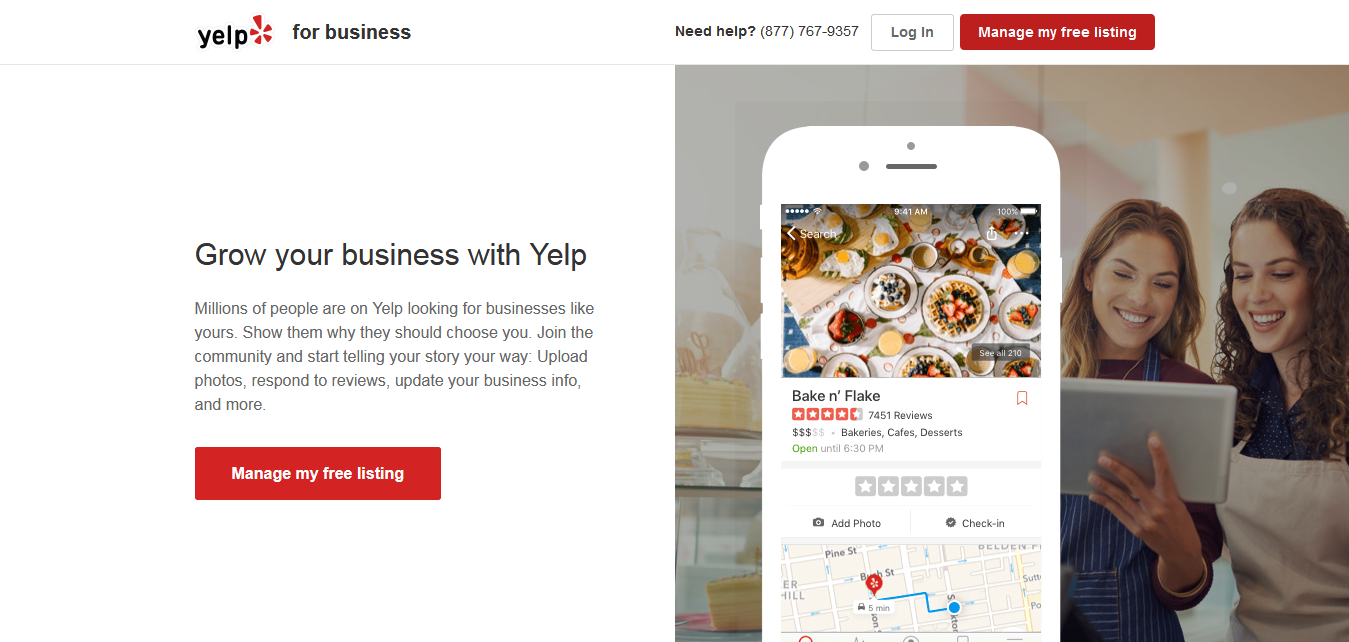 (Source: Yelp)
Yelp for Business offers a free listing which you can update with data like business hours and phone numbers at any time. You can also add photos and visitors can get quotes, make appointments, or ask questions through the site. Your Yelp listings page also delivers customer feedback and reviews. And Yelp analytics allow you to track clicks, calls, and page visits.
Other listings you'll want to consider claiming include:
Tip: Not sure which listings you've already claimed? Use this free scanner tool to help:
https://www.deluxe.com/search-engine-marketing/free-business-listing-scan
Localized SEO Tools
Local business listings are sometimes referred to as 'local SEO citations' which are search terms you can use to engage the market.
Each listing begins with your business name, address, and phone number. You're usually able to add further information, like market niche, products, opening hours, and so on.
US Business Directory
(Source: US Business Directory)
The US Business directory offers listings for more than 20 million US businesses. It allows consumers to search for businesses and services, and allows businesses to build their marketing presence on the site through additional services such as "social media integration, priority search listing, customer reviews, coupon deals" and more.
Yext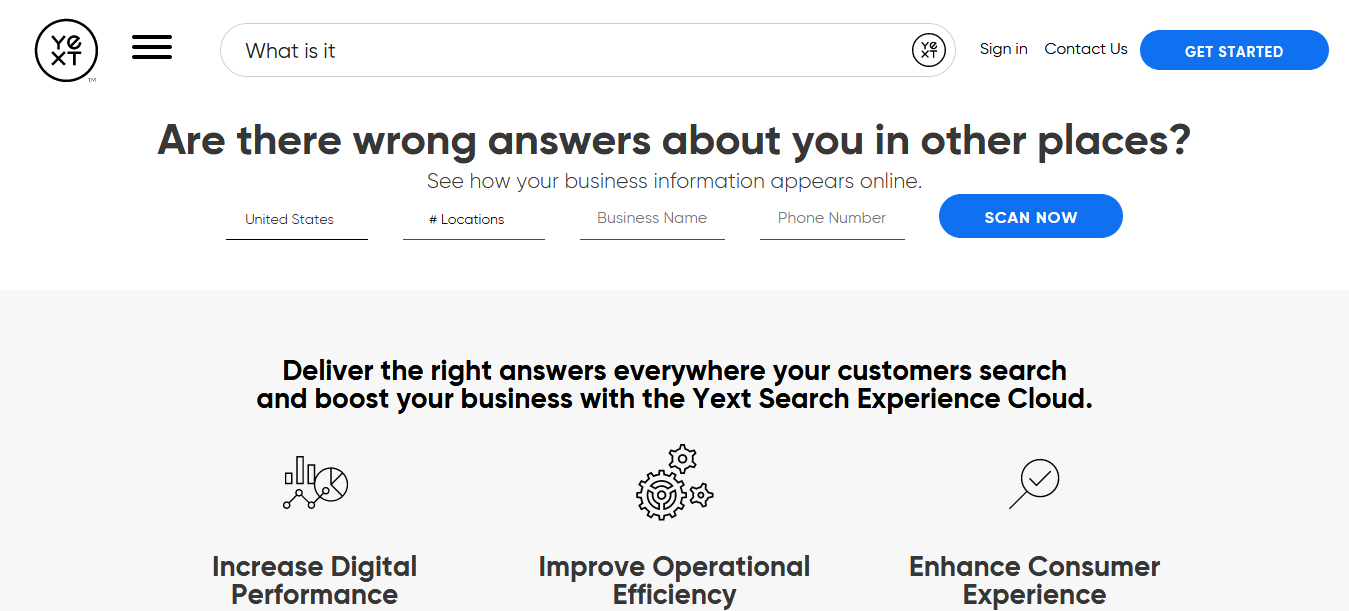 (Source: Yext)
Yext will manage all your listing requirements for a fee. This means you only need to post and update your listing in one place, and they do the rest. Recently, they've added some interesting features to their subscription service, including listings management, local SEO, local page directory management, Yext for Events, and Voice Search Optimization (Amazon Alexa Integration), along with store locators and chain store directories.
DirectoryBug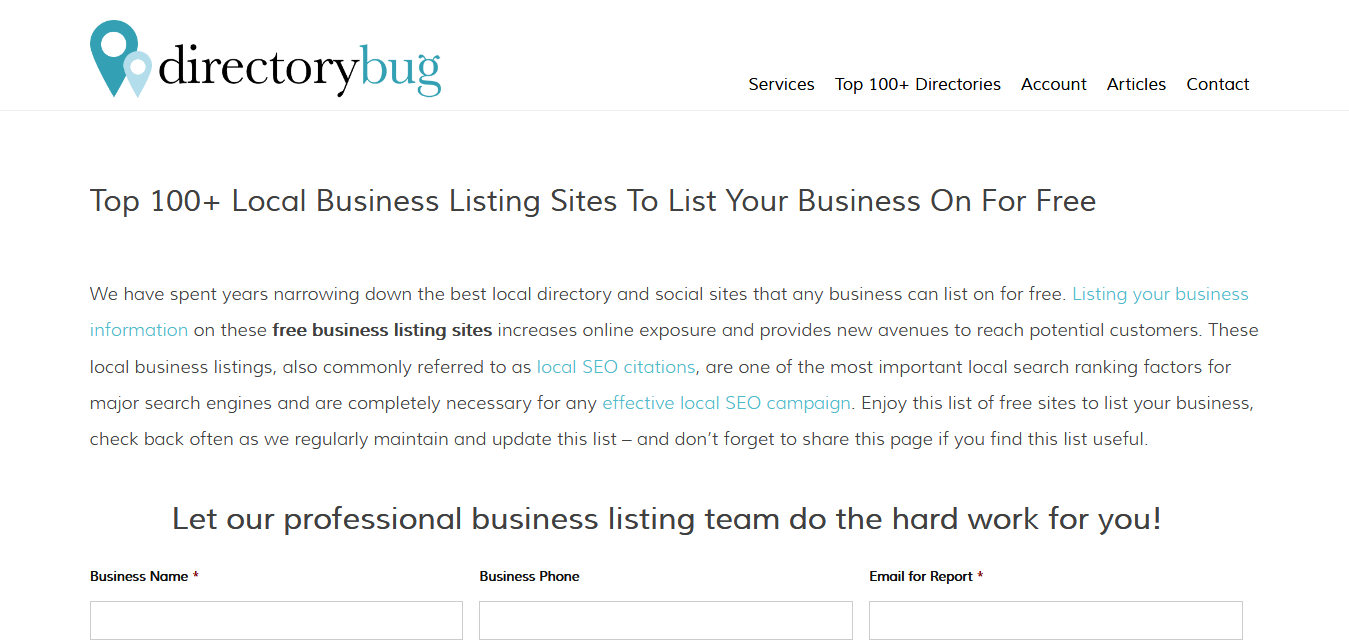 (Source: DirectoryBug)
Like Yext, DirectoryBug offers to manage all your local listings for you. Although the local site listings are free, DirectoryBug's service requires a subscription. Their claim is to drive your local business listings and to optimize "local search ranking for major search engines", which is exactly what you want to achieve.
Synup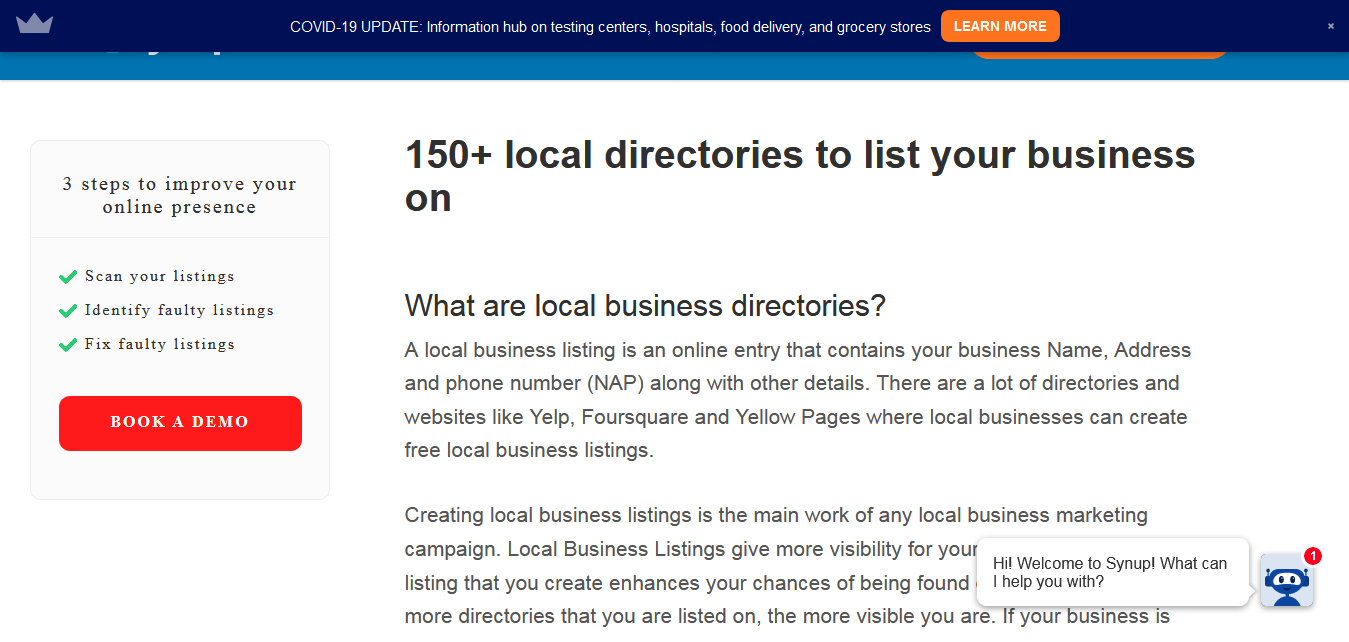 (Source: Synup)
Synup is a tool to increase the efficiency of your local or business listings. This platform offers to automate your listing management. This includes Synup's 'central dashboard' that allows you to manage all your local listings from one place.
Moz Local
It's not free, but Moz Local is a good choice for an easy to use tool for managing your local listings. Moz Local is highly rated, and is designed for not just local SEO, but content marketing, SEO, and link analysis. It offers a suite of powerful research functions that can help you to get found in search.
Features include: 
A powerful SEO keyword generator
Keyword research
Link analysis that will give detailed information on inbound links
It also allows you to monitor onsite issues, track ranking, improve your website's SEO, monitor traffic and social growth, and copy your competitors' best backlinks, and more. All the metrics you need at a glance. Learn more here.
Local Listing SEO Method
Here's a good way to ensure that your listings are all optimized for SEO.
First, check where your site is already listed. You can do this by searching your company names and adding the words 'listing' or 'listings.' Or, use a tool like this one on Deluxe.
Then, open your Airtable spreadsheet and add a tab called 'listings' and start to enter your listings information into columns. Most listings require the same information, although national and business listings often also require you to confirm your business details. This is done simply by automated checks sending you a confirmation code to your registered email address.
Otherwise, you will need:
A Physical Address – This is mostly to make sure you're real, and to avoid sites getting flooded with listings. If your business doesn't have a physical address, you can register a private address and just not list it anywhere public, but most search engines still want a physical address.
A Virtual Mailbox – Some sites just want to send a confirmation code, so a virtual mailbox is fine. This also avoids a problem with some non-localized phone numbers that won't get registered on some sites. A virtual or digital mailbox usually costs about $6-10 per month and works as a replacement for a physical mailbox.
A Database of Images – You will need 6-7 of the highest resolution images with tagged keywords for upload on each local listing site. These are a key resource, so store them carefully.
A Standard Business Description – You'll need a short and really good written description of your business, which you can upload across your listings pages. Remember, this text should carry your keywords for SEO. Think of it as an elevator pitch in 1-2 sentences that goes everywhere. And this needs regular updating!
Social Media – These links should be added to your spreadsheet for easy reference. Each local listing has your social links added for you to make marketing your listing part of your social communication strategy.
Regular Updates – If you're managing your own updates on local listing directories, you have to keep these up-to-date at least each quarter.
Additional Tabs – Go to your Airtable and tab all your local listings with key data such as username, password, a link to the listing itself, etc.
A Backlink Catalog – Create a catalog of backlinks to your site for each listing so you can check and develop your backlinks.
Quarterly Review – A marketing review of your listings strategy and practice is a good idea if you can spare the time. Your listings should be driving traffic and sales to your sites, so it's usually worth regularly reviewing the listings market for new services and your performance in it.
When used properly, local and business listings can prove to be invaluable for your e-commerce marketing. They provide the SEO data that will see you become or remain competitive across search engines.
There are some excellent digital tools to help you manage your listings, but most of all you need to organize your listing as a strategic management resource. With the right approach, you'll be able to capitalize on that local traffic and start drawing in more valuable prospects.
If you'd like help executing any of the strategies in this guide, please reach out today. I'm standing by, ready to help you scale your business.