As you probably already know, Google's latest algorithm update (August 1, 2018) was fully rolled out a few weeks ago.
Chances are your website may have experienced a dip in traffic. Maybe, though, the opposite is true, and you were one of the few who saw an increase. (If you were so fortunate, share with us what you did to gain Google's favor!)
While Google has consistently and staunchly insisted that this update was a "broad core algorithm update," unofficially, it's been dubbed the "Medic Update." This is due to the fact that it seems to have had the biggest impact on websites in the health/medical industries. Of course, it's not just health industries that have been affected; e-commerce websites; as well as business and finance industries have seen wild traffic fluctuations as well.
What does this update mean for e-commerce stores? How can you help your website to weather the changes and keep it in fine form for search engines?
Here's what you need to know.
The "Medic Update" – What's Happened?
Wondering what Google itself has to say about this update?
Not very much, it seems.
Google has called this update a broad, global, core update. However, based on a lot of analysis that's been done so far, it's clear that there's a focus on health and medical sites, as well as Your Money Your Life (YMYL) sites.
SEM Roundtable promptly conducted a survey following this update, where they interviewed 300 sites that said they were impacted by it. They found that a huge percentage of these sites were in the medical, health, and fitness space. In fact, over 41% of the sites submitted were!
Take a look: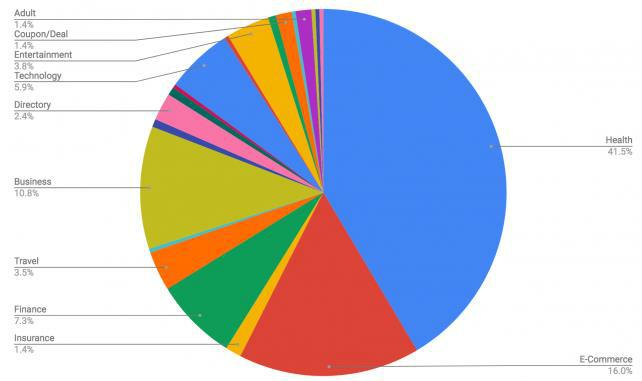 As you can see, by and large most of these sites (41.5%!) were in the health sector, although e-commerce comes in second place, at 16%. As SEO Roundtable mentions, though, some of these e-commerce sites could be in the health sector as well, perhaps selling health or fitness supplements or supplies.
It's also worth noting that according to other accounts, commercial sites like eBay have experienced a boost in rankings.
Wondering what Google has to say about all this? Not a lot!
Take a look at their Tweets: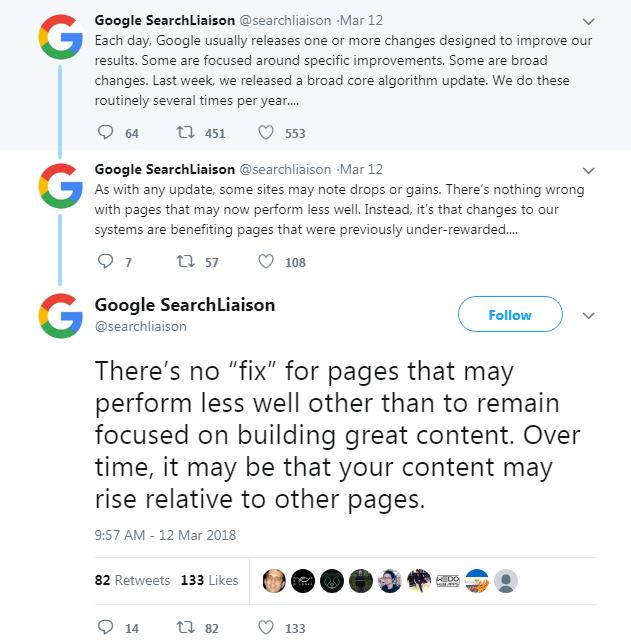 So Google's saying that there's no "fix," and that you should simply focus on creating good content, and offering a better user experience. It makes sense, though, Google's not exactly interested in helping websites to "hack the system" and rank higher.
From what SEO experts are saying, Google's trying to show results that are better related to the intent of users' search queries. Google even employs teams of 'search quality raters' who manually check out websites and rate them based on their Quality Rater Guidelines. It's also worth noting that these Quality Rater Guidelines were recently updated, so be sure to have a look at the changes to get an idea about what's new.
What Can You Do?
Google is saying that there's no specific course of action to help websites rank higher, other than focusing on great content. Fair enough, then! When you adopt a long-term perspective, great content should be at the heart of your website. After all, it's the best way to consistently rank higher, draw in more relevant traffic, and ultimately, prove to be a reliable source that gets shared on social and linked to and referenced by other articles. At the end of the day, it's the best approach and an ideal goal for every website.
Of course, the specifics are a bit vague, but there are a few things that other webmasters have been doing recently, and with some success.
With this in mind, here's a look at the main things that you can do to create content that Google (hopefully!) considers to be great.
Focus on E-A-T
While Google's neither confirmed nor denied the implications of the new update, many experts are noticing that this update seems to have a strong emphasis on rewarding websites that are doing well with E-A-T; Expertise, Authoritativeness, and Trust.
Practically speaking, you can focus on adding credibility to your website by referencing reputable sources in your content –studies, white papers, and the like. Go beyond a simple description of who you are or what your products are, and seek to provide in-depth information on them –and yourself.
If you're selling, say, hiking shirts that offer UVA/UVB protection, create content on the effects of UVA, link to high-authority sources and medical studies, and create content on the history of UVA-blocking products.
Try to think of other content that would be relevant to a user's search. This will help you to create pages with credibility. And, if you include enough research, they may even be considered high-authority –the type that others will be interested in linking to as well.
Add Subheadings and Paragraphs
Optimize pages that have dropped in rank by adding more subheadings and paragraphs, recommends Corey Savard, content and inbound marketing specialist. "A simple solution to building out content is to cover the "who, what, when, where, why, and how" of the focus keyword assigned to the page."
Utilize Latent Semantic Indexing (LSI)
Corey also recommends optimizing pages by utilizing latent semantic indexing (LSI) on your pages. This means adding images that are optimized with alt text, adding examples and lists, and adding more internal links.
Add a Good About Page
An About Page is always a good idea, and if nothing else will help to add more credibility to your site, since it offers transparency and shows who, exactly, is responsible for the content.
Consider Adding Bios for Your Writers
When it comes to authors, E-A-T matters too. Add credibility and authority by listing author bios on each of your articles. Ideally, that bio should link to a more extensive bio that further expounds upon their credentials and highlights their experience and authority.
Take Stock of Your Products
Finally, don't build a case on unscientific or unproven methods. "Take a good hard look at the products that you are offering," says consultant Marie Haynes. "If you sell a product that could be considered sketchy, spammy or harmful to people, then this could be the cause of your ranking drops."
What Experts Are Saying
Here's a look at what the experts are saying:
"The core algorithm update that rolled out on August 1, 2018 was massive and many sites across the web were impacted. Although there were a lot of health sites impacted, many others in non-YMYL categories were affected as well.
If you have been negatively impacted by the 8/1 update, then it's important to objectively analyze your site to find ways to improve. And remember, there's never one smoking gun. There's usually a battery of them. So go find them now." –Glenn Gabe, G-Squared Interactive
"The August 1, 2018 Google update was a massive one. I believe that it was primarily about Google's ability to determine E-A-T for a website. I also think that the T in E-A-T became even more important as Google is working harder to determine which websites are the most trustworthy to show searchers."
–Marie Haynes, Marie Haynes Consulting Inc.
"Google did a massive algorithm update impacting the search results and affecting many webmasters, site owners and SEOs on August 1. It seems to have had a larger impact on the health and medical space, also on YMYL types of sites. The advice overall has been to make your site, content and user experience better overall and keep working at small changes that can have a big impact on your rankings." –Search Engine Land
"Searcher's Intention is now a critical portion of Google's Search algorithms and its importance is only increasing. If you think about it, Google knows all the questions that your ideal prospect asks when they have their credit card out ready to buy what you sell.
Like any business, Google has an invested interest in understanding exactly what its users are searching for and putting the right information in front of them. Google is actually now chaining the searcher's searches together in order to determine their primary intention. For more information on this check out this article." -Shelby Larson, Content Divas
While it's true that Google's been a bit vague with what websites can do to update and optimize for search, it's clear that a focus on creating solid content is a good place to start. Look to improve E-A-T at every level of your website; from author bios, to your About Page, and your blog content –ensure that it features research-backed claims and links to high-authority sources.
In addition to taking steps to make your site more credible, work to boost your website's popularity as well. Focus on quality content, and get going with your social media strategy. It wouldn't hurt to consider employing a Facebook Ads campaign to get noticed and draw in traffic.
Remember: at the end of the day, Google wants to prioritize content that its users want. And making your website more attractive to search bots, as well as a human audience, is always your best bet. It's your key to surviving this update –and future ones as well. May the algorithms be ever in your favor!
Readers: were you impacted by the "Medic" update? Was it for better or worse? What did you notice?