It's the age-old debate: how much information should you share with your team?
While it was once standard practice to keep employees in the dark about everything from revenue and salaries, to mergers and acquisitions, today, there's a new trend that's taking place: transparency in the workplace. 
Thanks to the rise of websites like Glassdoor, and increased transparency among employees, information that was once treated as confidential and guarded under lock and key is increasingly being shared. This is all helping to improve accountability, fairness, and better practices –and in many ways is helping to ensure everyone is happy and on the same page. 
But is there a risk of sharing too much? For both web-based businesses, and companies with an in-house team, the answer is yes, there can be. With this in mind, let's take a look at some things that should be shared, along with a few times where confidentiality is key.
Information: Things That You Should Share
You could say that the inspiration for Glassdoor was born out of transparency. It all started when serial entrepreneur Rich Barton –founder of Zillow, inadvertently printed out salary and stock data for each employee in the company. As his assistant rushed to collect the documents before anyone could read them, Barton started pondering why the information needed to be kept secret in the first place. He set about to create a platform for workers to share their salary, titles, and employers –and the rest is history.
It's not just Glassdoor that Barton applies this concept too, though. It's the same concept that's behind his other companies Zillow and Expedia as well.
"Give power to the people," said Rich Barton, recommending that businesses strive to "set information free."
"People ultimately want to be empowered to make smarter decisions — whether that's for travel decisions, buying or selling homes, finding jobs, finding an attorney, considering cosmetic treatments … or just about anything else." 
No matter what type of business you run, a culture of openness and workplace transparency is good practice. It can help to boost workplace morale and ensure that everybody is on the same page. It's important to regularly update your staff about their performance and changes to company policy. When there are signs of problems, a quick resolution depends on understanding the needs of your workers. It's also a great idea to try to share customer compliments with employees, which helps cultivate a sense of teamwork and can give your team a much-needed boost.
In many ways, having an open-door policy is the best way for a business to function today. Allowing your employees in on what's happening offers a number of benefits. For one, employees will feel more vested in the company, making them more apt to do their best. It also incentivizes people to step up and lead. Additionally, when employees can understand the "why" behind decisions that are being made, it tends to lead to less speculation and damaging gossip. Finally, a culture of transparency is crucial for cultivating a thriving and productive culture that encourages teamwork. At the end of the day, it can save you time, and stress, as well. After all, your goal should be to hire people you can work toward trusting, not spinning your wheels trying to cover your tracks 24/7.
When you run a retail or e-commerce business, sharing the right facts and figures can spark healthy competition in the workplace and strengthen morale. For example, holding a monthly competition to see who can close the most sales involves sharing your monthly sales returns with your employees in a way that boosts sales and performance. 
Below are a few things that in most cases, you should share with your staff and employees. 
Your Company Vision
Being open with your company vision might seem like common sense, but the truth is you'd be surprised at how many employees are unfamiliar with their company's mission. A shocking 60% of employees say that they don't know what their company's vision is. When your co-workers or subordinates aren't on the same page with your company's vision, it can lead to a drop in morale, and higher turnover rates. On the other hand, workers who connect with their company or brand's identity are more likely to produce results. 
Unfortunately, only 40% of workers fully understand their company's goals, message, and identity. When employees are engaged, their company gets 2.5 times more revenue than competitors with low engagement rates. One of the best ways to boost revenue is by making sure your staff and employees connect with and understand your company's mission and goals. 
Your Products and Services
Here's another obvious one. Any time you add a new product or change a service or process, it's essential to make sure that your team understands the updates. Failing to do so can damage customer experiences because consumers rely on your staff to answer questions about your products and services. If your staff can't explain these details to customers, your sales can plummet. A crucial part of effective communication is knowing the best way to share information with your team. Adapting the way you distribute information may mean setting weekly meetings or creating an email list instead of holding staff meetings. 
Whenever company policies change, make sure it's transmitted to your workers in a timely manner. Even if you send an email, consider following up to make sure all team members are up-to-date on the revisions. If there's confusion among multiple workers about a particular topic, it's wise to take the time and address it with the whole team all at once, because, chances are, others will have similar questions. 
Sales Results
One of the best ways to keep employees engaged and current with the financial health of the company is to share sales data on at least a monthly basis. When sales are up, it boosts morale and strengthens teamwork.
Having achievement awards based on performance is a great way to engage employees and recognize good workers. Sales data can also increase creativity, as your team can then work to develop new approaches that can help spark sales. When you notice someone is outperforming coworkers, it can help your company discover and implement new strategies that can improve your marketing and sales plans.
Internal Changes
Certain policy changes are absolutely essential to share with your employees. This is one time when workplace transparency is crucial. Whenever changes to policies involving things like paid-time-off occur, make sure that workers are updated quickly. It's always easier to adjust to changes when everyone is notified promptly of internal changes. If your staff is caught off-guard about changes to direct deposits or vacation days, it can kill morale and create conflict. 
Anytime benefits packages change, your team should know as soon as possible. Ensuring that employees have the most time possible to adjust to major changes is one way that sharing information can improve your workplace, as it cuts down on stress.
Salaries
If your company decides to change raises or salaries, it should absolutely be shared with your employees promptly. Many companies offer specific bonuses, which many employees rely on. That means when your bonus policy is revised, make sure you give workers plenty of notice. As long as the salary change is general, meaning that impacts at least a substantial number of workers, it's a good idea to share it with everyone as a whole. 
Employee Performance 
Regular performance reviews are essential to helping maximize potential and fostering workplace development. But it's very important to discuss employee reviews privately. Offering the right recommendations can ensure that your staff has the tools, guidance, support, and resources necessary to thrive. If you notice that a specific employee's performance is inconsistent or declining, sharing the information is a great way to address any potential underlying causes for the drop-off.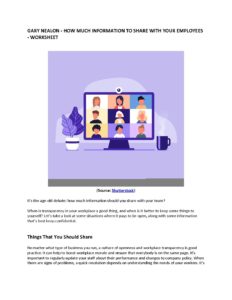 Get our Worksheet - How Much Information Should You Share With Your Employees. delivered right to your inbox.
Things That Are Usually Better Left Unsaid
The typical rules of proper office conduct obviously apply to whether info should be passed along to workers, but a few other topics are important to treat with great sensitivity or avoid entirely. 
Gossip, Drama, or Anything Heated
Effectively managing others means leading by example. When you manage others, make sure to talk-the-talk and walk-the-walk. Wither in-person or via email, avoid sharing gossip or making speculations. Also, don't overshare details about your personal life. Consistently bringing up topics like your marriage, children, or relationships is distracting and unprofessional. 
Other topics that could generate heated discussions, like those involving religion or politics, should usually be kept outside of work hours. 
Salary Information
Salary information is a tricky one. Many companies avoid the issue altogether by making it confidential. But then there are others, like Glassdoor that thrive with a completely opposite approach. At the end of the day, you'll need to decide for yourself how you are going to handle information on salary. If you want to create a culture that's built on openness and honesty, then look to keep salary information accessible as part of company policy. Consistency is key here, and you'll need to ensure that if you're making your team's salary public knowledge, then you should make yours public as well.
Personal Information of Employees
You shouldn't discuss things like which days a worker has called off or if an employee is dealing with a personal problem. Leading a company requires that you exercise discretion, which oftentimes means respecting the privacy of your employees. 
Anytime you are dealing with a human resources issue, such as a sexual harassment complaint or workers' compensation claim, it's important to keep that information private. When employees use paid time off or are dealing with medical issues, sharing that confidential information with others can also have serious legal implications. 
Opinions About Superiors and Coworkers
It's essential to stay above office politics and drama, which means not sharing negative opinions about your colleagues or coworkers. Complaining about someone's work style or decisions can damage employee relationships and create tension in the workplace, and it shows poor leadership. 
Also, don't complain about internal company policies or executive decisions. This shows a lack of faith in company leadership and cultivates an unhealthy work environment. Putting others down will also rupture team morale –and fast.
Decisions That Are Not Yet Finalized
Never share confidential, pending, or inaccurate information with your workers. It sometimes can be difficult to withhold news, such as salary negotiations or potential downsizing, but sharing it can cause a lot of damage. Decisions can always change so wait until they're finalized before spreading the update. 
It's important to give your employees credible and accurate facts. Distrust can hurt performance and cause tension between staff and upper-management. Make sure you avoid divulging anything your team asks you to keep confidential, such as pending negotiations for a new contract. 
When You're Uncertain: Complex Issues
Transparency in the workplace can be a good thing. But you need to balance trust, workplace morale, and your company's best interest. 
While some issues about sharing information with your staff are pretty black-and-white, often, the problem is more complex. You need to ensure your employees are engaged and keeping up with expectations, which sometimes means broaching difficult topics. 
Many times, you need to balance competing needs. For example, if you're aware that an employee has a disability and is granted reasonable accommodations, you do need to share that information with other members of leadership and management. When adaptations are made to an office environment or a process for a specific employee, you may have multiple workers ask you about why the changes were made. 
This can blur the line between privacy and proper management. When an employee has a disability or shares pertinent personal data that could impact their performance, you do need to ensure that whoever is managing the employee is on the same page as you. Sometimes you will need to guide mid-level managers through sensitive workplace issues, but this should always be done privately and in confidence, by following protocol. It should also go without saying that the team members who need to be made aware should be informed that they themselves are to share the information. 
When it comes to curious employees, though, the Equal Employment Opportunity Commission (EEOC) reminds managers of the following:
"If employees ask questions about a coworker who has a disability, the employer must not disclose any medical information in response. An employer also may not tell employees whether it is providing a reasonable accommodation for a particular individual."
One tactful response to this issue was given in a recent Employer Assistance and Resource Network (EARN) Webinar by speaker Susan W. Brecher, Esquire, of Cornell University. 
Brecher suggested that managers say:
 "…we look and treat employees individually and make considerations based upon good business reasons which allows for privacy of each individual."
That's a great way to put it.
Weighing the benefits and detriments of sharing information is a great way to guide your decision. If it is something that can improve performance and morale, it's probably better to be transparent and go ahead and share it. Sensitive or controversial news, however, may prove to be disruptive.
Always weigh the cost and benefits before making any final decisions about sharing with employees. Even if it's appropriate or typical to share something with your workers, always consider if there could be potential blow-back. Sometimes, as we've seen, there are legal guidelines in place preventing companies from disclosing confidential information.
Sharing relevant and important information with your team is essential to building workplace transparency. When you are open and honest with people, even when it is difficult, you can earn respect and trust while demonstrating strong leadership skills. Ensuring that your workers always have timely notice of pertinent changes to internal policies can help to give your team confidence in your company, and a level of security, helping to reduce unnecessary turnaround.
A good guideline to follow is to try to use common sense. Your team, whether remote or in-office trusts you to handle sensitive and personal information. While it may occasionally become necessary to discuss details of potentially confidential topics, working with your human relations and executive department ensures you can make the right decision. 
When you are trying to decide whether or not to share something, remember to be patient and avoid making rash decisions. If the topic is uncomfortable or you have trouble handling it without help, bring in other members of your senior managing team. You'd be surprised at the likelihood that another team member has dealt with a similar or identical situation in the past. 
At the end of the day, you should ask yourself: will this information help your team to do their jobs better? Is it going to improve their lives in some way? Or empower them to reach their goals? If yes, then share away. But if it's something that isn't kind, isn't necessary, or relevant –then hold off. Even in a culture of workplace transparency, there's still such a thing as #TMI.
Successful business owners always look for ways to grow. Bringing in a business coach can provide you with the guidance, support, and tools you need to help your business take a huge leap forward. If you're ready to grow your business and get the results you crave, then get in touch. I help businesses to grow, and I'd love to help you as well. Reach out today for your FREE initial consultation.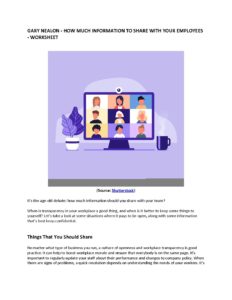 Get our Worksheet - How Much Information Should You Share With Your Employees. delivered right to your inbox.