As Amazon continues to expand, it would appear that this giant is the defacto shopping center of the internet.
In terms of traffic, Amazon's beaten eBay –and is still continuing to grow. And e-commerce sellers are jumping on the bandwagon in droves. Independent sellers account for over 45 percent of the total number of items sold on Amazon –and their sales are growing even faster than Amazon's!
And their customer base is growing too. At last count, Amazon had 310 million active customers –and 90 million U.S. Amazon Prime subscribers. Additionally, according to marketing company BloomReach, over half of all Americans now go to Amazon to carry out their first search for products, choosing Amazon over search engines and other online retailers.
With statistics like these, you might be tempted drop everything and rush over to the platform to set up shop today. But while there are indeed perks to using the platform –namely, immediate access to almost 2 million shoppers, there are also some pitfalls that you should be aware of when calculating the potential gains and risks. The truth is that Amazon's not for everyone. For all of its good, there are some reasons for e-commerce stores to be wary of this monolith.
At the very least, the decision to sell on Amazon is one that you'll want to make carefully, keeping a few important variables in mind.
Let's look at those now.
Selling on Amazon: The Pros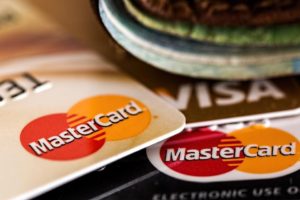 First, let's look at some of the positive aspects of selling on Amazon.
Selling on Amazon: Cons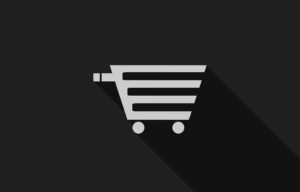 While selling on Amazon can generate substantial revenue, it's not without its challenges –and downsides. Amazon, despite its popularity has a dark side as well. Here's a look at some of the pitfalls and potential problems that you might face if you decide to use this platform.
While there are pros and cons to building a profile with Amazon, the bottom line depends on your company, your products, and your end goal. Ensure that you go into it with enough education on the topic and you could make it work in your favor.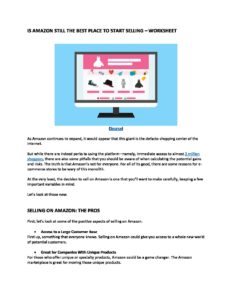 Get our Is Amazon Still the Best Place to Start Selling Worksheet delivered right to your inbox.
What About Fulfillment by Amazon (FBA)?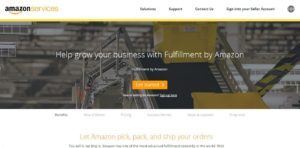 For many Amazon sellers, Amazon's Fulfillment by Amazon (FBA) program is where it's at.
This program offers storage, packing, and shipping services; and also handles customer service issues – including returns. FBA also helps to make sellers more visible to Prime members; an especially valuable customer base considering that Amazon Prime members spend almost twice as much as regular buyers.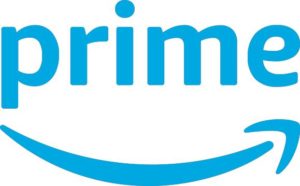 But while FBA can be a great way to drive more sales, there are some drawbacks to using this program as well. For one thing, sellers have to ship their products to Amazon and pay for storage, which can get real expensive real fast if things don't shift quickly. Also, there are much higher fees for Amazon sellers who use FBA as well.
Let's look at both the pros and cons now.
Pros of FBA
There are a number of pros to selling via FBA.
First, the most obvious benefit: time. With FBA, you'll be able to outsource all of the packing, labeling, and shipping. Amazon will also handle all of the customer service as well.
The main one, being access to Amazon Prime members. Since Prime members tend to choose Prime-eligible products, you'll gain greater visibility if you go this route. Additionally, since Prime members spend almost twice as much as non-Prime members, this can prove to be extremely profitable.
With FBA, you're also more likely to win the much-sought-after Buy Box –the box on the product detail page where customers can begin the purchasing journey. FBA sellers will secure the Buy Box over a self-fulfilled seller most of the time; giving you a chance to drastically increase your sales.
Finally, with FBA, you'll also be able to leverage Amazon's supply chain infrastructure. Few independent sellers can compete on this level, but with FBA, you can.
Cons of FBA
Now, a look at some of the cons of FBA.
Amazon charges significant fees for using FBA. For large items, or stock that takes a while to shift, shipping and storage can quickly add up. In most cases, it doesn't make a lot of sense to use FBA for items that won't sell quickly. Here's a good rundown on all of the fees that you can expect using this service. These include everything from picking and packing your orders, shipping and handling, customer service, product returns, and storage per cubic foot per month.
You also lose a lot of control with the order and fulfillment process, which can be risky. Because Amazon tends to store the same items together in inventory, there's a good chance that a customer that orders your product won't receive the exact one that you sent in. There's also a chance that other sellers, may send in the "same items," that are counterfeit or lower quality –which your customers could end up with. What's more is there have reportedly been cases where Amazon sellers have been penalized for faulty products shipped out via FBA.
So what's the verdict? For busy e-commerce stores who are looking to outsource much of the work, FBA could be a great idea. Just make sure you understand the potential risks before you start. And ensure that you can still turn a profit, even with the higher fees.
Be Careful Relying Solely on Amazon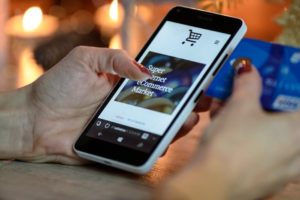 So is Amazon the place for sellers to be?
It depends!
At the end of the day each platform will have its own set of pros and cons, advantages that make it better for some, or factors that make it a no-go for others.
With Amazon, the main thing to remember is that you don't own your storefront. You don't get to make the rules, and you have to play by theirs. And while it's somewhat unlikely, there's always a chance that your products, or company could be banned or your shop shut down.
I've experienced something similar to this myself.
After a couple years in business, things got to the point where 90% of my website visitors came via organic search traffic from Google. Everything was going great –until Google released an algorithm update and BAM we lost 20% of our traffic in one day! We were able to get it back –eventually, but it was a wakeup call to me that we needed to diversify as much as possible so that no single traffic source could take down the company. It's the same with Amazon. It's important to diversify so that you are never reliant on one source of traffic or sales –whether that be Amazon, organic ranking on Google, or Facebook Ads.
All of this to say, when it comes to Amazon, you may find that you have more piece of mind diversifying, and working towards creating your own storefront.
"Amazon is where the traffic is, it's the proverbial big pond and once it's much easier to make sales there than on some new website you built, Shopify or otherwise," writes Dan Moody, founder of Private Label, Selling on Amazon fba.
"But amazon is so good, it makes sellers lazy and complacent," he continues. "This isn't a big issue when you just have a couple of grand in the game, but when you sell 10,20, 30k plus per month and more, you're building a house of cards that can be wrecked by a few fake reviews or false safety claims by competitors."
Amazon can be a great platform –in terms of reach, you can't beat it, and there's the opportunity for savvy sellers to make tremendous money on it. But the downside is that you will face stiff competition, potentially high fees, minimal chance to grow your own brand, and of course, you're at their mercy should they decide to deactivate your account. With your own platform, or even a Shopify account, you have a lot more control over your brand, business, and ultimate growth –although you'll have to work a lot harder to bring in traffic and make sales.
So what's the verdict? Amazon or your own platform? Ultimately, you may find that the best option is both! Consider taking advantage of Amazon's extensive reach –while at the same time, working to grow your own business. This will enable you to benefit from immediate sales, while at the same time allowing you to work on your long-term strategy –collecting email addresses, growing your customer base, and working on building a brand that has staying power.
E-commerce store owners, what's your platform of choice?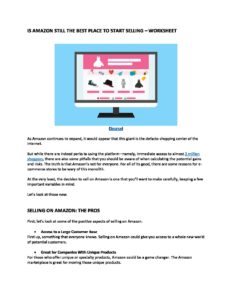 Get our Is Amazon Still the Best Place to Start Selling Worksheet delivered right to your inbox.