There are only so many hours in the day, even though the number of things that you need to finish just keeps on growing.
If you find that your list of tasks is taking longer and longer to finish –it could be a sign that it's time to step back, and look into outsourcing some of those tedious, yet important tasks to someone else.
Here's what I'm talking about:
Create spreadsheets of last quarter's marketing budget and revenue
Compile a list of topics for your blog
Create a publishing schedule and email it to all involved parties
Publish content on the blog
Reply to inquiries on a product
Book appointments with clients
I don't know what your to-do list looks like, but I do know that a good VA could take on all of the above tasks, and more, freeing you up to focus on things like actually growing your business.
Of course, the decision to hire a VA is one that should be made carefully, keeping the current stage of your business in mind. In the early days, unless you have a lot of cash backing your idea, you will more than likely have to do a lot of the grunt work yourself, but as your company continues to grow, delegation becomes more and more important. And the prospect of hiring a VA will start to make financial sense.
A VA or an In-Person Assistant?
But first, what's the difference between a virtual assistant and an in-person assistant?
A virtual assistant is someone who's well, virtual. They're web-based, so they don't need to work on-location, in fact, they can work from just about anywhere in the world. Part of the beauty of hiring a VA, is that it's a lot cheaper than paying someone to be present on-site. You don't have to pay the associated costs that are involved with having employees; instead, you only pay for the work that you need done. It's economical and makes sense to have someone that can work on specific tasks remotely on an as-needed basis.
In other cases, a VA can be a great way to bridge the gap if you find that you need some help, but don't have enough work to hire someone full-time.
Many companies today, especially web-based businesses, are finding that hiring a virtual assistant is where it's at.
Outsourcing to the Right Professionals
But successfully hiring a VA isn't just about finding someone to run circles for you, the secret to getting the most out of a VA, is to find someone to take on necessary and important jobs, and complete them in a timely manner. So, for instance, compiling data or sifting through an inbox may not seem top-level, but it is vitally important nonetheless. Hiring a VA can help to take these important, yet time-consuming jobs out of your hands.
So what you'll want to do, is outsource strategically. This means making sure you don't outsource anything that can just be automated instead. And secondly, it means making sure you've got the right people for the right jobs.
"One of the biggest misconceptions of working with virtual staff is that one employee can do everything for you," says Chris Ducker. "I call this the 'Super VA Myth', and I've busted it over and over again! It's just not possible. Not in the real world, and not in the virtual world."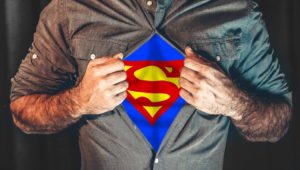 Ducker advises people to think outside the box when outsourcing. A one-size-fits-all solution, like one VA for every task, may not be the best option. Instead, you'll want to make sure you get the right folks lined up for the relevant tasks.
In addition to a general VA, here's a look at some different types of remote workers that you can outsource tasks to:
Video Editor
Content Writer
Web Marketer
Graphic Designer
App Developer
For more specialized tasks, the above professionals may be in order.
What a VA Can Do
"Ask not what a VA can do for you, but what you can do for your VA." Just kidding, of course.
Here's a look at a small sampling of everything that you can hire a VA for:
Email management –declutter, filtering
Calendar management –booking appointments
Setting up autoresponders –for email
Booking appointments
Client follow-up
Creating spreadsheets
Checking voicemail
Data entry
Research
Invoicing
Project management
File management
Database building
Researching certain topics for blog posts
Personal errands
Hotel and flight booking
Receptionist duties
Transcription –voicemail, video, audio
Taking minutes of meetings
Creating reports
Preparing slideshows
Recruitment
Setting up social media accounts
Managing and updating social media accounts
Managing your blog
Publishing posts on your blog
Filtering and replying to comments on your blog
Answering support tickets
Commenting on blogs –to send traffic to your website
Checking messages on Facebook and answering questions
Participating in discussion forums
Solving customer problems, like a change in their order
Solving customer inquiries, such as the status of their order
Looking up orders when required
Moderating comments on Facebook posts, hiding complaints, and deleting slander
Keep in mind that each virtual assistant will have their own unique combination of skills and experience, and it's worth taking the time to ensure that you find someone who's a good fit for the job. I'd recommend having a Skype chat with them, just to get an idea about the type of work that they've done in the past, and to gauge whether they'd be a good fit for your company.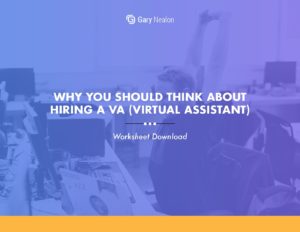 Get our Why You Should Think About Hiring A VA Worksheet delivered right to your inbox.
How Do You Find a Good Virtual Assistant?
When it comes to finding a good VA, you'll want to start by identifying which type of assistant you're looking for. You can then Google with this specialization in mind.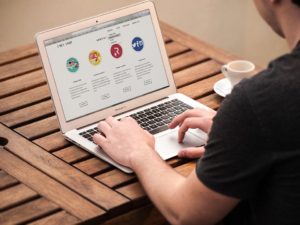 Or, head straight to the job boards. Go ahead and have a look at places like:
You could also ask for referrals. If you're a member of any networking or business groups on Facebook or LinkedIn, for example, you could mention that you're looking for a VA and ask if anyone has any personal recommendations. Word of mouth recommendations can be a great way to find a reputable assistant.
Keep in mind that not every VA will be a good fit for your company, nor will every VA be able to do everything that you'd like. In some cases, you may want to consider hiring other remote workers, like the abovementioned content writers or app developers, for certain tasks.
Then, head out there, make a job listing –that clearly outlines your expectations, and wait for the replies to start rolling in. Soon you'll have a few shortlisted candidates that'll be perfect for the job. If you're stuck, and can't decide between two, consider trialing them on a short-term basis for a week –paying them, of course. This will allow you to see which candidate is more consistent, dependable, and easiest to work with, and will help you to ensure that you end up with the very best person for the job.
Tips for Getting the Best Out of a Virtual Assistant
A big part of your success with a VA will come down to how well you're able to manage them.
There's some work that you'll have to do on your end as well, to help ensure that your VA is oriented, and understands exactly what's required of them.
It's worth taking the time to do this, though, because although it requires an initial investment of time in the beginning, it's far less time-consuming than doing the task yourself, each and every time.
Here's a look at some tips for getting the best out of a virtual assistant.
Communicate Effectively
Like the old saying goes, "If you can't explain it simply, you don't understand it well enough." Take the time to outline what you want clearly so that your VA understands exactly what you're expecting. And make sure you communicate important details that they need to do their jobs. Be sure to encourage them to reach out if they have any questions, and try to be available for the first few tasks so that you can help to answer any issues they may have.
Have Them Check Back In
TaskBullet.com has their virtual assistants do what's known as "The Check Back," where the VA does part of the task, and then checks back in with the client to make sure they're doing the task correctly. Not only does this help to prevent a VA from spending 4 hours doing a task wrong, but it also gives the client the opportunity to give an added explanation if it's needed.
Due Date Management
Avoid giving out tasks without a due date. This will only increase your chances of being placed at the bottom of your VA's to-do list. Instead, look to confirm a date with them on all tasks. Similarly, whenever possible you'll want to avoid assigning tasks that are due the same day. If you can, try to give them a few days to work on things.
Have Systems in Place
Before you start the hiring process, it's a good idea to make sure you're set up with the tools that you need to complete tasks as efficiently as possible –as well as tools for collaboration. You could use programs like Trello or Asana to coordinate and manage multiple projects across teams. While Dropbox and Google Drive make it easy to file share and collaborate on projects.
Make a Screencast Video
Want your VA to do a specific task? Create a video showing them what to do. A tool like Screencast-o-Matic allows you to create a screencast video, making it easy for you show your VA how you perform tasks that could be hard to demonstrate otherwise. This can help to simplify the learning curve and makes it easy for you to show them exactly what you mean.
A VA can help you to save a considerable amount of time and money, and in many ways, is a must-have for any time-crunched entrepreneur today, but the best way to ensure that you get the most out of your experience is by taking the time to lay the groundwork first.
Before you bring a VA on board, ensure that you're clear about what you'd like them to do. Then make sure you're prepared to show them how you want it done. Finally, make sure you have systems in place that you can use to manage your workflow efficiently. Then, go out there and find yourself a VA.
Who knows? You just might have time to work on growing your business again, instead of constantly running circles in it.
Have you ever thought about hiring a VA? What's holding you back?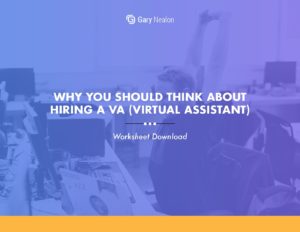 Get our Why You Should Think About Hiring A VA Worksheet delivered right to your inbox.