You've just launched your website, and you're excited for customers to discover the great new product or service you have to offer. But, the sound you hear is crickets rather than the ping of a cash register. Why haven't customers found your site yet?
Or maybe your e-commerce business is already well-established, and you're prepared to take the next step in growth. You need to reach a wider audience and to produce more sales but aren't sure where to turn next.
In either scenario, you want more traffic to your website. Traffic doesn't have to be pure organic search, or paid ads. There are other ways to drive traffic to your site. In this article, we'll take a look at some ways that you can start generating traffic quickly. Some of these methods you can start implementing today.
Driving Traffic With Minimal Expenditure
If you haven't done so already, one route for improving traffic to your website is with Search Engine Optimization (SEO) and using the best keywords to help drive traffic from search engines like Google. If you're looking to get started with this, I've written an in-depth post about keywords here.
Another simple solution is to pay for traditional advertising (think print, banners, television), but that can be costly. Additionally, these forms of advertising just aren't that effective any more, especially if you're a web-based business that needs to attract the attention of a wider audience. 
So what can you do to get your brand name out there with minimal expenditure to drive traffic to your site?
The answer: leverage multiple sources – like online platforms – so that you can generate traffic and  increase your conversion rate, all while capturing opportunities for new customer connections. 
Creating Great Conversion Rates: Know Who Your Customer Is
Before you begin, make sure you know and understand your current website traffic and who your customers are. This allows you to choose the sources that will give you the best outcomes. Narrowing down your audience and your niche is essential to using these platforms successfully. 
If you haven't done so already, make sure you've taken the time to narrow down your target audience. Then, take things a step further and create a clear avatar of your customer.
By identifying who, exactly, your target customer is, you'll be able to find the platforms where they are most likely to be found. This will also allow you to ensure that you're speaking to the right audience, in a way that will resonate with them.
To learn more about creating a customer avatar, check out my article here. 
Social Media Platforms to Drive Traffic
Once you know who your customer is, you'll have a better idea of where to find them. Now, let's look at the short-list of sources you can use to drive traffic to your website.
Pinterest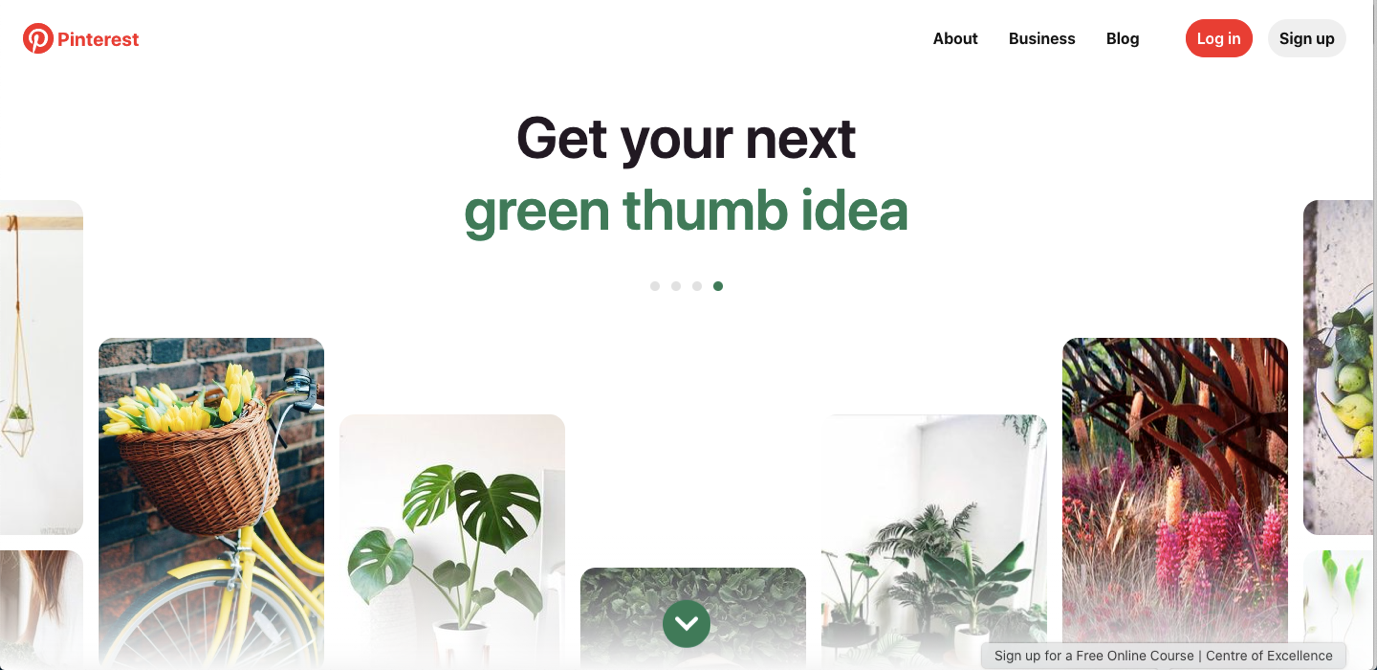 (Source: Pinterest)
Pinterest is an eye-catching platform, with its myriad of images and headlines that scream "click me! Click me!" But if you think that this platform is just for home decorating ideas, think again. 
If you're operating an e-commerce business in areas like technology and consulting, you can still leverage the power of Pinterest through its search functionality. It sounds counterintuitive to say, but Pinterest is actually more of a search engine than a social media site. 
By ensuring your business has attractive topic boards, high-quality images, and catchy headlines, you can drive traffic to your website. 
A key piece of advice from Neil Patel in his article, How to Get Free Traffic From Pinterest Search is, "Don't just pin your own content, that is the digital equivalent to constantly talking about yourself…[s]earch for topics you are interested in and add articles to your boards. You will draw attention from those Pinners and provide your audience with content they are interested in."
Demographic statistics about Pinterest from the Omnicore Agency:
71% of Pinterest users are females 

35% of Pinterest users are 35-49 years old 

34% of Pinterest users are 18-29 years old

90% of weekly Pinners make purchase decisions on Pinterest
Instagram
Instagram is a photo and video-sharing social networking platform, and it can be used for much more than just posting selfies. Used wisely, Instagram can help drive more traffic to your website if you have a great content strategy plan and properly use its features.
Start by creating a compelling bio, and make sure to include a link to your website or blog. If you can, try to have a personalized link for each story, post, or video.
For example, if you promote a particular product in your video, create a link that goes directly to the product's page rather than your website homepage.
A great way to maximize your Instagram reach is by utilizing all the options available on Instagram, whether it's hashtags, Instagram Reels, Instagram Stories, going Live, and more. Just make sure your content is high-quality, visually appealing, and that you showcase your shining personality.
Demographic statistics for Instagram from the Omnicore Agency:
510 million Instagram users are female, and 490 million are male.

67% of U.S. adults ages 18-29 use Instagram in the United States

130 million Instagram accounts tap on a shopping post to learn more about products every month

70% of shopping enthusiasts turn to Instagram for product discovery
LinkedIn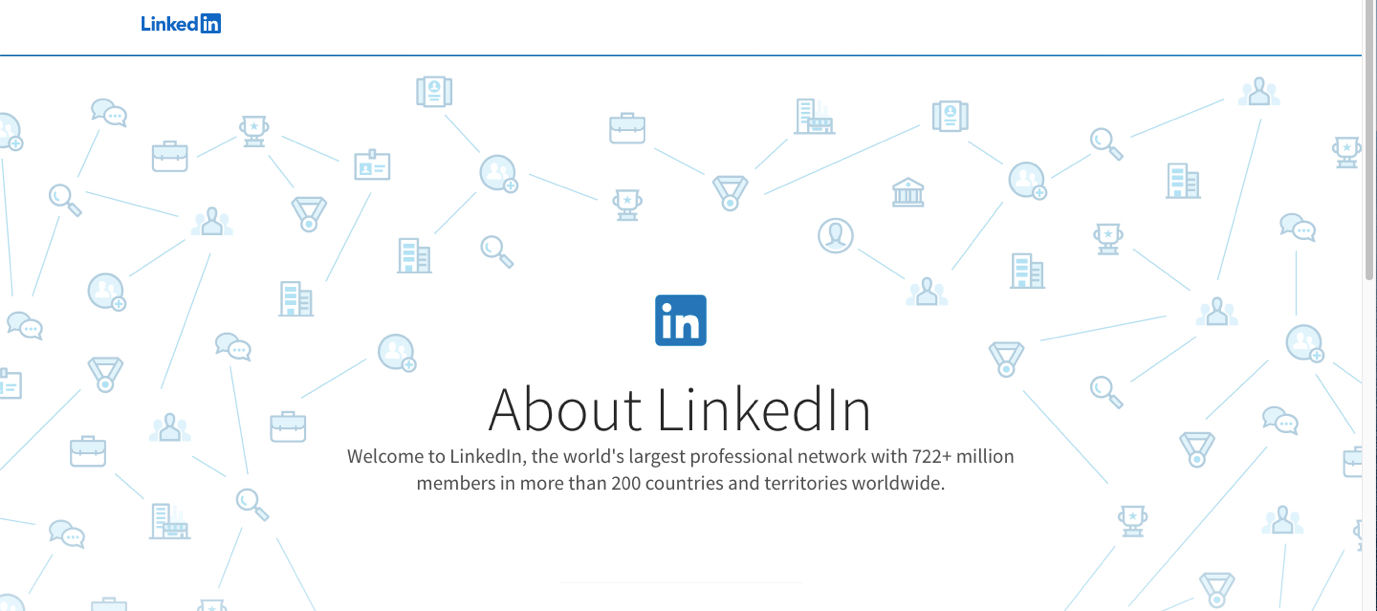 (Source: LinkedIn)
Most known for its business networking opportunities, LinkedIn can also help you connect with industry peers. According to a study conducted by Econsultancy, "LinkedIn is now responsible for a staggering 64% of all visits from social media channels to corporate websites."
While it may not be ideal for e-commerce shops, if you're looking to maximize your business-to-business (B2B) opportunities, LinkedIn is the place to do it. By writing unique content and sharing it on LinkedIn Groups, you can develop relationships and effectively market yourself.
LinkedIn Groups allows you to find like-minded people in your niche, so if you can create content that is interesting across various topics, links, and blog posts, you are more likely to drive traffic to your website.
Like most social media platforms, pay attention to your biography. You want to make sure you have a substantial one, and don't forget to utilize LinkedIn's email list within LinkedIn Groups.
Demographic statistics for LinkedIn from the Omnicore Agency:
There are 346 million male users and 360 million female users on LinkedIn

More than 70% of Linkedin users are from outside the U.S.

50% of internet users with a college degree or higher use LinkedIn

90 million LinkedIn users are senior-level influencers, and 63 million are in decision-making positions
Get our Other Sources of Traffic - Worksheet delivered right to your inbox.
YouTube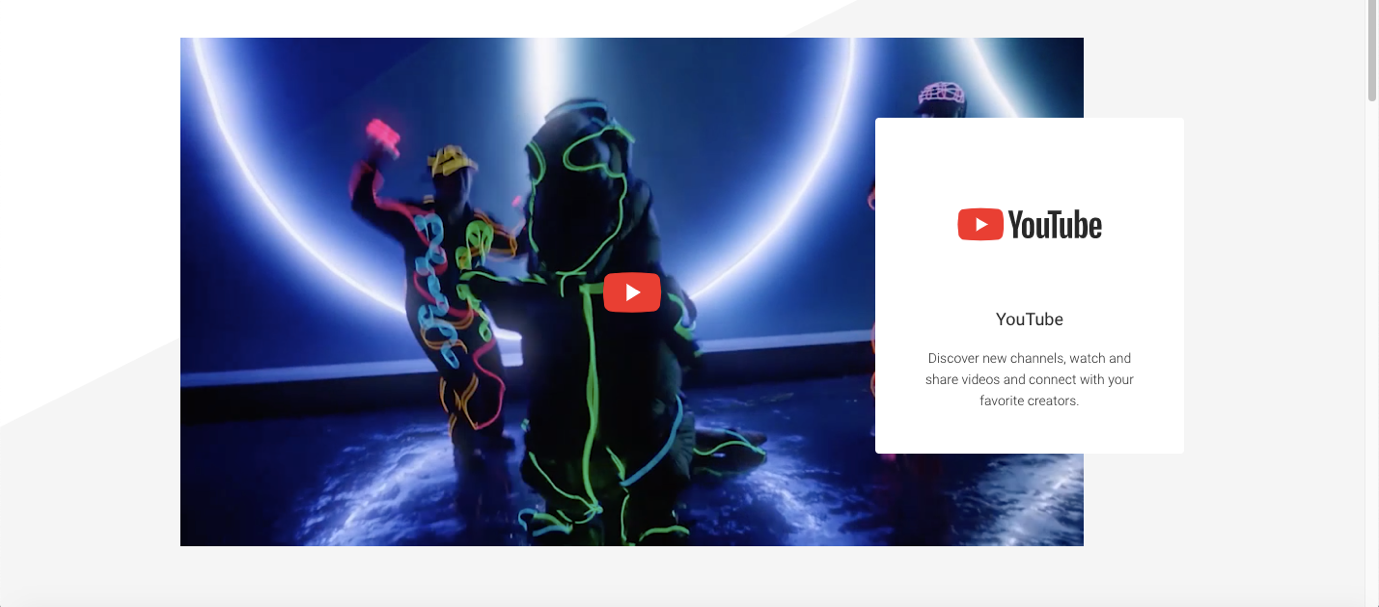 (Source: YouTube)
YouTube is owned by Google and has over two billion active users (as of October 2020) – meaning tremendous reach for your business! 
The relationship between YouTube and Google is an important one, as anything posted on YouTube is searchable on Google (and, of course, within YouTube itself). Essentially you get twice the search engine possibilities for one piece of content. 
How can you get the most out of YouTube? Show your target audience how they can achieve the results they need or how your product will help them. Don't forget to add a call-to-action (CTA) to give users a reason to click on your website links.
Demographic statistics for YouTube from the Omnicore Agency:
78% of U.S. male adults use YouTube

68% of U.S. female adults use YouTube

71% of 26-35-year-olds from the U.S. use YouTube

YouTube is the second most visited site in the world and is technically the second largest search engine in the world
Tip: If any of the social media platforms roll-out a new feature, make sure you are one of the first to utilize and profit from the feature. What happens is that the platform tries to push out content created by it to more users so that more users can adopt and use it themselves.
This is an excellent way for your content to have a wider reach than it usually would, leading to more traffic to your site.
Here are some additional tips to keep in mind:
Don't spam your target audience with too much. Instead, try to provide them with as much value-related content to your brand, so they don't end-up scrolling past.
Keep active! Don't open an Instagram or Facebook account and then not engage with your audience. This interaction humanizes your brand and makes them feel more connected to you, leading to more sales and leads.
Make sure you respectfully follow the rules of each social media platform to avoid being

shadowbanned

(where your social activity is blocked but you're not aware of it). This can range from using inappropriate keywords to "liking" too many posts in one day (the platform may think you are a robot).
Other Ways to Drive Traffic to Your Website
Social media isn't the only tactic that you have at your disposal. Here are some other tips for driving traffic to your site.
Influencer Marketing
With the rise of social media comes the rise of influencers, and influencer marketing. 
What is an influencer? It's someone who has built a reputation on social media for their knowledge on a specific topic, posting and regularly engaging with their audience. They have created trust within their niche and know exactly what responds well with their audience.
There are different types of influencers based on their content type, follower numbers, level of influence, and more. You should find the right people who can promote your business on a preferred social media platform (whether it be YouTube, Facebook, Instagram, podcasts, blogs, or LinkedIn) and who share the same values as your brand.
Influencers can help your business gain exposure, and because they have a loyal following, they can send relevant traffic your way. There are several ways you can work with an influencer by offering discount codes, links, reviews, or giveaways.
According to Think with Google, collaborations with YouTube influencers are four times more effective at driving brand familiarity.
Take caution, though, as this method may not always generate the leads you need if the influencer is not a good fit. Plus, it's best to have clear guidelines for you and your influencer to follow. Contracts between you and the Influencer are essential to protecting your business, product, and service – as well as your time and money.
Forums and Blogs
Using online forums (like Reddit) that are geared around your niche can be another great way to pull in your customers to your website. Just make sure that you're not overtly promotional on forums, and only share a mention of your website or blog if it's truly applicable. Some forums have rules against self-promotion, so be sure to read the fine print carefully before posting.
Another good idea is to find places where people are asking questions, like Quora. These threads often present a great opportunity for you to link to your website, if it's done in a helpful and relevant way. Finally, blogs can be another great way to drive traffic to your site. Commenting on blog posts that are relevant to what you're selling can be a great way to include a mention of your site.
Strategic Partnerships
Don't underestimate the power of strategic partnerships. Building a strong relationship and working together with another company will expose your brand to a client base you may not necessarily have had access to.
Start with collaborations like guest posting, joint podcasting, or co-hosting events. It's crucial to find a brand where you can add value to each other. 
And sometimes, you can look outside of your niche, especially if you share a similar target audience.
Take a look at T-Mobile and Taco Bell. Or Red Bull and GoPro. They partnered together for the jump done by daredevil skydiver Felix Baumgartner and broadcasted his descent to Earth. The video gained more than "46 million views and generated tons of press for both companies."
Public Relations (PR)
Good PR will help drive traffic to your website because it can capture people's attention. It gives you a chance to share your company's story, positions your brand as trustworthy, and gets people talking about you. There are a number of different ways that you can boost your company's public profile but often these involve getting your name into publications or looking for media opportunities. 
`Successful PR involves knowing how to network. If you're not comfortable doing this on your own, you'll want to find a good PR agency to help.
Referrals
Who doesn't love being rewarded? Especially if that reward comes from telling people about your business. Referral traffic is one way to go as your clients are already happy with your brand, so the positive word-of-mouth won't be hard for potential customers to find you. 
For example, when you sign-up for Deliveroo, you also get a referral code to send friends or family to sign-up with. If they use it, you get a $10 coupon for your next food delivery. The same goes for Dropbox, but their referral incentive is more storage space.
From social media platforms to referrals, these are just a few examples of sources you can use to generate more traffic to your website. Other ideas include different social media platforms like Twitter and TikTok, and podcasts. The key is to find what works best for your business and customer base.
Evaluate them all and decide on the ones you will utilize based on your market, niche, who you wish to reach, and the content you will generate. By putting the extra effort in leveraging a few of these platforms correctly, you will start to see an increase in your website traffic, which in turn, will help you achieve your revenue goals.
Wondering which platforms are the best for your brand? Or how you can leverage them to drive traffic to your website? Reach out for a FREE 20-minute call and find out how you can start scaling your business today. 
Get our Other Sources of Traffic - Worksheet delivered right to your inbox.