In the world of e-commerce, good reviews are like gold dust. They're a tremendously valuable way to boost your product's credibility and are often what it takes to convince an uncertain prospect that it's a good idea to go through with their purchase. From an SEO perspective, reviews can also help to bolster your placement following a search query.
It doesn't matter if you're a small e-commerce business or a big box office store; online reviews and testimonials have the power to drastically elevate your business and draw new customers in. Consider for a minute that 95 percent of shoppers read online reviews before they make a purchase!
Reviews can also convince buyers to choose your product over your competitors'. Positive reviews are shown to increase sales by 20% because customers see your product as one that can be trusted. 
The benefit of positive reviews is especially evident on Amazon. Where more purchases and positive reviews can lead to a greater ranking in Amazon's system. They can help to get you to where you want to be: the first page of Amazon when someone types in keywords related to your product. 
This is the power of customer reviews. They have become a valuable commodity to businesses and for customers, they're a gauge to see whether a product or service is worth buying in the first place.
For companies, having a system to generate online reviews from happy customers can help your business to succeed. But for some companies, there may be some roadblocks along the way. 
Maybe they're not happening fast enough or the feedback may be, well, mixed. In these cases, companies might feel tempted to buy positive reviews, a practice that's long been used, but that carries some tremendous risk. Amazon has recently been cracking down on fake reviews, and going that route could damage your reputation and your placement on the platform. 
But what about incentivized reviews? Is there anything wrong with asking customers to leave you 5-star reviews? What if you incentivize them with a discount or free product? With the profound impact that a positive review could have on the platform, it may feel difficult to resist.
In this article, we'll take a look at some reasons why you'll want to avoid fraudulent reviews and in most cases, incentivized reviews as well. I'll also share some tips to help you start generating authentic customer testimonials right away.
Fraudulent Reviews: Why You Should Avoid Them
If you're finding that customers aren't leaving reviews, you may be tempted to buy some, or perhaps even enlist your friends and family to leave some positive testimonials.
However, soliciting reviews from people who have never even used your product is fraudulent. It's almost always against the terms and conditions of the review platform, and going this route could result in your company being banned from the site altogether.  
Incentivizing reviews is also frowned upon, and many platforms outright forbid it in the terms and conditions (Google and Yelp are two that expressly state that it's against their terms and conditions). Incentivizing means that you give the potential reviewer cash, a discount, or a free product in exchange for a positive review. Of course, this means that the reviewer will almost certainly be biased, and it goes against strict guidelines of most platforms. 
If you are going to incentivize reviews on a neutral platform (not a review site), such as a blog or Instagram, then disclosure is key. So say you're sending out free samples to a select group and asking them to review the product for you. It's important that you specify to the recipients that they disclose in the review itself that they received the free product in exchange for agreeing to provide a review.
Not only will fraudulent reviews break the trust between business and customer, but the review platforms themselves can also impose penalties if a business is found to be using them. By choosing this avenue of "gifted" product for honest reviews, you're going to be seen as not only a generous company, but one that cares about unbiased reviews on their products. This will greatly benefit your relationship with consumers meaning they're more likely to contact you when they have an issue, rather than post a negative review and damage your reputation.
But the damage of fake reviews can go beyond just your reputation. Increasingly, the Federal Trade Commission (FTC) is starting to step in. Such was the recent case against Cure Encapsulations and its owner when it was discovered it was buying fake testimonials and ratings about its weight loss supplement on Amazon. The company got hit with a hefty $12.8 million fine. 
The FTC has gone so far as to investigate Facebook groups that are centered around being paid to write fake reviews. These groups have tens of thousands of members and companies offer the members product and commission for a 5-star review. The Hustle writes this about these incentivized review groups:
"Here's how the process generally works:
A seller posts an item to the discussion board with a message like, "FREE. refund + $5 commission for 5 STAR. PM for details."
An interested buyer sends the seller a private message.
The seller directs the buyer to the product on Amazon using keywords.
The buyer purchases the product and leaves a 5-star review.
The seller sends the buyer a refund via PayPal, plus a commission (usually in the form of a $5-10 gift card)."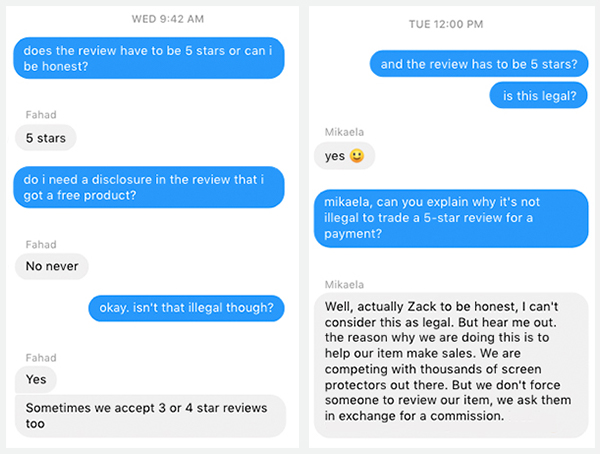 (Source)

This process is not only dishonest, but it could also severely harm your reputation. At the end of the day, attempting to buy reviews is fraudulent, and can carry some significant penalties. It's far better to focus on growing your customer base, and soliciting legitimate reviews in a reasonable, responsible way. 
Fake Negative Reviews: How to Spot Fake Reviews On Your Products
In some cases, you might find that your business has been targeted by fake reviews; and not the positive kind! Sometimes, fake reviews can come from competitors, who might post negative reviews in an attempt to discredit your business. It's important to be able to spot fake reviews and take the actions required to remove them. 
TechCrunch reported that 30-35% of reviews on Amazon were fake reviews. It's also been noted that since buyers buy with their eyes, it's the "Stars" on Amazon that really push us to click the "Add to Cart" button. Knowing this, some companies take advantage of the opportunity and seek out ways to boost their star rating to manipulate visitors into buying.
This fascinating chart shows the average number of stars given from genuine reviews versus untrustworthy reviews: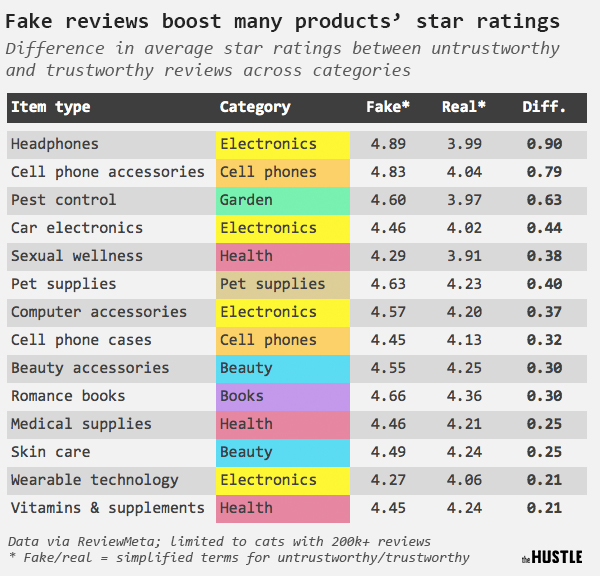 Here are some tips for spotting fake reviews:
Check the reviewer's profile. How much detail have they provided? When did they create their account? Where are they based? Have they posted multiple reviews for a similar product in a short period? If there aren't many details, it could be a red flag they aren't real customers and are paid by companies to write reviews. 
Is the review 

extraordinarily positive or negative

? It could be a fake review. Even if the people are satisfied with their product, there may be a suggestion for improvement. The same goes for negative reviews.
If you received a negative review and can't find the customer's records or the reviewer doesn't respond to clarify any issues they brought up, they could be a fake reviewer.
If there are too many mentions of the brand name in the sentence (for example: "Wow!!! The Apple AirPod model number A1722 is the BEST Bluetooth headphones EVER! Look no further than these amazing Apple Airpods"), you are likely dealing with a manufactured review. In addition, multiple

Amazon ASINs

that don't actually match the products being sold are a tell-tale sign of fraudulent reviews.
Get our Fraudulent Reviews_ What You Should Know delivered right to your inbox.
If the text of the review sounds too much like marketing or includes too much technical jargon, that could be a sign of a fake review. Interestingly,

BrightLocal states

 that "Reviews with repeated exclamation points are more likely to come from reviewers who have never made a purchase."
You can find a helpful list of various review websites and tips for reporting fake reviews here.
Managing Negative Reviews Professionally
If you have a great product and service, then there will be plenty of good reviews to come. And while we'd all love only good reviews, the reality is that people have different opinions and despite your best efforts, there will almost certainly come a time when your business will receive a negative review.
While it may be hard to read, a negative review will not be the end of your business and there are ways you can respond to the review, while keeping your reputation intact. 
When that negative review does come in, how should you respond to it? Here are some dos and don'ts on dealing with negative customer reviews:
Don't

: Don't feel too discouraged if you receive a less than fantastic review and subsequently ignore the feedback given to you.
Do

: When you get a customer review, try to put aside your frustration. Review the information and use it as a learning experience to try to improve your product or service.
—
Do

: Respond to the negative review in a timely manner. The longer it goes unanswered, the longer a customer may feel frustrated, and other customers will see the business doesn't care.
—
Don't

: Don't feel tempted to respond to the negative review with a defensive reaction.
Do

: Take some time to cool down first. Then, come back and respond to the review calmly. Acknowledge the issue and how the customer feels, apologize for the inconvenience caused, and offer a reasonable solution. Responding to negative reviews has a 

substantial impact on potential customers

. 
—
Don't

: Don't get sucked into an "online battle" with a customer if all they want to do is complain.
Do

: Provide contact details and ask the customer if they would like to continue the conversation offline after you have tried to resolve it initially. 
Gathering Authentic Testimonials
It might seem easier not to have to deal with online reviews, especially if you get a negative one, but authentic, positive reviews are tremendously valuable, and it's worth finding a system to solicit (and review and respond to) genuine customer reviews. According to BrightLocal, up to 94% of consumers say that a positive review makes them more likely to use a business or purchase a product. That's significant!
Not only do customers base their purchase decision on online reviews, but it will also help your searchability in search engines as well as your Amazon ranking. Take Google, for example – Google sees people are happy with the product or service, and the search engine will start to put these businesses higher in search results. On Amazon, you'll end up on the first page following a keyword search. And once customers see the glowing testimonials, the next step they'll take is to make a purchase. 
How do you get started acquiring these reviews? Let's look at an overview strategy surrounding them (including how to manage negative ones):
Sign-up for a review platform that best represents your business

 – There are plenty of review platforms out there, ranging from

Google

to

Yelp

to

Facebook

to

Foursquare

. Find the review website you feel corresponds best with your business. For example, if you sell beard oil, then there's no point in listing your business on TripAdvisor. However, it's a good idea to try to claim your business on as many different platforms as possible, that way you can track and manage your reviews, and respond to negative ones.
Build your business profile and you are ready to get started. Here's a useful guide on different types of review platforms and ones that are specific to your niche.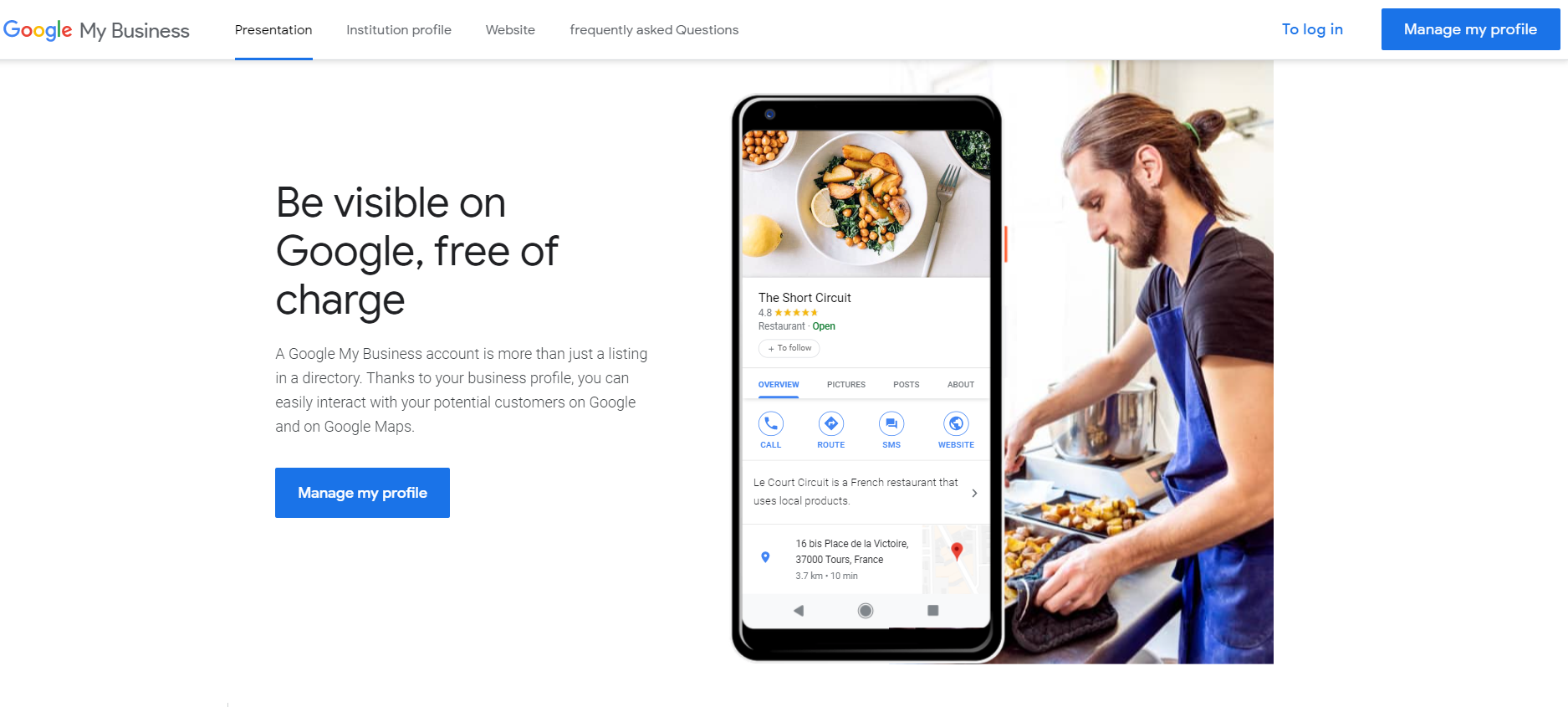 (Source: Google My Business)
Ask for customer reviews

 – It may seem daunting to ask your customers outright to leave a review. However, it's probably the simplest and most effective way to get one! 

Seventy-three percent of customers

 in one survey left a review after they were asked to do so. Consider implementing an email that is sent to customers a few days after their purchase that requests a review. Platforms like

MailChimp

make it easy to automate this process.
Determine the right time to ask for reviews

 – Depending on your business, try to find the right moment to ask customers for their thoughts. Will it be right after their purchase or one month later? After they have used your service a few times or the minute they finish a session?
For example, you might want to wait a month before asking customers if they like the beard oil they bought – one month gives them enough time to use the product and notice any differences. Or, if you have a food delivery service, you might ask how the delivery was an hour after they've received their meal. 
Schedule time for looking at reviews and responding to them

 – Customers prefer when their reviews are responded to within a specific timeframe. According to 

BrightLocal's survey

, 20% of reviewers expected a response within one day, with a further 26% expecting one within two days.
When you receive a positive review, it feels great and you may think this enough to help your business. It will, but do you know what will help even more? Responding to the positive review.
Make sure you tell the reviewer that you appreciate their business, and thank them for taking the time to write the review. This allows you to start building trusting relationships with your clients and demonstrating your business' human side.
Keep collecting new reviews 

– Once you've made the initial push for reviews and received a certain amount, it might seem easy to think that this is enough and forget to ask for more. Don't. Customers mainly trust reviews three months or less to ensure the product or service has kept its high standard.
As BrightLocal states, "86% of consumers say they only look at reviews from the past three months, while a huge 73% say customer reviews must be from the last month to influence their choice to use a local business." 
Using tools to help with customer testimonials

 – To make your life a little bit easier, you can turn to several tools to help you set up, manage, and monitor customer reviews. For example, 

Grade.us

 "provides an easy and unobtrusive way to ask and remind customers to review your business on the sites that matter to you."
Or there's Boast, which "offers a complete testimonial collection and management platform to help businesses easily collect and showcase praise from customers."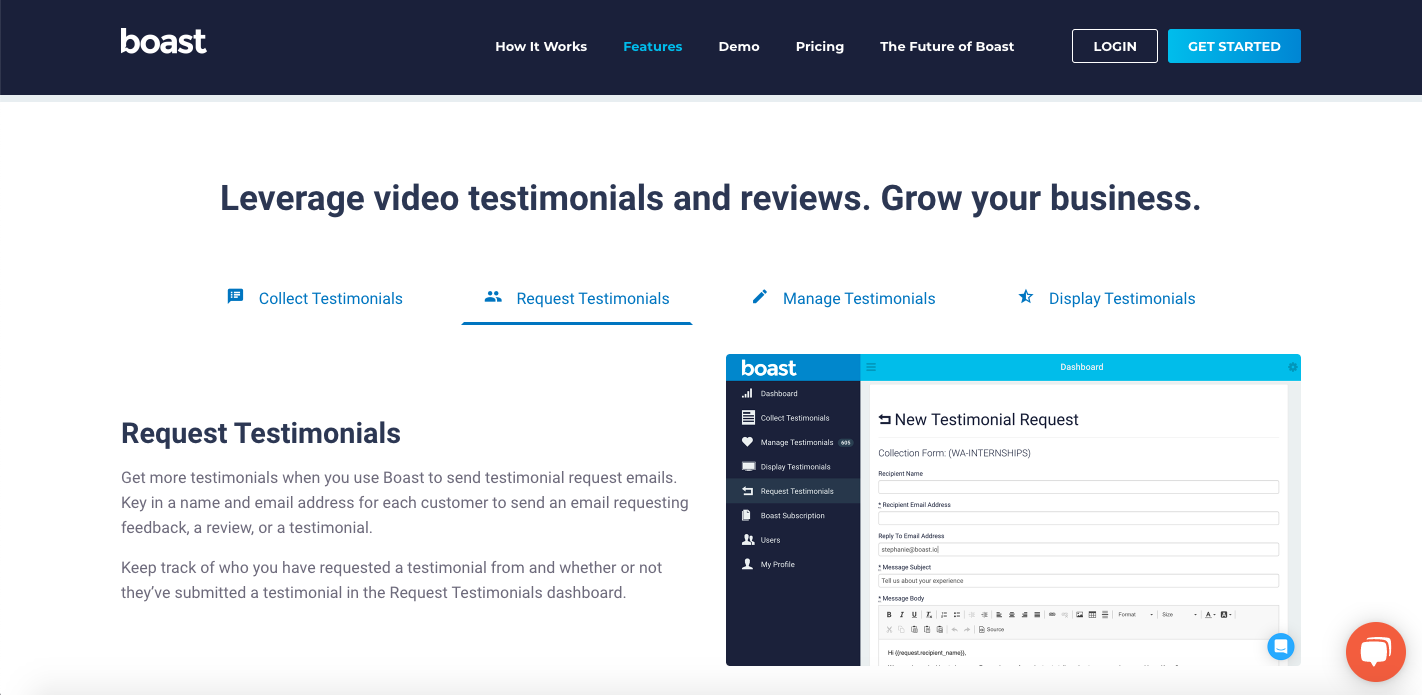 (Source: Boast)
At the end of the day, remember: one negative or even fake review is not the be-all-and-end-all for your business. So try not to lose sleep over the occasional bad review. If you've been going over your reviews and notice that one looks suspicious, you can ask the review website to remove it. Keep in mind too that the process will differ depending on the site, so be sure to look at their respective guidelines.
Finally, try to think of every review as an opportunity. Reviews, even negative ones, can be an opportunity to build trust between potential clients and your business. Negative ones can be a way to show your customers how you respond to any potential issues or concerns and can also give you customer insight into areas where you can improve, showing you how you can step up your game to gain a competitive advantage. 
Putting in the effort to gather customer reviews in a genuine way will help to build trust between your business and customer. Regardless of if it is a good or negative review, if you approach all reviews in a professional and strategic manner, you'll soon start seeing the positive impact they can have on your business. 
Looking to grow your e-commerce business? Reach out for a free 20-minute consultation and let's find a marketing strategy that you can implement today.
Get our Fraudulent Reviews_ What You Should Know delivered right to your inbox.