The Most Complete and Comprehensive Amazon Seller's Tool Guide
Whether you are a retailer who is expanding into the arena of Amazon, an entrepreneur with an existing product, an experienced Amazon seller scaling your business, or you are just getting started as an Amazon seller; there are tools currently available to get you launched like a pro.
And if you are already listing on Amazon, these tools will take your business to another level. The tools we will overview will optimize, automate and streamline every facet of your Amazon seller page.
In today's complex, competitive and crowded Amazon marketplace gaining a competitive advantage is much more than getting your product listed and then waiting for the orders to start rolling in.
Contrary to what many may say, to be successful on Amazon is not an easy task. At first glance, it appears to be a simple, easy and fast way to get products listed and sold. To be successful requires careful planning, precise execution, strategic decision making, persistence, and patience.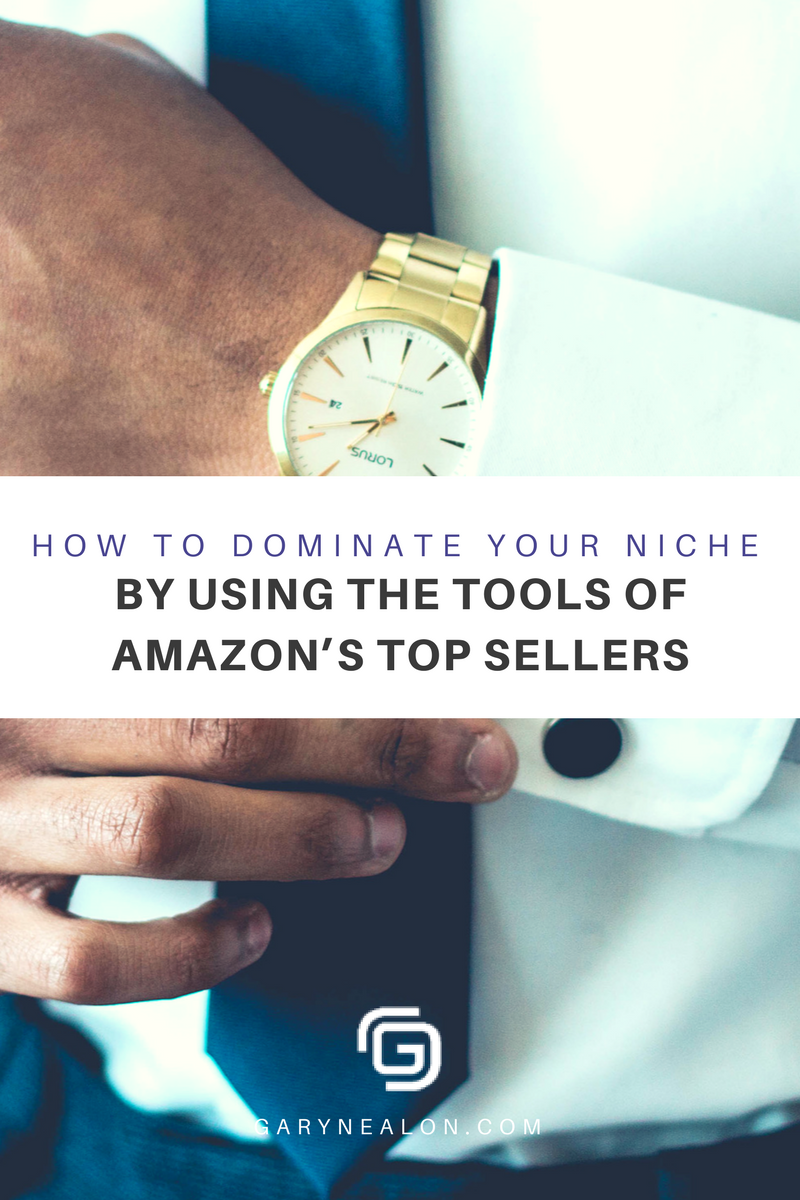 Depending on the loftiness of your dreams, goals, and ambitions without the proper tools in place you are going to increase the amount of time you spend on mundane and repetitive tasks and lower profits and productivity while your competition is using every angle they can to gain a competitive advantage.
When you align yourself with the proper tools and maximize the potential of the software, you are going to develop and accomplish the following Key Performance Indicators (KPI's) that are necessary for success on Amazon:
Increased Sales.
The increase in Profits.
Save time and improve Productivity.
Maximize ROI on ad spend.
Lower your ad spend
Advertise and promote efficiently across multiple platforms
Select and optimize your keywords.
Be able to locate and determine best products in particular niches to sell.
Manage inventory, sales, and orders efficiently and with more precision.
Quickly get paid and refunded for damaged or returned items.
Monitor reviews and respond to them quickly and efficiently.
Maximize the amount of automation that is available to optimize your product listings.
As a quick benchmark of your knowledge of selling on the Amazon platform, if any of this information is foreign or unfamiliar to you then this is the perfect indicator that you need these tools and secondly, you are now aware of some of the complexities that are involved in being a successful seller on Amazon.
The audience and reach of Amazon is massive and can be overwhelming. The competition is fierce, and the one's that are succeeding and rising above the pack are the ones that purchase and implement the tools that are available to them through relevant software tools.
Almost every platform has been created as a result of an experienced Amazon seller looking to make their Amazon store more productive and profitable and because the marketplace did not have these tools available.
When these software platforms get implemented into your business, you will begin to see immediate results and will be on your way to positioning yourself as a top retailer in a competitive and crowded marketplace.
These are tools that every Amazon seller should have to automate, assist and equip their business for profitability. So as not to show favorability or endorsement of any of the tools we have listed the software tools in alphabetical order.
Maximize Amazon Profits
Jacob Heinz is the founder and CEO of Amzsuite. This program is designed to help you maximize your Amazon profits and includes three tools designed specifically to help you accomplish this. Below is a detailed description of the three tools and how they can help your business.
Every Time a customer initiates a refund request, Refund Rescuer will log and track this refund for 45 days. It automates the reconciliation of your refund and makes sure the person has returned the product and Amazon has credited you for that product. If Amazon does not return the money to you, Refund Rescuer will automatically open a case for you.
If you have been selling for a while, the program will go back 365 days to see if any refunds are due to you. It is important to note that you will not want to open more than 3 cases at a particular time. If you do submit more, you run the risk of Amazon bundling and escalating these cases. Refund Rescuer maximizes the number of reimbursements, with minimal headaches from Amazon.
Once you find that you have damaged inventory an 11-day timer is triggered to make sure that Amazon reimburses you. If you are not reimbursed within this time frame, the program will file a case on your behalf to ensure you are reimbursed. This suite will monitor the inventory that you have on Amazon. 1.50 base on a per unit. if they get you reimbursed for a damaged product. "One-offs" you get a $50 credit to begin.
This suite continuously monitors your customer reviews. If the software sees a neutral or negative review, it will automatically file a ticket to contest the review and have it removed or reversed.
Final Thoughts
The only two things that are required by you are to give Amzsuite limited use of your seller account, and you will be charged a flat rate fee for each reimbursement they get for you regardless of the amount of the refund. The question you need to ask yourself is, "How much time will be saved by automating refunds and reimbursements as well as disputing negative reviews?"

Marketing funnels made easy
Founded by Russell Brunson is an all in one marketing funnel that has been purchased by over 10,000 customers to date. On their promo video they say, "If you want customers, you need a funnel."
There are multiple types of funnels that you can create to drive traffic to your website, sellers site on Amazon or a personalized landing page to get someone to opt-in to your list. Below are a few of the funnels that have been designed by Clickfunnels that may be beneficial for your Amazon business
Fishbowl Funnel – for targeting local businesses and markets.
Best-Selling Book Funnel – to promote a book or e-book associated with your product.
Product Launch Funnel – When you are ready to launch your next product.
Perfect Webinar Funnel – If you decide to do an educational class on your product.
The "Real Stuff" Funnel – Perfect for the Amazon, product seller.
In addition to these specific funnels, you also get these features that will help to build your list and ultimately get your more customers.
You can select from multiple templates, or you can create your template to work from.
No coding required. Easy to use editor, so you don't need to be a programmer to use.
Easily and quickly move elements of each page to where you want them located in real time.
Training videos to get you started and training videos embedded in each funnel type.
The building blocks of each page are divided into sections and elements. The program is intuitive, so once you start creating a page, you will see it is user-friendly.
You can implement a payment processor.
Clickfunnels works directly with the following CRMs: Backpack CRM, Infusionsoft, and Clickbank.
Track individual funnel performance and click thru and conversions.
Ability to split test funnels to optimize performance.
Insert countdown timer to create urgency and scarcity.
Actionetics – email tools to help handle your email marketing, text marketing, and direct mail campaigns. See a list of people who have opted-in and build autoresponder campaigns and other campaigns with this tool. (part of premium plan)
Backpack is a complete affiliate program within Clickfunnels that can help to promote your product via other people's websites. (part of premium plan)
Mobile Responsive.
Final Thoughts
If you are looking to gain more customers at some point, you are going to want to set up a sales funnel or many funnels depending on the particular outcome you are looking for. You can try out Clickfunnels for 14 days on a free trial. The question you can ask yourself is, "How many more customers can you gain and how much profit will those customers bring by having a state of the art marketing funnel?"

Easily manage all your online sales in one place.
Datafeed Automation is a Philadelphia-based software solutions company, This program provides a central control system to help you sync and optimize your inventory, orders, and sales. This software is a complete and easy-to-use solution that helps you to sell more and to sell it faster.
Whether your business has one product or thousands, you will be able to track orders, manage inventory and optimize product listings from one user-friendly dashboard. Use this platform to save time and increase productivity with a focus on increasing sales and maximizing profit margin.
With Datafeed Automation, Amazon Sellers can:
Create and submit new listings with headlines, photos and product descriptions.
Add, delete, or modify products already in inventory.
Import bulk CSV files.
Ship new orders.
Track orders after they ship and review processed orders.
Get analytics for KPI's such as unique visitors, marketing campaigns, competitive analysis.
Edit Inventory quantities.
Manage everything from a user-friendly easy to use dashboard.
Add additional marketplaces quickly and easily.
See all your inventory data in one location in real time.
Final Thoughts
Datafeed Automation seamlessly guides you through an easy to follow onboarding process. In addition to getting up and running quickly, you will also be able to integrate with other platforms such as Shopify, Bigcommerce, eBay, Houzz, Volusion and other shopping engines from one location. The question to ask yourself is, "How valuable is it to be able to track ALL MY inventory, sales and orders all from one central location?"

World's largest social media platform
The co-founder, CEO and Chairman of the Board at Facebook is Mark Zuckerberg. Today Facebook is the largest and most dominant social media platform in the world with over 1 billion active daily users. The incredible thing about Facebook is that when you know exactly who your audience is, you have the tools available to "laser-target" who you want to advertise to and retarget them as well.
If you are just getting started, you can also target specific demographics and see what type of response you get and then continually change the parameters of your campaigns to optimize the campaigns and get maximum conversions.
Inside Amazon, PPC is the driving force, but you also want to get external traffic targeted to your listing. Because of the complexity and vastness of Facebook, we could dedicate an entire blog on how to implement, target and execute a Facebook ad campaigns. Instead, we will give you some nuggets that show the benefit of advertising and promoting on Facebook that will spark your creative genius to inspire you to pursue an ad campaign.
You can use FB advertising to build a list and then direct them to your Amazon listing.
Audience Insights is a free tool offered to you by FB that gives you the ability to get incredibly granular with your targeting.
The majority of your effort in FB ad campaigns is in researching your audience and coming up with a list of popular competitors and groups where your avatar is and then targeting your ad to that audience.
Facebook advertising helps you to build our external email list. (Amazon does not give you the email addresses of people who purchase from you.)
If you are promoting your Amazon URL, you will not be able to use the FB Pixel.
Retarget your audience using a FB Pixel to an intermediate landing page to capture email addresses and get them to click thru to your Amazon page.
Share your listing on your FB fan page or personal timeline. (in your product listing there is a share button, and it will automatically post to your timeline or business page.)
Final Thoughts
Facebook is the largest social media platform in the world and continues to grow. Your target audience is on this site daily. If you can grab their attention through an effective ad campaign, you will increase your number of customers. The buying question you need to ask yourself is, "How big of an audience can I target in on to promote my product with an effective Facebook ad campaign?"

Amazon Seller Analytic Software
Ryan Bredemeyer is the co-founder and co-owner of Hello Profit. This software takes information from the API's that Amazon gives the end user and puts it into useable data.
With this program, you have one dashboard to track how much money you are spending and how much money you are making. It is kind of like having an automated virtual assistant to give you real-time data to track and monitor your products and how and when they are selling. In addition to that, you will be able to accomplish the following tasks.
Ideal if you have more than one product, more than one ASIN, or variations.
Track up to 30 keywords per product.
See where you are earning a profit and where you are losing money.
Helps you find new products efficiently.
Know exactly what your margins are for each product.
All the costs are calculated into the net profit calculation, from shipping to FBA fees, storage fees, and ad spend. etc.
Easily access data for accounting purposes.
Track your net profit per day, week, month or a customized date range.
Get BSR and Keyword rankings on an hourly basis.
Quickly switch back and forth between multiple merchant accounts.
Product Genie
Gives you the ability to find additional products using keywords and other advanced queries such as price range, average rank, reviews, etc. It also gives you relevant data on your competitors as well. Soon, this tool will also be able to let you know what keywords your competition is using to rank.
Final Thoughts
Often business owners will be concerned and focused on the number of sales and gross revenues. It is a great indicator of success but to truly be successful you need to make sure you aren't losing money on each sale. With HelloProfit you can now monitor each product to assure you are not operating at a loss. The question you need to ask yourself, "How important are net profits to your business?"

Suite of tools that aid the Amazon Seller
Manny Coates is the founder and CEO of Helium 10. He is also the host of one of the top Amazon seller podcasts AM/PM Podcast which shares tactics and strategies of 6,7 and 8 figure Amazon sellers each week.
Manny has been involved in online marketing for almost two decades and has taken the wealth of knowledge and understanding he has accumulated and created this software bundle with ten tools that will help any Amazon seller regardless of the current size of their business.
In Manny's first full year of being on Amazon, he was able to generate $1.6 million in revenue.
Below are the suites within Helium 10 which will help you to save time, increase productivity and optimize your listings.
Magnet: Gives you keywords that you can use in your listing.
Frankenstein: Keyword processing tool for Amazon sellers.
5K Checker: See your listing the way Amazon indexes your keywords. You can see both backend and front end keywords. This is important because if your keywords are not indexed, you are not going to be seen by potential buyers.
Trendster: Let's you know if a product is seasonal.
Misspellinator: Corrects spelling on your listing that Amazon does not autocorrect.
Scribbles: Listing optimizing tool. Edit your old listings to maximize keywords.
Brandgate checker: This suite checks to see if you have been autogated by Amazon.

Keyword

tracker: Shows all keywords and shows you how you are doing in keyword rankings by trends and rank change. You can see whether you are moving up or down in the rankings.
Highjacker: Alerts you when someone is sniping, prevents people from snagging your buy box.
Refund Genie: Is the newest suite in this powerful software program. So new in fact that it is not even mentioned on their website yet. Amazon is so large that occasionally your products will be lost, or damaged at their warehouse. In two clicks you will find out Amazon should potentially reimburse you. And also how much they have reimbursed you.(P.S. don't submit more than 5 cases at one time.)
One nice feature about Helium 10 is that they openly state that they are continually developing new tools to help the Amazon seller. This is good to hear because as you grow and scale your business and as Amazon continues to add new features and evolve you can be assured that at some point if needed Helium 10 will come out with a software tool that will assist in productivity.
Manny Coats announced on a recent Podcast that the cost each month for this software suite is $97 per month. You will want to sign up for the 2-week trial to get additional pricing information.
Final Thoughts
This software is unique and valuable because it was created by an individual who has been in the online marketplace for years and then successfully transitioned to Amazon and generated over seven figures of revenue in his first year while simultaneously creating software tools to simplify and automate his business.
The question to ask yourself, "If this product helps an individual that has done over seven figures in revenue in his first year on Amazon, how much will it help me?"

Find profitable items to sell on Amazon
Greg Mercer is the CEO and founder of Jungle Scout, one of the most popular software tools on Amazon. This program is for people that want to import products and private label them through Amazon's FBA program. In it's most simple definition, this software program helps you to identify profitable products to list online.
It also shows you which products would be the wrong products to sell, because they would be unprofitable and because there is not a significant size audience interested in that particular audience.
Jungle Scout has both a web application site and a Chrome Browser Extension to assist in this process. The web app identifies products that have potential, and the Chrome Browser Extension analyzes each of your selected products.
When you go to a product page on Amazon and choose a product a separate browser will open up, and you will see about 15 products. From there, you can now view the following data:
Product name
Brand
Price
Category
Rank
Estimated Sales (monthly)
Estimated Revenues
Number of Reviews
Rating
BB Seller – Merchant, AMZ, FBA
In addition to this feature, the program also has the following suites to further assist in selecting profitable products to list
The Product Database
JS has recreated Amazon's catalog down to the categories, filters, size tier and fulfillment type and you can either include or exclude keywords. For example, you could look for a product that has high demand but weak ratings. By selecting a product that fits these parameters you could select this product and provide stellar service and performance.
The Product Tracker
There are two methods for adding products to your product tracker you can either add the URL or enter in the ASINS, which stands for Amazon Standard Identification Numbers. It begins tracking on the date that you create it and it takes 48 hours to accumulate data. Once you have several products in a category, you can start to use the data.You can create categories to sort out different niches you may be interested in.
Niche Hunter
Is the tool to help you find the right product in the right niche based off of several factors that JS has found to be the most beneficial. In this suite you will be able to determine what product is the best for you based on the following criteria:
Average demand – how many sales you can expect to get on a monthly basis based on the sales of the top 10 products in that niche.
Average price – is the average price of the top 10 sellers.
Opportunity score – is a combination of the demand, competition and listing quality. Helps in determining what products would be right to sell.
Competition – An in-house algorithm to differentiate between high competition products and low competition products. One of the indicators used to calculate this score is the customer reviews.
Listing quality – Calculates the quality of a listing based off of several factors including title, keywords, photo's, etc.
And you will also see the averages for the number of sales, sales, price and number of reviews. With the Pro Version, you can add additional columns such as FBA fee, tier, the number of sellers, item length, width, height and weight and net.
Final Thoughts
This program saves you time when you are researching products. You can also get estimated sales volume, although this will never be a 100% accurate number, Jungle Scouts algorithm is very complex and thorough, it will give you realistic stats to make decisions by.
Overall you will be able to easily find items that fit the criteria you are looking for, and you will know that there is a demand for the item you are considering to list on Amazon. The question you need to ask yourself is, "How many products that are in demand and how many can be sold at a profit can I sell?"

Landing pages designed to get users to take action
If you are looking to supercharge your list and get people to opt-in, then Leadpages is perhaps the most comprehensive landing and squeeze page software platform available. Clay Collins, the CEO is taking aggressive action to make LeadPages a leader in the industry, by purchasing additional platforms to incorporate into LeadPages to make it an comprehensive marketing platform.
In the last year, LeadPages has acquired Drip.co, an email automation provider and Center.io, an online marketing command center designed to coordinate your marketing campaigns which utilize multiple marketing software tools.
In addition to these newly added tools which are fully integrated with Leadpages, you also get the powerful features that have made LeadPages a leader in the marketplace with over 46,000 customers to date according to their company timeline.
100's of ready-made templates – templates can be sorted by highest converting. It should also be known that some of the templates are available for an additional charge. Every template that is provided to you has been tested for conversion.
LeadLinks™ – A two-step opt-in process that has a proven higher conversion rate.
LeadBoxes™ – you can place lead boxes on your site for people to sign up for special offers like ebooks, webinars, promotional notifications and other email lists.
LeadDigits™ – Gives you the ability to get people to opt in by texting a keyword to a specific number, once they do they are prompted to reply with just an email address.
Always mobile responsive
Integrates with multiple email platforms.
No coding required
Designed for conversion
Ability to edit all of the text and most of the colors,
You can easily upload images and logos with just a few clicks.
Drag and drop customization – Create your customized lead page. Popular if you have a branded site and want to duplicate the design and layout for your landing pages.
A landing page can be set up very quickly.
Add pages to any site.
A/B testing and analytics.
Works with multiple marketing platforms
Final Thoughts
The primary thing to consider whether or not to purchase LeadPages, is you have the option to select a high converting lead template by simply dropping and dragging and entering text in just minutes. Once you have it in place, you can utilize the actionable analytics to track the success.
This is a must have tool if you are serious about building your list and your audience. Question to ask yourself, "Would I see an ROI if I invested in a tool that would enhance my ability to build a larger list of interested and engaged consumers?"

Learn what people are searching for on Amazon
MerchantWords was founded by George Lawrence and gives you an estimate of how many people are searching for a keyword each month on Amazon. By utilizing this software tool, you will be able to:
See keyword results from real Amazon searches.
View what the Amazon search Volume is for specific keywords and also see results for keyword variations.
Keyword data and Insight to enhance your current listing or help you select a new product.
You don't have to invest you can get five free words per day.
MerchantWords will give you an understanding of what Amazon buyers are looking for on Amazon. By knowing the popular searches, you will be able to utilize additional data to determine how relevant these keywords are to the success of your product or new products you are considering. The question you need to ask yourself is, "How valuable is it to know what buyers are shopping for and what keywords they are using to find those products?

Get more Positive Reviews with automated email campaigns
Chris Guthrie a private label seller himself and is the founder of Salesbacker. Built initially for the private labeler. This program allows you to set it and forget it email campaigns that are ready made and will go out in sequence based on what you want to accomplish. Now you can finally automate your process for getting feedbacks and reviews. This software currently has three campaigns to help you get more product reviews and seller feedback.
Review Maximizer Campaign – A three email sequence campaign designed to get you more product reviews.
Feedback Maximizer Campaign – Designed to get you more seller feedback.
Review and Feedback Combo Campaign – Accomplishes both product reviews and seller feedback.
This software also gives you the option to create your campaigns from scratch to announce new product listings, upsells, promotions and other announcements to keep your customers engaged.
Other features that will assist you include
Track your BSR.
Runs on autopilot.
Does the follow-up for you.
View product reviews and comments.
An autoresponder within the TOS of Amazon.
Alerts for when you get negative product reviews or complaints
Connects to your Amazon seller account and gives you the ability to email through your Amazon seller account.
Can also include email attachments in your campaigns.
Customized message triggers – select when you want your emails to go out.
Conversion Ratios – Review conversion and Feedback Conversion
Final Thoughts
This software fully integrates with your Amazon Seller account so that you can engage with your customers, all within the terms of service of Amazon.
By taking advantage of the tools available you are encouraging positive reviews and also strengthening your product listing by having more reviews and keeping your customers engaged for future upsells, announcements and promotions. The question you need to ask yourself is, "Can you put a pricetag on the value of having customers that are engaged with my brand on Amazon?"

Software tool that tracks vital Amazon stats
Franz Jordan is the CEO and founder. Sellics unique selling proposition is that it integrates everything from your Amazon Seller's page and is a one stop shop for all your Amazon Analytics needs. Their claim is that you don't require any other programs to monitor your product listings and sales.
The main page of Sellics is called the cockpit. It is the page that it's users go to every day to get a birdseye view of what is happening in their Amazon seller account for all of their products. While viewing the Cockpit, you will see the following widgets:
Sales and Profits – Number of sales for the last 30 days and the profit achieved (less PPC spend).
Performance Table- shows: sales, margins, profits, units/orders and promos
Reviews – be able to see how many reviews you have received over a specified time frame.
Keyword Ranking Index – Summarizes the rankings of all your products in your account.
PPC – Shows you the ad spend and the clicks
Product Listing – list of all the products you have listed on Amazon which shows the sales trend, sales, revenue share, and sales rank.
By clicking each widget, you can view a more detailed explanation of the statistics being shown.
Profits Dashboard
Get real-time profits and updates throughout the day on organic and ppc sales for your whole account or break it down to individual products. You can also view the costs breakdown. Data is updated every five minutes.
PPC Manager
90% of their users are using sponsored products to advertise their products on Amazon. Allows you to manage and optimize your PPC campaign.
This widget breaks down all of the key metrics of a campaign to include, sales from PPC, ad spend, advertising costs of sales as a percentage, cost per click, impressions, click-thru rate, clicks and the conversion rate. A trends chart gives you the ability to compare metrics against each other. This dashboard also includes all the metrics from individual campaigns.
Reviews Widget
Gives you the ability to see the reviews as they appear on Amazon with their exact wording.
Performance Tab
This connects directly to the Seller page and Includes "Sessions" and "conversion rates" and see how they develop over time. You can also view them on a product level. You can also cross reference keyword ranking to see how it affects sessions.
This platform also includes:
Inventory Management feature – Will calculate when to reorder new products based on previous selling metrics.
Spy Feature – track the sales of every product on Amazon so you can see what competitors are doing or determine if a product is one that you would like to list.
Product Research – Shows you the top 5,000 selling products in each category.
Final Thoughts
Sellics makes available all relev ant data and metrics under one platform, and you can view it on a user-friendly dashboard. You can also dive deeper into the data to gain further insight on Key Performance Indicators.
They also offer live chat support during specified hours so that if you need help or have questions, someone is available to assist at almost any time. The question you need to ask, "How much time can I save by having all of my Key Performance Indicators and Amazon Analytics under one roof?"

Podcast for Amazon Sellers
When it comes to all things Amazon, one of the most popular Podcasts to stay current with what is happening on Amazon is the Amazing Seller Podcast. It is hosted by Scott Voelker, a successful Amazon Seller. Scott is also an Amazon coach and consultant with an aggressive goal of helping 500 Amazon Seller's achieve at least $1,000 a month in income. This podcast has over 360 episodes and has been going since 2015.
If you are new to selling FBA-private label products on Amazon, by listening to the podcasts you will gain valuable knowledge, insight and techniques that will optimize your seller account, increase your sales and your profitability.
Below are ten things you can expect when you regularly tune into the podcasts:
Frequent Q&A podcasts to answer those hard to answer questions that arise as you build your business.
Opportunity to win free 30-minute coaching calls with Scott; one on one interaction with an Amazon expert.
How to launch your product(s) correctly and recoup your costs quickly.
Selecting vendors and working with foreign suppliers.
Weekly Interviews with 6 and 7 figure Amazon sellers. Get valuable insight into what they do to have continued success.
Scott is a frequent and popular speaker at industry events dedicated to Amazon Sellers.
Podcasts that will share valuable information on the business side of being an Amazon Seller.
Website provides written transcripts and links to sites that are mentioned during the broadcasts.
Marketing your business – everything from email marketing to PPC and product listings that get buyer's attention and everything in between.
Scott's desire is always to be learning and then implementing and then teaching what he learns to others. He is a seller that teaches sellers.
Final Thoughts
Every time there is a Podcast you will want to tune in and take notes because every episode will give you value information, insight, and techniques that are working and not working right now with Amazon.
Your dedication to listening to this podcast will cause your business to grow, and you will sharpen your skills as an Amazon Seller. "How valuable is it to the success of my business to hear wisdom, tactics, and techniques from the top sellers and teachers that have their Amazon seller accounts?"

All-in-one Social Media image sharing tool
Viral Content Systems is the tool that will give you the ability to save time and effort by automating all of your image and photo sharing. You will now be able to upload one photo and share it simultaneously across multiple social media platforms.
By having Viral Content Systems as part of your marketing arsenal, you will save countless hours by being able to broadcast, promote and announce your brand, your products, and special announcements across numerous social media platforms with just a few clicks.
It is as easy as 1,2,3:
Upload your image(s) to Viral Content System.
Select the social media channels you want to share your images on.
Instantly publish or schedule your post and get instant exposure on multiple channels.
Imagine having the ability to get photo's and information out to your audience on every platform you have available to you in just a few clicks. In addition to being able to broadcast smoothly and efficiently, this platform will also give you valuable and pertinent feedback to see which platforms are getting the highest engagements and click thrus.
The analytics you desire and need to have to measure performance are right at your fingertips on the easy to use dashboard. Based on the analytics you receive you can schedule your posts at specific times to maximize the number of views and engagements.
This platform is ideal for an Amazon seller who wants to show their products to everyone outside and lead them on a buyer's journey to your seller's page and make a purchase.
Final Thoughts
This platform is the most fluid, simple to use image sharing software available for businesses today. With the popularity of social media platforms growing at exponential rates, your consistent presence on them will assure that you continually build your brand and expand the reach of your audience so that you can funnel buyers to your Amazon Page. Question to ask yourself, "If I post images of my products on social media, how much more market share can I achieve?"

Automated Email Platform
Wavereview was founded by Geordie Wardman an online entrepreneur and programmer who has run successful e-commerce sites and still develops software to strengthen hotel reputation. His software touts that it will give you a 10x Increase in product reviews and seller feedback which will result in more sales and higher profits.
Seller's will like this program because it will automatically send thank you emails from your email platform to them and not Amazon's email platform. Below is what you can expect when you purchase and implement Wavereview into your overall strategy.
Thank you emails sent include a short survey which is designed to solicit a high conversion rate and entice the customer to leave a positive review.
Easy to sync with your Amazon Seller Account.
Customized HTML email templates.
Send bulk emails or SMS to your entire customer base or targeted campaigns such as buyers on specific products.
Customers can easily leave reviews because emails will provide links that will take them directly to a product page. All this in just a couple of clicks.
Software monitors open rates and will resends if the customer did not open it.
They do not charge by emails sent, just a monthly subscription fee.
Enter ASIN's to track and monitor your products reviews and feedback.
HTML editor allows you to create custom templates quickly or to edit pre-made templates.
Real-time reports to track open rates, click thrus, and see historical trends, etc.
This program will assist you in keeping your customers engaged with your brand and will let them know when to reorder or when special promotions are available.
Final Thoughts
One of the most powerful tools on Amazon is positive organic reviews. This platform will increase reviews for you, automatically. And it is in 100% Amazon compliant, so you never have to worry about having a software platform that can put you at risk of being suspended or shut down. The question you need to ask yourself is, "If your customer's reviews play a vital role in the sale of your product, how crucial is it for them to say positive things about your product?"
Conclusion
The business of selling products on Amazon is competitive and complex. With the right tools that we mentioned, you can level the playing field and compete with anyone who has a product listed on Amazon.
If your desire is to have a business that is sustainable and profitable, then take advantage of the various free trials each software platform offers and see what type of results you receive. If you are new to Amazon or an experienced seller, the tools described will fit in somewhere to bring you more, sales, profits, reviews and success.