How important are good product descriptions? To an e-commerce store owner, they're everything.
Your product descriptions are not only important from an SEO perspective but when it comes to your conversion rates as well.
At the end of the day, product descriptions have to power both draw people in, and convert potential customers. On the flip side, a poorly written description will drive people away. If they get lost in lingo or unnecessary jargon, they'll click away –and fast.
Think that a good product description doesn't matter, or that you can just use a generic manufacturer's one? Here's a look at some solid reasons you'll want to invest in effective product descriptions, and start turning those on-the-fence prospects into customers.
The Importance of Good Product Descriptions
Believe it or not, your product listing is one of the single most important aspects of driving sales and building your e-commerce business.
When shopping in-person, we don't need these descriptive, eye-catching descriptions because we can easily see what we're buying, and how it works. But online, it's a different story. Since we can't smell, touch, feel what we're getting, we instead have to rely on images, video, and descriptions when making those purchasing decisions.
Accuracy matters as well. Buyers who believe the product description was inaccurate are much more likely to request a return. Overall, an estimated 5% of all e-commerce returns are because customers believe the item description is inaccurate.
Roughly 80% of Americans shop online multiple times annually, with activity accelerating during the holidays. When consumers shop online, they rely on product descriptions being accurate. Having inaccurate or misleading product descriptions not only leads to an increased prevalence of returns but also lost customers. When customers have a negative experience with a brand, they'll be less likely to buy products from the seller in the future and may even leave negative feedback.
The key lesson here is trust. If your descriptions are misleading or vague, then your customers won't be able to trust you in the future. You often see this with clothing retailers, who use one type of clothing on the models in the images, and often ship a product that's very different from the one that was featured on their site.
Accurate photographs of your product are important, but images are limited in describing qualities like size, color, and material. Photos can also appear somewhat distorted online, such as appearing to be a different color. Written descriptions are the best way to prevent an overreliance on images.
Great descriptions are what ultimately convince a customer to buy your product. So outline the particular qualities of your product, but don't stop there. Instead, put yourself in your customers' shoes. Try to think about how this particular product will benefit their life in some tangible way, solving a particular problem or addressing a specific need.
This doesn't have to be guesswork. To learn more about finding pain points that your product descriptions can address, take a look at my tutorial: Customer Pain Points and Reasons for Buying.
If you are selling electronics, product descriptions help your potential customer understand important details such as size, operating system, storage space, and compatibility. Clothing items also sell best when detailed descriptions are added.
Product descriptions are one of the most important factors consumers use when deciding whether to purchase a product and 87% of people believe a product description is an extremely important factor when buying items online. So there you have it!
With this in mind, here's a look at how you can combine informative details with engaging content to create engaging and effective product descriptions.
Write Product Descriptions That Sell
So we know product descriptions are important for any successful e-commerce business, but how can you create winning product descriptions for your e-commerce store?
Below are a few tips on how to create product descriptions that sell.
1. Identify Your Target Market
First up, identifying your target market is critical when it comes to writing effective product descriptions. The language you use should match the age group or demographics of your typical buyer. If your product typically is marketed towards a younger audience, make sure your description is engaging and uses common phrases that cater to young adults. Likewise, if your target market is older consumers, using terms like "on fleek" may annoy or lose you customers. Make sure that you use pop culture references appropriately; otherwise you can appear annoying or out of touch.
Selling items that might be best marketed as a gift? Especially around the holiday season, your descriptions could be tailored to help gift-buyers make purchasing decisions. Lego are experts at this. Since a great deal of their purchases likely come from parents buying for children, they've made it easy to buy. Not only do they have a handy feature that allows you to sort by interest and age, but they feature relevant product descriptions (again, tailored for the ones who are making the purchasing decisions). This helps to eliminate the hurdles to purchasing, helping to lead more prospects on through to conversion.
Lego lets parents search for gifts by age and interest, which makes the purchasing process far easier. Their product descriptions are short and to the point, making it easy for busy parents to make decisions without getting bogged down into lots of details.
Note: If you haven't yet done so, you'll want to identify your target audience, and create buyer personas. See: Creating an Avatar of Your Customer to get started.
2. Create Unique Product Descriptions
While copying product descriptions for your items may seem like a great way to save time, it's a bad idea. Failing to differentiate yourself from competitors makes it difficult to win the business of new customers or to separate your business from other sellers.
Another disadvantage of using copied product descriptions is that it can hurt your Google ranking. While using keywords is important, accurate and useful descriptions are the best way to attract customers. Duplicate content makes it difficult for your store or business to rank higher, since Google often penalizes websites that use duplicate content. So in most cases, you'll want to avoid copy and pasting the manufacturer's product descriptions.
The best way to craft a successful and winning product description is to put your customer's needs first by creating an easy to read and detailed description that sets your product apart from the competition.
3. Avoid Grammar and Spelling Mistakes
Spelling and grammar errors make you look sloppy and unprofessional. Typos cause customers to focus on your mistakes instead of the product or service you're trying to sell. The best way to avoid simple grammar and spelling mistakes is to double-check your description or by using a program like Grammarly before posting your product description.
4. Be Witty
While this isn't for everyone, if it's in keeping with your brand, then why not add some wit and humor in to help break down barriers and connect with your target audience?
No one does this better than Dollar Shave Club. Take a look at their descriptions below: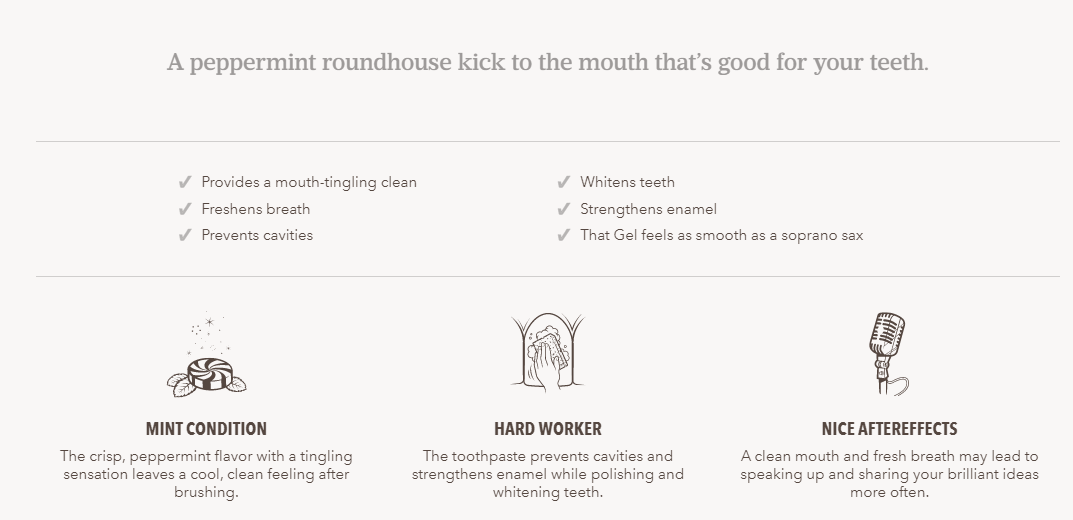 (Source: Dollar Shave Club)
If "funny yet helpful" is in keeping with your brand persona, then take a look at the Dollar Shave Club's product descriptions for inspiration. Whoever's creating these things isn't getting paid enough!
5. Choose the Right Words
How do your product descriptions make your visitors feel? Hopefully, like buying something!
Word choice is important. Using superlatives and captivating language grabs the reader's attention and encourages them to read more about your product. Including terms like patented or best-selling can help to imply to customers that their decision to purchase your product is smart. While focusing on those features that are especially relevant to your audience can give them what they need to click through with their purchases.
You'll also want to take a look at competitor listings and see what's being said, both positively and negatively about their products.
Tip: Copy the 1 and 2-star reviews, and 5 and 4-star reviews and paste them into a Word Doc. Then transfer them over to Tagcrowd.com. This will help you to quickly see if there are any keywords or buzzwords that stand out; both good and bad. You'll then be able to create product listings that target your audience's pain points, and addresses issues that they may be having with the competitor's products.
6. Create a Sense of Urgency
If you are listing an exclusive or limited product, make sure you add that to your product description. Having a limited or special item creates a sense of urgency and a fear of missing out. Many products have limited releases, especially around the holidays. Other times, products sell out quickly due to limited supply.
So, if you have a special product that flies off the shelf or is only available during certain seasons, mention it in your product description. Consumers are more likely to buy a product if they believe that it is in high demand or short supply.
Get our How to Grab Attention With Product Descriptions - Worksheet delivered right to your inbox.
7. Include SEO and Keywords
A great way to maximize your product descriptions is to include effective keywords and SEO-friendly terms. While it is unwise to saturate your description with keywords, adding search engine-optimized phrases and terms helps increase your products search ranking on e-commerce platforms like eBay and Amazon.
If you are unsure what the best SEO terms and keywords are for your product, review the top-selling products in your field and review their product descriptions. You will likely see similar phrases and keywords in those descriptions. Check out listings for similar or identical products from top sellers on your platform as well.
If you're serious about creating great product descriptions, you'll also want to take advantage of tools that are available today that can help. These tools can make short work of finding keywords and optimizing your listings.
Two good options include Helium 10 and Jungle Scout: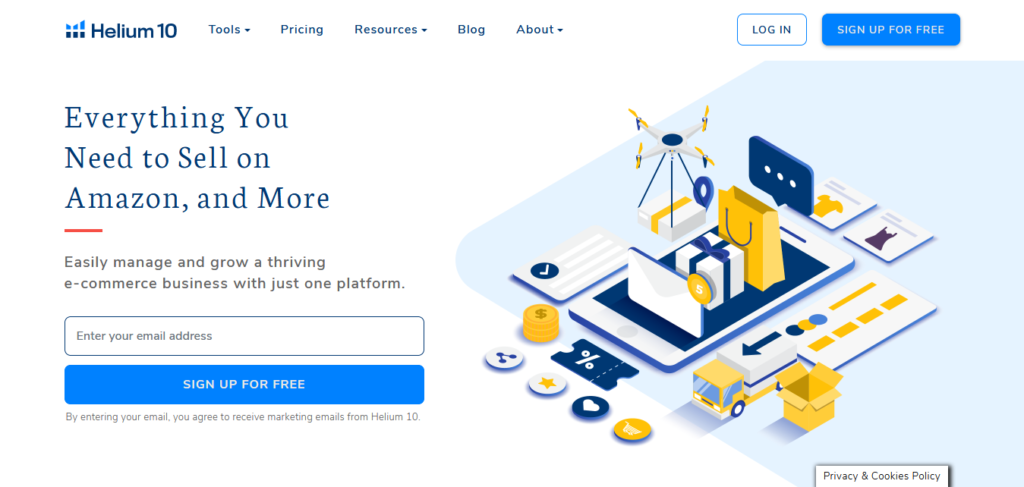 (Source: Helium 10)
Helium 10 is a powerful suite of tools that can help you to optimize your listings. Their keyword search tools give you a number of keyword search options including single-word and ASIN searches. You can source everything from low-competition phrases to backend keywords. Learn more. They also offer listing optimization tools, allowing you to hook your visitors with high-converting listings.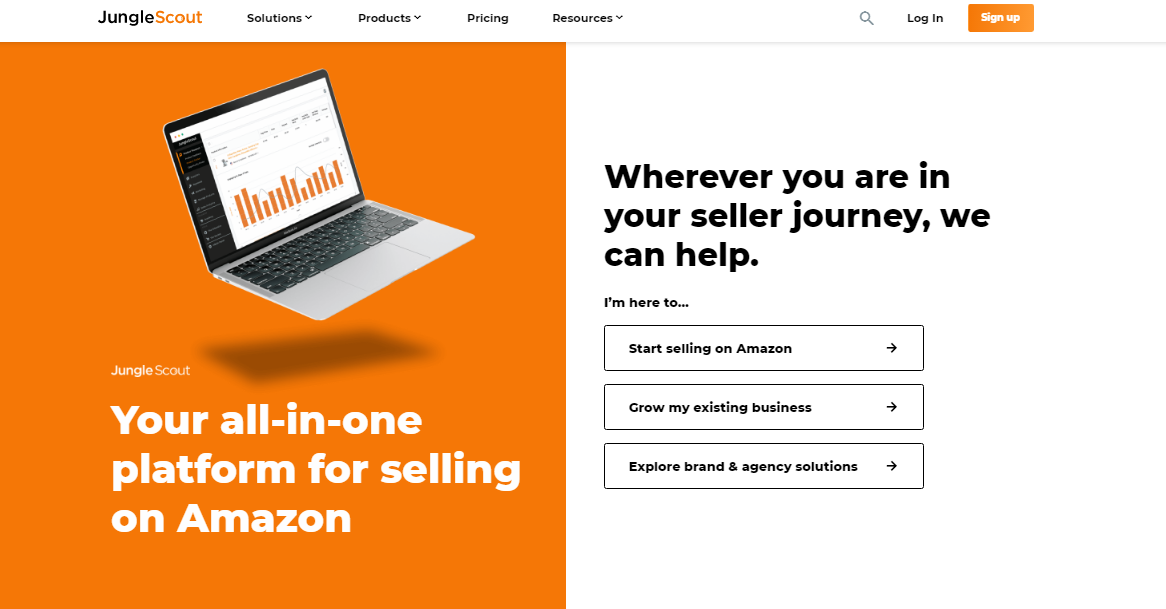 (Source: Jungle Scout)
Jungle Scout is one of the most popular software tools for Amazon sellers. From product research to product launch, there's a whole suite of tools to make selling on Amazon easy, and more profitable.
They also include a helpful tool, Keyword Scout, that allows you to use keywords or ASINs to discover what Amazon customers are searching for, allowing you to increase traffic to your product listings or improve PPC campaigns.
8. Use Great Pictures and Video
Your product images are likely the first thing potential buyers focus on when reviewing your product listing. Making sure your images are accurate and easy to see can be the defining factor as to whether consumers read your product description or click on your product listing. Making sure your image looks good means that you want to ensure that your product is in focus, has proper lighting, and shows multiple angles. Having multiple images is also important for helping visitors to envision how it would look in person.
Most product listings should have a few key images. This includes lifestyle images that showcase the product in action, close up images (if applicable), and even how-to images demonstrating how to use the product (if required). Other images include assembly instructions as well as testimonials converted into images, which can help to add credibility to your listing.
Of course, great video is another way to show your prospective customers exactly what they're getting. It's worth including a short video of your product in action when creating your product descriptions.
Examples of Great Product Descriptions
Creating a killer product description is an art mastered by many of the most successful online retailers. Below are three examples of companies who have maximized their product descriptions.
Take a look:
1. Fat Face
Clothing retailer Fat Face does a fantastic job of creating enticing product descriptions. Although the product description seems short, it nails the most important aspects and benefits of the product, almost like telling a story.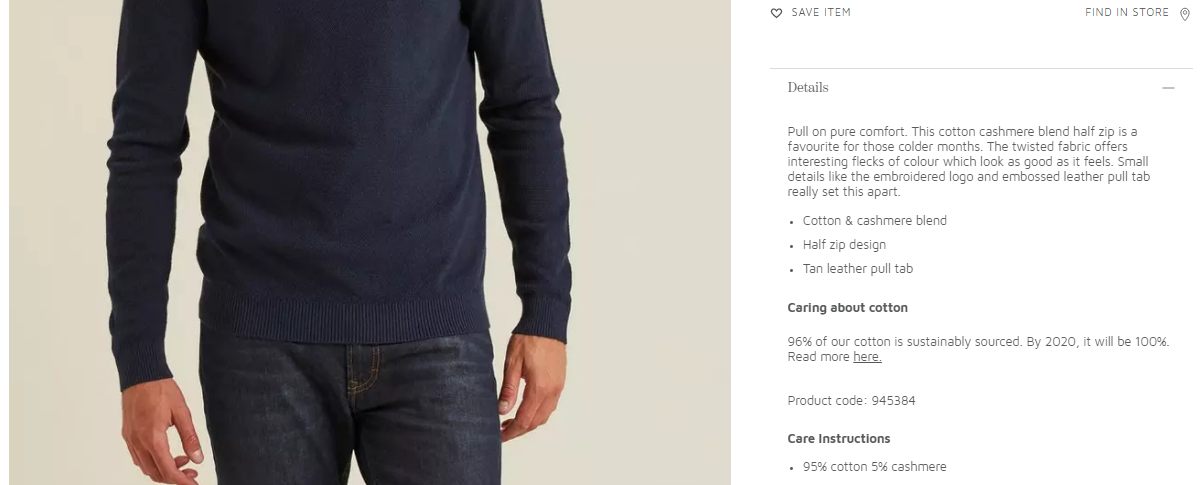 (Source: FatFace)
Instead of just describing the product, they use vivid imagery that show you how having this product will benefit your life, including phrases like: "Pull on pure comfort," "A favorite for colder months," this language helps you to envision exactly how you'll feel wearing it. This approach goes well with the rest of Fat Face's branding, as it helps to position them as not just another clothing retailer, but a lifestyle brand for outdoor enthusiasts.
The addition of shipping and return information, which is located on a drop-down tab, is not only useful, but is also done in a way that isn't distracting and doesn't take up too much room. It allows the reader to focus on the features and benefits of the product and have the option to learn more.
2. Amazon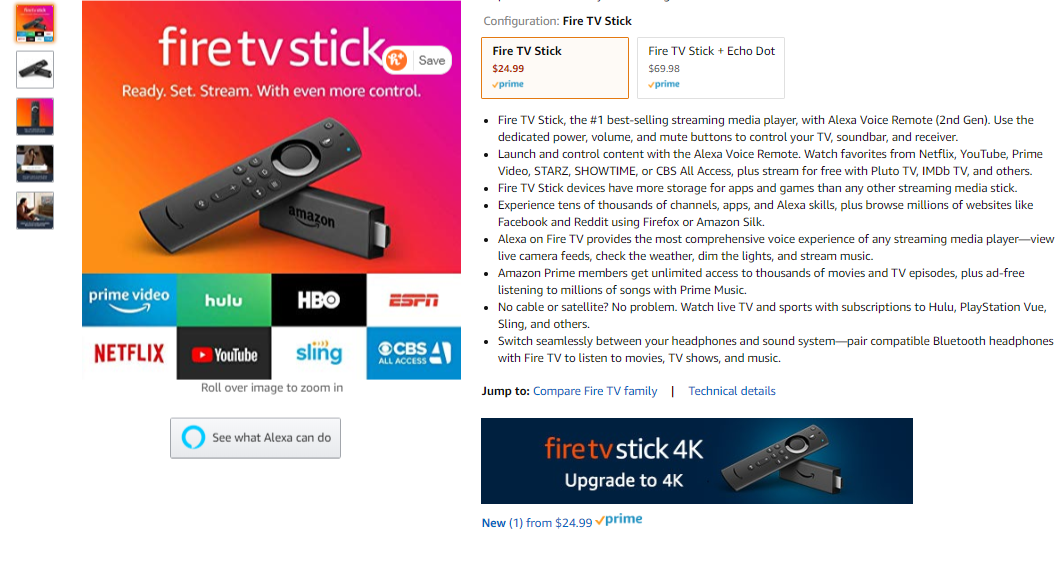 Amazon leads the way when it comes to eye-catching product descriptions. Not only are their products listed in an attention-grabbing way, but the descriptions focus on the things that matter most. The Fire Stick listing leads with the key fact that it is the best-selling streaming player, which helps people feel that they are making a smart decision by buying one. Amazon provides multiple images with neatly placed logos of popular streaming apps. This addition is a perfect way to appeal to their target market: cord-cutters who are swapping cable for streaming.
The images highlight the most used streaming apps, which encourages consumers to read more about the item. In the description, Amazon focuses on why the Fire Stick is better than other streaming devices by highlighting its storage capabilities and how it integrates with Amazon Prime. Adding that Amazon Prime members get free access to Prime Video helps Amazon demonstrate the unique benefits of its product without mentioning its competitors directly or attacking its competition.
Another great aspect of the product description is the box that allows readers to test out Alexa. Since Alexa is only used in Amazon products, it's a great way for Amazon to hook potential or new customers to not only their Fire Stick, but potentially other products that they offer.
3. Apple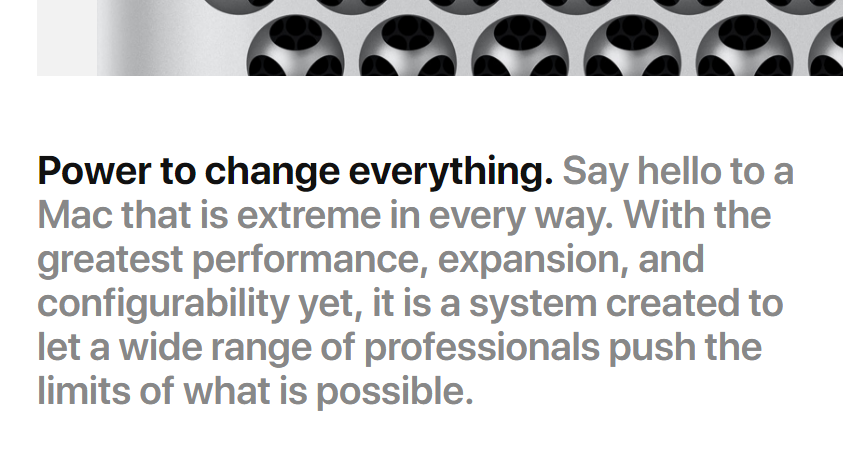 (Source: Apple)
Apple is another company that knows what they're doing when it comes to product descriptions. Their site is professional and easy to use, and they use words and imagery in a sleek, detailed, and informative description. They also send a not-so-subtle message that Macs are for professionals –and that by using one, you'll be able to go farther and do more than you'd be able to on a standard PC.
At the end of the day, your product descriptions are important, and it's crucial that you get this right. So make sure you're giving them the time and attention to detail that they require. And if you're busy, this is one job that can be outsourced to the pros, especially if you're an e-commerce shop that has hundreds of listings. Just make sure that you or someone you trust reviews every description before it goes live to ensure that it's a good fit for your brand, SEO-optimized to draw in relevant prospects, and of course, compelling enough to convince those uncertain prospects that yes, it's worth going through with their purchase.
Product descriptions are a crucial part of customer conversion. If you'd like more strategies to help you grow your business, reach out today for your FREE 20-minute consultation call. Let's find a solution that'll enable you to scale as efficiently as possible. Reach out today!
Get our How to Grab Attention With Product Descriptions - Worksheet delivered right to your inbox.