Nespresso's doing it. So is American Express, Swarovski, Nike, and Pepsi. Yep, I'm talking about influencer marketing—only one of the best, most popular ways to get the word out about your products or services.
There are a number of reasons many companies today, both large and small, are jumping on board the influencer bandwagon.
For one thing, influencer marketing is a great way to drum up interest in your brand or product; giving you immediate access to a wider audience. It's also a fast and easy way to gain instant credibility. For another, it also gives you a chance to connect with your target audience —allowing you to build brand loyalty, grow your following, and increase sales—all in one fell swoop. No wonder companies far and wide are jumping on board!
The world of online marketing is constantly growing and changing. As more business is being conducted online, social media is becoming the go-to strategy for getting the word out, and even for directing potential customers to your product or website. All of this has given way to a new marketing tactic: social media influencing.
Over the past decade, social media has evolved from simply a platform through which you can connect with friends and family to a great starting point for a new business, and an avenue to direct interested parties toward your product or website.
As a result, influencer marketing is now far more sophisticated than simply finding a social media celebrity and getting them to endorse your brand, product, or company. Influencers are social network 'natives' who are brilliant at generating attention via their social networks, and taking this approach can do wonders for your promotional campaign. 
In the last few years, influencer marketing strategy has moved far enough that there are plenty of statistics that suggest this can be a tremendously powerful strategy for most businesses today. In fact, 40% say that they've purchased an item online after seeing an influencer use it.  
Why does it work? Well, for any business today, it means standing out from the crowd, shouting loudly to maximize outreach, and working across all social media and linking to new audiences with a special buzz.
Naturally, there are risks with celebrity endorsements of every kind. Especially in sensitive markets such as those aimed at children, or in highly regulated industries like medical or pharmaceutical. Still, in most cases, there are plenty of reasons that using influencers would make sense for your business.
A new type of celebrity has emerged with the growth of social media. While they aren't necessarily movie stars or models, many influencers are wildly popular and influential within one or more social media platforms. These social network 'mini-celebrities' can have a truly spectacular effect on your brand recognition and sales.
Audiences love influencers, and the right audience can become a fleet of new customers overnight.
Influencer Campaign Successes
The first step to success is knowing your audience and what social media platform or platforms to reach them through. Some influencers work primarily on one platform, while others influence across many. The big three are usually Instagram, Twitter, and Facebook. But even YouTube and Snapchat are extremely useful depending on your target audience.
Once you've identified your target audience, it's time to find the right influencer for you. Many social media influencers that focus on marketing (especially those in your niche), can help you hone in on the specific platforms you should be using. 
Surprisingly, perhaps, influencer marketing can be applied to almost any business you can imagine.
That means you can design an influencer campaign around something that's even as seemingly bland as a car-parts business in the Midwest. If you can find your audience online, there will indeed be influencers in that niche—influencers keen to tell a story on your behalf. 
Good, well-told stories are the secret to influencer marketing. In fact, this is true for just about any type of marketing. Stories sell. Here are some successful influencer marketing cases to get your imagination going:
Automotive
Subaru has achieved record sales and revenue growth since 2016. Some claim it's because of their uncanny knack for influencer marketing.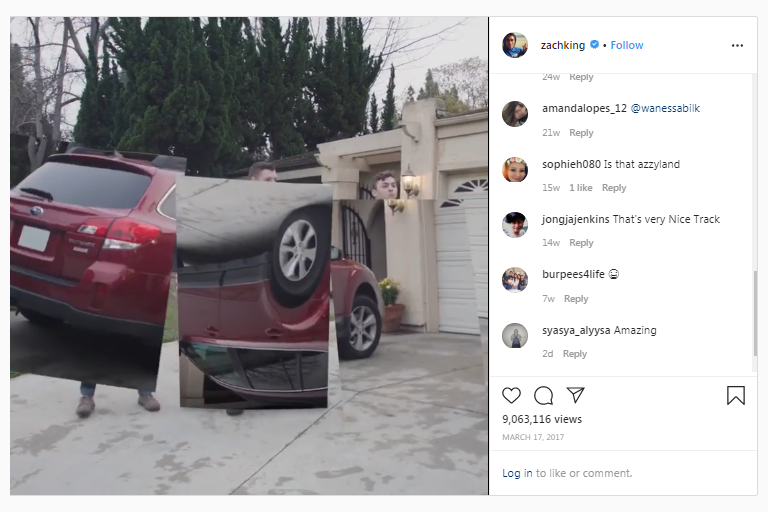 Their "Meet an Owner" campaign was a national brand-building program centered on a network of influencers ranging from professional athletes to adventure photographers. Each influencer was given a market segment such as fitness or art, and then was asked to create their own unique content around relating this demographic to a Subaru car.
For example, one influencer based their campaign around impressing a date. In doing so, they gained more than 8 million views on their subsequent social media posts. The success of these campaigns is measured in various other metrics as well, including likes or upvotes.
Technology and Digital
After the Samsung: Note 7 was released into the US market in 2016, and after the 'exploding device debacle,' the company reoriented its marketing around an influencer campaign. It commissioned the Snapchat artist "CyreneQ" to document the launch of the high-end mobile phone to her large base of subscribers.
Snapchat's 10-second video format engaged the audience during every step of the launch, highlighting key features of the phone. The company reported substantial results from its use of just this one influencer. 
Audible is an Amazon-owned audiobook and podcast service that offers monthly memberships. The company used influencers as a staple in their brand marketing, including micro-influencers. In short, an influencer tells their 10,000 followers how they use Audible—for learning, entertainment, and business; and the audience interaction with the influencer does the rest.
Social media audiences seem to react positively to a closer proximity to the influencer, as it generates trust between the user and the influencer, and thus, the product. This inherent trust is very hard to achieve in modern marketing, where so many consumers are detached from the product or market and simply buy based on price or big brand names. 
Food and Beverage
Fiji Water's influencer campaign is an Instagram legend. They piggy-backed off an already successful blog "We Wore What." Putting a twist on this already viral hashtag, #bodyworewhat related this popular sentiment to Fiji water and staying fit through short, health-positive videos. The point of the campaign was to endorse Fiji's commitment to 'exercise hydration' by employing a super-fit influencer. Results from the campaign were spectacular.
Naked Juice is a bottled smoothie looking to expand its niche into beauty, fashion, and health markets. The company used Instagram and a group of influencers and lifestyle bloggers to feature Instagram-friendly snapshots of their lives and beauty routines, alongside a strategically positioned Naked Juice in every shot.
Even something as simple as product placement can yield superb results thanks to the high-trust relationship between influencers and their thousands (or millions) of followers.
No write up on influencer marketing would be complete without a mention of Bang Energy. The energy drink company that's created an empire, largely through their use of influencers. Bang influencers share short videos of themselves enjoying Bang energy drinks –and their followers get a taste of Bang as well. 
Fashion
Sperry: Boat Shoes utilized a network of more than 100 micro-influencers using Instagram. Sperry identified existing fans of its shoes on Instagram and built them into a network of motivated product enthusiasts, each creating their own customized content and getting it out to their followers.
GAP produced their "Styld.by"  campaign using a few big social media personalities. The company encouraged each blogger to include GAP brand clothing in their daily lives and to document this trend. One special feature of the campaign encouraged audience interaction when wanting to take on a look by asking users to caption photos themselves. This was a massively successful campaign.
Cosmetics
Take a tip from Glossier. This New York Startup had huge success in 2017 with a viral influencer campaign that took off by using a network of bloggers and brand ambassadors along with micro-influencers—each with less individual reach, but able to spread the message more widely.
The company now gets a lot of its business through referrals and has made marketing around these influencers central to its marketing strategy, with influencer networks receiving incentives as sales grow inside their network.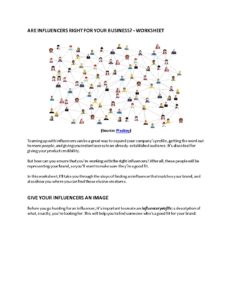 Get our Are Influencers Right for Your Business - Worksheet delivered right to your inbox.
Travel
Sun Peaks Resort is a ski resort in British Columbia. Their marketing agency wanted to increase awareness and sales, so they established links with well-known sports bloggers. It's already easy enough to sell winter holidays, but these bloggers made it exciting through use of their own stories, alongside fresh, personalized photography. 
Marriott Hotels has used influence marketing for some years now to build promotional interest in their rooms and service. Their influencer campaigns are connected to typical promotional events—holidays, celebrations, and other events. But by connecting a mundane product with new young influencers, the business found a boost in interest from these groups and their networks. 
Lifestyle and Home
Pottery Barn selected a single influencer—Holly Becker, who runs the Decor8 blog—to build a campaign around different ways her audience might use Pottery Barn products in their own homes. This simple and obvious influencer program was also promoted using incentives or giveaways, in which her audience won small prizes for posting their own ideas and contributions.
Diageo is a major distributor of alcoholic beverages. Its influencer-inspired campaign 'My Tales of Whiskey' used a single well-known blogger and celebrity, Nick Offerman, to run a 44-minute video presenting an evening of gentle drinking and merriment for the Christmas season. It won awards for how inspired it was as a piece of influencer marketing.
Casper is an e-commerce business that sells pets' mattresses. Not very exciting, you might think. At least until they combined influencers and animals with cute videos that their followers adored. Sales were amazing—as were long-term brand building numbers. On the back of such success, the business was able to launch whole new lines of inspired promotional items, all thanks to effective influencer marketing.
Tips for Finding the Right Social Media Influencers
So you can't afford to work with Clooney? No worries! The good news is there are plenty of other influencers that you can work with. No need to go after celebrities just yet.
Finding the right influencer is relatively easy. You can start by looking for social media influencers on your own social networks, or those relevant to your brand's niche. You could even browse competitors' social networks to see what's working for them and get some inspiration and ideas that you can use yourself. The point is to find social network groups and individuals on these networks who are engaged in your product category or the product itself.
Next, look for accounts with a high rate of engagement and a positive profile. 
In most cases, micro-influencers who have less than a few thousand followers are often a good investment. Remember, the effect of one great social media post can flow from a few thousand followers to their followers. Then to their followers. This exponential growth can happen overnight.
So it's generally better to find micro-influencers with high potential and a positive outlook, than big name bloggers with everything in place, including lawyers and hefty fees. That is, unless you have the budget and the necessity for a much wider initial outreach. 
A little research using the right tools goes a long way to finding engaged and engaging influencers. Below are some tips to help you get started. 
1. Know your customers
This means knowing their social media habits, their levels of engagement, their loyalty, and their alternatives when they shop in your niche. It means taking the time to identify your target audience, and knowing exactly what makes them tick. 
See also: Creating an avatar of your customer 
2. Know where to look
Next up, know where to look. Like I mentioned, you can browse through social media profiles and reach out to potential influencers yourself. Or, use social media monitoring tools, like Hootsuite, Mention, or Sprout's Simply Measured. These tools are useful for finding which accounts are using your name and the names of competitors, as well as those engaged with your product categories.
A great time-saver, and arguably the fastest, best way to locate influencers, is to go through a dedicated influencer platform.
A few great platforms include:
  For more places to find influencers, claim your FREE download today!
3. Look for an influencer who aligns with your brand's message
Your ideal influencer should share a target audience with you and appear to have some integrity or consistency in their posting.
4. Review their profiles
Look over their posts, searching for opportunities to leverage your own marketing, or build a campaign from their existing activity. It's just easier than starting from scratch.
5. Engage with them on a personal level or informal company level first
Their mentality is not always commercially driven unless they are already major influencers. They are most likely younger, working from home, and not always business-centric.
6. Set goals and boundaries for your campaign
Define your business metrics based on number of sponsored messages, audience, participation, new followers, etc. And know what your endgame is. This means defining contract length or campaign outcomes.
Can Your Business Benefit From a Social Media Influencer?
Absolutely! As long as you have a strategy in place and know what you're aiming to achieve with every influencer campaign, you will see a positive outcome.
If your goal is to expand your commercial reach and marketing impact social media is one of your strongest allies. It's about using the amazing energy of a new generation of online natives to see your product in a new way. However mundane your business, an influencer campaign can be fitted to meet clear business goals.
Just keep in mind that no two influencers are the same. Find one whose style and audience compliment your own. 
Some influencers like Logan Paul or Lilly Singh are entering the celebrity enclosure, taking on agents and making millions. Unless you have a nationwide brand, or even worldwide, and a big marketing budget, you're better off staying clear of top-tier influencers.
There is a balance to be found between one influencer in a market or several, between building a network of many influencers over time and a big one-off campaign. These decisions depend on your goals, deadlines, and budget. 
Where you're selling an everyday service or product is also important. In a well-recognized market with a younger consumer base, influencer marketing shines brightest. But it isn't just limited to these audiences. 
You will be trusting your influencer to protect your investment and refine your message. But if you paid your due diligence in finding an influencer that fits your needs, you should have nothing to worry about. 
Most of all, put incentives at all points of your agreement in order to assure good performance, and also to reduce negative impacts.
Lastly, enjoy the process! You might find you love your brand standing out across a world of social media and the excitement that comes from it.
So what are you waiting for? Start looking into various social media platforms and how they can help you convert users to customers!
Be sure to download your FREE worksheet. Start finding influencers today. Quickly and easily start benefiting from this valuable form of marketing. 
Are you ready to grow your company? Reach out today for your FREE consultation. Discover how you can eliminate any obstacles that are in your way.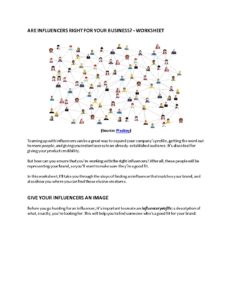 Get our Are Influencers Right for Your Business - Worksheet delivered right to your inbox.