Owning an e-commerce business means having access to a great deal of information that reveals how people behave on your site. You can see how much traffic your store gets, which items are the most viewed, where your viewers are located, and the number of abandoned carts, among many other things. 
However, if you want to scale your business, simply knowing these numbers isn't enough. You'll have to tie these metrics to your business goals. That's where Key Performance Indicators, or KPIs, come in. 
There are KPIs to measure sales, marketing, customer service, manufacturing, and overall retail store performance. Business owners can sometimes fall into the trap of over-analyzing mountains of data, including those that don't greatly impact the bottom line, also known as vanity metrics.
But you've got enough to do without wasting your time measuring things that won't make a difference. KPI can cut through the chaos and allow you to ensure that you're only tracking what matters.
Are you ready to select the best e-commerce KPIs for your online store? Let's dive in.
Guidelines for E-Commerce Key Performance Indicators and Metrics
You'll often encounter the terms metrics and key performance indicators (KPIs) used in the same conversation. They may be complementary, but they're not necessarily the same thing. 
Klipfolio's Jonathan Taylor describes metrics as "something that simply tracks the status of a specific business process. Key Performance Indicators, on the other hand, are measurable values that show how effective you are at achieving business objectives." 
On their own, metrics simply keep track of the numbers and processes, while KPIs are metrics that indicate if you've hit your e-commerce store's goals and objectives.
Benefits of Tracking Key Performance Indicators (KPIs)
With KPIs in place, you can:
Make better, data-driven decisions on your sales, marketing, customer experience strategies

See if you're making progress with your targets

Focus on problem areas and find specific solutions to them

Track only the most impactful metrics and filter out irrelevant ones

Have an overview of your store's performance

Make sure that everyone on your team is on the same page
Guidelines on Selecting and Setting KPIs
Tim Clairmont, CEO of Clear Financial Partners says, "The statistics never lie. They will allow you to make good, objective decisions about your use of time and money — two of your most precious resources." 
And to save time and money, it's crucial that you select only the KPIs that lead to your e-commerce store's success. 
Here are some guidelines to remember when setting your e-commerce KPIs:
Choose the KPIs that are most relevant to your business goals.

Refer back to your business plan and your

marketing funnel

.

Make sure the KPIs can be easily measured

. Note down your sources. It could be from Google Analytics,

Amazon Seller Central

, or third-party analytics apps that you use.

Consider the growth phase of your business

. Are you a start-up that needs to build brand awareness? Or do you need to focus on customer retention and loyalty? Your stage will help you to determine which KPIs you should be tracking.
Set a timeline for when you want to achieve them.

Setting timeframes improves efficiency and serves as a good benchmark for evaluating your efforts.
Document and measure regularly.

How often you

measure your KPIs

should depend on your timeframe and the characteristics of the KPI. Often, KPIs can be measured weekly, monthly, quarterly, or annually.
Update your KPIs as needed.

As your business goals evolve, your KPIs should, too. Keep focused on the ones that are relevant and don't be afraid to scrap the ones that don't serve your company anymore.
E-Commerce KPIs Worth Tracking
In this section, I'll talk about e-commerce KPIs for manufacturing, sales, marketing, customer service, and store management. Under each of these categories, you'll find important ones that you should keep track of.
E-Commerce KPIs for Manufacturing
Cycle Time
This is the time it takes to manufacture a single product from start to finish. This gives you an insight into how efficient your production is.
Yield
Yield is the number of products manufactured within a certain amount of time.
E-Commerce KPIs for Sales
Average Order Value (AOV)
AOV = Total Revenue / Number of Orders
Average Order Value (AOV) tells you how much income your site generates on each order. It's an important metric that gives you information on customer purchasing patterns. You've already captured your customer's dollars, and all you have to do is increase the amount each person spends per transaction. You can increase AOV per unit (customer buys more products) or per dollar value (customer buys higher-value items).
Pro Tip: Improving your AOV is one of the cheapest and most effective ways to increase your profit. You can do this through upselling, cross-sells, offering product bundles, giving discounts, or free shipping when customers reach a minimum amount of purchase. If you think this sounds very familiar, that's because it's also one of Amazon's strategies. In fact, in 2006, Jeff Bezos revealed that 35% of Amazon's sales came from cross-sells.
Conversion Rates (CR)
CR = (Total Number of Visitors on Website / Total Number of Conversions) x 100
Your conversion rate is the percentage of your target market that's taking your desired actions. This includes subscribing to your newsletter or e-mail list, creating an account, signing up for a loyalty program, or purchasing something. Your conversion rate reveals how successful your strategies are in getting people to do your calls-to-action.
High conversion rates indicate good overall performance for your shop, and your other metrics will also show a positive trend. 
For an e-commerce business, the ideal conversion rate varies depending on the industry you're in. Do some research on what the average is in your niche and use it as a benchmark.
Return on Ad Spend (ROAS)
ROAS = Revenue from Advertising / Cost of Advertising
ROAS is the money you get back in revenue for every advertising dollar you spend to drive new revenue. It's critical to keep track of this e-commerce KPI because it gives a better picture of how much revenue your ads actually generate. It helps you stay within your advertising budget and helps you modify if something isn't working.
SearchEnglineLand recommends a 3x ROAS to break even on your ad spend, and to shoot for 4x ROAS for most paid search campaigns. 
Shopping Cart Abandonment Rate (CAR)
CAR = (Total Number of Completed Transactions / Total Number of Shopping Carts) x 100
CAR is the percentage of people who add things to their virtual shopping cart but abandon it and don't make the purchase. This KPI shows you where the problem lies when it comes to converting visitors into customers. Decreasing your CAR is an effective way to increase your profits.
Baymard shares some reasons for cart abandonment. You can see how some of these can be easily fixed by updating some website elements and design.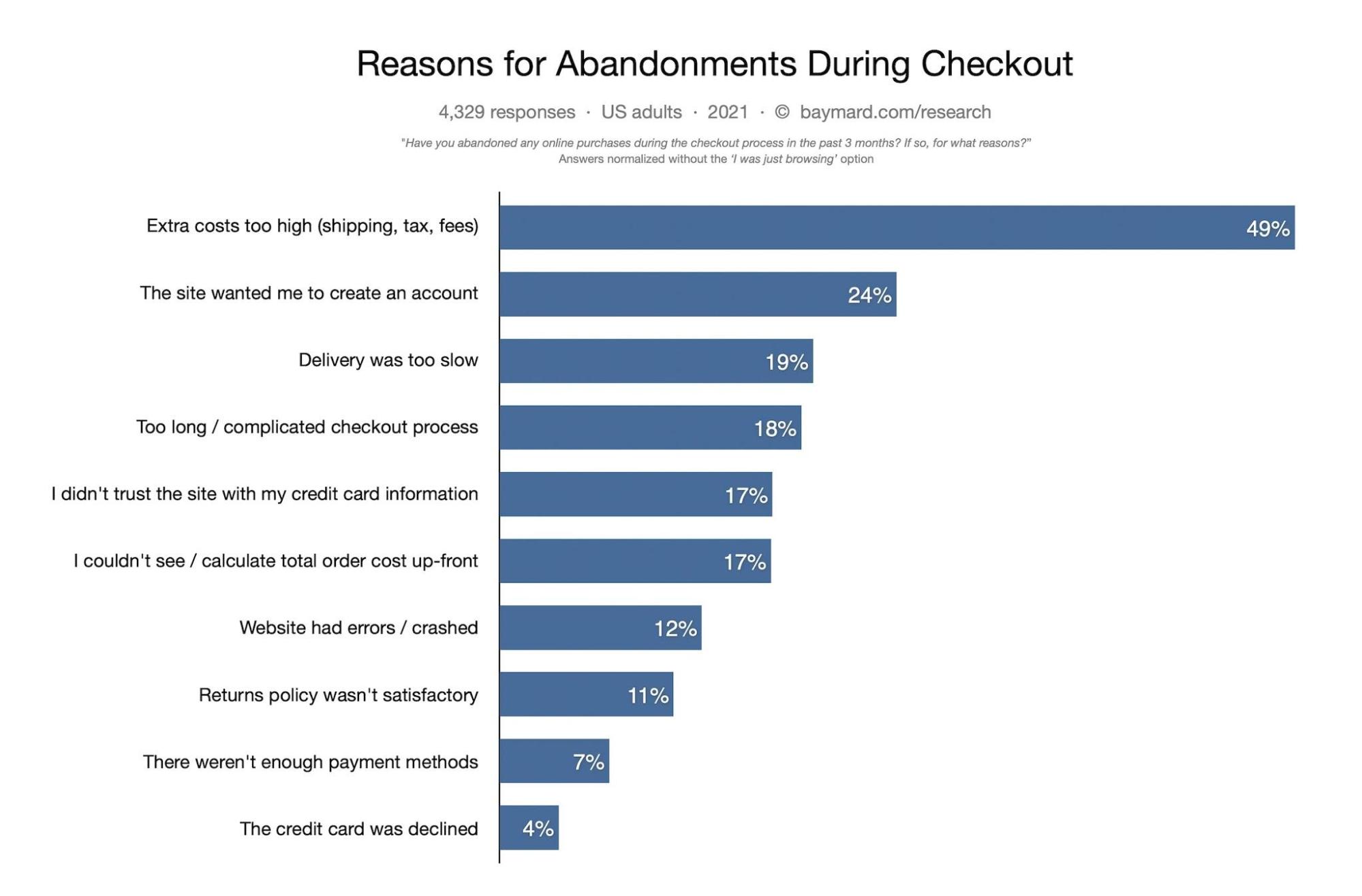 (Source: Baymard Institute)
Customer Lifetime Value (CLV or LTV)
Many e-commerce sellers make the mistake of thinking in the short term when it comes to sales. But a customer's lifetime value, that is, how many sales you'll be able to make to them over their lifetime as your customer, is an extremely important metric that you should consider as well.
According to Hubspot, customer lifetime value indicates the total revenue a business can reasonably expect from a single customer account throughout the business relationship. This e-commerce KPI is particularly important if you want to increase your customer loyalty and retention. It helps you target and maintain your best customers. 
We also know that acquiring new customers costs more money than keeping existing ones, so investing in improving customer lifetime value is a great strategy, especially if your company is in the mature stage. 
Customer Acquisition Cost (CAC or CPA)
CAC = Total Amount Spent to Acquire Customers / Number of Customers Acquired 
This tells you how much you spend to acquire a new customer. For example, this month, you spent $1500 on ads and marketing and got 30 new customers. Each customer costs $50 to acquire. 
This should also be broken down by traffic source, since your cost per acquisition will vary from platform to platform.
Depending on what you're selling, CAC could look very different. For high-value items, it's reasonable to spend more to acquire a new customer. But you don't want to spend that much if your profit margins aren't that high. 
It might be tempting to spend more money on marketing to get more sales. But if your CAC increases too drastically, your profits can actually decrease. Knowing this KPI allows you to set realistic marketing budgets and helps you keep an eye on your expenses.
Get our "Key delivered right to your inbox.
Churn Rate
This e-commerce KPI is something you should pay attention to, as it tells you the rate at which your customers leave your brand or cancel subscriptions. 
Repeat Visits
Repeat visits are a good sign of brand loyalty. The more repeat visits you get, the chances are higher of establishing a long-lasting relationship with a customer. On the other hand, if you have very low repeat visits, you should look into offering incentives for repeat purchases or reach out to customers to see what they liked or didn't like about their experience.
E-Commerce KPIs for Marketing
Website Traffic
Increasing site traffic is often a top goal for e-commerce websites. High traffic doesn't automatically mean more sales, but having more visitors leads to higher chances of conversions. It's also a good indicator of brand awareness. 
It's also a good indicator of how well your marketing and PR strategies are doing as well. Knowing your best traffic sources and channels can help you decide how to target your visitors. 
Average Session Duration on Website
This KPI is a good indicator of how engaging your website is. If visitors spend more time on your website, it means they have a deeper engagement with your brand. You'll usually see most of the time spent on blog content, videos, or landing pages and lesser time on checkout pages.
Pageviews Per Session
This KPI counts the average number of pages users view for each visit. This is also an indicator of engaging content. On the other hand, it could also mean that it takes users too many clicks before they find the products that they look for. If that's the case, you might want to look into reevaluating your website design. 
Traffic Source
Traffic source provides you with information on which channels send the most visitors to your e-commerce store. It includes organic search, paid ads, or social media. 
Bounce Rate
Bounce rate is the percentage of users who visit only one page on your website and then exit without taking any other action. It could tell you several things: how engaging your page is, if you've captured the right customers, or if there are technical glitches that cause visitors to leave.
Email Metrics
With email marketing, you own your first-party customer data. It's also one of the best channels for maintaining relationships with your customers. 
The more subscribers you have, the higher your chances are of getting people to convert.
Subscriber Growth Rate

tells you how quickly your email list is growing.

Email Open Rate

is the percentage of subscribers who open your emails.

Email Click-through Rate indicates the percentage of people who clicked on a link on the email after opening, and
Email Conversion Rate

is the percentage of recipients who complete a purchase through links on your email campaigns.
Pro Tip: Check the demographics of your email subscribers and see if you're reaching your target audience. If you have a high email signup rate but low open and click-through rates, it could mean that they just signed up to avail of an incentive, like a discount on a purchase. You should look into adjusting your email marketing strategy and test if your other email KPIs improve.
Paid Ad Metrics
When evaluating the effects of paid ads, there are some KPIs that you can use. 
Pay-Per-Click (PPC) or Cost-Per-Click (CPC) shows how much you spend for each ad click. It applies to both search engine and social media ad campaigns. 
Cost-Per-Conversion (CPR) shows you the cost of turning a visitor into a customer during an ad campaign.
E-commerce KPIs for Store Management
Return on Investment (ROI)
This KPI gives you the overall picture of how your online business is performing financially. It takes into account all your expenses and earnings. The higher the ROI, the better. 
Number of Hours Worked
This gives you an insight into how efficient you and your team are at doing certain projects or tasks. It can help you streamline time-consuming processes so you can allocate more time doing activities that drive profit.
Freight and Logistics
Your KPIs will vary depending upon whether you ship your own products, use a 3PL, or leverage Amazon for your shipping. If you carefully dive into your costs for shipping a product, you may discover there are cost-cutting opportunities available for the shipping process.
This was the case for my e-commerce store. When we dove into our all-in costs for shipping a product, we were able to significantly reduce our costs by shifting inventory to other warehouses and reducing the packaging.
Want more tips on running your e-commerce store more efficiently? Check out my article on Reducing Bottlenecks in Your Company.
E-Commerce KPIs for Customer Service
Microsoft says that 90% of Americans use customer service as a factor in deciding whether or not to do business with a company. It's important to focus on assisting customers well (and fast) all throughout their buying journey on your website.
Customer Satisfaction Score (CSAT Score)
You can measure your CSAT score through surveys. Examples of questions you can include are "How satisfied are you with your shopping experience?" The score can be in a numeric rating from 1 to 5/10.
Average Complaint Resolution Time
This is the time it takes your team to get back and resolve customer issues. The lower this number, the better.
Customer Service Email and Phone Count
This is the number of emails or phone calls your customer support team receives. Your customers are great sources of information about your products and services. Take note of complaints about products that are defective, delayed shipping times, or website glitches.
Net Promoter Score (NPS)
The NPS tells you how likely your customers are to recommend your brand to someone they know. This gives you insights into your customer relationships, and if your brand image and marketing strategies encourage customers to become loyalists and advocates.
So how can you measure your KPIs? A KPI dashboard is one of the best tools to use. Here are some of the most popular options:
Scoro

– Scoro offers integration options and a variety of features.

Datapine

–  Interactive dashboards allow you to make data-based decisions as you go.

Smartsheet

– Smartsheet allows you to create a dynamic workspace that'll keep your team moving forward toward your goals.
KPIs are extremely important in e-commerce because they provide quantifiable results that allow you to see if you're on the right track with your business goals. Keep in mind that each business is unique, with different goals and stages. Data doesn't have to be overwhelming as long as you select only the necessary KPIs that will help you reach your goals.
Monitoring KPIs is crucial for ensuring that you're on track and reaching your goals. Not sure which ones you should be tracking? Reach out now for your free 20-minute consultation call, and let's discover what ones YOU should be tracking. Get the tools you need to scale your business quickly.
Get our "Key delivered right to your inbox.