You had an engaging script, your delivery was on point, and you spent hours editing your video. You've uploaded it to YouTube, but as the time ticks by, the video only manages to log a few views. It just can't seem to get any traction – what happened?
Search Engine Optimization, or SEO, might have been the key ingredient that was missing.
I've said it once, I've said it again, and I'll say it a third time because it's that important – if you want your content to be picked up by algorithms and shown to potential customers for your business, you need to discover the right keywords for your niche and use them effectively.
If you produce videos for your business and upload them to YouTube, you'll need to keep in mind a different set of SEO rules compared to uploading an article to a blog. With video content, algorithms can't scan for data, so how can you maximize your video's searchability?
This article will tell you everything you need to know about ranking on YouTube, helping you to improve your visibility and get more traction. Let's dive in now.
The Rise of YouTube and Increased Watch Times
We are seeing a change in how people are consuming video content compared to when YouTube was first launched back in 2005. It used to be that the more content you produced, the better your ranking. Yet, people soon became disappointed with clickbait videos and began to exit the platform.
To combat this, YouTube started to collect satisfaction metrics (such as the "like" and "dislike" buttons, the sharing button, how long a person watched the video, and more). This caused an algorithm shift towards quality content that viewers found helpful. The more helpful a video, the higher the search ranking results.
As the use of video continues to rise (over 100 minutes of video a day was watched in 2020, up from 84 minutes in 2019), it's essential now more than ever to learn how to optimize your content on video platforms, in particular YouTube, which has over two billion logged-in users visiting each month, and over a billion hours of video watched per day.
Boosting Sales With Video Content
According to a 2020 WyzOwl survey, 86% of video marketers said video increased traffic to their websites, 94% said video increased user understanding of their product or service, and 78% said video directly helped boost sales. On the consumer side, 94% of people have watched videos explaining how a product or service worked. Video works, and is a great way to draw people in.
These aren't the only benefits either. With Google owning YouTube, it means that if you're able to curate the right mix of SEO, your video will show up on Google's search results when a query is typed into Google's search bar. Your content could reach further than just a search in YouTube.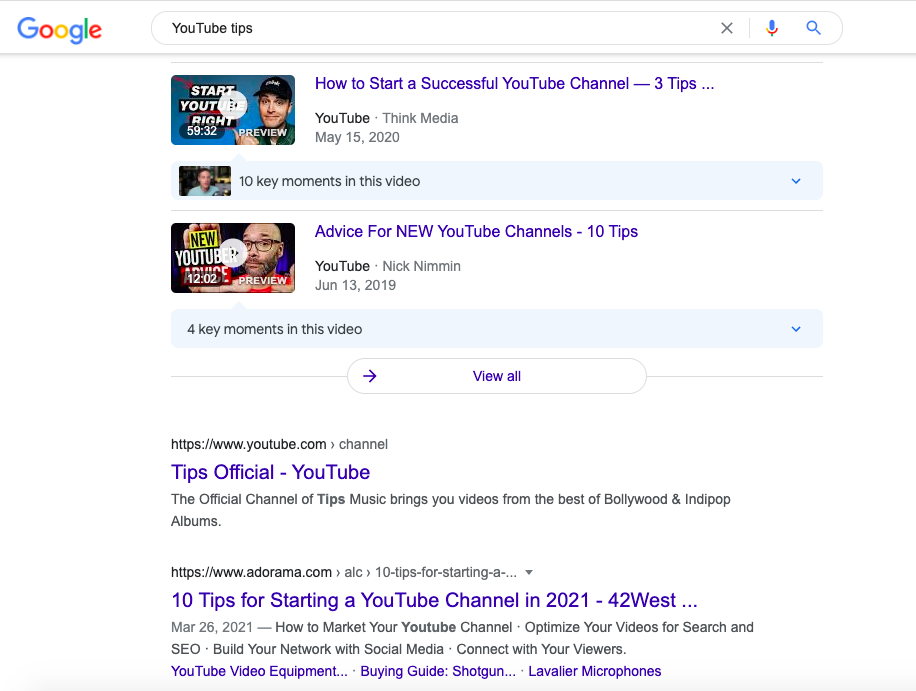 (Source: Google)
Your video could either appear on Google's search results page (above), or in the dedicated video section of Google's search results (below).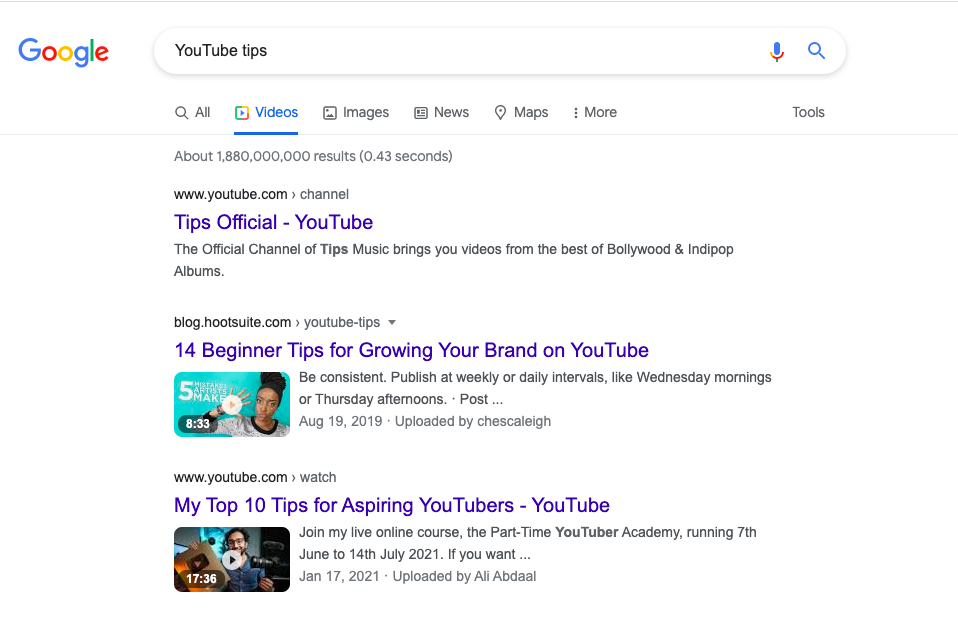 (Source: Google)
With these sorts of statistics and reach, it's no wonder brands are turning to YouTube as another way to engage their customers. Let's take a look at a few businesses and what they're using YouTube for.
Hubspot
HubSpot, a marketing, sales, and customer service platform, uses YouTube to offer marketing tutorials. Note the clean thumbnails, descriptive titles, and consistency in visuals.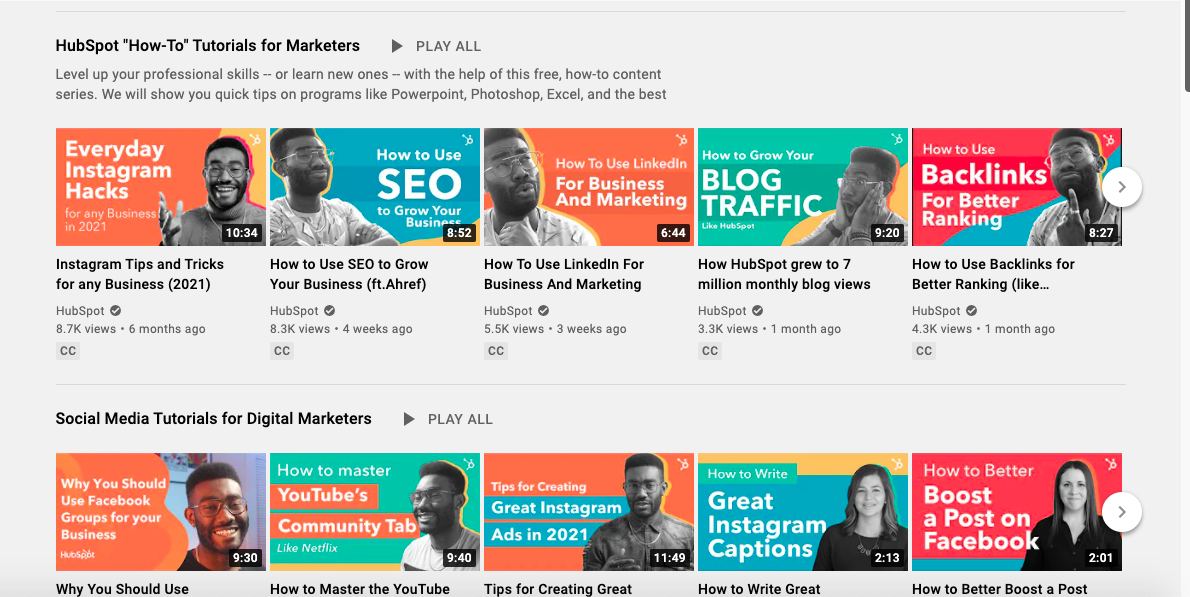 Salesforce
A customer service management tool, Salesforce's YouTube channel has more than just videos marketing its products – it uploads how-to videos and tips, demos, and many more great resources for businesses.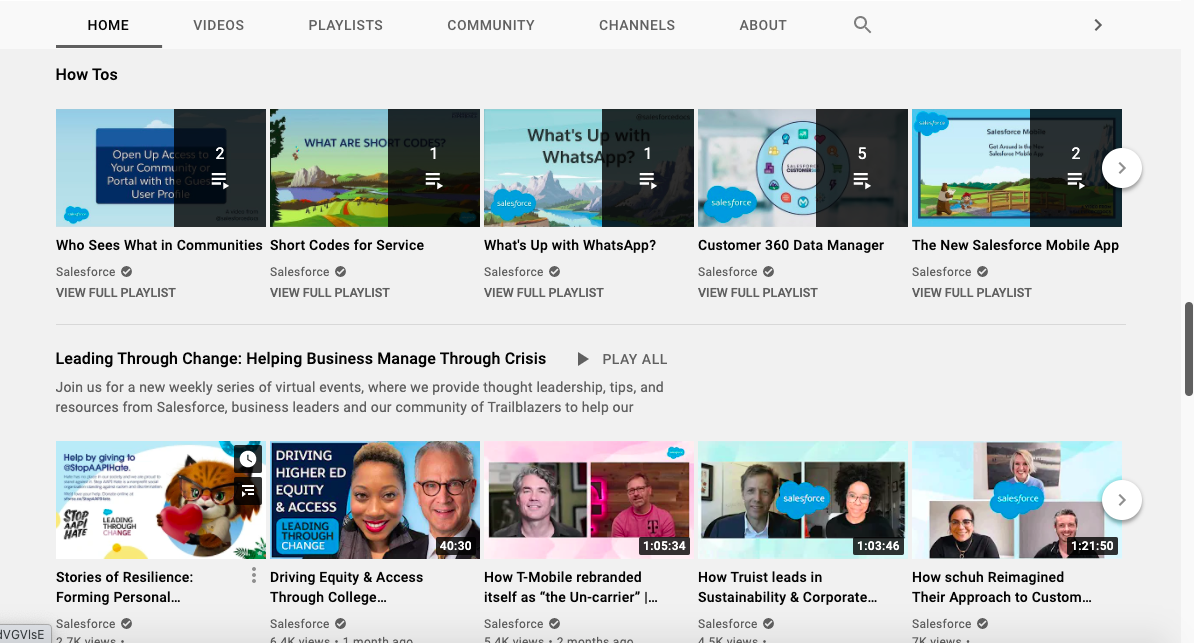 Neil Patel
YouTube channels aren't just a way for companies like Salesforce and Hubspot to promote their products – marketing expert Neil Patel offers regular digital marketing opinions, trends, and tips on his YouTube channel.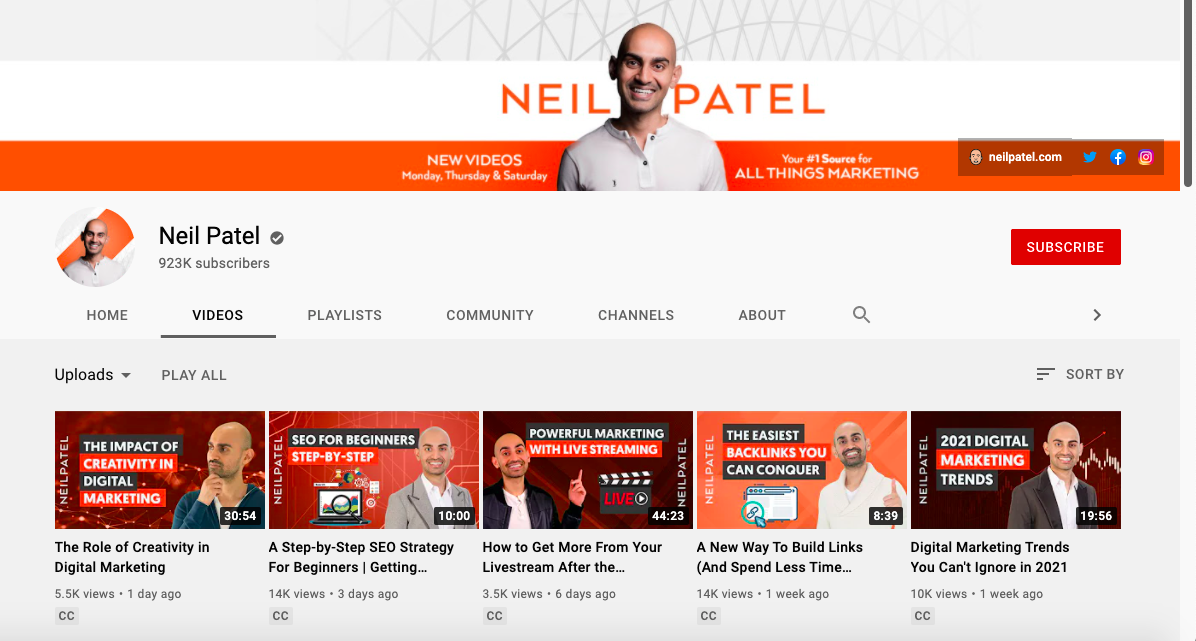 (Source: YouTube Neil Patel)
After looking at these examples, you'll notice they have a decent amount of views per video, partly in thanks to SEO practices.
So how does YouTube's SEO work, and how can you apply its principles to maximize your content's reach? Here are my top eight tips on optimizing YouTube's SEO and algorithm.
8 Tips for Optimizing YouTube SEO Focus on Your Audience
YouTube's algorithm strives to produce the right video to the right person at the right time. It does this through titles, descriptions, how much of the video people watch, if they're clicking like or dislike, and the videos the person previously watched.
So how can you get YouTube to like your videos and place them higher in the algorithm? Focus on your audience (rather than the algorithm itself) and what they want to know about.
Try to create a good-quality video, because you want people to continue watching and not abandon it because of poor lighting or bad sound. You don't need to go out and get a studio production unit, but investing in a microphone (even a cheap one produces results), some lighting, and even a tripod for your phone will greatly increase your production quality.
Good content and decent video production could help people like your content, which in turn will help YouTube decide if your video should be shown to a broader audience – whether that's on the YouTube explore page, a suggested video, or higher up in the search rankings.
Go With What's Trending
It also helps to incorporate trends and hot topics into your videos. It may also help to leverage celebrity names, influencers, or people in the news. This strategy is known as "newsjacking;" riding off of someone else's publicity or a trending topic, but when used carefully, it can work.
For example, if you are a financial wealth firm, you could cover: "The best ways for Britney Spears to obtain financial freedom." Obviously Britney Spears isn't a client of yours, but an article like this can grab attention and draw new readers in. The best approach is to keep it lighthearted and upbeat.
Name Your File With Keywords and Insert Keywords Into Your Title
Sometimes it's easy to name a video file for its purpose, like "marketing_video_final.mov4". But because YouTube can't scan the video for what the content is about, it will rely on several well-placed keywords, including those within the video file name.
For the SEO to correctly identify and place your video, add a descriptive file name like "marketing-consulting-tips." Remember, use words people search for – an excellent way to find out what that is by inputting the phrase and seeing what is auto-generated.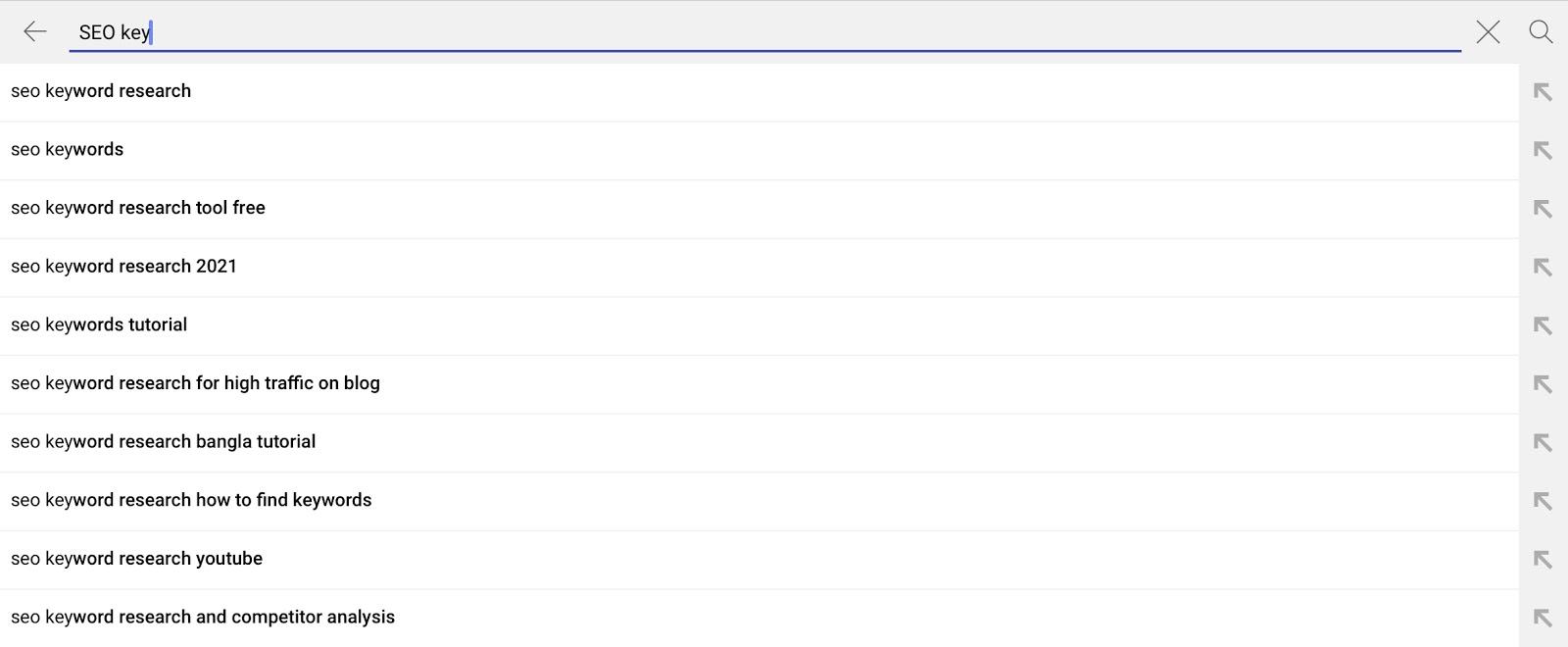 (Source: YouTube)
Likewise, include your keywords in your title as well. It's all well and good if you want to try to come up with a catchy title with a play on words. However, while it may work to catch a person's attention, it won't do anything for YouTube's SEO. The best option? Combine a bit of both.
YouTube is metadata-driven, so you will need to research words people are typing in and add them to your title. Having a clear and concise title that describes what the video is about will generate more clicks. Even YouTube says that having "well-written titles can be the difference between someone watching and sharing your video, or scrolling right past it."
However, don't stress too much on creating the perfect mix because research shows that while adding keywords to your title is beneficial, having an exact keyword match only has a slight advantage over those that don't.
Optimize Your Video Description
With the right mix of words within your description, you can boost your video rankings and user views. But it's more than putting a bunch of the right keywords for the algorithm.
Choose only one or two accurate words to increase the chances of the video being seen, and then re-use these words two or three more times within the description so that YouTube knows it's a relevant term. Try a mix of short and long-tail keywords and be careful not to overdo it. This is because the description could be flagged as keyword stuffing and goes against YouTube's policy.
Also, use the description to tell your viewers what they can expect in the video, and use a tone and language that's right for them. While the description box can hold up to 5,000 characters, only the first few lines will show, so ensure to place the essential information at the top, including a call-to-action or important links.
Use Hashtags Related to Your Content
Using hashtags in a description allows users to click and find relevant content, including your video. So when you upload your video, don't forget to add hashtags! For example, if you're talking to entrepreneurs on webpage landing hacks, some tags could include #ConversionRateOptimization and #DigitalMarketing.
However, there are two important points to remember: YouTube ignores all hashtags if a video has more than 15, and over-tagging will result in your video being removed from searches entirely.
Ask People to Subscribe to Your Channel
Subscribing is a big deal on YouTube. By asking your viewers to subscribe, they will receive notifications each time you upload a video. For YouTube's algorithm, the more people who want to be updated means your channel provides value and will help your video rank higher in searches. The same applies to asking viewers to like and comment – so generate a discussion by asking a question at the end of your video.
Add Closed Captions
This is a great feature to increase accessibility for your audience if they may be hearing impared, and it has an added benefit too. While YouTube may not be able to categorize and rank videos based on the video content itself, adding closed captions can make videos crawlable!
YouTube is able to auto-generate captions, but it's a best practice to check them and create your own. This is because auto-generating captions are only about 60-70% accurate, with the rest usually incomprehensible sentences. YouTube may think these sentences are spam and will restrict your video.
Include a Thumbnail
Nothing says "Click me! Click me!" more than an eye-catching thumbnail. And having a catchy thumbnail could very well be the deciding factor between watching your video or someone else's, making YouTube's algorithm pay attention to your content.
This is because of the Click-Through Rate, and the higher the clicks, the higher YouTube will rank it in video searches. So, create a compelling and informative thumbnail that will help you stand out in searches.
Tools for Video SEO
Now, here are tools that will help you optimize your video SEO.
Canva
Perhaps you're already using Canva to create your marketing content, and it can also help with YouTube thumbnails. Choose from already made templates, or create your own from scratch.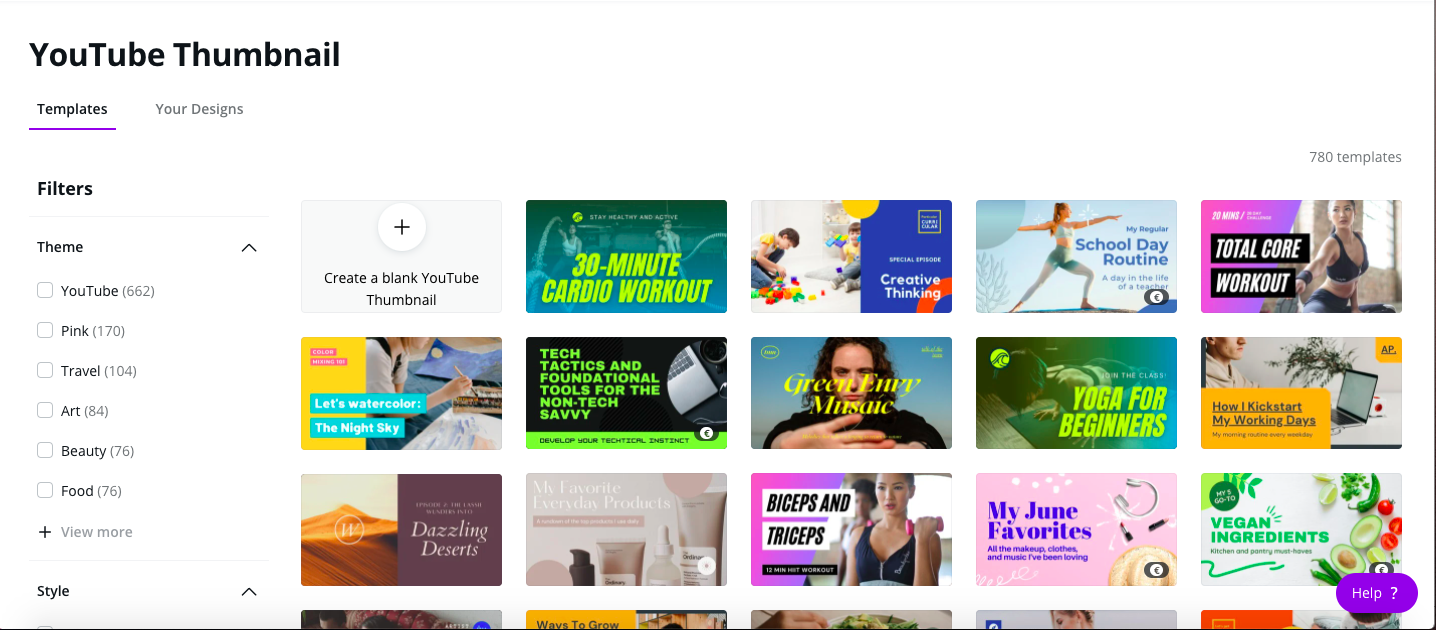 (Source: Canva)
TubeBuddy
TubeBuddy is a browser extension that allows you to manage your YouTube channel more effectively. It will help you find the right keywords to use in your descriptions and tags, track your video search rankings, test if your thumbnails work well with your audience, schedule posts, and more.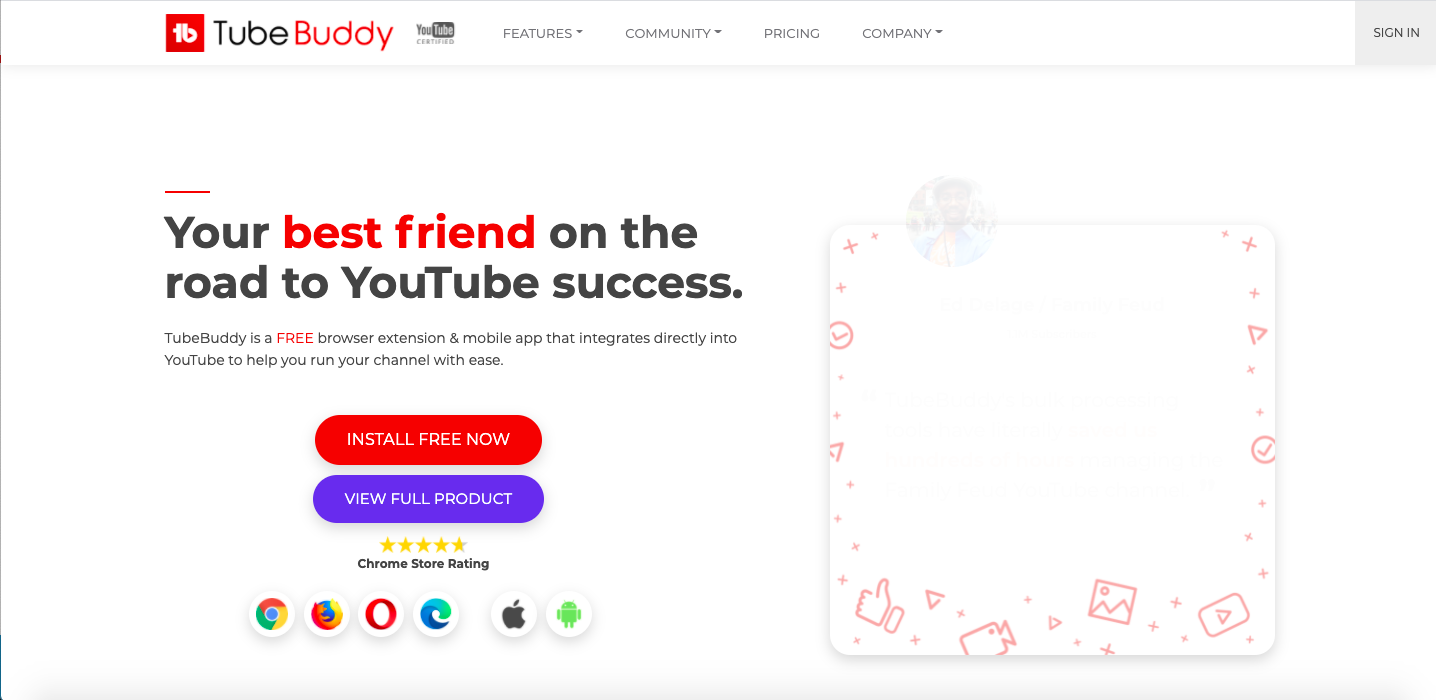 (Source: TubeBuddy)
YouTube Analytics
This is YouTube's own analytics tool, and in it, you'll get a summary of your channel and how well your content is performing. Key metrics shown include the number of views, watch time, subscribers, how many people watched your video because of the search terms included, and overall performance.
It's a comprehensive tool for you to learn more about your audience and engage with them.

(Source: Hootsuite)
Having a solid SEO strategy is important if you want to get ahead in search rankings; it doesn't matter which platform it's geared towards: you need it. And if you want to create videos, YouTube has its own set of SEO rules you'll need to keep in mind if you want to increase views and searchability of your content.
Get a start on YouTube SEO with my tips above, and ensure (and I can't stress this enough) that you keep up-to-date with YouTube's policies, so you don't get penalized. Plus, keep reviewing your SEO practices regularly. If you're focused on providing quality and relevant content for viewers, then you'll see this translate into more views and more traffic to your website as well.
Are you interested in learning more about how you can scale your e-commerce business? Then schedule a free 20-minute consultation. Watch your business soar to new heights!