Good content always starts with the audience in mind.
You could be producing the best, most succinct and exciting content in the world, but without a clear idea on who you're speaking to, it's largely going to be a waste of time and money.
Why? Because your content's going to fall flat if you're not sure who you're talking to. More than that, though, even if your content does captivate your readership, it'll still be largely ineffective if it's reaching the wrong group of people –ones who aren't interested in buying what you have to offer in the first place.
So what can you do? How can you ensure that you're creating content that your audience is interested in? And where can you go to get good content ideas?
Here's a look at how you can go about creating content that resonates –with the right audience.
Discover WHO Your Audience Is
First up, if you'd like to create content that impacts your audience, then you'll want to make sure you're clear on who your audience is. Not sure yet? Then head over to my guide on creating customer personas –it'll show you exactly what you need to do to create airtight customer personas –and speak to them.
You'll need to know WHO you're speaking to in order to create content that'll resonate with them.
Tips for Sourcing Content Ideas
Once you have a good idea about who your target audience is, you'll be able to start creating content for them.
If you know where to look, content ideas can be a renewable resource! Here's a look at some places and technique's that'll give you a well of inspiration –when your own ideas have run dry.
See What Your Competition's Up To
Having some competition isn't all bad. It helps to keep you on your toes, and a healthy amount of competition indicates interest. After all, there's a reason everyone's jumping on the same bandwagon –demand.
But another benefit of competition is that it gives you a chance to learn from others who have been there and done that –allowing you to see for yourself what's working, and what's not. When you get a few spare minutes, you'll want to take some time to scout out your competitors, to see what they're doing.
Take a look at their blogs to see what they're sharing. Pay close attention to which posts are getting the most engagement –that's a topic you'll want to emulate. No, this doesn't mean copying them directly –it means browsing what they're sharing and getting ideas.
Use their successful content as inspiration to create your own. Take a look at it to see what's missing, what else could be elaborated on, or what you could do better? Browse the comments to see what people are saying –this will prove to be another excellent source of content inspiration. See more tips on getting content ideas from your competition.
Keyword Searches
See what search terms your customers are using to find you. Most likely, there's a great deal of search queries that people are using, so just go through the list to see which ones sound like things your target audience would be searching for. You can then look to create more content around these topics. Also, look out for questions that are being asked, and consider how you can address them in your next piece of content.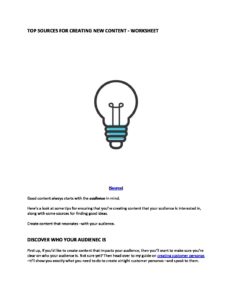 Get our Top Sources for Creating New Content Worksheet delivered right to your inbox.
Run a Google Search
Another easy way to find ideas for content creation is by turning to Google for ideas. Start by typing in some keywords or a topic that you feel that your audience would be interested in into Google's search bar. Then, take a look at some of the suggested searches that come up.
Some of them might be ridiculous but others could prove to be great topic ideas. While you're at it, go ahead and Google your topic that you'd like to write on. Then, look at the bottom of Google's results page for Related Searches section. You'll find more ideas for content here as well.

Use Helpful Tools
Answer the Public is a great tool for sourcing content ideas, and one that'll prove to be a tremendous source of inspiration. Just type in your keyword or phrase and it'll produce dozens of suggestions. Of course, not all of them are relevant, but there are plenty of gems that will be.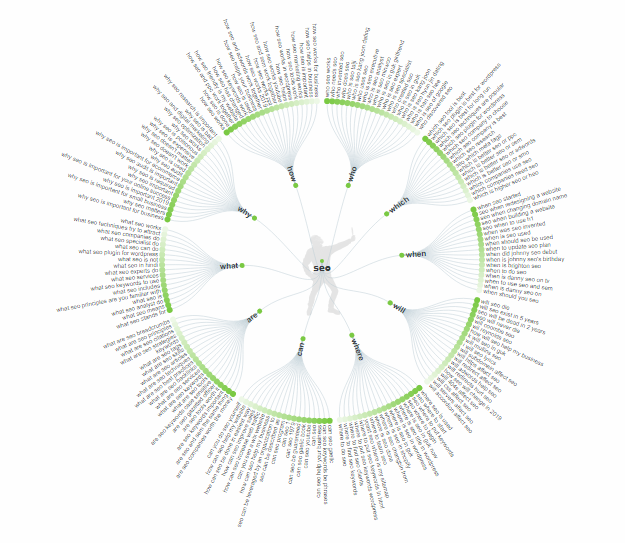 Source: Answer the Public.
I typed in 'SEO' and it produced an entire wheel of topics.
Another tool that you'll want to use is Google Trends. It'll show you which topics are trending, along with related topics to help inspire your own topics. Don't forget Google Alerts. Setting up alerts for keywords related to your industry will alert you when new, relevant discussions are taking place online.
Another tool that I highly recommend is MarketMuse. It's not free but it's worth it if you're serious about stepping up your content creation game. It'll give you access to data that you need to create high-quality content that performs well –highlighting opportunities for related content that hasn't been covered yet, and showing you what angles you should take for maximum impact.
You'll al so want to take a look at Builtvisible –a handy tool that imports ideas for you into a Google Spreadsheet. Or the ever-popular Buzzsumo –that takes a look at existing content, and gives you ideas on what's working and what's not. A helpful way to gauge interest on potential topics.
Ask Your Audience
Not sure what to write about? Ask your audience! If you already have an email list or social media following, then you'll want to post questions to gauge where their interests lie. Try to generate conversations to help you gain a better understanding about the type of things they're interested in.
Hit the Forums
Forums –like Reddit and Quora can be an excellent source of content inspiration. To find ideas on these platforms, simple search out your industry on the platform to find a thread –or a subreddit, on Reddit, that's related to your niche. Then take a look at what's being asked. People posting questions or sharing issues that they're having with products that are similar to yours can be addressed in an article. This is a great way to get ideas for content that people are actually interested in.
While you're at it, LinkedIn Groups and Facebook Groups are also great places to find content ideas. So get involved with the groups and take a look at what's being said. Reading the discussions will help you to become aware of issues or common questions that people have which can be addressed in your content.
Alternatively, you may even want to start your own group, as you'll be able to control the conversation that way –and, in the case of Facebook, will be able to conduct polls –a great way to pose questions about topics to see what people are interested in.
Create Content for Warm Leads
Remember how I said earlier that you need to be creating content for your target audience? One subsection of your audience that you should be catering for is warm prospects –those who are lower in the sales funnel and more apt to buy. Product videos, case studies, customer testimonials are all great things to include in your content creation strategy –and can help you to encourage your warm leads to take action.
Creating excellent content isn't always the easiest thing in the world, but it's definitely worth doing. Effective content can help you to raise your brand's profile, draw in prospects, make more sales –and can even help you to find, and win more loyal customers.
With the right approach, you can ensure that your efforts aren't wasted –and start reaping the benefits of an excellent content strategy.
If you'd like to learn more about creating a winning content strategy, be sure to check out: 6 Tips for Creating Content That Converts. Don't just create content –create content that'll help you to reach your marketing goals!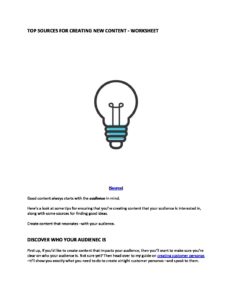 Get our Top Sources for Creating New Content Worksheet delivered right to your inbox.