Email marketing is a powerful tool for any ecommerce business. It allows you to build relationships with your customers, increase brand awareness, and ultimately drive sales. But with so many email marketing platforms to choose from, it can be challenging to decide which one is right for your business.
Sendlane and Klaviyo are two popular email marketing platforms that provide businesses with the tools they need to create targeted email campaigns and collect data during the process, and it's safe to say that these platforms know what they're doing when it comes to managing very large email campaigns. Spoiler alert: one's worked with the company behind The Walking Dead comic, and the other has worked with brands like AriZona Beverages! But which one is best for your business? That depends on a few different factors including the size of your email list, the type of features that you're looking for, and how much you'd like to spend.
I've used both of these platforms myself to run email campaigns for my businesses. In this article, I'll compare the two platforms, and highlight features that I like about each. This should help you to get a good idea of how either of these tools could fit into your marketing strategy.
Why Email Marketing Is Essential for Your Business
When executed well, email can drive significant revenue for online businesses. According to the Financial Post, email marketing has an ROI of $42 for every $1 spent. Email marketing provides your business with a direct line of communication with your customers and allows you to send targeted, personalized messages to them. Email marketing campaigns can be tailored to each customer's preferences and interests, and they can even be triggered by customer behavior. This personalization can help businesses build stronger relationships with their customers and increase brand loyalty.
Email campaigns can be used to promote products, announce sales, or offer exclusive discounts to subscribers. By sending targeted messages to subscribers, you can increase your chances of generating sales from your email campaigns.
In addition, email marketing can provide you with valuable insights into your customers. By tracking open rates, click-through rates, and other engagement metrics, you can gain a better understanding of your subscribers' interests and preferences. This information can be used to refine future email campaigns, improve your marketing strategies, segment your customer base for more effective marketing, or tailor and build brand awareness.
Of course, in order for email marketing to work effectively, you also need an incredible platform to help you manage this aspect of your business.
Quick Look: Sendlane vs. Klaviyo – Pros and Cons
Before we dive in, let's look at a quick overview of the pros and cons of both automated email platforms.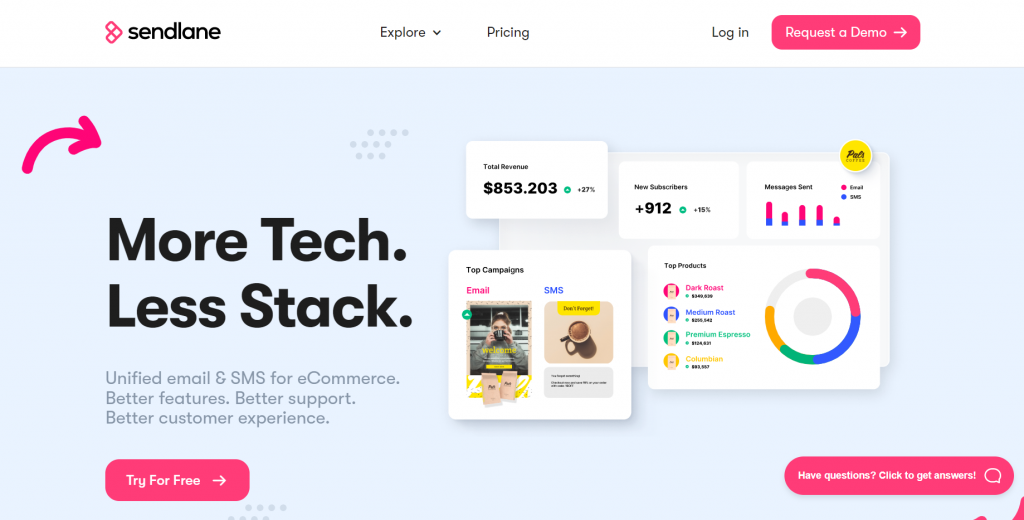 (Source)
Sendlane Pros:
Easy-to-use interface
Cost-effective pricing for smaller ecommerce businesses
Integration with popular ecommerce platforms
Impressive customer behavior tracking
Great templates
SMS feature
24/7 customer support
Sendlane Cons:
Limited features compared to other email marketing platforms
Very basic analytics and reporting tools
Weaker segmentation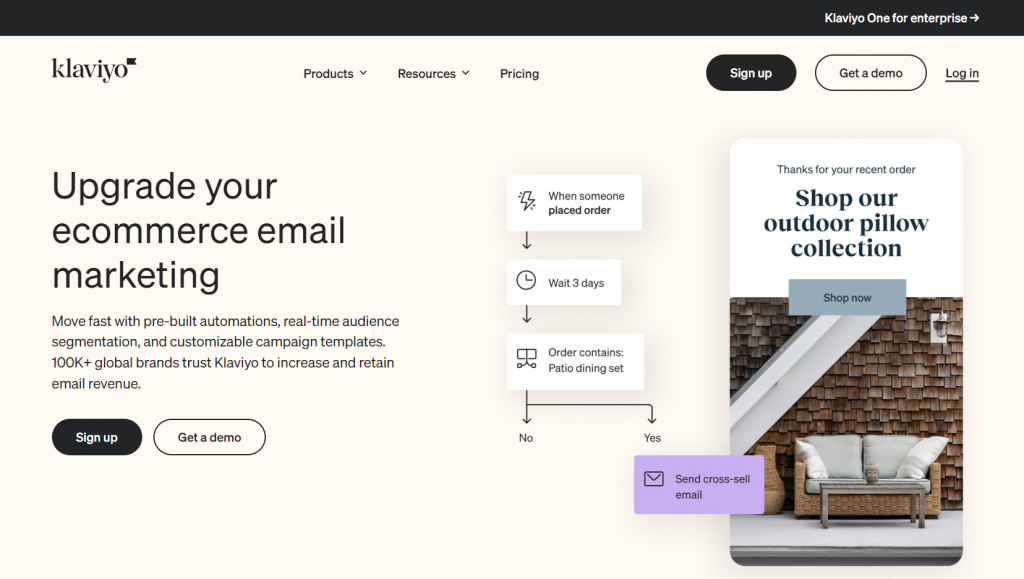 (Source)
Klaviyo Pros:
More advanced features like predictive analytics and automated workflows
More advanced segmentation of audience lists
Excellent personalized customer support
Extensive data and reporting tools
Dynamic product recommendation tools
SMS marketing
Data tracking tool that can be implemented on your shop's site
Klaviyo Cons:
Higher price point than some other email marketing platforms
Steep learning curve for beginners
Some integration issues with specific website shop tools
Customer support is email and chat focused
Sendlane: Key Features
Sendlane offers many features, including email automation, landing pages, and integrations with popular ecommerce platforms like Shopify and WooCommerce. Sendlane's easy-to-use interface is a huge selling point for this email automation platform. It doesn't take long to figure out how to use it.
The platform is designed to be intuitive, making it easy for even beginners to create and send successful email campaigns. Sendlane also offers a range of templates to help you get started quickly, and its drag-and-drop editor makes it easy to customize your emails to match your brand.
Sendlane offers:
Workflow Organization: Sendlane allows you to create automated email workflows, so you can set up welcome emails, abandoned cart emails, and other triggered emails that send automatically based on customer actions.

A/B Testing: Sendlane lets you test different subject lines, content, and images to see which email performs better with your audience.

List Segmentation: You can segment your email list based on demographics, behaviors, and interests to send targeted emails to specific groups of subscribers.

Integrations: Sendlane integrates with popular ecommerce platforms like Shopify, Adobe Commerce, and WooCommerce, as well as other tools like Facebook, and Google Analytics.

Tracking: Sendlane will track your customer's behavior, including what they are looking at, what they click, and what they're purchasing.

Statistics: Sendlane provides basic analytics and reporting tools, so you can track open rates, click-through rates, and other key metrics.

SMS Feature: Sendlane also has the ability to integrate your SMS marketing with your email marketing, on its platform.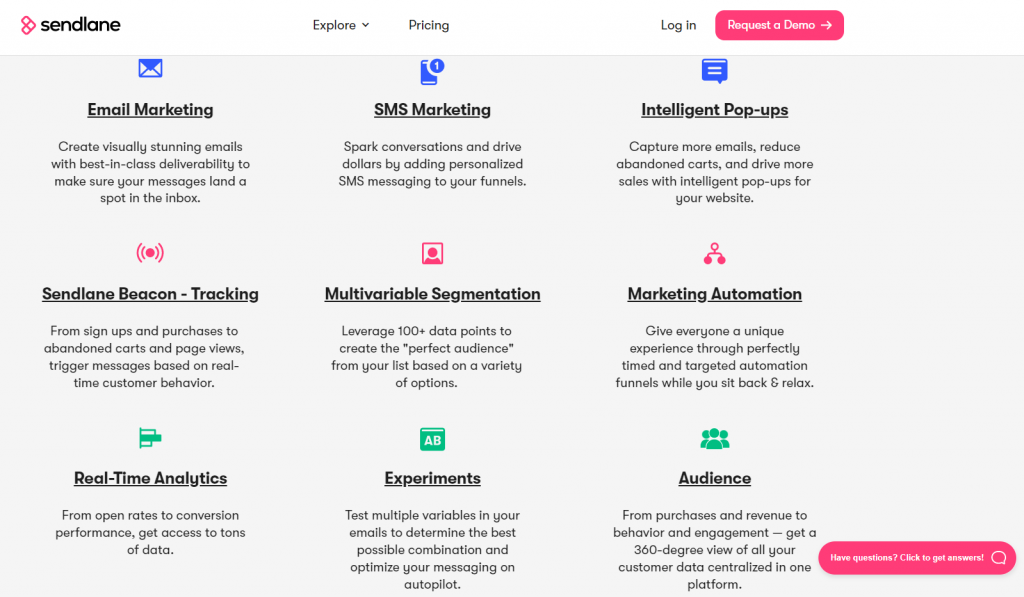 (Source)
Sendlane Case Study: Skybound Entertainment (The Walking Dead Comic) Increase Open Rates by 80%
Skybound Entertainment owns the comic book that was adapted into the major hit TV series: The Walking Dead. While the company never really prioritized email marketing, once their audience started to grow exponentially, it became clear that they were going to need marketing automation software that could help them manage their email list.
Even though they'd managed to grow their email list to two million subscribers, they were still receiving low engagement on their email campaigns. The problem was that their existing email provider did not have a feature in place to break their list into different audience segments that could be targeted with different messages. While bulk email typically has low open and engagement rates, segmented emails tend to do a lot better.
Sendlane was able to help update the existing master list, and the result was better targeting, with open rates skyrocketing to as much as 80%! Sendlane's platform's role was to do housekeeping on the existing email list, which had been cut to $200,000 after a recent re-engagement campaign. From the new segments, Skybound Entertainment was able to better study their audience and come up with new ideas to keep their target market engaged .
Read the entire case study here.
Klaviyo: Key Features
Klaviyo is designed with business success in mind. It offers a range of tools, including impressive segmentation of your audience, predictive analytics, and advanced reporting tools. It also offers automated workflows, allowing you to set up automated campaigns based on customer behavior, such as abandoned cart emails. The tools available with Klaviyo are quite endless and these features make it an impressive platform worth considering for your ecommerce business.
Klaviyo also has a dedicated space to showcase its customer success; have a look at some of their case studies.
Klaviyo offers:
Predictive Analytics: Klaviyo uses machine learning to analyze customer data and predict which products your customers are most likely to buy.

Advanced Email Automation: Klaviyo allows you to create very sophisticated email workflows, with 300+ built in integrations for personalization, or you can create your own based on the customer triggers you specify.

Personalization: Klaviyo lets you create emails with personalized content based on customer behavior and interests.

A/B Testing: Klaviyo allows you to test different elements of your emails to see which version performs best.

List Segmentation: Klaviyo provides advanced segmentation tools that allow you to segment your email list based on customer behavior, purchase history, and other factors.

Integrations: Klaviyo integrates with popular ecommerce platforms like Shopify and Magento, as well as other tools like Facebook, Google Analytics, and Zapier. It boasts over 800+ pre-built integrations, apt at collecting audience data.

Statistics: Klaviyo provides detailed analytics and reporting tools, so you can track revenue, customer lifetime value, and other key metrics.

Dynamic Recommendations: Klaviyo's product recommendation feature uses data from a customer's browsing, purchase history, and abandoned carts, to recommend products they are likely to be interested in. Their system can even predict what your customers will do. This feature can help your business increase average order value and drive repeat purchases.

SMS Feature: Klaviyo also has an integrated SMS marketing feature on its platform.

Javascript Tool: You can place Klaviyo's Javascript tool on your website to immediately begin tracking your customer's behavior, helping influence your marketing strategy at the selling point.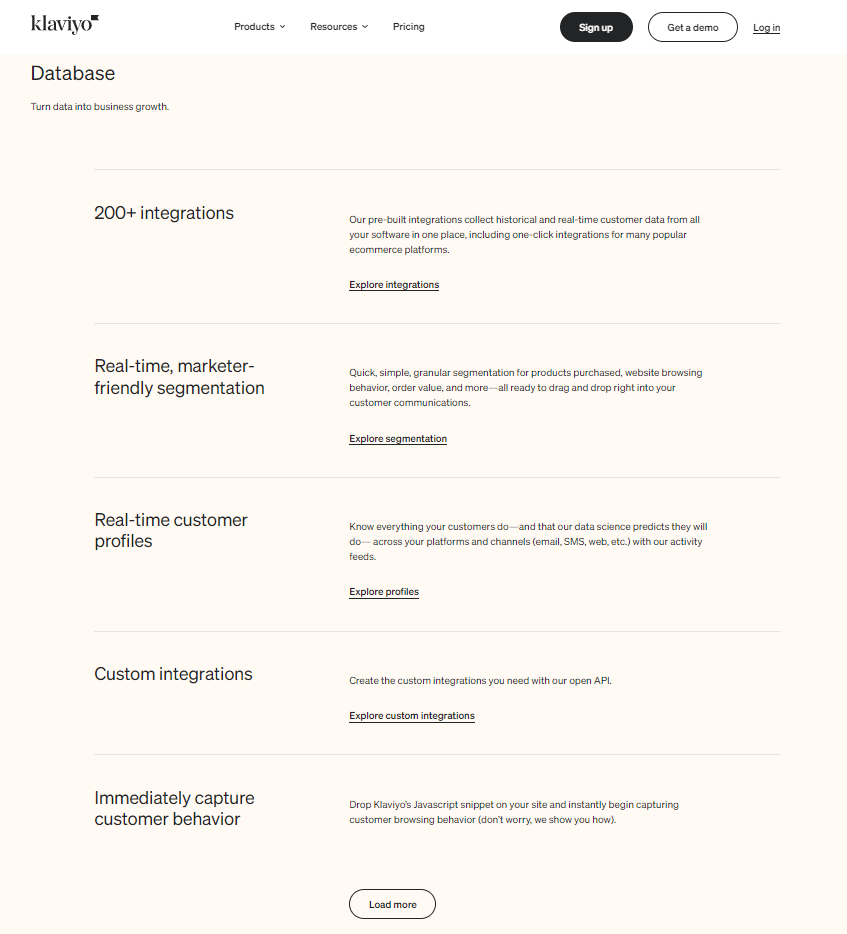 (Source)
Klaviyo Case Study: AriZona Grows Klaviyo-Attributed Revenue 201% During Their Off-Season
In November 2022, AriZona Beverage Co. launched an online contest: Thirsty Thirty, to celebrate the company's 30th anniversary.
To enter, users would build their own iced tea flavor and submit it along with their email address. The contest winner would get a $10K prize, plus their flavor would actually go to market.
The team used Klaviyo to:
Target paid digital promotion: They used it to promote the contest to lookalike audiences based on their existing email list.
Promote the contest to current subscribers: They started sending flows and campaigns to AriZona's email and SMS lists a month before the content launch to boost awareness.
Send personalized thank yous: The team connected the browser-based app where users built their own flavors to Klaviyo's API, so they could include personalized submission details in their dynamically coded flow to thank people for submitting.
In the end, Klaviyo helped AriZona drive 27K entries to the contest, with 15.7K of them from new email addresses! Their partnership also resulted in 201% YoY growth in Klaviyo-attributed revenue in Q4 2022. Read the entire case study.
Sendlane vs. Klaviyo: Key Differences
While Sendlane and Klaviyo have some similar features, there are some key differences between the two platforms worth noting.
1. Pricing
Sendlane's pricing is generally based on the number of contacts you have, while Klaviyo's pricing is based on the number of emails you send. Sendlane's pricing currently starts at $83 per month for up to 5,000 contacts, with a limit of 75k monthly emails. Klaviyo is free for zero to 250 contacts, and pricing starts at $20 per month for up to 500 contacts with a maximum of 5k emails within the month.
If you're managing email marketing for multiple businesses, Sendlane might be the more cost-effective option for you, while solo companies might benefit from Klaviyo's pricing. The greater you increase the contact count for Klaviyo, the more extensive the allowance for monthly emails becomes. At a certain point, they also offer SMS credit as a monthly bonus. But, in the end, Sendlane ends up being the more cost-efficient option of the two.
2. Main Features
Klaviyo offers more advanced features than Sendlane, such as predictive analytics and more impressive options for automated workflows. In addition, it has top-of-the-line tracking tools that effectively segment your audience and perfect your email personalization. Sendlane has some advanced features, but they're not as extensive as Klaviyo's. However, for small businesses that don't need all the bells and whistles, Sendlane may be a better choice.
3. Ease of Use
Sendlane is considered more straightforward and easier to use than Klaviyo. Sendlane's interface is intuitive and easy to navigate, making it a good option for individuals that don't have a lot of time or resources to devote to email marketing. While Klaviyo's interface can be more complex and may require more time to learn, once you're familiar with the platform, it offers a lot of customization options and advanced tools.
4. Customer Service
Klaviyo is known for its excellent customer service, with dedicated account managers and helpful and knowledgeable support. Sendlane also offers 24/7 customer service, but users find that it's not as effective as Klaviyo. For ecommerce businesses that require a lot of support, Klaviyo may be a better choice. However, Sendlane's customer support is available via phone, live chat, or email, while Klaviyo's is restricted to chat or email.
The Downsides of Sendlane and Klaviyo
No email automation platform is perfect. Sendlane and Klaviyo both have their downsides that are worth taking into account.
Sendlane Negatives
Limited Features: Sendlane's feature set is more basic than some other email marketing platforms, so you may find that it doesn't have all the tools you need to create sophisticated email campaigns.

Basic Analytics and Reporting Tools: While Sendlane does provide standard statistical reporting tools, they may not be sufficient for businesses that need more detailed analytics.

Segmentation: The data collected from Sendlane doesn't really offer users the benefit of creating truly detailed segmentation lists and immense personalization options for their subscribers.
Klaviyo Negatives
Ease-of-Use: Klaviyo has a steep learning curve and can be difficult to use for beginners. Gaining proficiency may require additional time and resources.

Price: Klaviyo is more expensive than some other email marketing platforms, which may be a concern for small businesses with limited marketing budgets.
Challenging Integrations: While Klaviyo does integrate with the most popular ecommerce platforms, it may not integrate with all the tools you may use for your storefront. This may cause additional challenges when trying to sync aspects of your email marketing with your website.
Limited Mediums for Support: Klaviyo's customer support is limited to email and chat, which may not be great for individuals that require more hands-on support. In addition, you must already have an account with them to speak to their help center.
Best Choice: Klaviyo for Its Features
Having used both Sendlane and Klaviyo, I can say that both email marketing platforms offer extensive solutions for ecommerce businesses. Sendlane focuses on automation and efficiency, while Klaviyo concentrates on data-driven personalization and segmentation.
Of course, the best choice for your ecommerce business will depend on your specific needs and goals. If you are looking to streamline your marketing efforts and increase your marketing efficiency, Sendlane may be the better option. Sendlane's user-friendly interface and automation tools make it easy to set up and create campaigns quickly. On the other hand, if your business prioritizes data-driven personalization and segmentation, Klaviyo may be the better choice for you. Its top-notch technology offers tracking options that are superior to Sendlane.
It's Klaviyo's advanced tools, analytics details, segmentation features, and impressive pricing that pushes this email automation software to the top of the leaderboard. Their product recommendation feature is highly impressive for leveraging sales, and their multiple avenues for tracking audience behavior can't be beat. Overall, its powerful features and tailored approach to customer personalization make it a better choice for businesses looking to grow their sales and revenue.
Ultimately, the goal is to create effective, personalized campaigns that drive sales and revenue, and both platforms have the potential to deliver that for your ecommerce business. But if you have the time to invest in learning the platform, I would say that Klaviyo is worth that investment.
Full Disclosure: I enjoy sharing tips, strategies, and tools that I've found work for my businesses, or that I've seen first-hand working for others. I only recommend products I would use myself and all opinions expressed here are my own. This post may contain affiliate links that I may earn a small commission from, but not all links in this post are affiliate links. Clicking on the links doesn't cost you anything, but it helps to pay for my website and operational costs.