Many people dream of starting their own ecommerce business. Who doesn't want to be their own boss, make their own rules, and earn a living doing what they're passionate about?
The numbers show that many people are now turning their entrepreneurial dreams into reality. In 2021, the United States Census Bureau says that over five million new businesses were opened. The great news is that despite the challenging times in recent years, according to Guidant Financial, more than six in ten small businesses were reported to be profitable in 2020.
While there are many risks and challenges that come with owning a business, it's extremely rewarding once you have everything figured out. If you're wondering if it's still worth it to start an ecommerce business in 2023 and what's the best way to do it, this guide is for you.
Let's dive in.
Why Should You Start an Ecommerce Business?
There are many benefits to starting an ecommerce business, and here are some of them:
A Massive Growing Market
Global ecommerce sales have been steadily growing, and forecasts show it's going nowhere but up. In 2022, the ecommerce industry is set to make $5.542 trillion in revenue and is expected to total $7.391 trillion in 2025, according to eMarketer.
As more people are gaining access to the internet, the potential customer base for ecommerce also widens. Today, the global internet penetration rate is at 63%. Asia has over 2.8 billion online users, Europe has almost 744 million, Africa has over 652 million, and North America has 417 million users. For online store owners, that simply means more potential customers on a global scale.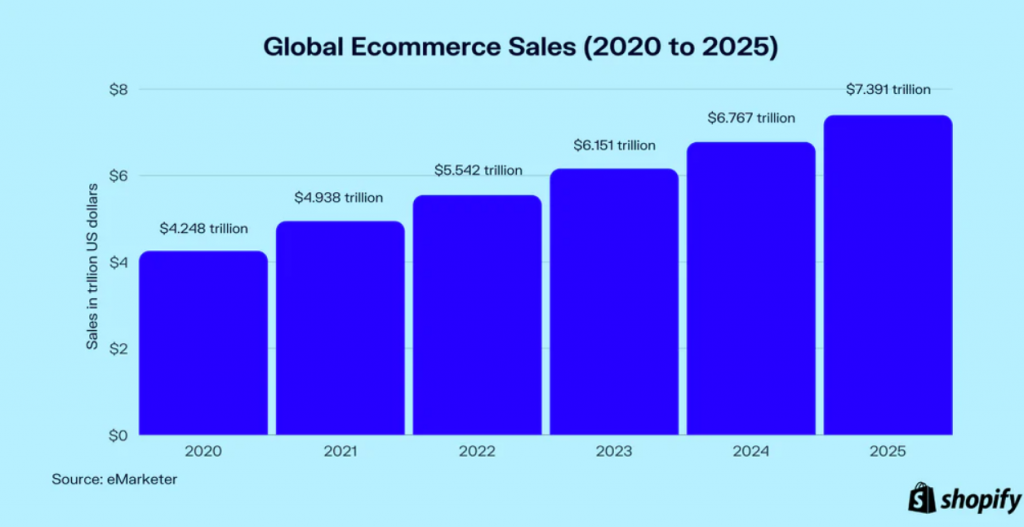 (Source: Shopify)
Better User Experiences for Online Shoppers
A lot of tech infrastructure has been built in a way that allows shoppers to have the best possible online shopping journeys. Aside from the lightning-fast speed and stability of the internet, shoppers are finding it hard to say no when it's so easy, secure, and convenient to buy with just a few clicks.
Even small ecommerce businesses can offer their customers a variety of payment methods and plans, shipping options, and customizations, thanks to easy-to-use software integrations and apps specially designed for online businesses.
Fewer Barriers to Entry
Compared to a brick and mortar and mortar business, there's no need for thousands of dollars, office space, or even employees to start making sales. All you need is an internet connection, a website to sell on, and some marketing.
Flexible Operations
An online business offers you geographical and operational flexibility. Your sales aren't dependent on you being present all the time, so you can even earn money while you sleep! You can even work on your business from anywhere in the world. You can also start with just a single product or go big right away with hundreds of different products.
Earn Extra Income
Earning extra income from ecommerce sales is a great way to cushion you and your family against the effects of inflation. Even if you don't need the extra money for your daily expenses, you can use the extra revenue for investments like real estate, financing your kids' education, or saving up for your retirement.
Steps to Starting a Business
Convinced about starting an ecommerce business? First, make sure you have a business plan.
In this section, I'll guide you through a list of things you need to do when starting an ecommerce business from scratch. These elements also need to be included in your business plan.
Decide What Product or Service to Sell
Ideally, you'll want to start in a niche that you have knowledge of or are passionate about. The learning curve will be shorter and you're less likely to get burned out.
Here are the different types of products you can sell online:
Physical goods/shippable products like homeware, tech items, apparel, etc.
Digital goods ebooks, software, digital artwork, prints
Professional services like business coaching or consulting, accounting, graphic design
Courses and subscriptions
Successful businesses have this in common: they help solve problems and improve their customers' lives in some way. Figuring out customer pain points or gaps in the market is key when identifying what product to sell.
Keep these questions in mind when developing your product:
What problems do you want to solve?
Do you see any issues or flaws with the current products or services in the market?
What trends can you capitalize on?
How can you make an activity more fun or easier?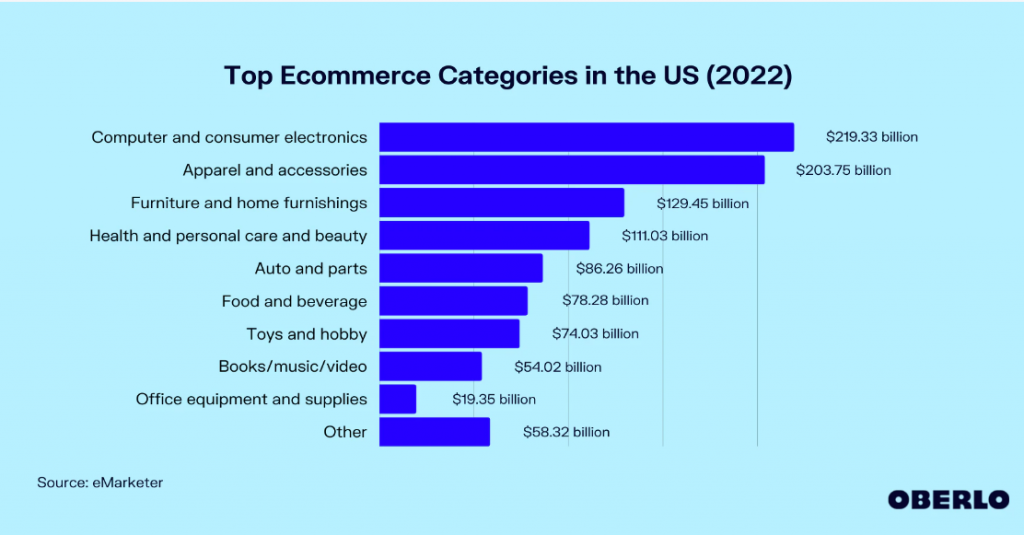 (Source: Oberlo)
Conduct Market Research
Next, you'll have to validate your business idea and see if there's a market – ie. people who will actually pay for it. Here's how to do that:
Identify Your Target Market
Define your ideal customer. What characteristics do they have? Creating customer personas, or fictionalized versions of your target customers will help you communicate with them better and come up with more products and marketing plans that resonate with them.
Do research on your potential customers. Go on the social media platforms where they're most likely to be present on, see what they're posting, trending hashtags, and read comments. Forums like Reddit or Quora are also great places to listen to stay up to date on how people feel about a subject.
Checking out the competition in your niche is another way to gather information. Find out what their top-selling products are and what their customers are saying about them.
Use Keyword Research Tools
Keyword research tools like Google Trends, Google Keyword Planner, Ubersuggest, or Answer the Public help you find out what people and potential customers are searching for. Best of all, they're free! These tools show you stats like search volume and the competitiveness of a certain keyword or niche.
Choose a Business Name and Legal Business Structure
After identifying what to sell and who to sell it to, it's time to pick a business name. Choose one that's unique and clearly communicates what your brand is all about. Check out the U.S. Patent and Trademark Office to make sure you're not choosing a business name that's already registered by another business.
The next step is choosing a legal structure. The type of business entity you select has important financial and legal consequences. You can choose from a sole proprietorship, a general partnership, a limited liability company, or a corporation. There are pros and cons to each type, so be sure to consult a legal professional for advice.
Next, keep your business finances in order. Apply for an EIN or an employer identification number. Not all business structures need this, but it helps keep your personal assets and business finances separate. It's free and you can apply for it here. You should also keep your personal finances separate by opening a small business bank account.
You don't want you or your business to take a hit from sudden costs that may arise from unexpected events. Consider business insurance plans such as professional liability insurance, business interruption insurance, product liability insurance, and health insurance plans to protect you and your business.
To finish, find out what business license or permits you need to operate legally in your city and state.
Create Your Online Store and Market Your Business
Once you have your business plan and all your permits sorted out, it's launch time! You want to make a good first impression, so make sure your products are available on a website or online marketplace that's mobile-optimized and provides a great user experience.
You want to create a pre-launch buzz in advance, so don't hesitate to use different social media channels to get the word out. You can share teasers, create branded hashtags, run contests, or work with influencers. Social Media Examiner recommends promoting on social media at least 12 weeks before your launch date.
Get our How to Start an Ecommerce Business - And Why You Should delivered right to your inbox.

(Source: ConvertCart)
Costs When Starting an Ecommerce Business:
At this point, you may be wondering how much all of this is going to cost you. Here are some of the upfront startup costs to consider:
Licenses and permits depend on your type of business, location, and the products you sell. It can range from $50 to hundreds of dollars.
Website hosting, domain name, and ecommerce platform fees. Shopify offers plans at $29, $75, and $299 a month. There are open-source platforms that are free to use, but you may need to spend more on hosting and developer fees. Domains can cost as little as a dollar per year while hosting ranges from a few to a hundred dollars.

Buying a website could be a costly task. Check out our article for a breakdown of potential costs.
Product inventory and your costs on materials, manufacturing, and storage space.
Packaging and shipping supplies to ensure your products are delivered safely and quickly.
Marketing costs for digital ads, influencer marketing, SEO, or content marketing.

It may be more efficient to consider buying a business. If this seems like a viable option for you, have a look at our article on merging acquisitions.
You can always save money and bootstrap your way into launching a business. For entrepreneurs seeking funding, there are many options available. You can take out a small business loan or a bank loan. If you don't mind working with other founders, you can look for a business partner, equity investors, or angel investors. For small businesses that can't get a loan or investors easily, crowdfunding is a popular option.
The U.S. Small Business Association has an excellent tool to help you calculate your startup costs which may also help you request funding from the government, should you need it.
FAQs on How to Start an Ecommerce Business
Here are some frequently asked questions on starting an online store:
What are the requirements to start an ecommerce business?
To start an ecommerce business, you need a business plan, a business name, a business structure, and the necessary licenses and permits to operate. Next, you need a platform to sell on. It can be an online marketplace or your own website.
Is it worth getting into ecommerce?
Yes, because the ecommerce industry is still continuing to grow. And as the world becomes more connected to the internet, there are still more opportunities for growth in the future. There are challenges like any other business, but with the right mindset and strategy, new online store owners can still succeed.
What are the four types of ecommerce businesses?
The four main types of ecommerce business models are B2C (business to consumer), B2B (business to business), C2B (consumer to business), and C2C (consumer to consumer).
The Next Steps: Starting Your Online Store
If you're feeling more confident and inspired about launching your own small business, here are some helpful things you can do right away to help you start:
Step One: Stay Up to Date with Current Trends
Keeping up with current events and trends in your niche and target market will help you know what kind of products to look out for and sell, how much to keep in stock, and even which ones to avoid. Carve out a regular schedule to do research.
Step Two: Start Small and Test Your Idea on Social Media
Test your idea on a small scale before spending on marketing campaigns. Gauge your target market's interest on social media channels like Instagram or TikTok. If you're unsure how to market on the platform, here's a guide to ecommerce marketing on Instagram.
Step Three: Sell on a Marketplace
Owning your website and data is important, but so is increasing product awareness and earning sales right away. Your business can benefit from being on online marketplaces like Amazon, eBay, or Etsy. They already have built-in audiences and a wide reach that allows small businesses to bring in sales while you establish your own website and brand.
Every successful business owner will tell you that it's not always rainbows and butterflies when you start a business. Frustrating sales months, customer complaints, and unexpected losses are just some of the difficulties you may face. However, don't let those stop you from tapping into this extra source of income! With the right planning and strategies, you can expect great rewards from your entrepreneurial journey.
Do you want to start your own ecommerce business? I've helped businesses launch and scale fast, and I can do the same for you. Reach out today for your free 20-minute consultation and let's discuss.
Get our How to Start an Ecommerce Business - And Why You Should delivered right to your inbox.