One of the keys to ecommerce success is to start with the basics: and that includes your website. 
It's where you display your products, highlight their features, and show people what sets you apart from the competition. However, if your site isn't easy to use and lacks the essential features that are needed to convert customers, then you could be in trouble. So how can you ensure that customers stick around long enough to make a purchase?
If you want to attract a chunk of the 263 million U.S. online shoppers, you should aim to create a smooth buying experience for your customers. Your ecommerce website should:
Be fast and responsive, optimized for both desktop and mobile

Have a user-friendly interface, be easy to navigate, and easy on the eyes

Make customers feel they could shop and make payments securely

Offer reliable customer support and contact information

Tailor-fit offers and recommendations and create value

Include time-sensitive offers
In this article, I'll be talking about the ecommerce essentials that you should have to meet the goals above and to improve your customers' buying experience. Let's dive in.
Ecommerce Website Essentials 
Creating an ecommerce website with user experience in mind has been shown to increase sales by 30% and decrease a website's bounce rate by 50%. Here are some important features for an ecommerce site that converts:
User-Friendly Design and Navigation
When it comes to designing for conversions, user-friendly is more important than looking pretty. 
Hubspot says that for 76% of consumers, the most important thing is that a website makes it easy for them to find what they want. If you want your online store to sell more, your website should be easy to use and navigate. 
This allows users to find what they're looking for quickly, no matter where they are on your site. This is also useful for shoppers who don't have time to browse and need to find something right away. Place the search bar somewhere easily visible. They're usually in the header, just beside or above the navigation bar.
If you sell to other countries, include a language option for your target market.
A great marketing strategy is to place relevant CTA buttons which drive people to important sales pages. You should also include links to special offers pages.
Highlight which products are new and which are the best-sellers, new arrivals, or featured products. This makes it easier for customers to identify your most popular products.
This helps people navigate easier through pages or categories.
On the category page, product images should have a consistent size.
Number of Products Displayed
Each page should show customers the number of products they're viewing and possibly an option to see more or fewer per page.
Product Filtering Options
This makes it easier for visitors to narrow down their search. For clothing retailers, options to filter by size, style, color, and more makes it easier for shoppers to find what they're looking for.
On each page, include a short description of the category. This helps for search engine optimization.
Return Policy and Free Shipping Offers
These are good "risk reducers" to attract potential buyers and encourage them to go through with their purchases. Make sure to clearly state your conditions. 
This displays the icons of the payment methods you accept.
FAQs are a great customer service tool to answer common questions.
Include your business phone number, email address, social media networks, or other platforms where people can contact you. If you have a physical location, include this as well.
Take a look at this product page from GymSource. It has a simple design with lots of white space, uniform fonts, and image size. They also make it extremely easy for customers to find what they need. There's a search box, product categories, breadcrumb navigation, filtering and sorting functions. At the bottom right of the page is a Call to Action button that continually appears even as you scroll.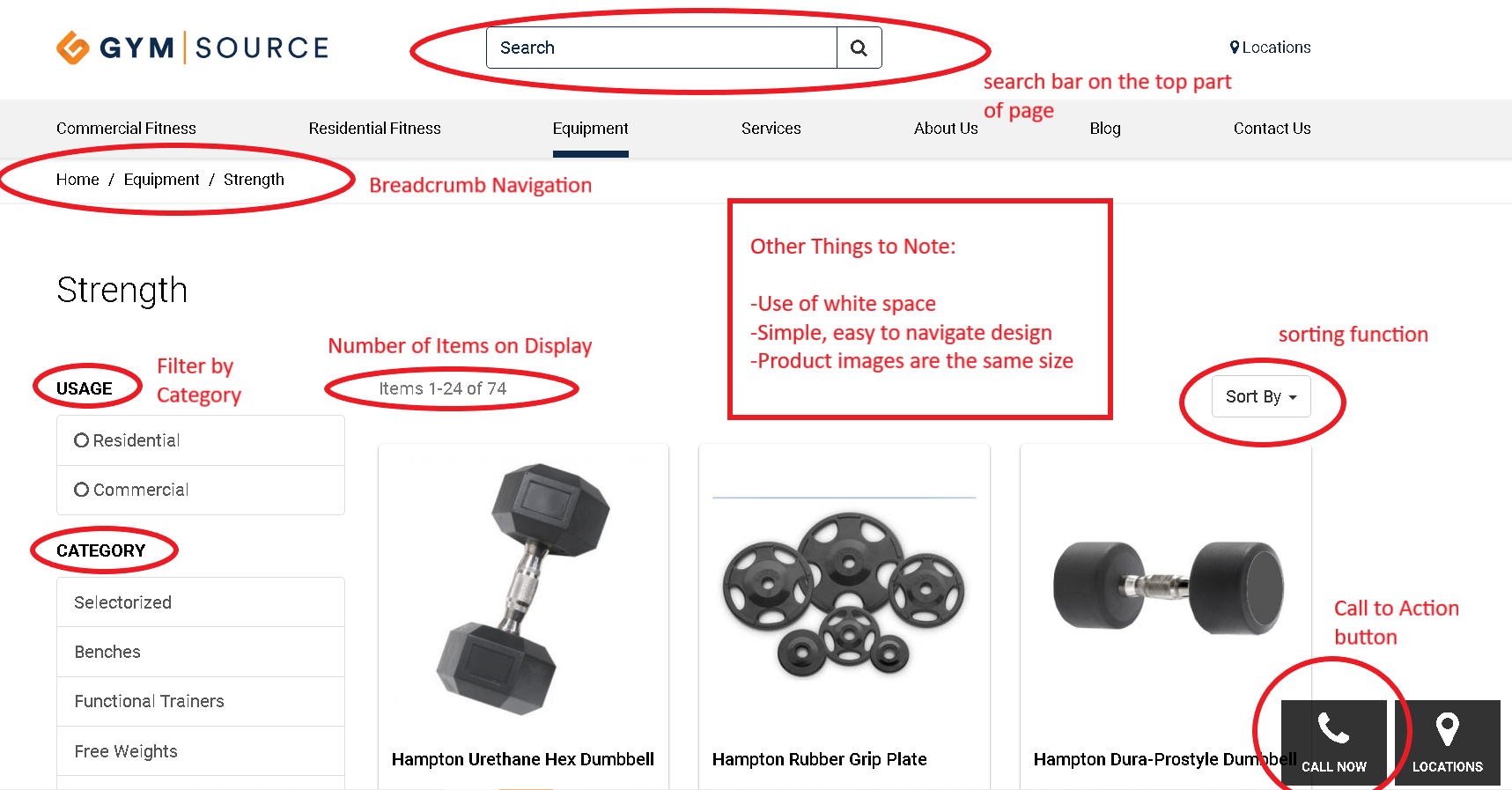 (Source: GymSource)
Pro Tips: 
Use a simple, basic layout that looks familiar to your customers. 

Avoid distracting elements like

auto-play audio

and video, which could lead people to instinctively close the tab.

Limit pop-ups and avoid visually loud background images. 
Brand and Image Design Strategies
Brand image matters. It's an essential part of your marketing strategy and helps customers to recognize your company and remember your value proposition. 
Logo

– Place your logo at a prominent position on the header. 

Unique Value Proposition

– Unless you're selling an extremely niche product, you probably have hundreds of competitors. Why should people buy from you and not from other brands? What benefits are you offering?

About Us Page

– People buy from people. Customers want to see the people behind the business and a founder or product story helps you connect with them in a more authentic way. 
Below, check out how online liquor store Drizly uses these branding elements on their homepage.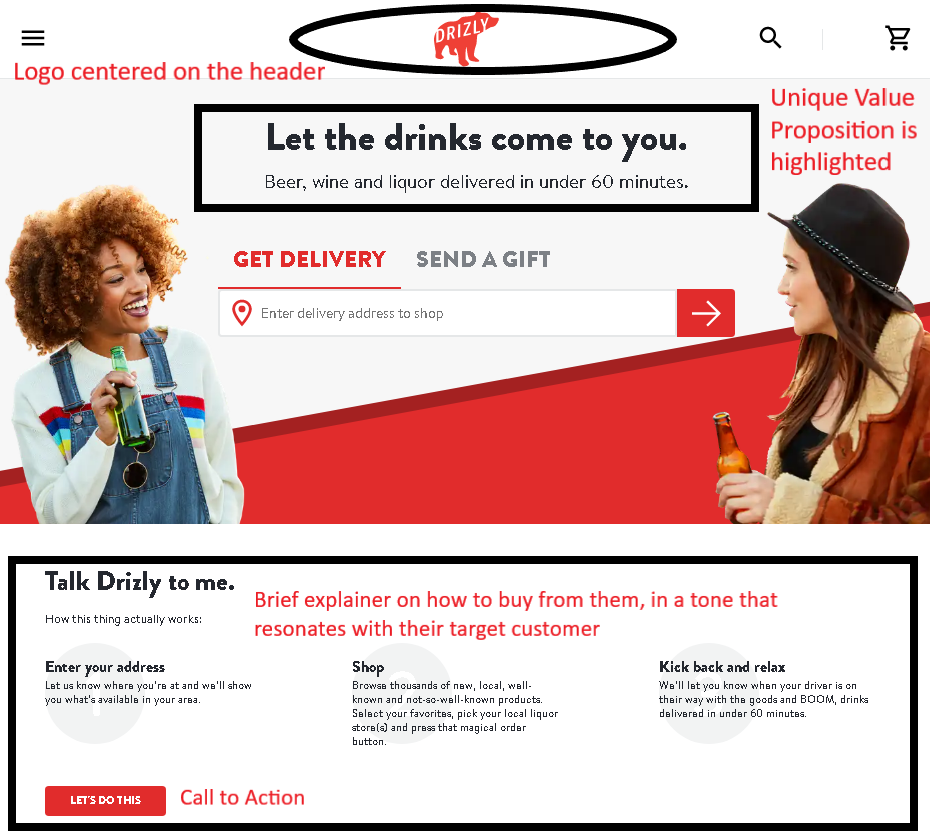 (Source: Drizly)
Security Features for Payments and Browsing
Concerns about data privacy and online fraud can make some visitors feel uncomfortable about online shopping. Show customers that they can trust your website with their personal data and bank details by having the following:  

(Source: PikPNG)
Cookie and Privacy Policy-

A section for cookie and privacy policies makes visitors aware what information your site collects and how you use it.
Joby, makers of the original GorillaPod, makes sure their customers can shop with confidence. The site has a secure, top level domain. A cookie consent pop up appears when you access the site, and they have separate pages for privacy and cookie policies.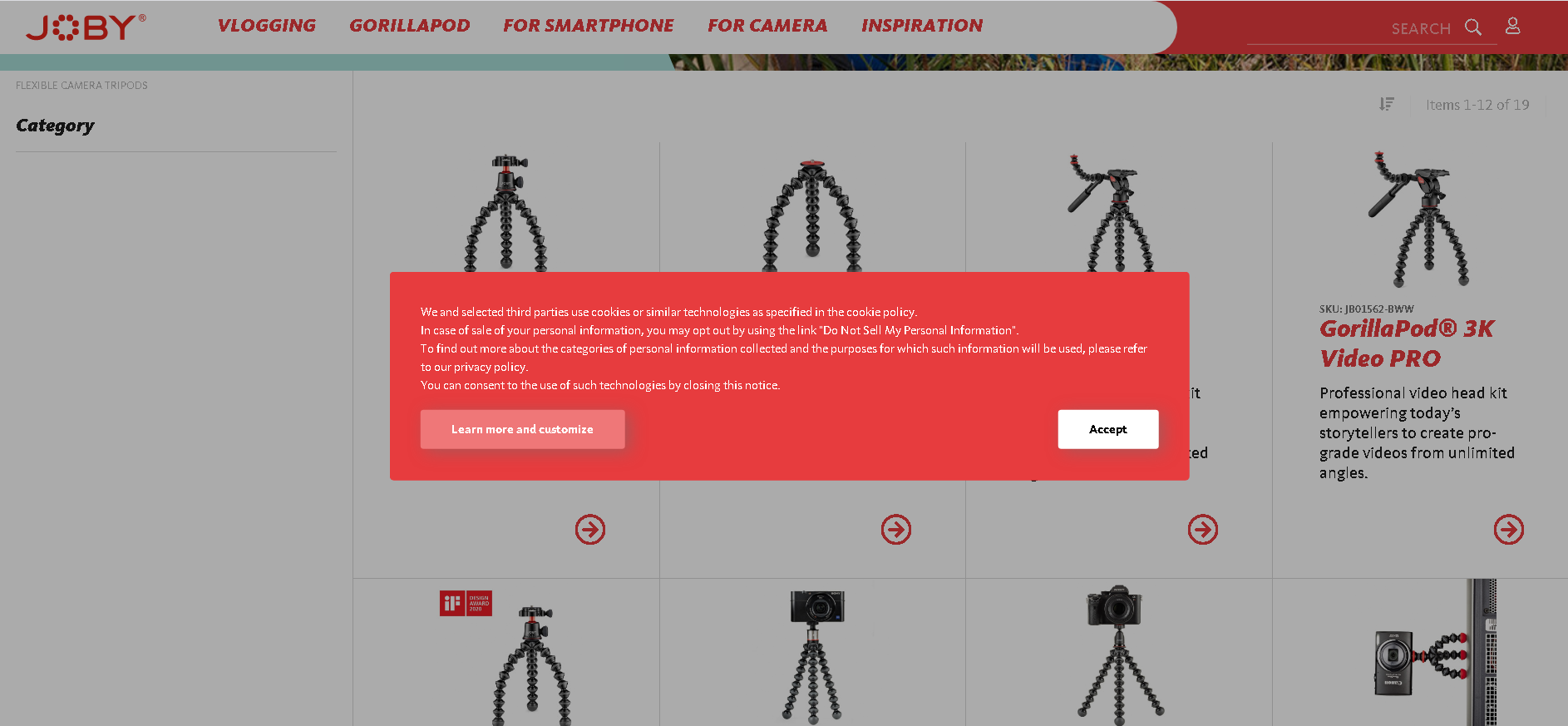 (Source: Joby)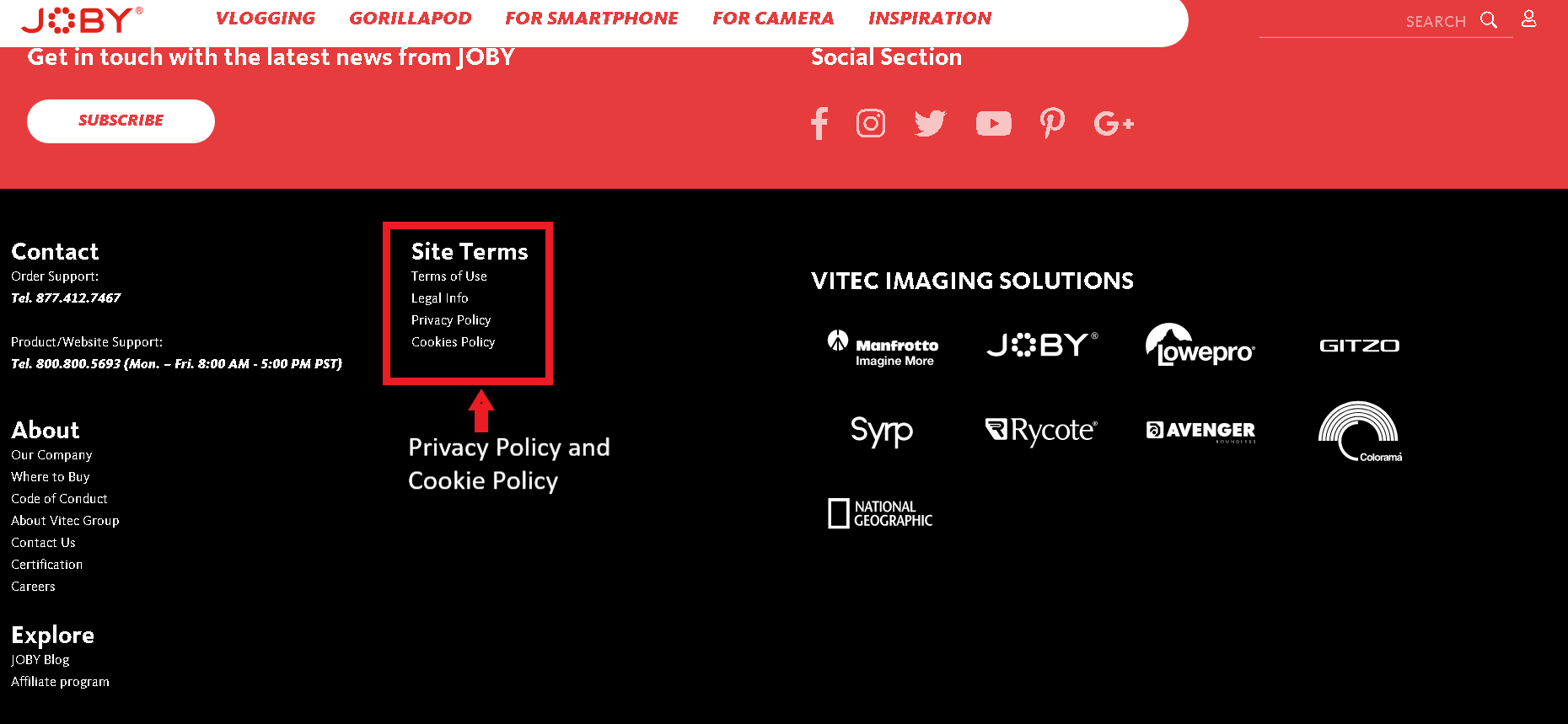 (Source: Joby)
Get our Features Every E-commerce Website Must Have - Worksheet delivered right to your inbox.
Personalization and Value Creation
Some 83% of customers are willing to share data in exchange for a more personalized shopping experience. Personalizing your recommendations and offers is another great way to boost your customer's experience.
Customer Accounts and Log-In –

This gives your customers a quick and easy way to store their personal information, preferences, and even their shopping cart if they don't want to purchase right away. For easy access, place the sign up or log-in link at the top right part of the website.

Loyalty Program –

Consider creating a

loyalty program

to encourage customers to open accounts. Incentivize members with reward points, special offers, discounts, or free content.

Recommendations –

Show items that a customer might find interesting based on their browsing or purchase history. You can also show complementary items to the products they're about to purchase.

Wishlist –

Some visitors may be interested in a product but aren't sure about buying it immediately. A

wish list or favorites

function allows visitors to easily save things they like for later viewing and purchasing.

Content That Adds Value (Blog Posts, Newsletters) –

You hit two birds with one stone when you create

great content

: you give your customers useful information, and you also optimize for search engines as well.

Newsletter Sign Up –

An email list is a great tool for collecting data from your customers and to reach out in a more personal way. Place a newsletter sign up field in an easily visible area and mention how it can

benefit

them.
See how H&M uses these personalization features on their website: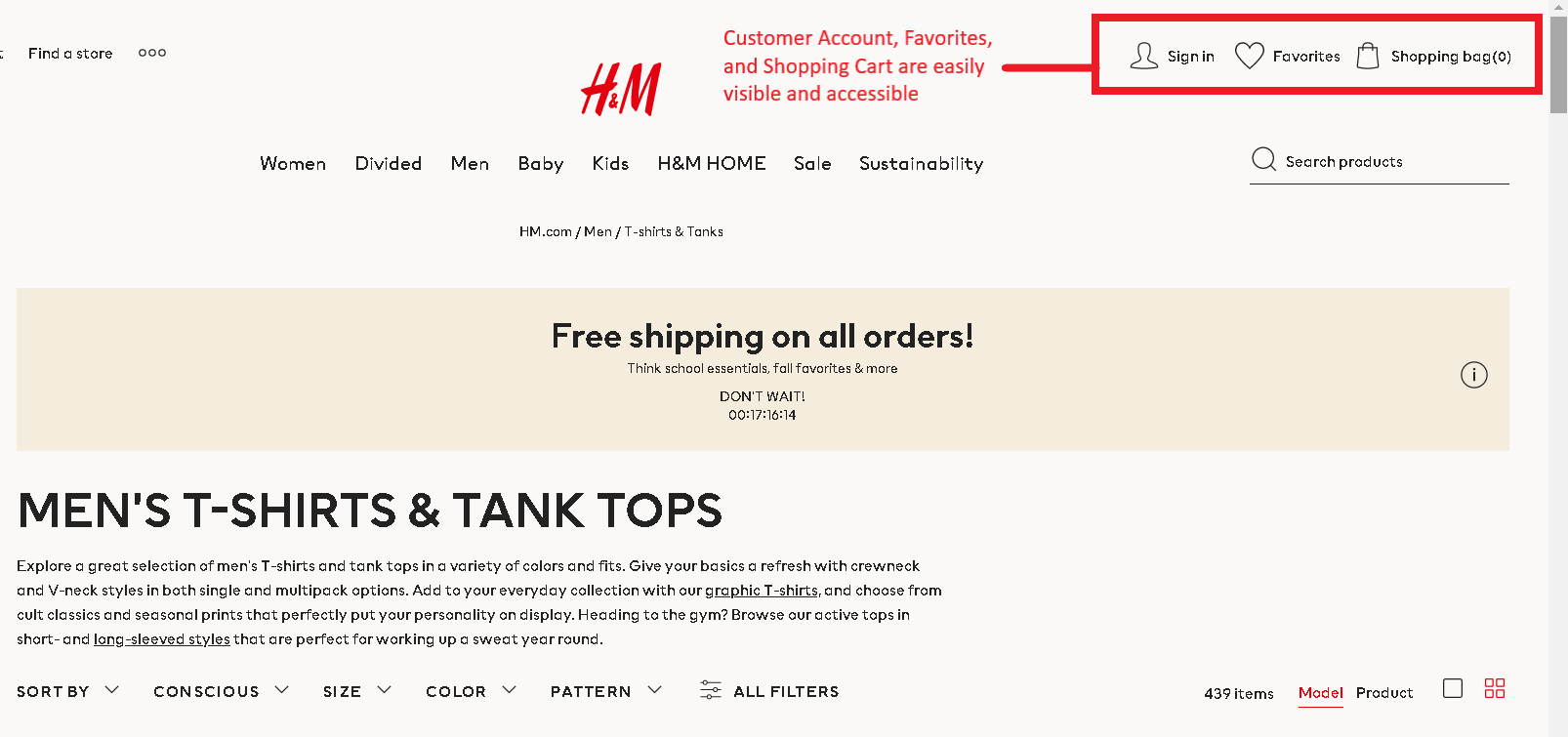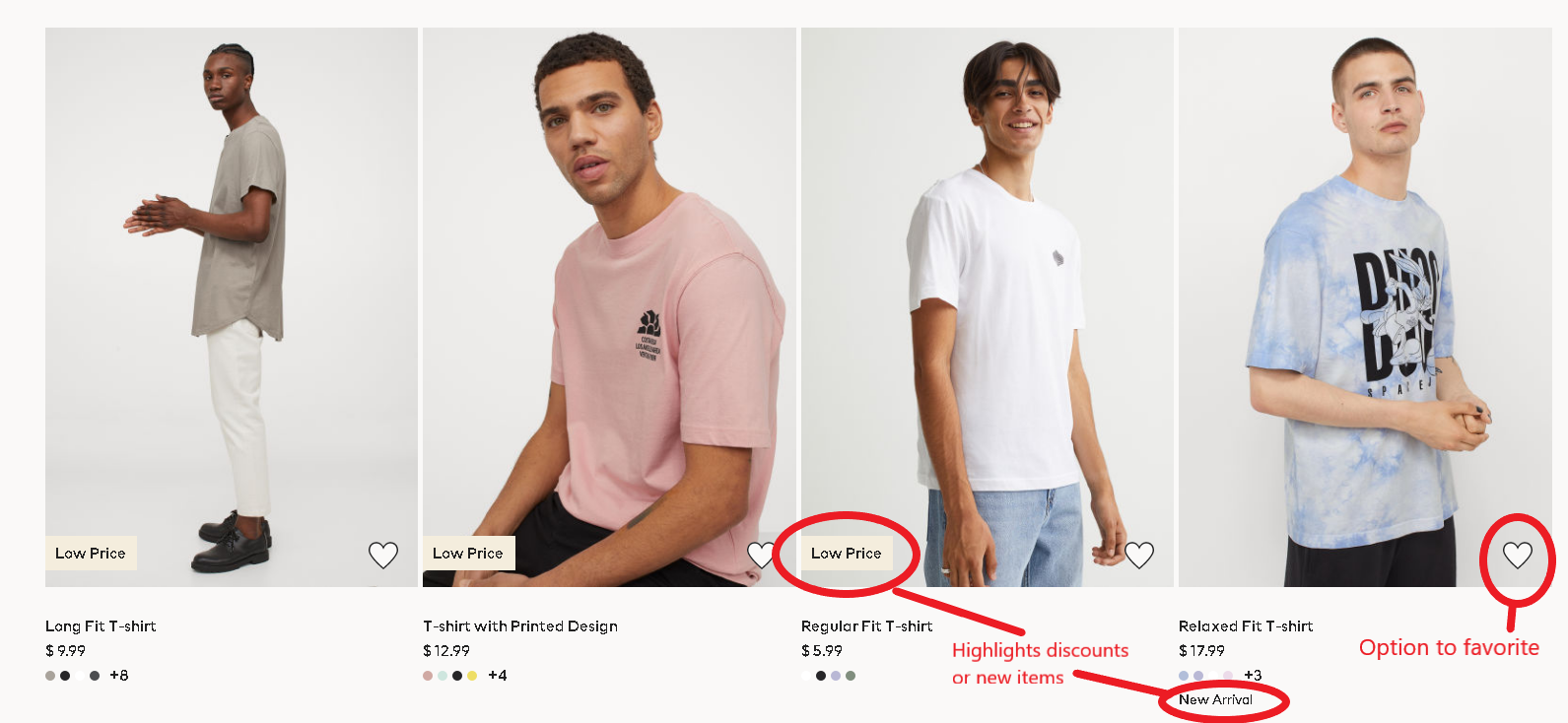 (Source: H&M)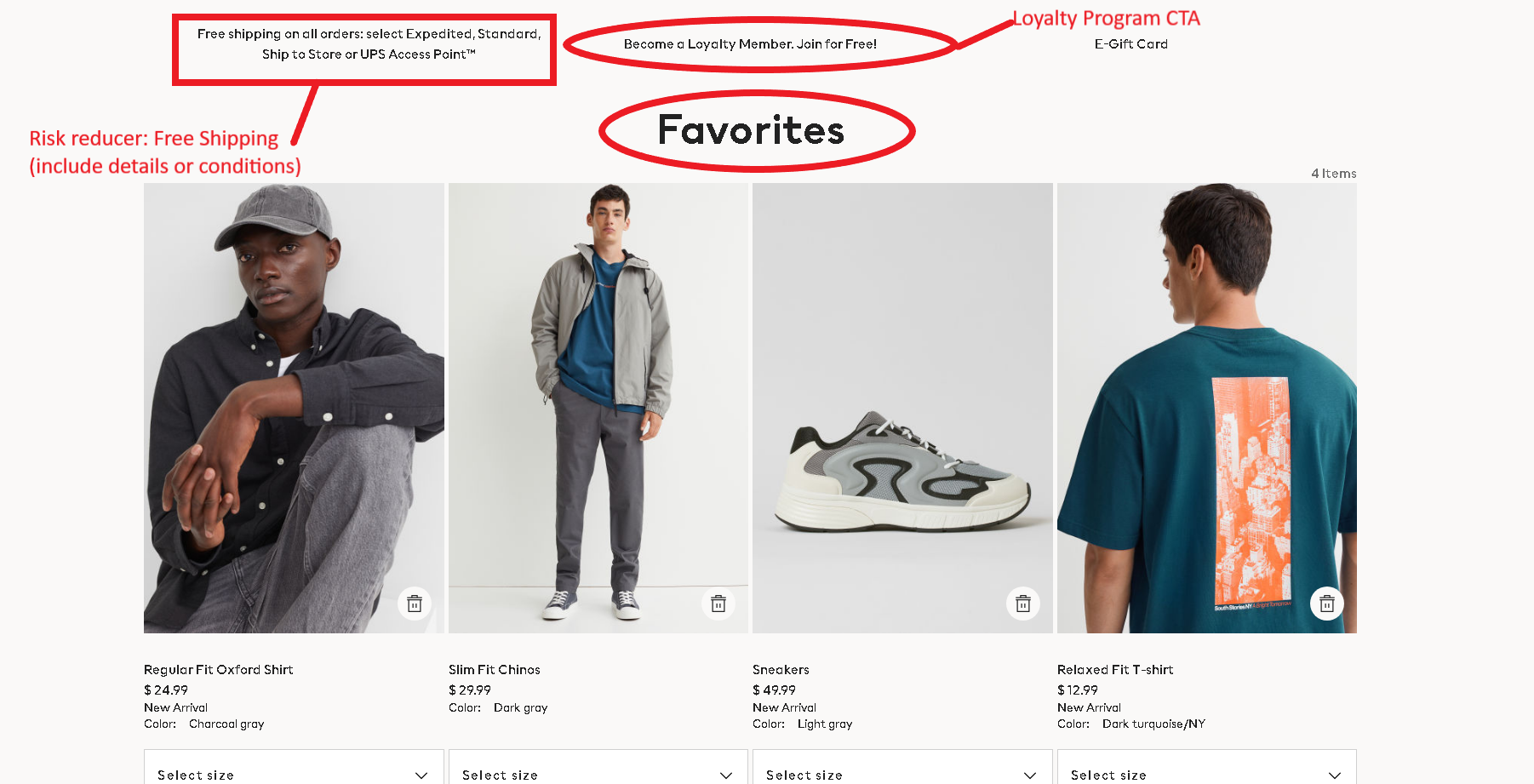 (Source: H&M)
Product Page Optimization
A product page is an essential part of an ecommerce shop. It shows what your product looks like, what makes it special, and why people should absolutely have it. Effective product pages should be able to convey the benefits and value of the item being sold. 
Product Title –

Name or title of the product. Include the most important details.

High Quality Images

– It would be ideal to have images that allow zoom-in functionality. Include photos with several views and angles of the product. You can also get creative with lifestyle images and

in-use photos

to showcase the products.

Video –

Videos are another great way to show your products and tell stories. 

Price

– Also include things like sales, discounts, or special subscription prices.

Product Description

– Be sure to have all the important specifications and details that customers need to know. 

A Field to Change the Number of Items –

This allows your customers to have the flexibility to easily add or remove items as they shop.

Add to Cart Button with Trust Signal –

Prominently display the Add to Cart button next to the product image or details. Include

trust signals

near the add to cart button to emphasize the security of the transaction.

Social Share Buttons

– Make your product page easily shareable on social media channels and email by adding sharing buttons or links. This encourages customers to share products they love and brings in traffic to your site.

Related products

– Add related products at the bottom part of the page. This shows customers options they might have missed and helps them easily find what they need.

Social Proof

– Placing ratings, reviews, or features on your product page. You can place ratings next to or under the product name. Customer reviews and testimonials can be added at the bottom part of the product details or images.
Safety Gear Pro does their product page really well, using the elements mentioned above. 
(Source: Safety Gear Pro)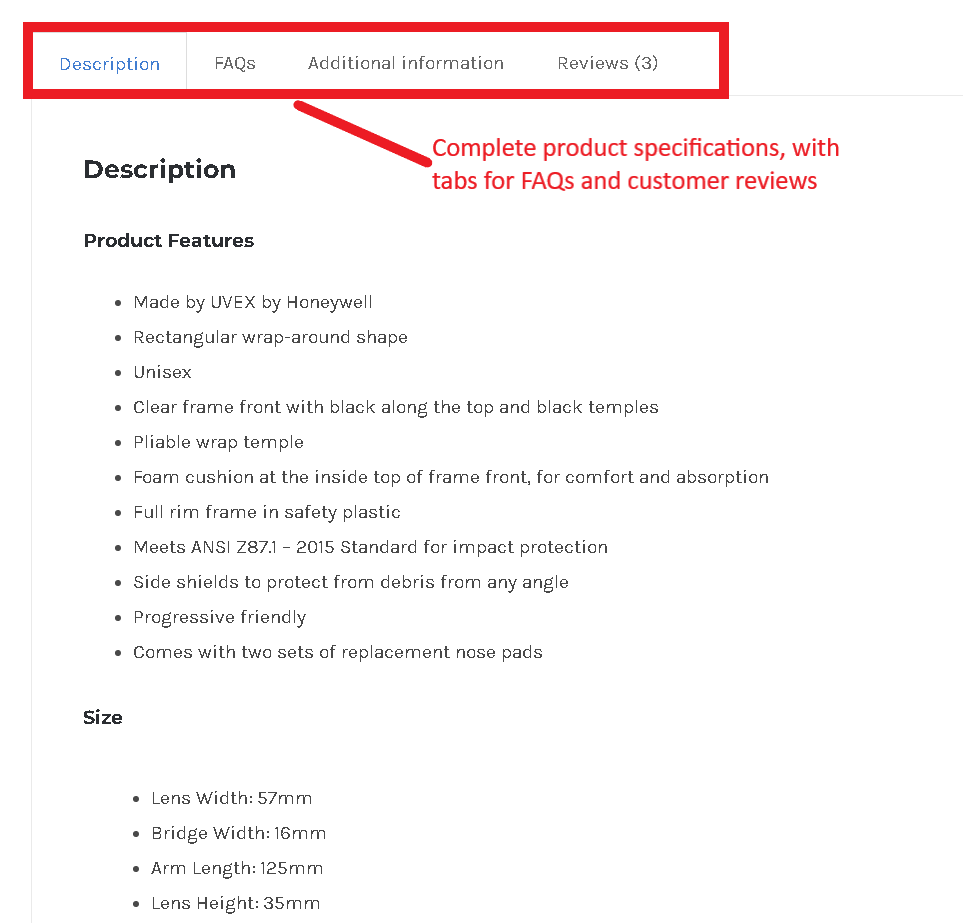 (Source: Safety Gear Pro)

(Source: Safety Gear Pro)
Checkout Page and Shopping Cart Details
A lot of cart abandonments happen at the checkout stage. Reasons such as complicated checkout process, high additional costs, or limited payment options can send customers away. This is frustrating for both retailers and potential buyers.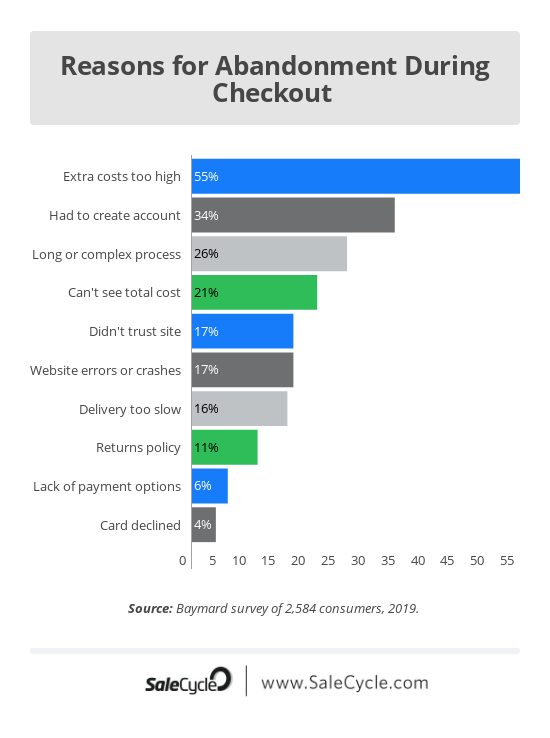 (Source: SaleCycle)
One way to considerably reduce cart abandonments is to make sure you address the issues that make people leave. Here are some features to include on the checkout page to improve your conversion rate:
Shopping Cart Details –

Include product name, description, quantity, price per item.

Final Price –

Show the total amount and include taxes, discounts or other things that affect the cost of each item.

Shipping Methods –

Some customers are willing to wait longer in exchange for free shipping. There are others who would pay extra to have it ASAP. Offer several shipping methods at checkout and make sure to have at least one low-cost shipping option.

Security Seals Around Credit Card

– These trust badges give your customers confidence about the security of your payment process and website.

Separate Billing and Shipping Address

– Many customers have separate addresses for billing and shipping. Have two different fields for these.

Coupon Codes

– Customers love

deals and discounts

. Include a field to enter coupon codes if you offer them.

Add or Remove Items

– Don't forget to provide the option to add or remove items on the check-out page as well.

Save Cart for Later

– This is a great function which allows customers to come back in the future and purchase items they were interested in.
See this example of Book Depository's checkout page. They make it a breeze to checkout, even without a customer account. Their checkout basket shows all the important details and price summary, gives customers the option to add or remove items, and offers great deals like free shipping and the option to use coupon codes. They also optimize the checkout page to upsell and personalize the customer experience by showing recommended items.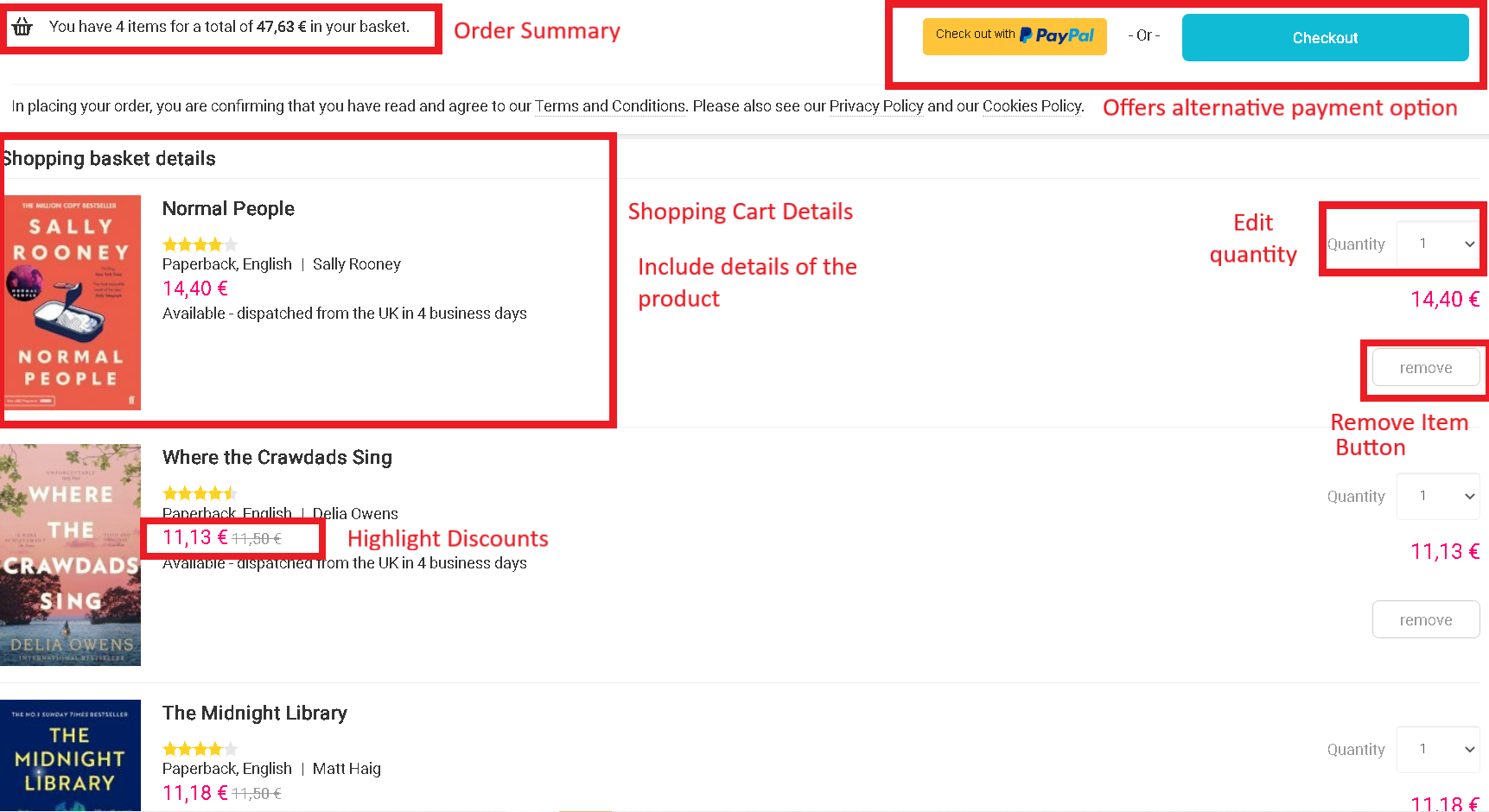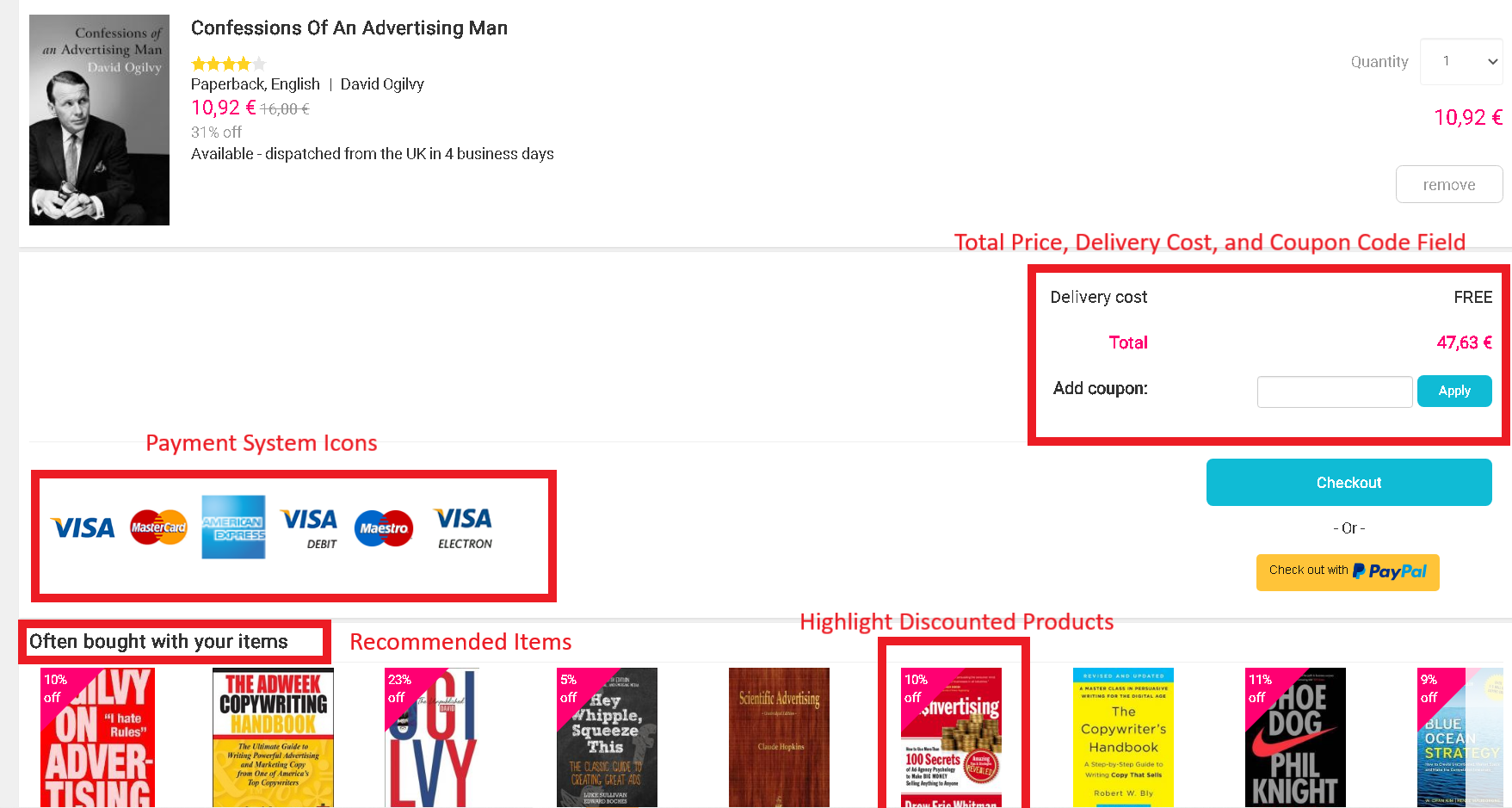 (Source: Book Depository)
There are somewhere between 12-24 million online shops worldwide. To stay relevant and competitive, always monitor how your ecommerce website is doing, and keep an eye on what your competitors are doing as well. You want the entire shopping experience to be as seamless and hassle-free as it can be to encourage your visitors to stick around and make a transaction. Change what doesn't work and continually upgrade it to make sure everything runs as smoothly as possible for your customers. 
Are you missing some of the key ecommerce website features in this article? If your site needs an upgrade, reach out now for your free 20-minute consultation. Let's find some techniques that you can implement that will help you to grow your business: fast. 
Get our Features Every E-commerce Website Must Have - Worksheet delivered right to your inbox.