Got way more work than you can handle? Thinking of outsourcing a project –or two? Or maybe you're looking to spend less time on mundane, everyday tasks, and instead focus your attention on other aspects of running a business.
No matter what your reasons, Upwork –formerly Elance and o-Desk just might be your ideal solution.
Upwork makes the process of hiring a freelancer relatively fast and straightforward. With this platform, it's easy to find contract workers, who can tackle those projects that you've been meaning to get done, or take on some of those everyday tasks.
No matter who you're looking to hire –whether it's an amazing web designer, talented app developer, or a super-organized virtual assistant, chances are you can find them on Upwork.
This platform has perhaps the largest and most varied pool of freelancers available today, with a wide range of different skill sets, experience levels, and pricing variations as well.
If you are looking to use Upwork to find a freelancer or two for your tasks, here are a few tips to help the process to go as smoothly and efficiently as possible; increasing your chance of ending up with a top-notch contractor that you're happy with.
Using Upwork to Find a Freelancer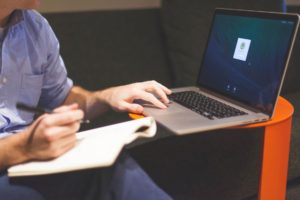 Assess the Task at Hand
First things first, before you outsource a task, you'll want to take a good hard look at it to make sure it's something that's even necessary in the first place.
You'll want to verify that it does add value to your business or customers in some way. Often, we spend a lot of time on trivial things that, if they were to be eliminated from our day-to-day activities, wouldn't have a significant impact on the business.
You'll also want to check to make sure the task isn't something that can be automated; creating a solution that requires little or no human interaction to execute.
Here are a few examples of time-wasters that can easily be automated –or eliminated altogether:
Appointments: You don't have to make your own appointments. Software such as Schedulicity lets people book their own appointments with you online.
Pointless Meetings: Routine meetings can be eliminated in favor of short emails and memos.
Trips to the Post Office: Avoid making regular visits to the post office, instead schedule mail pickups, buy envelopes with pre-paid postage, or invest in a scale and postage printer.
If you discover that the task that you're looking to outsource does add value, to your business or customers, but can't be automated, then it's time to move forward with finding a contractor on Upwork.
Identify the Task
Next, you'll want to assign a name to the job that you're thinking of outsourcing, and identify which type of task it is. Is it more technical or research-based? Project management or implementation? You'll also want to determine whether the task is a one-time project, or ongoing.
This will help you when budgeting, and will also allow you to create a detailed and accurate job description, one that will inform potential contractors on the scale and nature of the project.
Create an Upwork Account
If you don't have one already, head over to Upwork and create an account.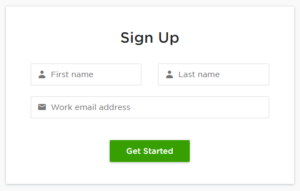 It's fast and easy, and they'll walk you through the entire process.
Provide a Detailed Description
Next, you'll want to start finding freelancers! Your best option is to create a detailed job description that contains plenty of relevant information and helpful details that the contractor will need to assess the job or task at hand.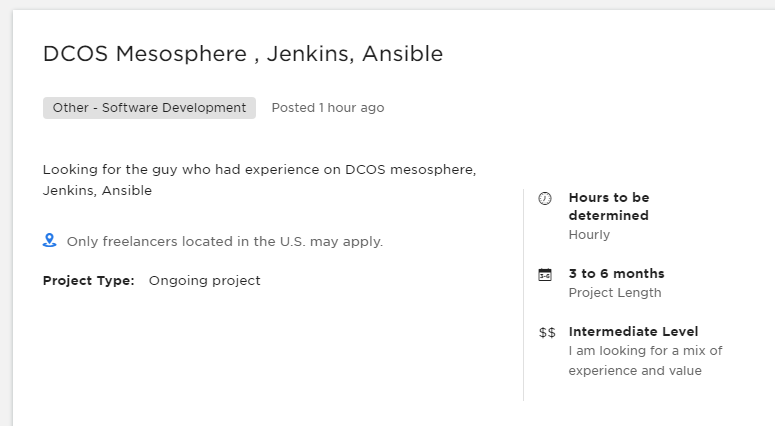 Take a look at the above Upwork ad. This is an example of something that you don't want to do. At first glance, it's not clear what this client is looking for. There aren't enough details and the wording doesn't make a lot of sense. Try to be clear with your job descriptions, and to post as many details as possible.
Instead of posting, "I need a website," for example, try to explain what you are looking for and why. Describe your company, the task, and what you expect in great detail, and be sure to include how much you're willing to pay.
Try writing something like, "I need a WordPress site with a MailChimp email opt-in form, responsive and optimized for mobile." Just take care not to include any potentially compromising details like account log-ins, passwords, or confidential details.
Upwork also lets you create qualifying questions that candidates can answer when applying for your job. You can also adjust your job listing's visibility. You can choose to make it visible to anyone, only Upwork users, or only applicants that you reach out to yourself.
After you post a job, Upwork will give you a head start, and send over a list of potential candidates. You can invite those freelancers to submit a proposal, or search for more candidates on your own.
Ensure Potential Applicants Read the Description
Some experts recommend including a purple elephant in the job description. Telling your applicants to add the words "Purple elephant," –or some other specific phrase in their message to you can help you to separate those who've actually read the job listing completely from those who didn't bother.
Why does this matter so much? Simple, because it'll give you a good idea about someone's ability to notice details, and pay attention to your instructions. It's an easy way to weed out applicants that might be difficult to work with.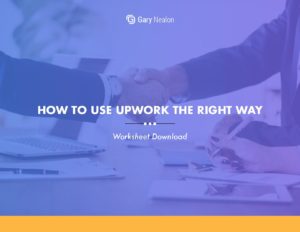 Get our How to Use Upwork the Right Way Worksheet delivered right to your inbox.
Search for a Freelancer
You don't have to wait for candidates to come to you! Go out and find them with Upwork's search feature. With search, you can scroll through a list of potential applicants, see their hourly rate and qualifications, and reach out to them.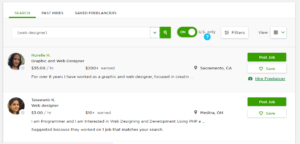 Once you find a freelancer who looks promising, you can either invite them to a job, or hire them directly. If you hit the "Hire Freelancer" button, you'll be taken to a form where you'll have to answer a series of questions regarding the job at hand. You'll also be prompted for a job description, where you can list the details.
Reaching out to specific applicants directly allows you to easily invite promising contractors to submit a bid to you. You can then weigh up the interested candidates based on their price, experience, ratings, portfolios, and more to find the best applicant for the job. You can also hire directly if you've worked with a specific freelancer before.
Qualify Applicants
When looking at potential candidates, you'll want to check prior feedback and ratings that they've received from previous clients.
Upwork offers helpful insights into your potential contractor –their experience and background, allowing you to easily view their hourly rate, total earned through the Upwork platform, number of jobs completed, and hours worked. You can also browse through previous projects to view testimonials, and see how their clients have rated them.
Note That Cheaper Isn't Always Better
When assessing candidates, it's important to note that cheaper isn't always better. As with most things in life, you generally get what you pay for on Upwork, and the least expensive option isn't necessarily the best one; especially when you consider that you may have to spend money or time down the road, redoing the work yourself if it isn't up to standard. While price is indeed one factor to look at, it shouldn't be the defining factor.
Remember: Location Doesn't (Usually) Matter
For the most part, location doesn't usually matter too much when you're enlisting a freelancer's services but in a few cases, it may.
For instance, if the work you're outsourcing is time sensitive, and requires a great deal of onboarding or back and forth discussion, then different time zones could potentially be an issue. Additionally, in some cases you may need to hire someone from within the U.S. in order to ensure the enforceability of a nondisclosure agreement.
And of course, if you need someone for content creation services, you should make sure their English is up to par. For most jobs though, it probably won't matter too much where your candidate is located, as long as they can produce quality work and meet your standards.
Ask to See Examples of Previous Work
Upwork allows freelancers to display samples of their previous work on their profiles, but if a contractor that you're considering doesn't have any samples on their profile, you could always reach out and ask for some.
Samples will give you a good idea of what you can expect if you work with them, and will indicate whether they're the right person for your project.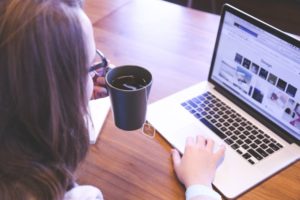 A reputable freelancer will be more than happy to send over examples of their previous work, so don't hesitate to ask.
Consider Shortlisting Candidates
In some cases, you may want to consider shortlisting 2-3 candidates and assigning them short tasks to complete. This is a great way to evaluate their work and find the best fit for the job. This is especially important when it comes to bigger projects, or if you're looking for someone to establish a long-term working relationship with.
Start Out Small
Of course, you don't have to shortlist candidates. If you find a contractor that seems promising, consider giving them a short trial run project, to see how they handle it. Are they able to perform the work to a high standard?
Do they complete the task on time? Conducting a trial run will give you valuable insight into their process, show you what their work is like, and indicate whether they're a good fit.
Conduct an Interview
Just because you're hiring online, doesn't mean you should forgo important preliminary steps! Just as you wouldn't hire an employee without an interview, you should be wary about hiring freelancers without conducting a phone or Skype interview first. For smaller tasks, a chat interview might be fine, but you'll want to take the time to vet potential applicants before making the final plunge.
Maintain Good Communication
Once you've found a freelancer, your work doesn't end there! Keep in mind that communication is an important part of a successful project. Neglecting to clarify details on deliverables or failing to assign a specific deadline is asking for trouble.
Don't turn a freelancer loose on a project without confirming a few key things upfront. Instead, always make sure you and the freelancer are both on the same page, and ensure that they have all of the information that they need to complete the job in a timely manner and in a way that's in line with your expectations and standards.
It's also important to make yourself available to answer any questions they might have regarding the project and to be on hand to offer feedback, as well as suggestions or corrections if necessary.
Break It Up
When it comes to bigger projects, having smaller, manageable milestones is important –especially when you're working with a new contractor for the first time.
Consider breaking gigantic projects up into smaller steps that can be easily accomplished –and paid for as they are completed. This will help to make the project a lot more manageable and will lower the risk factor as well. If something doesn't work out, you won't be stuck halfway through an unfinished project.
Instead, you can easily hire someone else to pick up where they left off. Smaller projects will also allow you to provide feedback at crucial steps, allowing you to take action early on if something's not up to standard.
Stay on Top of Your Projects
When it comes to managing contract workers, of any profession, it's crucial that you stay on top of things.

Upwork offers great tools for monitoring projects and keeping track of your contracts, such as the Work Diary. This tool gives you a screenshot of ongoing work as well as work that's been completed to-date, and also shows time invested in a particular job.
You can also view hourly details through Upwork's timesheet feature. Be sure to make use of these tools to help manage your projects, stay on top of things, and ensure that your projects are being completed on time.
Pay Promptly
This one should go without saying, but it's always a good idea to pay your freelancers promptly for work that they've completed. Most reputable freelancers will stay loyal to you and put more care into their work if they're paid in a timely manner.
Just make sure you inspect the work to ensure that it meets your specifications before you send out the payment. Then get that check in the mail! Or PayPal payment sent out, rather. Payments for work completed through Upwork can be made via PayPal, credit card, or a bank account, and you can pay your freelancer on an hourly basis or per project.
Just make sure you negotiate the terms of payment ahead of time. Also, keep in mind that Upwork charges freelancers a sliding fee of 20 percent, 10 percent, or 5 percent, based on the amount they've billed with a client per payment. They also charge a 2.75 percent payment processing fee.
Now you should have everything that you need to go out and hire the very best freelancers –and be the best client as well.
Remember, finding success with a contractor is dependent upon both sides. The applicant needs to be qualified, and you need to ensure that you communicate effectively; outlining clear expectations from the start and carefully overseeing and providing feedback throughout the work process. Your success will largely come down to how well you're able to ensure and execute those two things.
All the best in your freelancer search!
Have you used Upwork before? What advice do you have on hiring through this platform?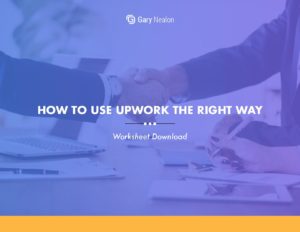 Get our How to Use Upwork the Right Way Worksheet delivered right to your inbox.