It's safe to say that the internet has completely reinvented shopping.
E-commerce allows us to save money and access more products than ever before. Online shopping provides conveniences, such as unrestricted store hours and the ability to shop from home, not to mention the ability to price check. With about 1.3 million e-commerce retailers in North America alone, consumers have nearly endless options when it comes to online shopping. No wonder 69% of Americans head online to buy things.
E-commerce sales account for 9.75% of all retail and consumer purchases in the United States, and online shopping only continues to expand. With consumers spending more than $500 billion online in 2018, it's becoming an increasingly more competitive business. Roughly 90% of all e-commerce businesses fail within their first 120 days, demonstrating the importance of utilizing proven strategies in order to stay profitable.
With steep competition in e-commerce, achieving your goals means implementing appropriate strategies to remain relevant. Unfortunately, profitability doesn't happen on its own; even if you're selling a great product for a fair price.
Maximizing your profits can broadly be broken down into a few basic methods.
You can:
Expand your customer base
Boost your average order size
Increase the frequency of purchases
Increase your profit margins
Let's explore these options now.
1. Expand Your Customer Base
Most of us would like more customers, but before you can work on attracting new customers, you need to fully understand your target market. Tracking data about your customers, such as their typical age or location, creates a blueprint for how to successfully reach more consumers and expand your market. Having insider knowledge into your target customer allows you to begin utilizing effective sales and advertising strategies to more effectively reach them.
Between significant competition and low conversion rates, increasing the number of customers for your business can appear daunting. However, knowing the best places to advertise can help you to get the most out of your ad dollars.
The most effective ad strategies are personalized. So you'll want to start by segmenting your email lists and start running targeted ad campaigns.
Another important part of expanding your customer base is learning what current consumer demands are and making sure your website's basic infrastructure can keep up. For example, many consumers prefer mobile shopping. This means that your website must support mobile devices, as failing to do so can drive visitors away and cost you sales.
Here's a look at a few ways that you can build your business by attracting new customers.
• Consider Multi-Channel Selling
Selling your products on your own website is a great start to an e-commerce business. But multi-channel selling is often necessary to reach the ideal number of consumers.
A major benefit of multi-channel selling is that it can improve your sales by allowing you to take advantage of niche markets. Certain selling platforms, like Poshmark, specialize in an area of e-commerce. Poshmark focuses on fashion items, which can make it smart to put related merchandise on their platform as it expands your potential market.
If you sell niche products, check out which platforms have the largest market for those items. Developing a strong reputation as a specialty seller can lead to more sales and growing revenue, as customers can post positive reviews and share your listings on social media.
Selling platforms all charge different fees, making multi-channel selling smart because it can reduce costs. Focusing on limiting your expenses is best achieved by using platforms with reduced fees for large-ticket items. Some platforms also offer shipping services, which can cut down on the amount of storage space you need for inventory.
You can use software to integrate your multi-channel selling, which can automate the process of listing across multiple websites.
• Run Targeted Ad Campaigns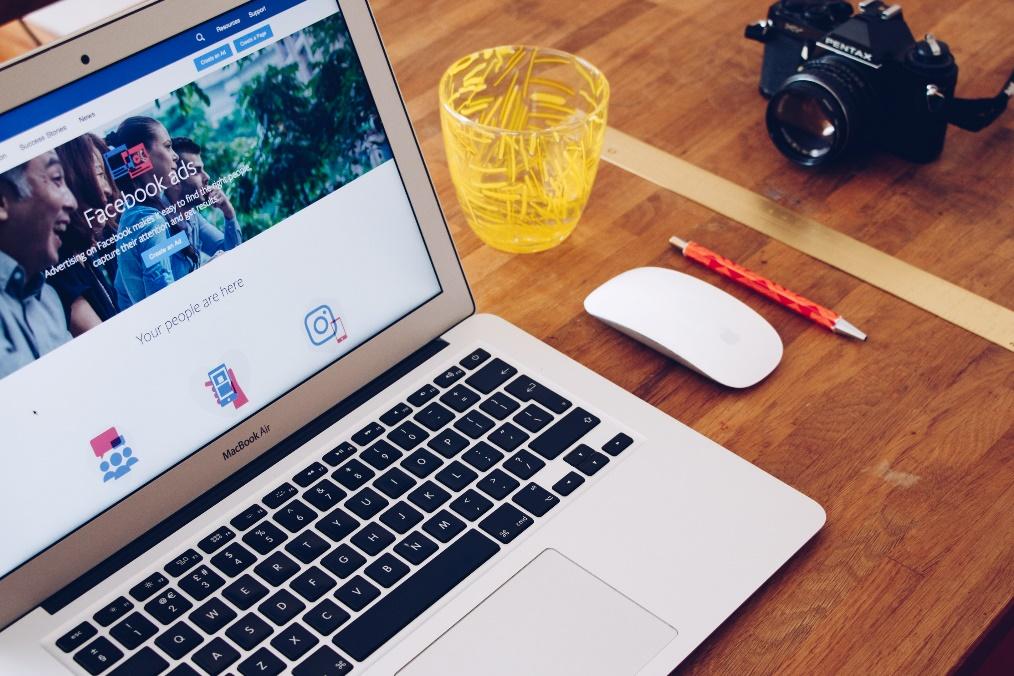 (Source: Unsplash)
Personalized ads have higher conversion rates, so segment your customer lists.
Whether you list an ad on Facebook or Google, you can input information that allows you to target consumers based on demographic data like age, gender, and location. Geo-targeting focuses on running ads in a specific city, state, or region. Geo-targeting is also ideal if you're selling something that's targeting a specific region. So if you're selling seasonal products, like winter clothing, because you can focus on areas with cold climates.
Facebook ads allow you to create custom audience lists –which means you can segment your lists by interests so that you can reach your audience with relevant ads; increasing their effectiveness.
Facebook retargeting ads are another great way to boost sales. Retargeting ads allow you to focus on reaching consumers who have viewed your product before, added it to their shopping cart, or viewed items from your product set. These features create a way to craft unique ads that are seen by consumers who are more likely to buy your product.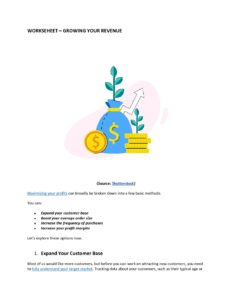 Get our Growing your revenue delivered right to your inbox.
• Use Video
Videos are interactive and can let you share information about your products in a way photos or written content simply can't. For certain items, video demonstrations can be an ideal way to showcase different features, giving customers the information they need to make a purchase.
2. Boost Your Average Order Size
For e-commerce stores, looking to increase your average order size is a simple yet effective way to grow your revenue.
• Reward Customer Loyalty
Repeat customers are the lifeblood of e-commerce businesses. One way to improve customer loyalty and demonstrate appreciation is by offering special deals or discounts to regular customers. This can mean offering coupons with a minimum purchase or free shipping if you spend a certain amount of money.
Discounts and coupon codes are a great way to encourage customers to increase the size of their order, especially if customers have to exceed a spending amount. Running sales like 'Buy Two, Get One Free' can likewise have the same effect, as consumers have to purchase a set number of items in order to benefit from the deal. Coupons and promotions also foster long-term relationships with loyal customers, especially if you institute a rewards program.
Giving rewards to customers who make a certain number of purchases leads to more sales and better margins.
• Offer Bundles During Checkout
Another way to increase your average order size, and provide value to your customers at the same time is by prompting shoppers with upsells, cross-sells, and even downsells. The ideal time for this is during the checkout process, that's when your customers have reached the stage where they are most receptive to buying. It's far easier to sell to an existing customer than it is a new one, so this is a golden opportunity that can help to grow your revenue.
Let's take a look at each of these now:
Upsells: For e-commerce, upselling involves showing your visitors products that may be considered upgrades during the checkout process. This could include showcasing a better product or service, or providing upgrade options.
Cross-Sells: Cross-selling as an e-commerce store could mean showing your shoppers items that go well with the ones that they're purchasing. Amazon does this well with their "frequently bought together" feature that shows related products when someone's getting ready to check out. They make it easy to bundle. You could also offer a discount for bundled products, to encourage shoppers to buy more.
Downsells: Finally, the downsell. This technique is something that you see in car dealerships. The salesperson will show customers the most expensive cars first, and then when the customers hesitate, they'll show them less-expensive downgrades. E-commerce stores can employ this technique in an attempt to reduce cart abandonment. One way to do this is by showing a popup ad to shoppers who click away during the checkout process. Popups could offer a cheaper alternative, or a discount code to encourage them to go through with their purchases.
3. Increase the Frequency of Purchases
Another way to grow your revenue is to encourage customers to buy your products more often.
• Offer a Subscription Service
While this may not work for every e-commerce business, creating a subscription component to your store is a great way to boost the number of purchases customers make. Dollar Shave Club is a great example of a successful e-commerce startup that utilized a subscription service to build repeat customers and strong sales. For a monthly fee, Dollar Shave Club mails razors directly to your home, with shipment occurring after payment.
For products that consumers frequently buy, especially on a monthly basis, a subscription service can create a way to increase profits. You can include items that have struggled to sell, along with popular products, which can prevent stagnant inventory from taking a bite out of your profits. Subscription packages can also provide a way to test out new products or items you're considering adding to your inventory.
• Run Time-Sensitive Promotions
Running special promotions, especially during holidays, creates a sense of urgency. Limiting the amount of time your special runs can convince customers to buy from you more frequently. You can also create unique promotions throughout the year, such as regular bi-annual sales. Customers that love your products will be more likely to make purchases when they're taking advantage of a good deal.
Since regular customers are more likely to stay up-to-date about your prices and inventory, promotions reward loyal customers who respond quickly and actively engage with your business.
4. Increase Your Profit Margins
Margins matter. When you sell multiple products, it's expected that certain items are in higher demand than others. However, the profit you make per sale is equally important when deciding what products to sell. Even if a product is flying off the shelves, if you're making a limited profit off the item, it can make it difficult to sustain your business, let alone grow it.
Always pay attention to your costs when setting prices to ensure your margins are healthy. Noticing certain items are returned at a high rate can create issues as well, so always pay attention to customer feedback. Increasing your average transaction isn't as simple as increasing your prices. Techniques like upselling and buying in bulk are better long-term solutions than immediately changing your prices.
• Limit Your Costs
Finding a better price from a wholesaler or vendor decreases your acquisition cost, leading to better profit margins. Remember to regularly check if you can find your items for a lower cost, as prices fluctuate. And other companies may offer better discounts if you're able to buy in bulk. Sourcing is easier than ever, as many wholesalers and online vendors can offer steep discounts, which can lower your costs and grow your revenue. You can also look to negotiate a better deal with your wholesalers. Sometimes purchasing in bulk means a much better deal. Don't be afraid to ask.
• Increase Your Prices
Price increases are an obvious way to grow revenue but take care: in situations where your customers are bargain-conscious, this could prove to be a disaster. This is especially true for platforms like Amazon, where you aren't able to grow your own brand and therefore are competing largely on price alone.
In other industries though, slightly higher prices are more likely to indicate quality to consumers. That means in certain markets, like furniture or clothing, having extremely low prices could hurt your sales and reputation, or make consumers question your product's quality.
Another time when you should be able to increase your prices is if you're launching a new or improved product. Upgraded products usually cost more than their predecessors, so setting new products at the same price point as more dated ones is unwise. Improving your products can increase production and acquisition costs, which makes increasing the price a pragmatic way to offset the higher cost.
Even if you don't have a new product, adding new features like personalization to existing items should also warrant a higher price.
At the end of the day, there are many ways that you can boost your revenue, and it can be difficult to know where to start. If you're not sure where to begin, consider the above categories, and choose one area to focus on, the one that you feel will bring the most benefit to your company. Then, once you've implemented a strategy, move onto the next one, and so on. This approach will help you to concentrate your efforts, keeping you from wasting your time on non-essential side projects, or getting burnt out trying to do everything all at once.
If you're looking to take your business to the next level, reach out today for your FREE 20-minute consultation. Let's start growing your business today.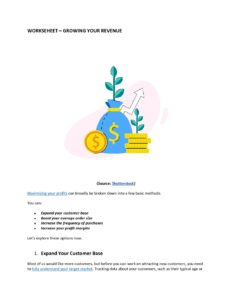 Get our Growing your revenue delivered right to your inbox.